| | | | |
| --- | --- | --- | --- |
| POV Holder: | Cody | POV Used | No |
| HOH Winner | Caleb | Nominations: | Frankie and Victoria |
Big Brother 16 Live Feed FREE TRIAL – Use the FLASHBACK feature to watch everything you've missed!
12:45am Derrick wakes up and heads into the bathroom. On the way back he runs into Frankie. Derrick says its not happening (sleeping). Frankie points at Victoria getting up too and agrees. Derrick says he tried but couldn't fall asleep. Derrick heads outside. Victoria heads outside right behind him. Victoria asks why did he wake up. Derrick says why are you so concerned with him? Frankie joins them. Big Brother blocks the feeds. Derrick is talking to Victoria alone in the backyard. He tells her that she has to be careful. You have literally 6 days left. To be honest with you in the end we're going to try and beat each other but the last thing I want.. right now you're in a position where Frankie's going home. If for some reason, someone gets an idea that they're hated by the jury and they think its a better idea to take Frankie because he's more hated over you .. do you get what I'm saying!? Victoria says yeah. Derrick says that's all I was trying to say because if you have couple of drinks and say something you didn't mean to say .. there is no going back from it. Victoria says I know and the thing is that the conversation wasn't even about him and he took it and completely twisted it so that when you walked by then right away went inside and said his underwear is too tight. He cut it up. He ran straight to the room. Cody .. he took my words and completely twisted them. I never said that though and I hope you see that he completely twisted his words. Derrick says I know, I get it you're lonely. I just feel like if I don't win this money I want you to win it. Its done, he hasn't even mentioned sending you home over Frankie. It's not going to be that I just don't want to see you screw up your game. I was nervous not only for your game but also for mine.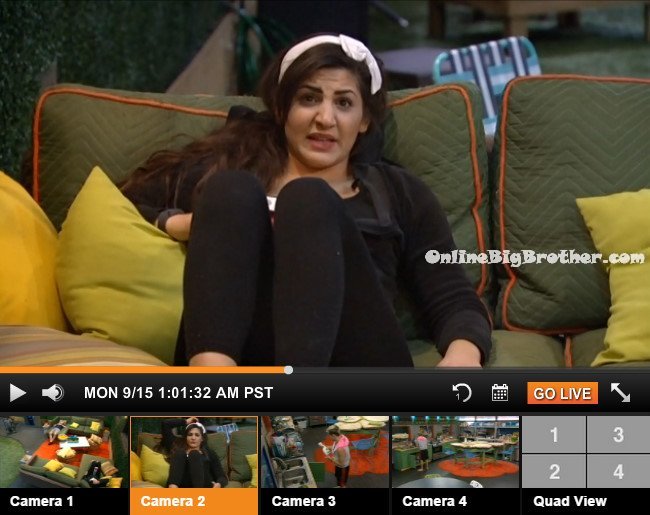 When you said Derrick I'm tipsy and then you had another I was like damn .. I didn't want to have to follow you around the house either because that looks bad too. You need to take a page from Donny's book and just lay low. Victoria says I don't think you get it. Derrick says I do .. he (Cody) took your mannerisms and developed his own opinion of it. Victoria says correct. And I said to him I never said Hayden hated you because I didn't know that for a fact. And he was like no you don't because Nicole told me he was fine with me. He was throwing a huge fit and throwing the stool over on national television. Derrick says no, I think you're good. Derrick says I was't mad at you. Victoria says not even mad. It's like disappointing my dad. Derrick says disappoint in a good word. Victoria says she just felt really bad because she felt like she disappointed Derrick. I am just so annoyed with Cody. Derrick tells her to enjoy the last few days. Victoria says I'm trying but its hard being 4 men and 1 tiny girl.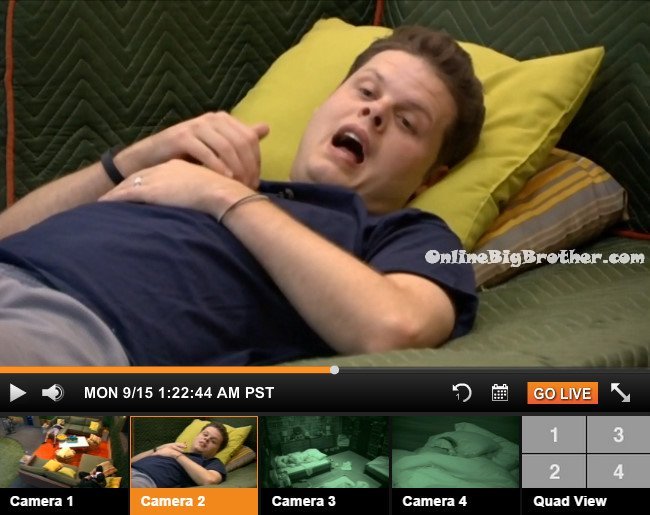 Derrick says I'm going to try and beat you in the end just like you're going to try and beat me. But at the same time I do care about you and I don't want to see you make a mistake that you'll regret. In the end if I'm being honest with you I'm not going to make a mistake. If I lose, I am going to just lose. I can't f**k up. I can't afford to f**k up. As stressed out as I am there is no way in hell that I am going to slip up in these next 6 days. If I go home, I go home because of something I said earlier on in the game. With that being said, you're going to have to do it on your own. Victoria says I know. When you said you were tipsy and you were kind of fumbling a bit ..I was thinking that's a recipe for disaster. Victoria says did you see the other night Cody.. Derrick says you're still thinking about the same thing! Don't worry about it he trusts me. What you did last night didn't change anything. Victoria says just know I love you and I do hope you win. Derrick says it's going to get ugly these next couple of days.. just know I genuinely do care about you. You're a good person, a good girl. Definitely a big age gap where I am in my life and you are in your life. When I tell you where I was at 22 years old you're not going to believe my life at 22. Just trust me, trust me. When we get out I will tell you everything. We are definitely going to be friends outside of here and if we're not its because of you not me. I think you're good person and you're awesome. You're like me little sister .. and if she was in here and said she was a little tipsy .. I would be in her a$$. Derrick says when we get out you better not be drunk texting me saying you're driving. Victoria says I did that once. Never again. Derrick says when we get out you'll know just how much that bother me too. There's a back story behind that. Victoria says just know I would never have been able to do this game without you .. I don't think. Derrick says I'll be honest with you I think I could have done this game without you but you've made it more entertaining. I liked you from the start and you were a good girl and real genuine. Victoria says I never thought coming in I would want someone more to win than me. Against you I don't know how much I want it. Derrick says I don't want any pity wins. Victoria says I hope I win. Derrick says I'm not letting you win. Victoria heads inside to eat cereal and then she goes to bed.
One way to support this site that doesn't cost you anything extra is making your
Amazon purchases through the links Below
For in Canada use the following link:
Amazon.ca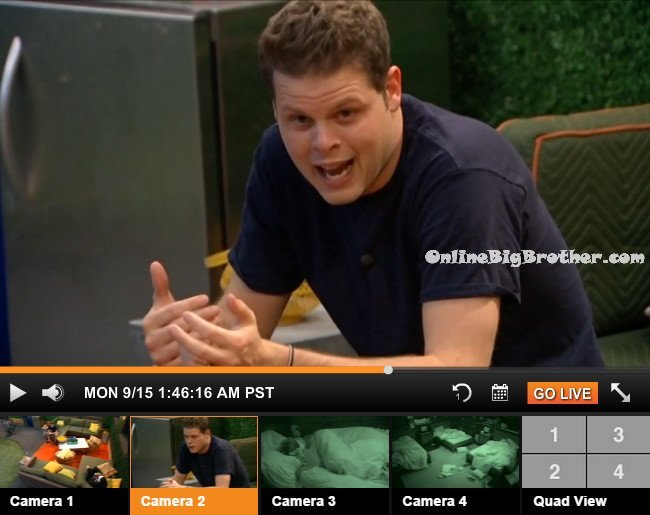 2am – 2:15am Derrick sits alone in the backyard and says god I almost slipped right there. I definitely almost wanted to tell her right there. Dammit!! Derrick don't do it. Almost wanted to tell her. F**k that would have been stupid. So glad I didn't! That would have been dumb. That would have been real dumb feedsters. Don't tell her yet, whatever you do do not tell her what you do. That will crush your f**king game. Do not do it. Do I think she would say anything… no I don't. I don't think she would say anything. I think she would take it to her grave but don't do it. Just wait 6 days. I can't wait to tell people who I am. It sucks not being able to be who you are. That is the closest I've come to telling anyone in this game. That would have been dumb. I would have regretted it instantly. Derrick says John if you're not busy I would like to come in for a quick diary room session to vent. Never mind if you are. Derrick says he can't wait to be back on the feeds. In this f**king house you just never know what the right call is. Obviously you guys know I've been loyal to Cody and I plan on continuing that for sure. But that girl is a very good girl and I just know she hasn't played the best game and you guys are probably crushing me right now. Like Derrick what are you even talking about. And you're probably right but when you learn about people and who they are it does play into your decision making process. The only person that probably affects me is her. And I know there is more to her that I don't know. She probably needs the money just as much as everyone else in here. Or maybe she's rich and I'm just reading her wrong, I don't know. Cody's a good player in this game, he's a good guy and loyal. Derrick talks about how he thinks this Wednesday there will be a double eviction. Derrick heads to bed.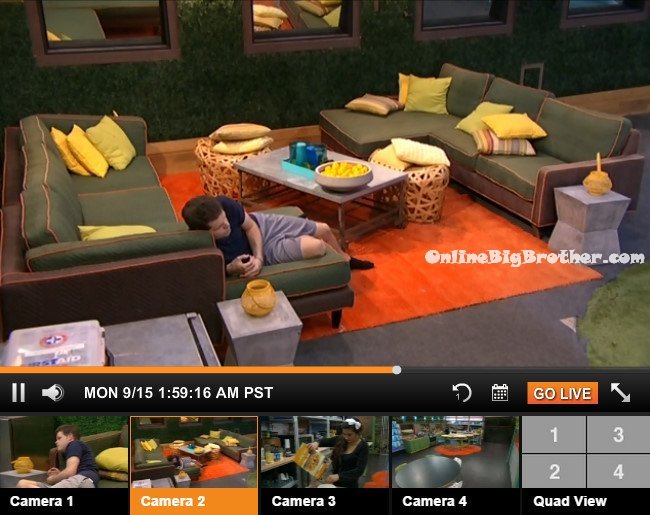 If you found value in our live feed updates site, the work we do and the community we foster please consider leaving a donation using paypal below.
Any amount is greatly appreciated!
[polldaddy poll=8244330]