POV Holder:
Chrisitne
Next POV
Sept 6th
POV Used
Yes
POV Ceremony
Sept 1st
HOH Winner
Caleb
Next HOH
Sept 4th
Nominations:
Nicole and Victoria
Have Nots
Derrick and Nicole
POV Players
Victoria, Nicole, Caleb, Cody, Christine and Derrick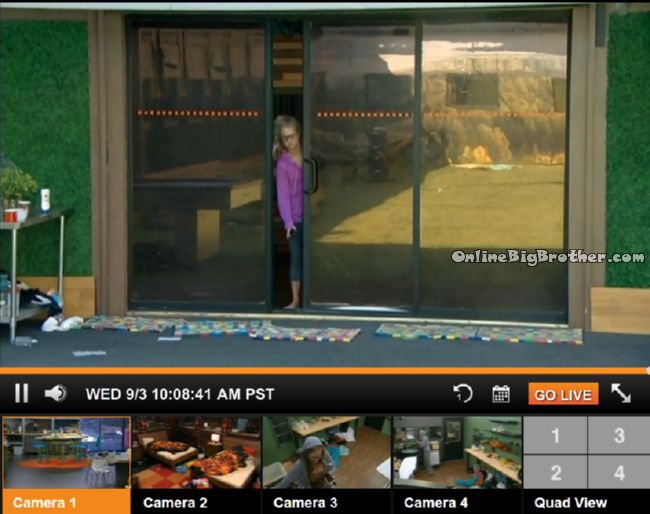 10:08AM House guests get woken up Nicole surveys the backyard nothing of note.
10:12AM Production – "Cody, Derrick Caleb are told to change their batteries in their activity trackers."
Derrick tells Frankie off camera "Just a heads up 11:30 – 11:45 lockdown"
Frankie – thank you
10:17AM Derrick, Christine in the backyard
Caleb been told 3 times now from production to turn the bedroom lights on.
Derrick tells her about the lockdown
Derrick – one more day homie
Christine – than the game starts again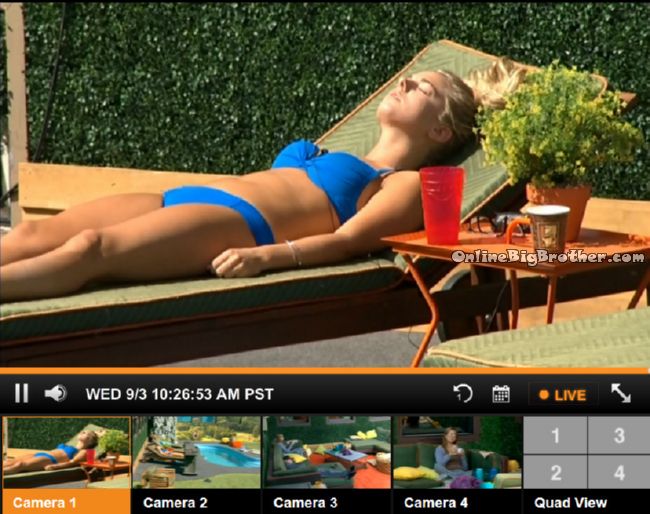 10:24am Nicole getting ready to rock out some time in the sun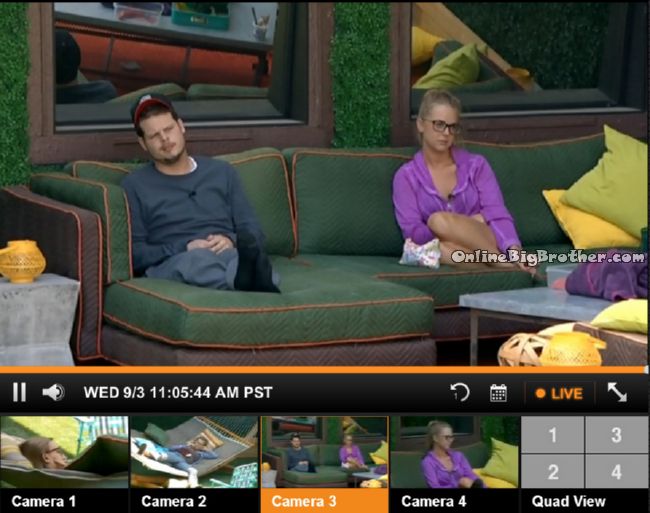 10:40am Derrick and Nicole Backyard
(Derrick lies/manipulates Nicole throughout this entire conversation makes her feel bad and eventfully works an apology out of her. after this conversation Nicole runs around apologizing to Derrick for doubting him)
Derrick saying they have one more night to go as a have nots.
Derrick tells her he's getting the feeling that a lot of things that go on in the house are solely based on who is working that day
feeds cut..
Nicole says Frankie is pulling Caleb around like he's his puppet, Derrick has Victoria. It all makes sense now why this house is so tight.
Nicole – Me leaving the house doesn't help Caleb at all.. I want to believe you tried to get Frankie on the block. you could have maybe said that so I didn't go talk to Caleb.
Nicole – I trusted you.. I feel like everything I tell you goes back to Cody that is why I slept yesterday
Derrick look at me real quick.. I'm going to tell you straight up if that is what you feel you are going to look really dumb on Camera.. look at me quick.. you are going to look really dumb on Camera if you think 90% of what you do is true"
Derrick says he did attempt to get someone else on the block. Nicole is the minority and people are just trying to get as far as they can there is no final 4.
Derrick says you make a big move you fail you go home. Nicole mentions that Frankie/Christine approached her and Hayden about a final 4 deal she assumes they approached Derrick and Hayden.
Derrick says that Frankie/Christine came to him individually and asked him for a deal "Everybody does"
Nicole knows that Zach was right there is a final four in the house and it's tight.
Derrick says that doesn't make sense. "I get where you are coming from because you are trying to put the pieces together but honestly Nicole that isn't the case
Nicole starts to cry says she's sorry his feelings are hurt but her's are extremely hurt. Nobody in the house has reached out to her it's obvious there is a tight bound with the rest of the house she says all the other season where people use weak players near the end of the game.
Derrick lies straight up "you will see that is not the case.."
Derrick – you are going to go home on Thursday you'll see enough and be like dang-it.. I expect a text message apology… That theory way off" (Derrick is telling her he doesn't have any final 4 deal and expect a apology from Nicole after the show)
Nicole – well that's the only thing that makes sense
Derrick – it makes sense for me to go run and tell cody.. how does that make sense.
Nicole says that Cody is going up to Victoria kissing his butt and the only reason for that to happen is Derrick is telling Cody that Victoria is targeting him.
Derrick – that's too deep man.. Victoria is not coming after me.. ugh.. I see what you are doing here..
Derrick tells her if he tries to save her he will ruin his entire game.
Derrick – I'm really offended that you don't think for a second.. I'm the only person other than Victoria that spends time with you"
Derrick says everyone wants to get as far as they can they see a person that is weak that doesn't win competitions and it's easy week for them. Derick denies any tight group working together.
Nicole says it's so obvious the smart thing to do this week would be to take out a strong player but that didn't happen.
Derrick – you will see..
Nicole this has been a slow death.
Derrick – I don't want you connect dots that don't exists.
Derrick – By no means I was up in the HOH campaigning for you by NO MEANS but I did tell them the pros of keeping you.
Nicole – I do appreciate that
Derrick – do you though
Victoria has nothing to lose by hanging out with you she's making it to the end because people thinks they can beat her .. I didn't see her up stairs campaigning for you
Derrick says nobody is keeping Nicole over Victoria is a bad game move. Nicole agrees adds that she can win comps more than Victoria. Derrick says you need two people to flip not just Derrick.
Derick – I got a f***g daughter
Nicole says she respect Derrick's game
Derrick – I don't go out of my way to piss people off. Derrick claims to never have thrown Nicole under the bus.
Nicole says Donny thinks that Derrick was the reason that Hayden went home
Frankie – Donny isn't as bright as I thought he was
Nicole – when Donny went home he wanted me to go after Frankie, Christine and You
Derrick – perfect.. that backfired on you I know the guy didn't like me from the start
Derrick claims to have not screwed Donny, Nicole, Hayden over tells her they don't know who he is and won't until they come out of the house.
Derrick – there's a reason I made this show and it's not because i'm a villain.. I'm the guy that won't jeopardize my families name for 1/2 a million dollars.
Derrick – there's on thing I know from being in here for that long people develop opinions and it's very hard to change them.
Derrick claims to not have used his wife and daughter in his game says he never swore on them. (Lie)
Derrick – I have a clear conscious I made a good effort.. I don't owe yo a fuc*ing thing.
Nicole – I just hope you friggin win this game..
Derrick cannot wait for her to see the show especially this week, says this will make TV and he'll have a DR session about it, "what that's my thank you"
Derrick – I thought you were working with Hayden and Donny and you where.
11:09 Christine joins them. they are getting some food at 2pm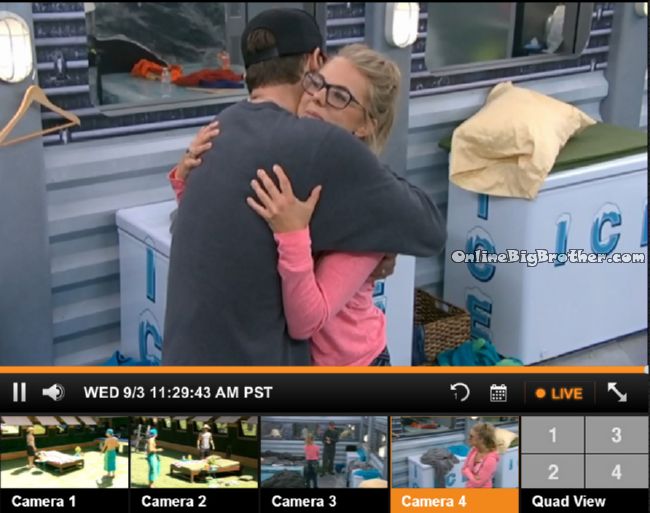 11:30am Derrick and Nicole
Nicole – You promise you forgive me
Derrick – I promise i'm not mad at you anymore.
Nicole apologizes for calling Derrick out on the lies says he's not as bad person.. (LOL OMG)
Nicole – I feel super bad Derrick.. I'm going to look like the biggest a-HOLE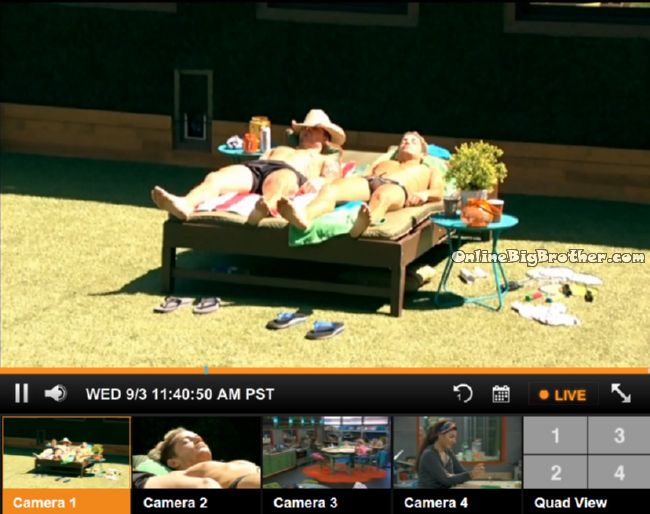 11:40am groan
11:43AM Victoria and Nicole
In the kitchen Victoria is telling Nicole that Derrick was working to get someone else on the block other than her.
Nicole thinks she's going to look like a a$$ for doubting Derrick.
Victoria – I hope Derrick makes it far
11:36pm Derrick and Nicole
Derrick says in two weeks he wants a apology for her. tells her they are going to edit her to look like a A-Hole
11:47am bathroom Derrick, Nicole and Victoria
The have nots room has to be cleared out by 2. they are speculating why
Make your Amazon purchases through the links below it Supports this site