POV Holder:
Chrisitne
Next POV
Sept 6th
POV Used
Yes
POV Ceremony
Sept 1st
HOH Winner
Caleb
Next HOH
Sept 4th
Nominations:
Nicole and Victoria
Have Nots
Derrick and Nicole
POV Players
Victoria, Nicole, Caleb, Cody, Christine and Derrick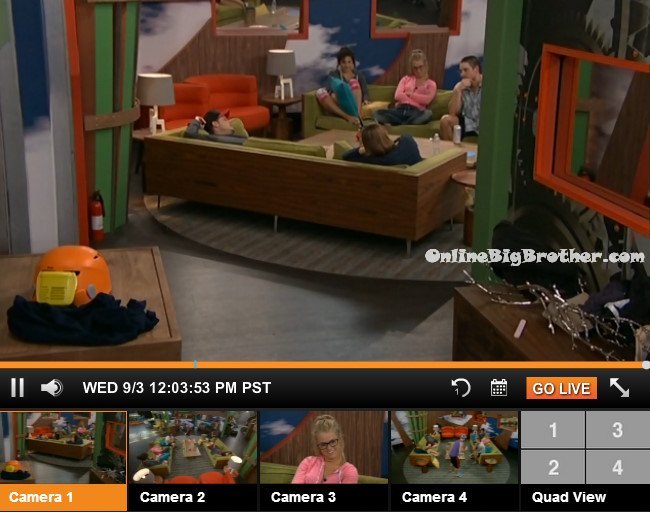 12pm In the living room the house guests are talking about last season with all the racist comments. Caleb asks less drama than last season. Derrick says more tasteful. Christine asks do you think ours has viewer discretion advised? Frankie says yes! Caleb says yes. Christine asks why? Frankie says because there's a homosexual in the house. Once its on it's on because legally once it starts they have it on. Frankie says all the drama was over at this point. Derrick says there will be people that love us and hate us. Caleb says I think the people that will hate me are the animal activists. Derrick agrees but says the people that are all about that will defend you. They talk about the people that will hate them. Nicole says you can't let the hate affect you. Christine says just don't read it. Tim will be my moderator. Caleb says he can't wait to get on twitter. Derrick says he's sure he already has one. Derrick says I can't believe we're all havenot by 2 o'clock (He means off havenot). Out by 2, has to be by two. Caleb says I think solitary confinement. I don't think they're going to do nothing today. We would have to be locked down for them to work on that room. (Turning the havenot room into the Wind Room?) Nicole says maybe we get locked down with our food. Caleb says we could be locked in the HOH room. Caleb says maybe a luxury competition. Derrick says I don't think it could be luxury with a live eviction tomorrow. Whatever it is I think it would be after Thursday.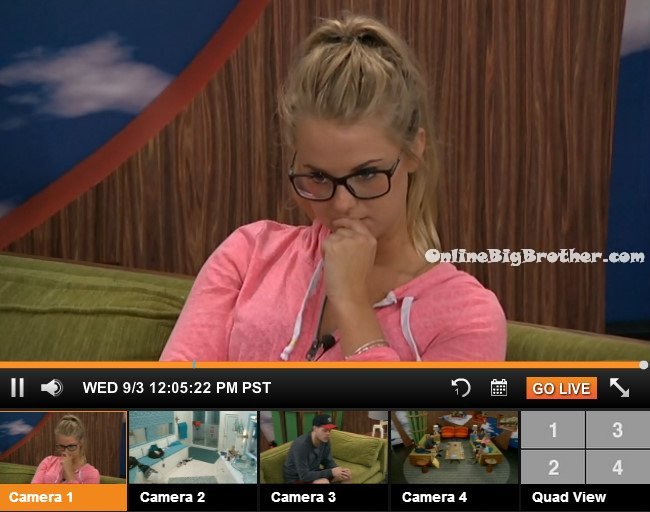 One way to support this site that doesn't cost you anything extra is making your
Amazon purchases through the links Below
For in Canada use the following link:
Amazon.ca
12:30pm Up in the HOH – Frankie's worried about Christine winning HOH. Derrick says just make sure you win it. Control your own fate and keep me off the block Frankie sarcastically says you have been up there so many times. Derrick says its tough, I'm an old man. Caleb says you're the only person that has never been up on the block. Derrick says so true and I am going to find out at the end of the season if that was a good thing or a bad thing. Either everyone is up in there HOH room thinking what is he going to do or he's a good guy. I hope its that I'm a good guy. It could be an insult to learn that no one put me up because I'm not a threat. Caleb says no ones take a shot at me either. Derrick says what do you think about the possibility of a past house guest coming in with some IN & OUT Burgers. Frankie says he doesn't think that would happen. Derrick says what if it was Amanda from last season. She's a good looking girl. If I was single you should go for that. Caleb says she's bigger than me. Derrick says she's not taller, bigger boobs than your head though. Derrick says I think moving forward we're going to start having some cool stuff. Derrick talks about how Victoria is more concerned about what to wear than making sure she has the votes. She has been useful though. Once Christine's out we should let her know that she's going home. We let her know that we had a gentleman's agreement and unfortunately she has to go.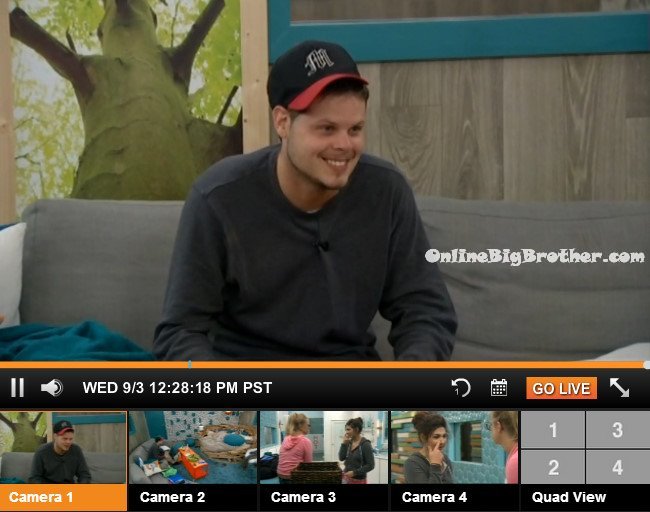 12:30pm – 1pm In the bathroom – Victoria is talking to Nicole about how much she hates Christine. She is the rudest f**king person and I can't stand it. I am going to blow up on her. Nicole says she was smirking at Caleb earlier. Victoria and Nicole agree that all Christine does is plant seeds. Nicole tells Victoria that she talked to Derrick and he's in a good spot. Victoria says yeah we talked about that last night. He said if its a double eviction I should make it through. Nicole and Victoria head to the kitchen table to play with the crafts. Victoria starts writing on her wrist with the paint and Big Brother tells her to stop that. Victoria says she's been doing it for a week. Nicole tells Victoria that she will study with her to help her with the competitions/dates. Victoria shows Nicole her wrist and asks her if she knows what it says? Nicole says she doesn't know what it means. Victoria says its who won the HOH's. Nicole starts running through all the competitions, nominations and evictions with the votes to evict. Nicole has a headache so she goes to lay down.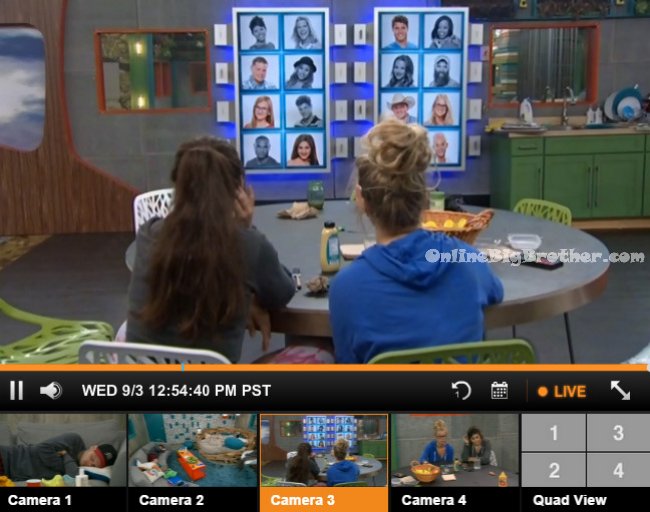 1:15pm Derrick joins Victoria and asks what the hell she's doing? Trying to memorize things? It's blatantly obvious. Victoria says I don't care no ones here. Victoria starts going through the eviction votes with Derrick. Nicole joins them in the kitchen and they continue to study. Derrick comments on how he can hear them building in the backyard.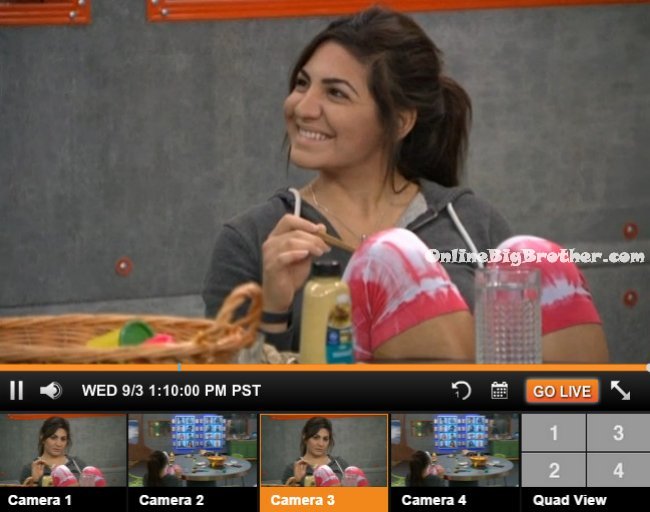 1:30pm Derrick goes to see if he can get into the storage room. When runs back to the kitchen and tells Nicole that when he tried to open the door he could smell cheese burgers. They go back to the storage room door and Nicole says that she smells it too. Big Brother blocks the live feeds.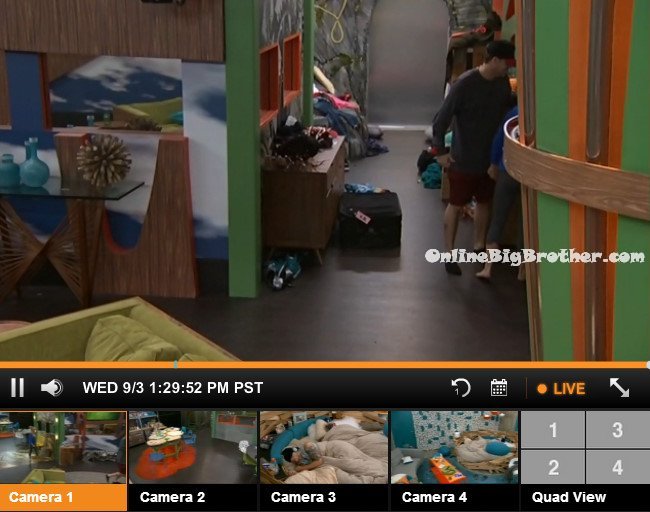 1:40pm – 2pm The live feeds return to the house guests eating burgers at the kitchen table. Cody says I was not expecting this. This is a lot of burgers. Christine says its 7 burgers per person. Caleb says there's a lot of fries too! They cheers to the havenots being over. Derrick offers Nicole to have the first hot shower she says he can have it. Derrick comments on how they told him to make sure all their stuff was out of the havenot room. Derrick says my stomach hurts so bad. Nicole says oh my god I want to puke!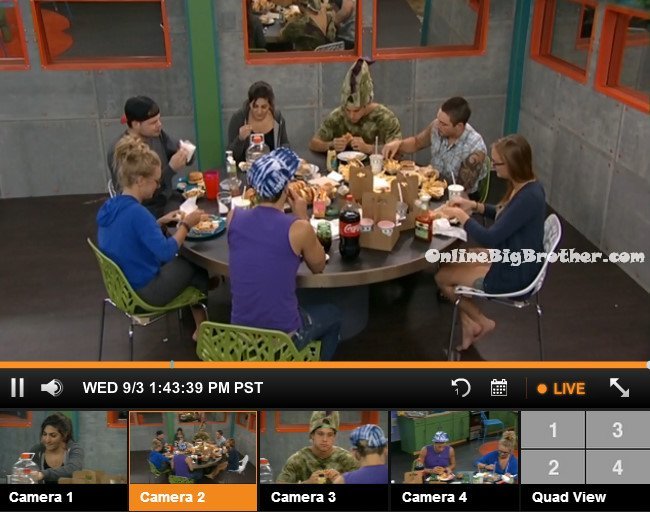 2:20pm – 2:30pm Victoria and Nicole are laying in bed together. Nicole comments on how everyone is starting to get feisty. She says she is trying to stay away from people because she doesn't want to get involved in it. The talk about how Frankie isn't nice. Nicole says I thought he was nice but I take that back. The other day he asked if I wanted to take a photo with by key and then said never mind you don't have one. Victoria says Cody's getting really feisty. Nicole says and he's safe. I have a reason to get feisty. Victoria says I can't stand Cody. Nicole says I can't wait until they have to campaign to stay.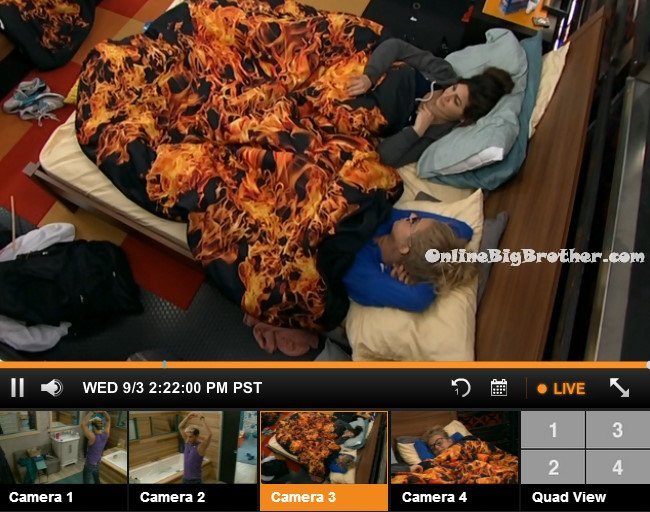 If you're enjoying the live feed updates this season, please consider donating. Simon and I work 24/7 all season long to keep you updated on everything that happens inside the BB16 house. Any amount is greatly appreciated! Your donations go directly to paying the server and bandwidth fees required to run this site.