POV Holder:
?
Next POV
Aug 23rd
POV Used
?
POV Ceremony
Aug 25th
HOH Winner 1:
Cody
Next HOH
Aug 28th
Nominations:
Donny & Nicole
Have Nots
Donny & Nicole
POV Players
?
Take Advantage of the FREE 2 day Trial to watch all the drama!
11:15am – 12pm Big Brother blocked the live feeds because Victoria was laying on the bathroom stall floor. Nicole checked on her and noticed she was all sweaty and called for Derrick to help her.
12pm – 12:30pm When the live feeds came back – Christine, Derrick, Donny, Nicole and Caleb are sitting around the kitchen table chatting about random things. No sign of Victoria. Cody is sleeping in the HOH room. Frankie is sleeping in the fire room. The house guests are talking about drinking and alcohol. Caleb says I have only been drunk out of my mind like 2 or 3 times. Nicole asks if has a big alcohol tolerance. Caleb says I could drink a case and barely have a buzz. He says he stopped drinking before coming in here though. Donny says liquor before beer never fear, beer before liquor never sicker. Nicole and Caleb share stories about their schooling. Caleb says I'm not dumb by any means but when it comes to situation. I'm more of a situational awareness type of guy. I can jump into a situation and kill it. I might not know the information on paper but you put me in the situation and I know it. Christine goes to take a nap in the earth room. Caleb talks about trying out to be a police officer and how he was denied. He explains when they were asking him questions about Iraq he kept saying he didn't want to talk about it. He says one guy questioned his integrity and Caleb said never question my integrity. I have more integrity than you will ever have. Caleb and Donny tell Nicole about Zing-Bot. She says she's sorry she missed that. Nicole says I just got up because I thought for sure we were going to have the veto picking but I guess not.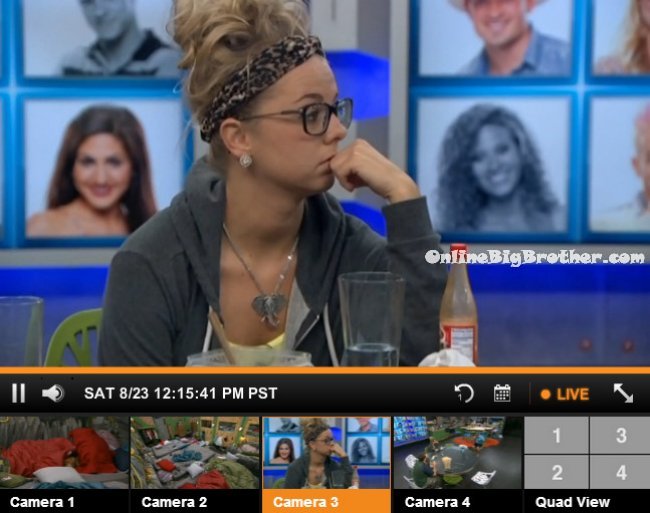 12:30pmDerrick and Donny go into the storage room. Donny says America has voted on us coming up with our own mission and they will vote on whether or not it is a good enough mission and if completed it. It has to be done my veto meeting. Derrick says I think we can do that all day. Donny says it can be silly if we want. Derrick says I think we can do it. Donny says I was hoping we could come up with some like if America thinks she's a bigger threat than me .. we could vote on keeping me since America did vote on us being team america together because I am on the block. Derrick says right, right. Donny says but the statement that it has to be completed by veto, I don't know if I would have to be saved by veto or people would have to collectively get together and say we have the votes to get out Nicole that would be completing it by veto. Derrick says right. If you were able to pull yourself off today then we wouldn't be able to do that though. Donny says but if we agree that and I pull myself off that would be us completing it. Donny says they put us together they wouldn't want us to… that would be a feet in itself. Derrick says either way I still want to finish our conversation. Donny says people have talked .. I have talked littler than most people. Derrick says someone got to Cody to get him to put you up. Derrick says as long as you know it wasn't from me. Donny says I feel like I know who it was and it wasn't you. Derrick says good, that's all I care about. Donny says someone told me Hayden wanted me out and that flabbergasted me. Derrick says that's not true, Hayden wanted you here and had your back. He never dogged you. Derrick says we need to talk to Frankie and all agree on something. Donny asks do you think America wants to get rid of one of us when they voted for us. Donny says unless you and Frankie get drawn and you throw it like go in not guns a blazing. Derrick tells Donny to talk to Frankie.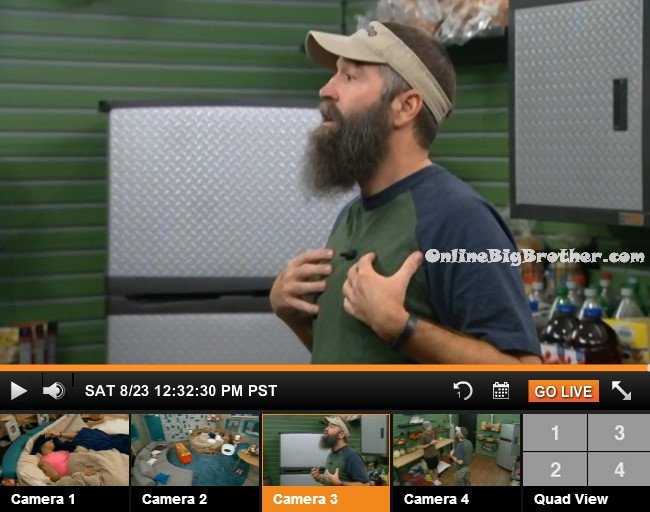 12:45pm – 12:50pm In the living room – Derrick talks to Caleb about how if Victoria has an infection in her jaw she could get pulled from the game if it takes longer than a day or two. Derrick says I hope that doesn't happen though. Derrick says its not a bad thing if she leaves. Caleb says if she does they should take her to the jury house when she get well because she does deserve that. Derrick agrees. And if she does leave then no double eviction on Thursday because then we would be a number down.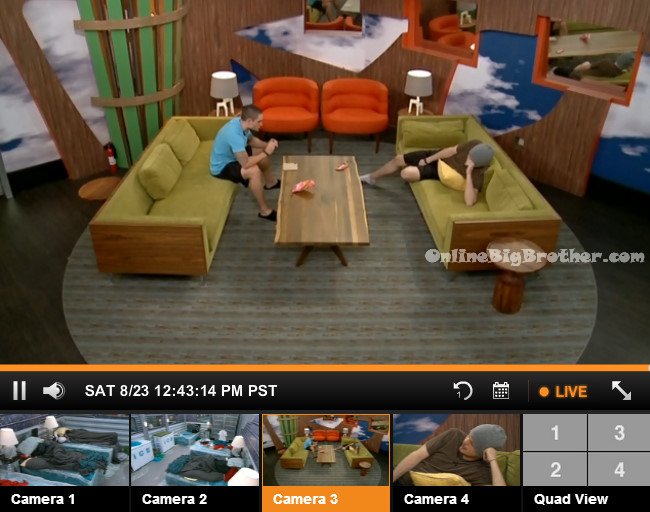 1pm – 1:30pm Caleb says I need to win another HOH. Derrick says from a fans perspective Frankie's been killing it. Caleb says if I'm there with him he would beat me. I don't have a sister that is a multi platinum singer. Derrick says but if you get people in the jury that only care about the game that won't matter. Frankie does have an impressive record though and that's a compliment to him. Derrick says when you get to the final 3 you win that HOH and take who you can beat. You're not here to take risks. Caleb says yeah, no I'm not. Derrick says that's why at the end there's always someone there without many wins because they won't win. Who's going to be dumb enough to take someone who's a beast and probably not win. Derrick says your not a dumb kid. Caleb says I just need to win another HOH, get my letter and keep my dudes safe. Derrick says I haven't even been at the top of comps. You've won five and been at the top of a lot. I just haven't played well. Caleb says if I was in the end I would say I did something that was never done before .. I created an 8 person alliance and some of us are still here. Caleb says if I am there with Frankie and he goes first talking about his kids in Africa. I am going to say that I am give a lot to my Dads Charity for wounded veterans. Would you rather give the win to someone who is going to help kids in another country or give to someone that is donating to people that have served your country. I guarantee he hasn't signed anything saying its all going to charity. He will get the money and then decide how much he wants to give. Derrick tells Caleb again he's not a dumb kid. Caleb says that Christine knows that if she doesn't win this HOH she would be going up next week. Derrick and Caleb go back to bed to nap.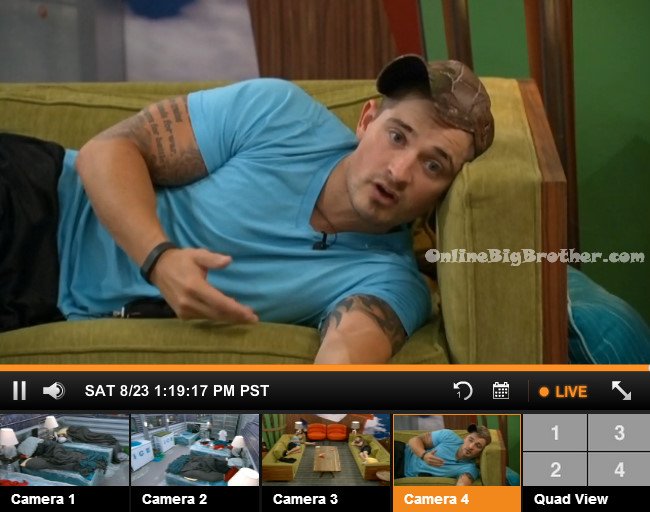 Alliances
"The HITMEN" – Cody & Derrick
More polls here https://www.onlinebigbrother.com/big-brother-compendium/big-brother-16-polls/
[polldaddy poll=8260325]
[polldaddy poll=8261457]