Head of Household Winner – Christmas
Have nots – No havenots this week
Nominations – Bay & DaVonne
Power of Veto Players are – Christmas, Bayleigh, Da'Vonne, Nicole, Ian and Dani.
POV Host: – David
Power of Veto holder – Christmas
Power of Veto Ceremony –
Powers – Christmas and Dani. Christmas = protection from being a renom. Dani= Lets an HOH play in the following week HOH competition
Live feeds —-> Grab your Live feeds here. Try it free.
Rank the houseguests —-> Big Brother 22 Ranking
Veto Results:
– Christmas Won the Veto
– Dani won the Home Gym
– Day won the 5K
– Nicole got the Slop-tard punishment
– Bay has to do 500 laps riding a tricycle on a track
– Ian didn't feel well so he didn't play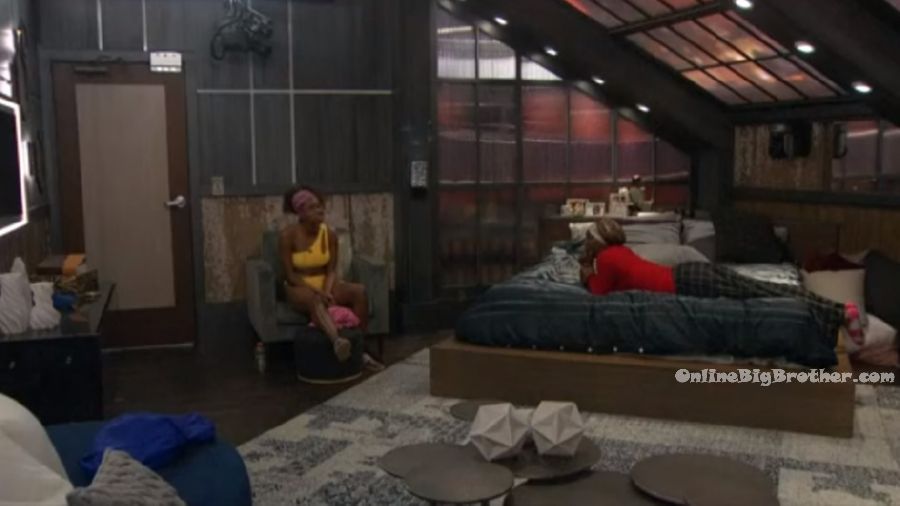 4:25pm HOH room. Day and Bay.
Bay tells Day about her conversation with Christmas. I had two talks today .. one long one with Christmas and the more and more I converse with her .. the more disappointed I am. Day – what happened? Bay – Nothing, there was no emotions or anything. She did the typical .. my job is done.. I don't want anything to do with anything else moving forward. I don't have a preference. You were just a pair that had to go.
Day is shocked (See photo below) – She was cut and dry like that? Bay – yeah and then in the sweetest possible way I broke it down to her. I said its five weeks into the game and there is no one that has talked game with you? Let me break it down .. there are at least pairs in the house that you over looked. I can probably name three that are coming to you saying they're on an island. I made one mistake and I error-ed with one thing and that was trusting you and extending an olive branch. The reason I said I had an untouchable is because everyone else does .. and I wanted to make it fair to you. Day knew I wouldn't come for you. She said yeah she told me. I said just enjoy your week as HOH.. I won't bother you again. Day – Bay no! Bay – 100% Everyone thinks I am a bigger threat than you so I am just going to enjoy my week. Day – no I heard it was the opposite .. I heard they want to get me out because if there is a battle back and .. I would probably beat Janelle. (LOL because you've won 0 competitions!? How does even she believe this!?) Bay – She said that this is all stars and she isn't playing for anyone but herself. She said that we isolated ourselves. Day – why is Tyler so comfortable coming up here. Bay – Tyler does this each season.. I saw it happen to Kaitlin.. I am a lone wolf, I'm lost, I don't have anybody.. (Poor wounded baby bird). She loves to nurture people. That's where she finds her value. Tyler is her baby now. She can rub his back and stroke his ego. And he can do everything that she says and she can protect him. Tyler is cold blooded. He said the same thing last week to Kaysar. I know his game. I didn't think people were dumb enough in here to believe it. Day – if this is your week to go out .. you have to go out swinging.. (Yes feed the fire!)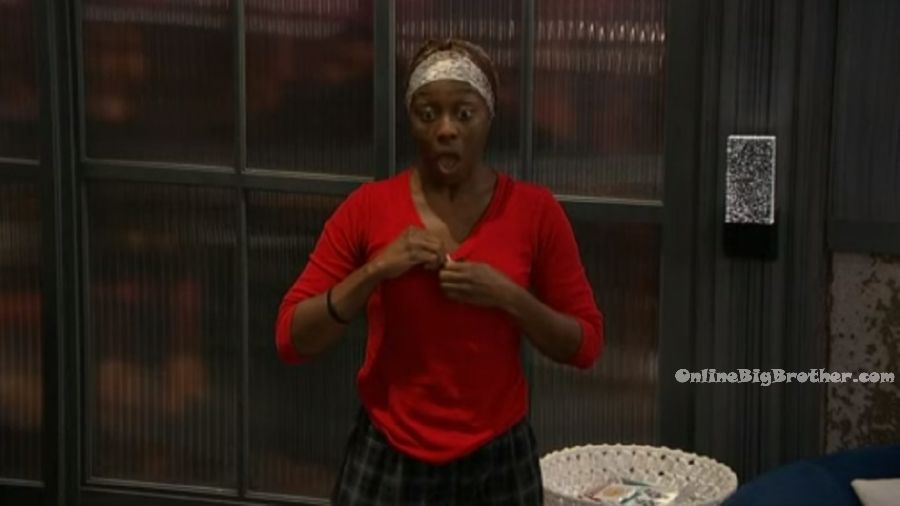 4:50pm – 5:10pm Havenot room. Day and Bay.
Day – what is there to process?! Its a game. I don't have conversations with my friends and say I have to process this and call you back. I am sorry she told you that. When it came to you and her I felt a little threatened.. I was like what is this sh*t. That's sh*tty. There is no way for her to get a good edit out of this. It wasn't a power play .. it wasn't a necessity for the house. Bay – I was pouring information to her .. it looks like a betrayal. Day – and after being nom'd it was the first time you talked to Tyler right?! Bay – yes. When I get off of this show .. I don't want to be friends with you .. all of you are blocked! Except for you. They manipulated me. Day – how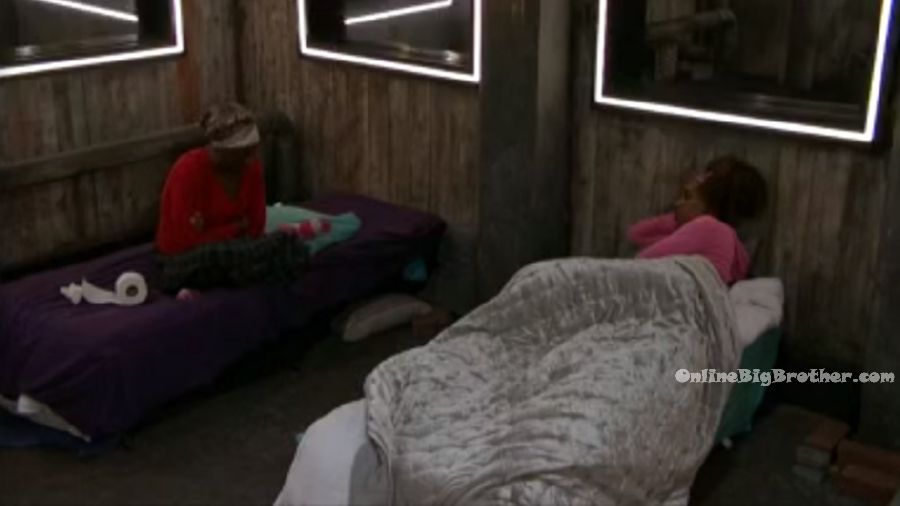 Bedroom. Enzo and Cody.
Enzo – I just want this to get locked tomorrow so we can get f**ked up Yo! Cody – yeah.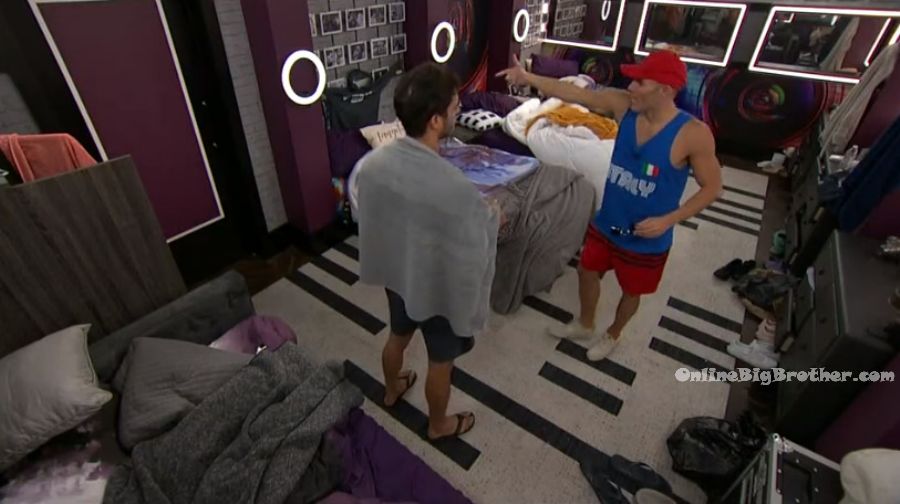 Havenot room. Bay and Day.
Day – its not going to be unanimous one way or the other. You're telling me something and I am telling you what I've been told. Wires are being crossed one way or the other. Bay – what do you think would have to be done to get her to use the veto? Day – a group of people would have to go up there. Bay – and you think they won't? Day – who? Me, you, Nicole and Dani? Who would be the fifth person? Bay – Kevin. Day – he wouldn't do it .. he's terrified. Bay – David? Day – would he? Bay – 100% if we do it. And you know who else Ian. Day – to take Tyler out? Bay – nods her head. Day – okay lets try it. I don't think Ian will do it. Sticking his face out .. I don't know. Day – its scary because she (Christmas) is calling him (Tyler) up there. Ian is scary ..because he beat Dan!! Why are we not looking at him?!! Its going to be a long week. I wish I knew about the powers ..like if they have to be done before the vetos.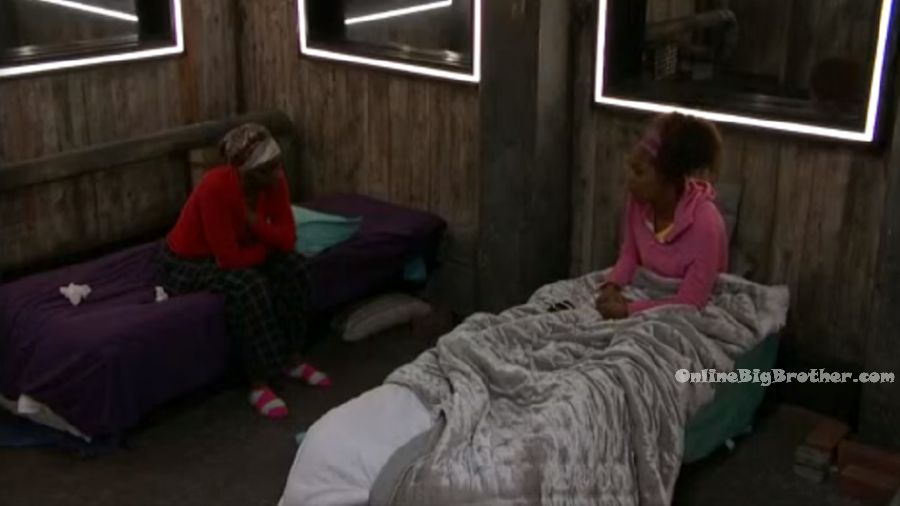 Show your support by making a donation.
If you're enjoying our live feed updates this season, please consider donating.
Any amount is greatly appreciated! Your donations go directly to paying the fees required to run this site.