Head of Household Winner – Christmas
Have nots – No havenots this week
Nominations – Bay & DaVonne
Power of Veto Players are – Christmas, Bayleigh, Da'Vonne, Nicole, Ian and Dani.
POV Host: – David
Power of Veto holder – Christmas
Power of Veto Ceremony –
Powers – Christmas and Dani. Christmas = protection from being a renom. Dani= Lets an HOH play in the following week HOH competition
Live feeds —-> Grab your Live feeds here. Try it free.
Rank the houseguests —-> Big Brother 22 Ranking
Veto Results:
– Christmas Won the Veto
– Dani won the Home Gym
– Day won the 5K
– Nicole got the Slop-tard punishment
– Bay has to do 500 laps riding a tricycle on a track
– Ian didn't feel well so he didn't play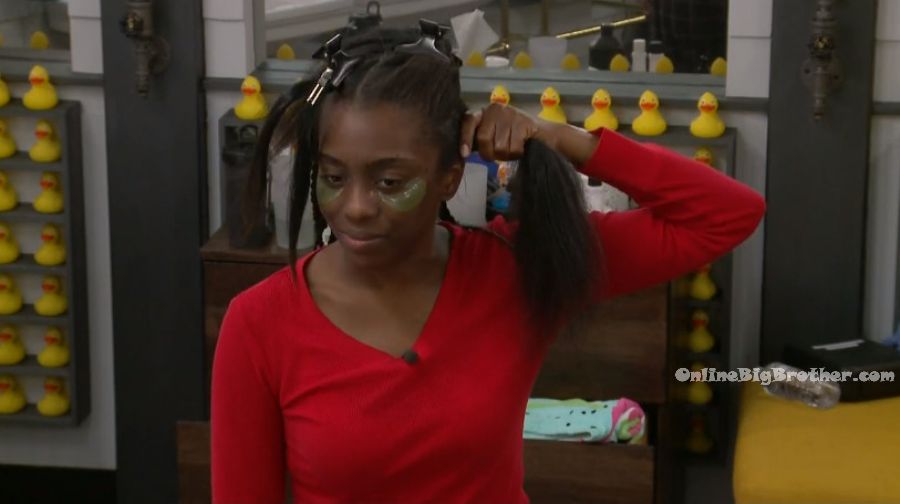 12:48pm Bathroom. Dani and Day.
Day – If I am doing the math correctly .. she would only have Cody, Enzo.. Dani – no Enzo is like .. I don't know. Day – Cody, poss Enzo and David. Kevin. Dani – and Nicole told me that she talked to Memphis and he wants you to stay but its only freakin Sunday. All we need is one more. That's it. Day – I know. Dani – Stop saying there won't be a battle back because I've been talking to Cody and saying that sending out Bay would be better to battle Janelle. So stop saying that. Day – Okay. Dani – If Thursday is a double we need to plan ahead to figure out how we can get the votes to get Tyler out. We need to figure out a solidified plan to get him the hell out of here. I also think he would have to be up against Memphis. It couldn't be a pawn.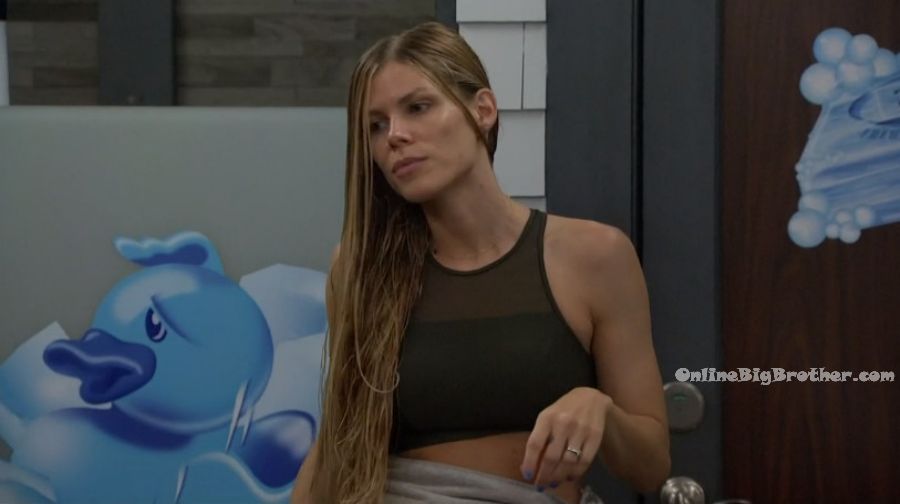 12:50pm Backyard Couches. Kevin, Tyler, Christmas, Memphis, Nicole Cody.
Christmas – We all have like this.. we have all been conditioned .. we have all be trained through the years to fight a certain way, love a certain way, feel validated a certain way. And when it doesn't serve you in the best way for you .. then that is when it gets you in trouble. The entitlement .. the ego. For Zeb its taken a couple times .. to have some serious sit down conversations for me going you have a decision but I am not going to wait for you to decide. I have hard boundaries and they are there to protect me not for me to retreat. He is relearning how to have a relationship and I am relearning how to have a new relationship because I have some old traumas. She continues to talk about relationships and how she handles it.. bla bla bla.. I feel so sorry for Zeb..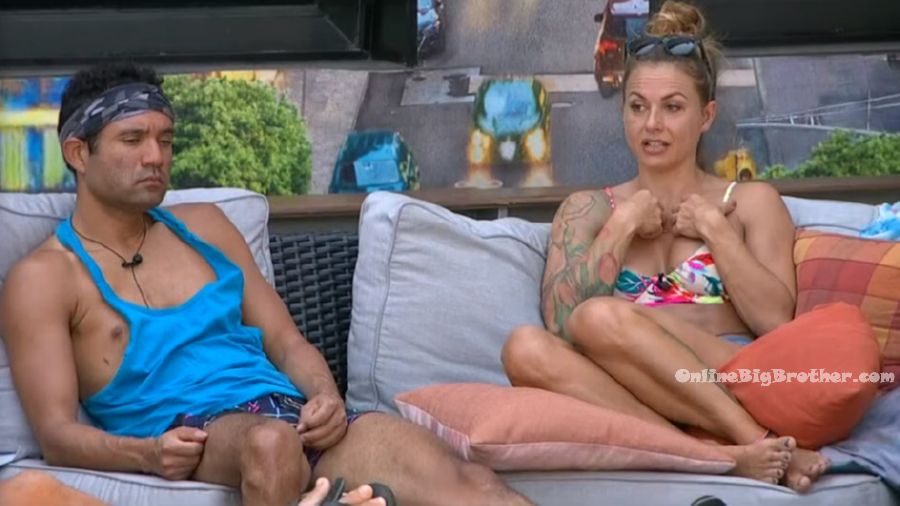 1:20pm – 1:30pm Day – I am going to let people breathe today. Tomorrow we have the party .. I am going to be super social and everything I need to be. Tuesday.. That gives me two days to come up with some sh*t.. today and tomorrw.. Tuesday I go to work! Kevin – can you explain something to me.. I genuinely don't know and I might be a bad player. I don't understand this concept of taking it easy. Day – and not hounding people? Kevin – I didn't say hounding. No one is saying negative sh*t. Taking it easy is strange to me. I believe it should be heavy up front and then relax. Then heavy because right now all day today people are going to be talking and you didn't give them anything to.. Day – I talked to everyone yesterday! Kevin – oh okay. Day – immediately after the competition I went to work! Kevin – okay, then yeah. Because she (Bay) was like I think I'm going to relax before I start campaigning. And I was like girl that doesn't make any sense to me. Day – I need to go talk to Christmas .. and I need to tell her the votes that I don't have. Between me and you .. you can't say this to anyone .. not even David. She wants me to stay. Kevin – okay. Why is that so secret? Day – that can't be known information.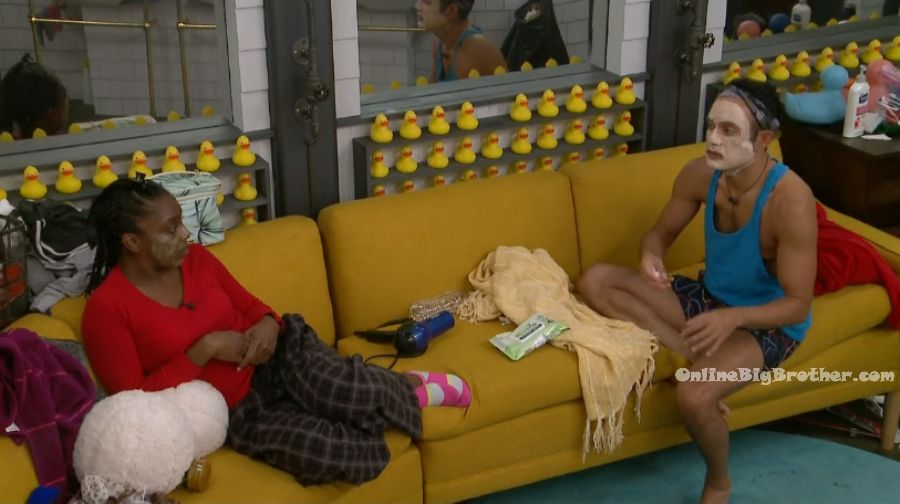 1:37pm – 2pm Lounge room. Nicole and Day.
Day – So I am trying to figure it out. I don't think I have them. I have four (votes) but I don't know what Memphis is going to do. And I don't know how close Christmas and Memphis are. I think they're close and I think .. do you think I could go to her and ask her to talk to him? Nicole – yeah I think that would be a good idea. I think they are closer .. like I don't talk to him like that. I wouldn't .. I think you would stay. I assume the veto won't be used. I don't want to go to work because they might be like Nicole is sticking her neck out .. lets put her up there but if its not used I will go to work to get you to stay in this house. If Kaysar says that I'm running this house .. I will start running this house. Day laughs. Nicole – I will talk to Christmas and give her all the points for you to stay. I will talk to Cody. I think you having four is really good. That means we only need one more. Don't panic, I think that is the worst thing you can do. Bay isn't doing that. Lets be honest people want people to stay because its an advantage for them. I was thinking could we convince Christmas to pull you down but she isn't going to want to put someone else up. Day – I am going to let people breathe but tonight I will talk to her (Christmas). Nicole – I don't know a ton but if she is leaving you up there I am assuming she knows you have the votes. Its nice that you have four solid votes without even trying or offering anything. Day – would it be smart for me to go to her and tell her my weak points.. tell her the votes I don't have. Nicole – what advantage would that be.. for her to work those people. Day – yeah. Nicole – yeah that would be a good idea. Day – I was going to mention Tyler. Nicole – yeah I would definitely mention Tyler. Who else. Day – David. She talks about how David keeps bring up their beef from earlier in the season. He met Bay outside the house so he will probably keep her. Nicole – Ian said that he is keeping you because he met you outside the house. Nicole – I think you focus on David, Cody and Memphis.. You need to get one of those three. Day – I am going to chill and relax .. but I don't want to miss the window. Nicole – I want you to stay in this house and I will do what I can. Day – thanks Nic!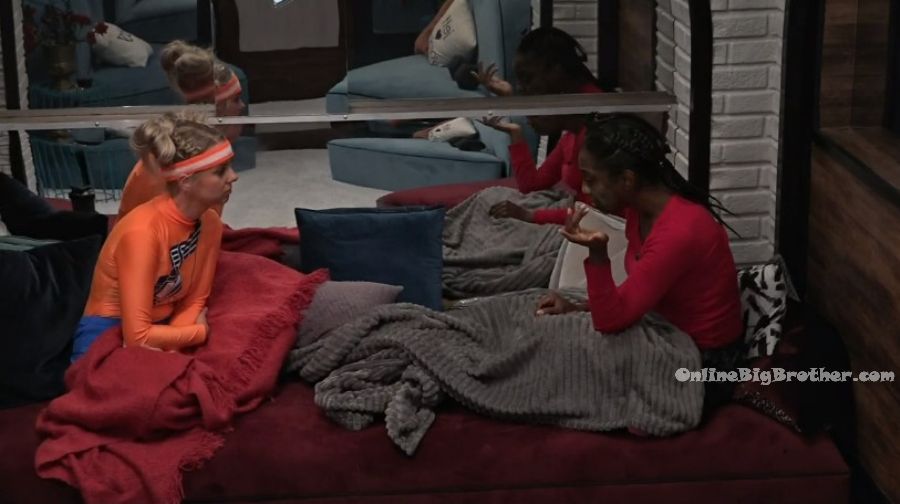 2pm Lounge room. Kevin and Bay.
Kevin – so you don't think you have his (Tyler) vote then? Bay – but the good thing about that is that he is going around saying that he is voting for me. Kevin – okay because he wants you to feel secure. Bay nods yes – so those people will probably vote for me and assumptions that he is voting for me. I just have to go back and have conversations. Kevin – Then use this moment with Tyler.. like that you're good and that is not what you're going to do. If you do get past this week use it as a gesture be like you really showed that you were trusting of me and I will do the same for you. Bay – he already told me that he has my back. Kevin – I am team I want to win so I am trying to figure out a way to get far. Bay – I have enjoyed my experience with Day but I am here to win, to make a difference, to win some money. I don't want to be the first person in jury. Kevin – we're going to have to win power next to make some bold moves. Bay – I will talk to Christmas and see if she has a preference on who stays and how I can make her week easier. Kevin – you need to make the HOH feel like you will protect her in x amount of weeks. Empathize as much as you can and give her something concrete on what you can do for her. She can use us to accomplish the things that she doesn't want to do like backdooring people. She isn't comfortable betraying people. Bay – unless its me. Kevin – getting to the end is not getting caught up in the distractions. Someone (Dani) is playing the distraction game.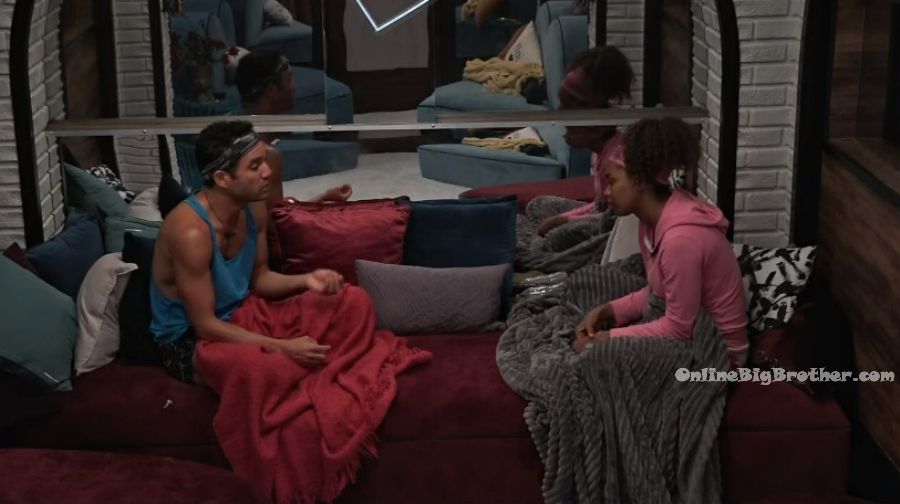 HOH room. Bay and Christmas.
Bay – I have been working all the angles. I have decided that I won't make a plan for you to not do anything else than what you've already done. I don't want to make it any more rough for you. It is what it is. I want you to know that I am not going to compromise your game and put any extra pressure on you so that you can keep the noms the same. Christmas – I appreciate that. Do you have a preference on who you would like to stay? Christmas – I have done what I am required to do and I leave that up to you and Day .. and really the house I don't want that decision to be frank. That is totally game-wise because you and I are connected. Bay – okay. Christmas – that's probably not what you wanted to hear. Bay – I didn't have any expectations. Christmas – isn't that nice. You and Day regal women and won't campaign against each other. Bay – I am coming to you for a read on what you think is going to happen.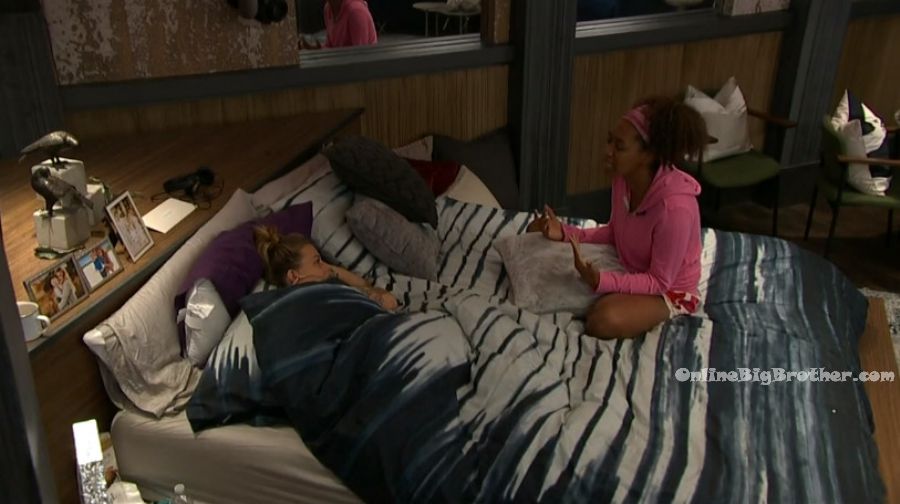 2:50pm Lounge room. Bay and Enzo.
Bay – I don't like when people back me into a corner .. it makes me feel really uncomfortable. But whenever she did talk to Day she figured out that it was Tyler. She came to me and spilled me everything that he said about me that I'm an emotional player, that got so mad that I blacked out and bled from my mouth and that I should go home before jury because I am just going to pollute the jury against him. Enzo – I don't get involved in this sh*t! Bay – because of what happened on my season .. Tyler wants me to blow up. Enzo – yeah. Bay – and I am not going to. Enzo – don't do it.. out play em. Has Christmas told you who her target is? Or is she leaving it to the house? Bay – leaving it to the house. I have been talking to David and I feel like he is going to vote for me. Kevin said he hasn't decided yet. The Tyler situation .. he doesn't know that I know anything and I am going to keep it like that. Enzo – I want you to stay. Bay – I am not asking you to stick your neck out for me .. just read the temperature and let me know if there is anything I should do. Enzo – three seasons she (Day) has been here and she hasn't won a comp… that's why they want to keep her here. I am just being honest with you. Bay – for you and Cody .. I am a better competitor so that is better for you. David and Kevin know that. Enzo – I think you need to work on Cody and Dani.. because if you have them .. you have me.. that's three.
2:30pm Backyard pool. The house guests relaxing in the backard and pool.
3:35pm – 3:50pm Backyard Couches. Bay and Cody.
Bay – the reason why I've been a bit off the last few days is because I felt personally attacked by someone… if that makes sense. Cody – that makes perfect sense. I can imagine how that is really tough. Bay – I know people like me but they also know that I'm a competitor and physical and all that kind of stuff. I have to walk a thin line that the people that I am working with know that I am ready to fight and compete.. and making sure that I am not threatening. Christmas joins them and the conversation ends.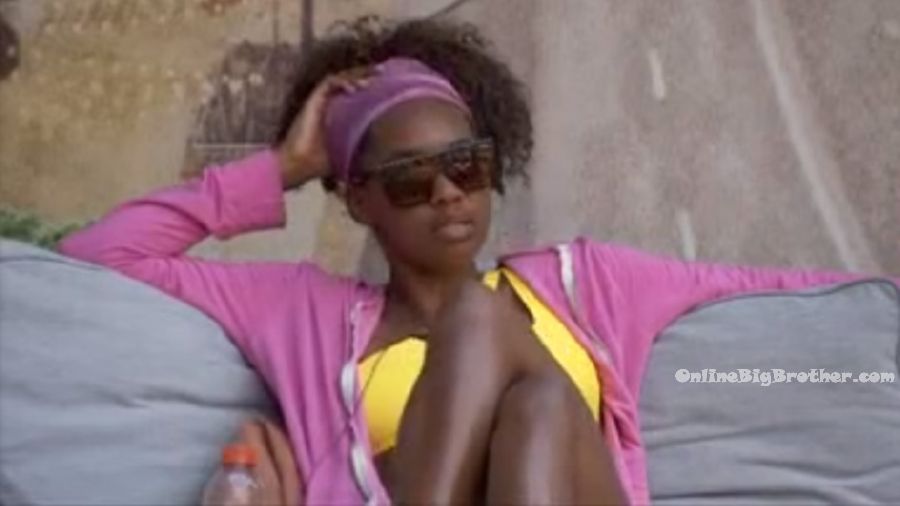 4:30pm The house guests are relaxing and enjoying having the backyard.
Show your support by making a donation.
If you're enjoying our live feed updates this season, please consider donating.
Any amount is greatly appreciated! Your donations go directly to paying the fees required to run this site.