POV Holder:
?
Next POV
?
POV Used
?
POV Ceremony
July 5th
HOH Winner Team 1:
Becky
HOH Winner Team 2:
Shelli
Nominations 1 :
Steve, Jason
Nominations 2:
Day, JohnnyMac
Battle of the Block Winner
Next HOH/ Next BOB
July 9th / ?
Original Nominations:
?
Current Nominations:
?, ?
Have Nots
Steve, Jason, James and Meg
TRY the Big Brother 17 Live Feeds FREE for 1 WEEK:
Click here to ensure your live feed subscription supports OnlineBigBrother.com at no extra cost to you.
Nomination results:
Becky nominated Steve and Jason, She thinks everyone is on board with backdooring Audrey
Shelli nominated Johnny Mac and DAY, She hopes Johnny Mac throws the BOB so she can evict DAY.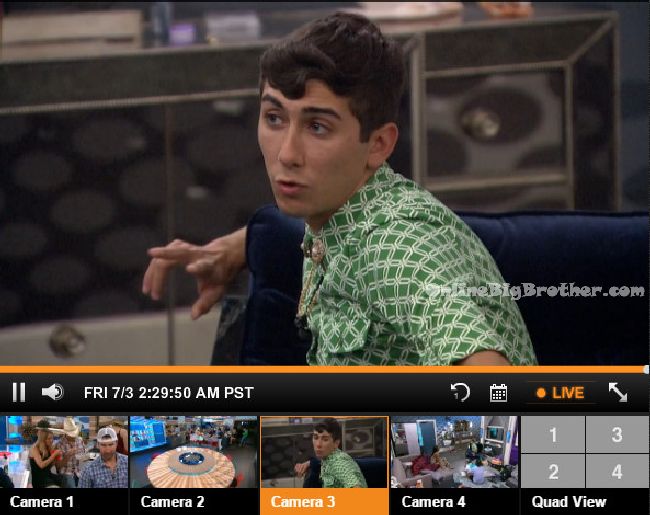 2:30am In the bedroom –
Jason says we're the plan B! Day says I don't trust no one up in this bit*h! Nobody! Jason and Day believe everyone knew what was happening. Jason says no one is going to send Johnny Mac or Steve home over me and you. Day says she told me I was going up right before. Jason asks did she tell you .. you were going up against me? Day says no. James joins them. Jason says we're the targets. Day says this girl (Audrey) was proved to be a liar … and you don't trust me!! Jason says we're the B plan .. if they can't get Audrey out, they're going to get one of us out. Day says we're going to kill this BOB and then get off and get that a$$! Day says they all think I went off on Audrey… she is going to be pissed if I find out I'm being snaked! She's skipping around the house, laughing, cracking jokes. They picked the wrong two!! Jason says the two big bad wolves are up on the block because we checked her.. I know how this game works you go up in you open your mouth. Becky says I'm not a pawn. ..After everything Audrey did .. what did all that just go out the window!? Day says even if I have to win the BOB by myself I'm going to win it. Jason says Frankie did it. Day says Jace dropped the bomb that there was an 8 person alliance. The thing is it wasn't even an alliance it was just people that wanted him (Jace) out. Day says notice this bit*h floating around this house! This bit*h had an IV, a heart monitor … now you're resurrected! Praise the lord!
2:35am In the cabana room –
Austin tells Johnny Mac .. I am telling you right now you have my vote! 100%!! Johnny says I appreciate that. Austin says their alliance is going to explode. If Day ends up going home we are going to coast for a long time! I'm going to fight for you. I'm still worried that there could be a plan to backdoor me. If I lose another physical competition I'm not going to be a physical threat. It's definitely a different vibe in the house. Johnny says I don't want to get in the middle of this uprising. Austin leaves and Day talks to Johnny. He asks her if she's okay. She says yeah I'm fine. I expected it. Just communication .. as long as we keep talking we'll come off the block. Did you know I was going to go up? Johnny says they didn't want me talking to you. Day says I thought I was the pawn and Audrey was the target but the more I think about it I know I'm the target. Jason's just a pawn because they know we work together.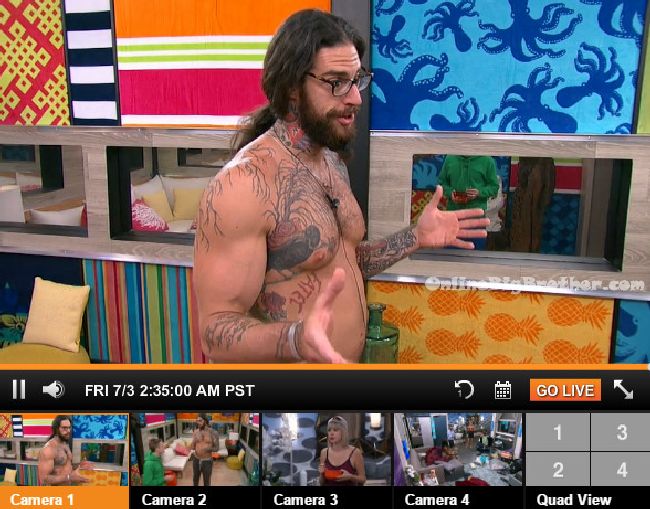 2:40pm In the HOH room – Vanessa tells Shelli "You have balls! You have big balls!" Vanessa asks do you think Johnny Mac will do it? Shelli tells Vanessa to tell Johnny "I talked to Shelli and she let me know what the plan was and she is very trustworthy." Shelli says that Becky's plan is to backdoor Audrey. Until I was putting in my keys I realized that Becky thinks that's my plan too. Vanessa says that's good .. Shelli says anyone who is afraid of Audrey should think that. Its better that way. Trust me. Vanessa says and it could be the backup plan. Since I put up Day she is going to be gunning for me so I have to get her out. Vanessa leaves.
Shelli's flying high after noms @bigbspoilers #bb17 pic.twitter.com/9XRAeuwk03

— Dawg (@DawgsBigBrother) July 3, 2015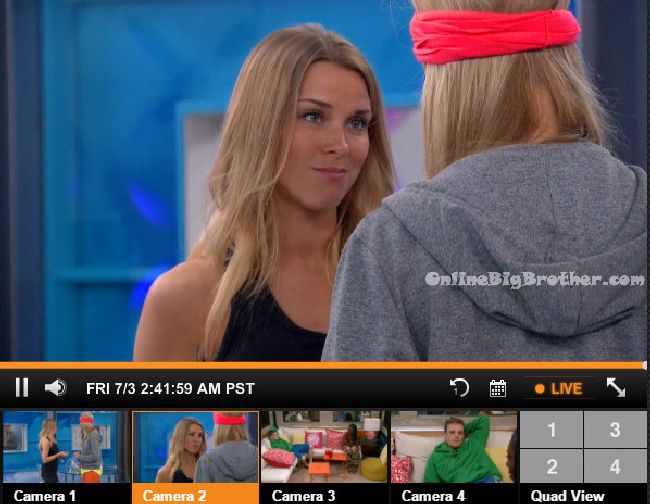 2:50am – 3:10am Clay joins Shelli in the HOH room. Audrey joins them. Audrey asks can I ask 1 question? Shelli says yeah, just one. Just kidding. Audrey asks is there a plan b if Steve or Jason some how throw the competition? Shelli says I don't think so. Clay says we have to do everything we can to keep Johnny. They wonder if Becky can hear them. Shelli says I'm not talking game tonight. Audrey leaves. Shelli tells Clay I am going to have to tell her not to come up here when no one else is up here. Clay says that he warned Audrey if she says one word to someone she will be walking out that door. Clay says Audrey already lied to me 3 or 4 times. She lied about talking to James. You can't trust her. Not in this game. Clay says Jeff is working with us here. He is risking her staying for us. If she does stay I will go after her. Audrey's already lost my trust. Its nothing personal. Shelli says I don't want to talk game with her EVER! Clay agrees. Shelli says as soon as you doubt someone .. you cant get it back. Clay says all the concerns and suspicion .. and the lies where we've caught her red handed. If I lied to you and you caught me you wouldn't trust me either.
TRY the Big Brother 17 Live Feeds FREE for 1 WEEK / Then ONLY $5.99 a month!!
Click here to ensure your live feed subscription supports OnlineBigBrother.com at no extra cost to you.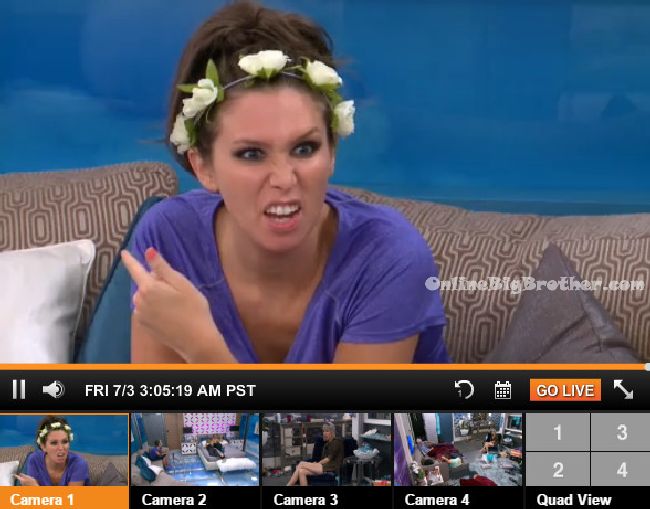 In the living room. Austin tells Audrey .. if Johnny Mac throws it you're golden. Audrey says I hope it doesn't come down to who throws it better.
3:20am – 3:40am Jackie joins them. Clay asks are you a little less stressful this week. Jackie says yeah. Shelli says I told her (DaVonne) right before and she is actually acting pretty low key about it .. but I don't know what tomorrow will bring. Becky comes out of her HOH room. Shelli says it is funny how no one is coming up here. Becky says that's because there was no time. Clay says Day said you won't catch me up there! Clay says she should seriously pack her bags. Pack them out of here. Jackie says I guess we'll see what happens in the BOB. Shelli says either way ..Becky told me about the things Audrey said. Jackie says that bothers me that she said that. Jackie says when James was talking to Audrey.. she said Becky said a racist comment. Clay asks what did she say? Jackie says nothing. Becky coming in here said that was her biggest fear. Jackie says Jason bum rushed her in the storage room when the music was on so it wouldn't be on the live feeds. Jackie says Audrey will use any insecurty to pray on you. For her to go there and push it to that level is not okay. Shelli says that's a personal attack. Jackie asks for what?! Jackie says she (Audrey) thought about it .. like how can I hurt Becky.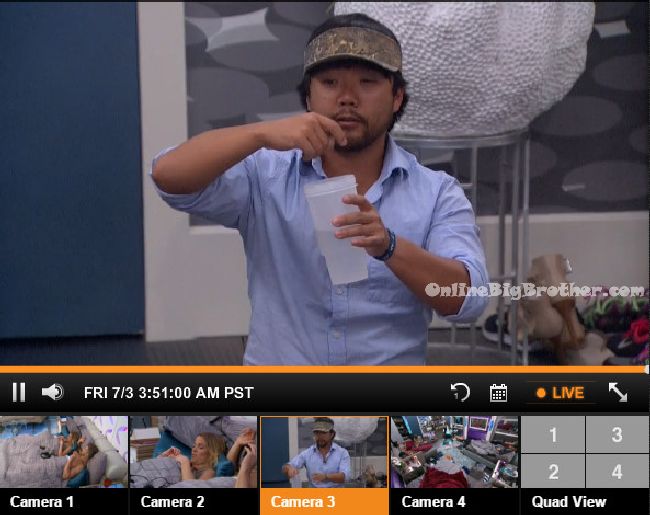 In the bedroom –
James tells them about how he drank pee before. Jason says that he was at a party once and these girls pissed in a guys beer and watched him drink it. The guy also shared the beer with two other people they didn't want to drink it but couldn't say anything .. like don't drink that beer! The conversation turns to talking about dating sites. James says he hooked up with 2 girls off a site. Jason says I hope you use protection. James says I don't like guns. Jason tells the kids watching live feeds to use protection. I'm from the gay world we don't mess around without protection. James says I got tazered in a night club before and I pee'd myself.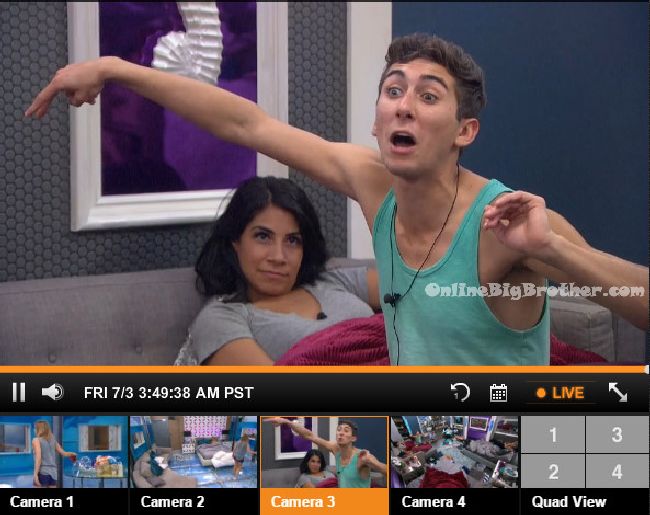 3:55am Shelli says that when she was in finals (to get on the show) when I saw you.. I obviously had a huge crush and obviously because they kept asking me about you in my interviews. So obviously they were making me think about you .. Just like oh he's hot! And I got to thinking I would really, really, really want to be on big brother so… Big Brother tells her you are not allowed to talk about production. Clay says I referred (in the diary room) to you as my Georgia Peach that no ones taken a bite of. Shelli says if I get dethroned then this whole thing could come back and bite me. SHelli says John will throw it. Shelli says Jason may not try to throw it now because at some point he may not want to part with Day. Vanessa has also talked to John on a personal level. I don't want him to feel that I am going to hurt him. So Vanessa is going to talk to John tomorrow and say she talked to me about the plan and will tell him he can trust me. Shelli says if doesn't work out I will have to backdoor Audrey. I just can't imagine being the one to do it. I want anyone who plays veto to keep my nominations the same. Jason will come gunning for me next week so you have to win HOH. Clay says we just need to get Day out.
Definite votes: Clay, Jeff, Audrey, Vanessa, Austin, John
In between votes: Jackie, Becky, James, Meg, Steve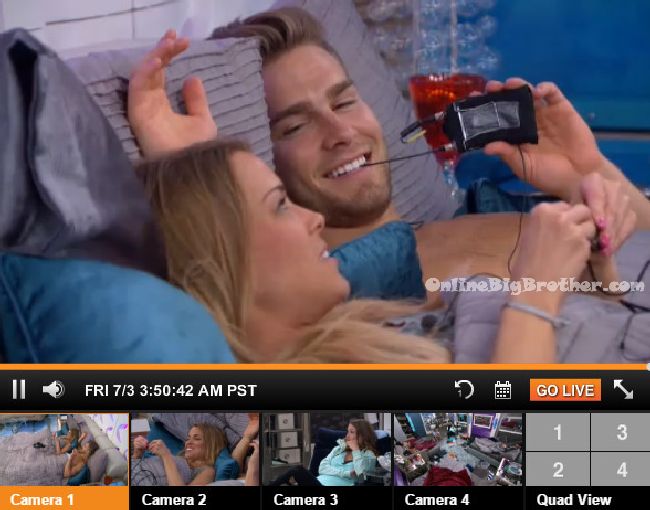 4:20am – 4:50am Storage room – James and Jeff in the storage room. James says I'm going to stay loyal to the group. Jeff says Clay is so convinced that if he doesn't get Day out then she will come after him. James says I just want Audrey out. She has just done so much sh*t! It boggles my mind that Audrey is not up on the block. The only way that its certain that she leaves is if Shelli gets dethroned. Jeff says the thing that scares me about Clay is that if we ever got to final 3 .. he would take Shelli over me. James says I don't want to play Shelli or Clay's agenda. I think our group could go to the end. I guess we will just deal with it down the road. Jeff says I am just worried that they aren't going to go throw with getting rid of Audrey. That would be terrifying. James says I don't trust her. I have to trust Clay and Shelli. They did say we're in a group now and we've got to trust. Day joins them. They tell her they're worried because Audrey isn't on the block. Day says well because Jason and I are the targets. Jeff suggests Day go make a deal with Shelli. Jeff says long story short you and John should probably win. James says if everyone in the house voices how much we want Audrey out I think they would switch up their agenda. Day heads to bed.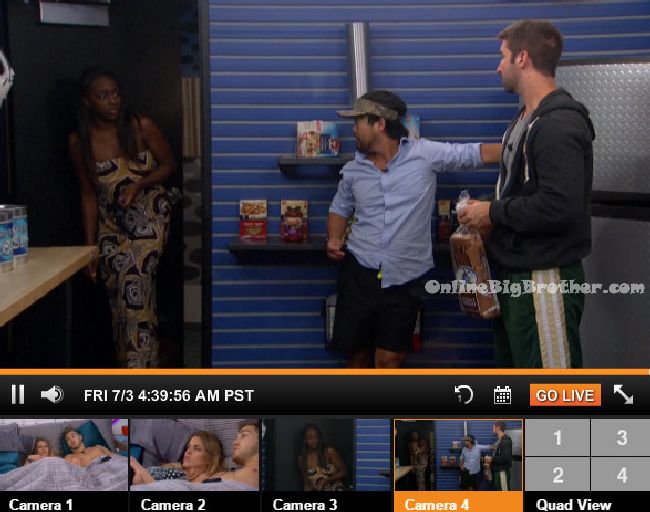 5am Audrey comes out of the diary room with a clip board and a megaphone. Audrey "RED ALERT ITS TIME FOR THE BATTLE OF THE BLOCK COMPETITION! Get changed and report to the "Ginger Fever" .. Big Brother then blocks the feeds.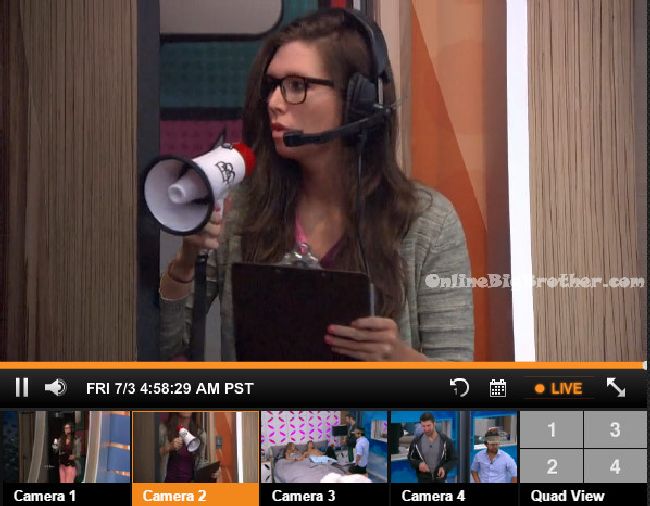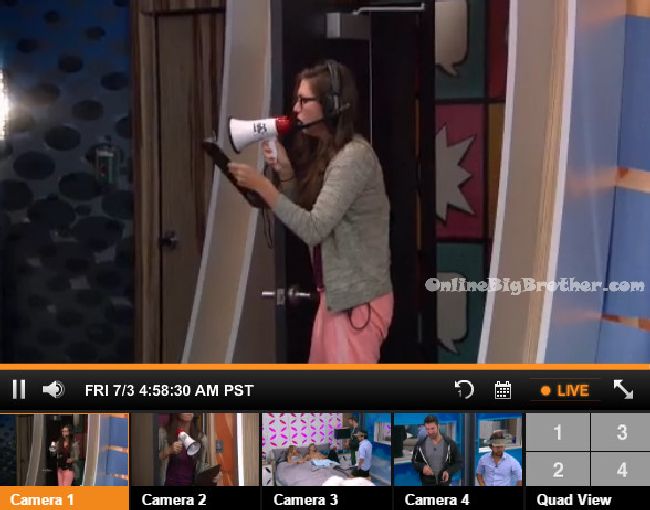 Live Feed subscription gives you CBS All Access thousands of archived shows. Live Shows like Big Brother, all the Big Brother Seasons, and 24/7 coverage of what is happening inside the Big Brother House. Plus there's flashback that lets you go back to any second of the feeds and rewatch what happened. Simon and Dawg will index the season just watch the parts worth watching.
All this for $5.99 a month try it out 1 week free. Support our efforts and get your feeds via a link on this site. Live feed subscription Sign up

Share it YO!!
Tweet