POV Holder:
?
Next POV
?
POV Used
?
POV Ceremony
July 5th
HOH Winner Team 1:
Becky
HOH Winner Team 2:
Shelli
Nominations 1 :
Steve, Jason
Nominations 2:
Day, JohnnyMac
Battle of the Block Winner
Steve & Jason
Next HOH/ Next BOB
July 9th / ?
Original Nominations:
Day, JohnnyMac
Current Nominations:
?, ?
Have Nots
Steve, Jason, James and Meg
TRY the Big Brother 17 Live Feeds FREE for 1 WEEK:
Click here to ensure your live feed subscription supports OnlineBigBrother.com at no extra cost to you.
Nomination results:
Becky nominated Steve and Jason, She thinks everyone is on board with backdooring Audrey
Shelli nominated Johnny Mac and DAY, She hopes Johnny Mac throws the BOB so she can evict DAY.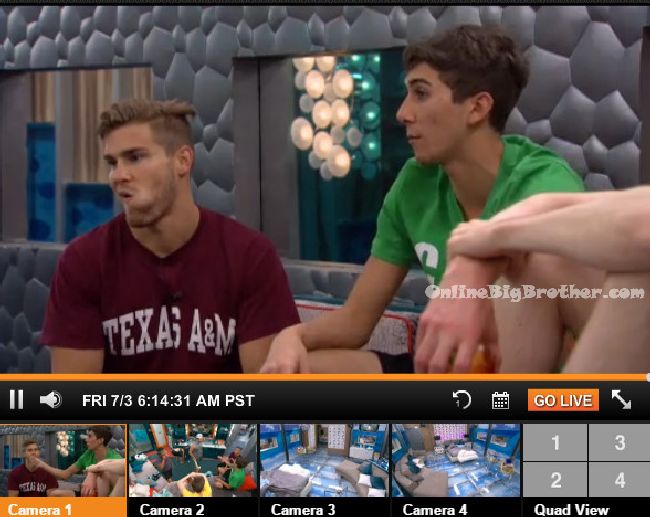 5am – 6am Audrey comes out of the diary room with a clip board and a megaphone. Audrey "RED ALERT ITS TIME FOR THE BATTLE OF THE BLOCK COMPETITION! Get changed and report to the "Ginger Fever" .. Big Brother then blocks the feeds. When the live feeds return –
Battle of the Block Results:
Steve & Jason BOB Winners / Becky is dethroned
DaVonne & Johnny Mac remain on the block / Shelli remains HOH

6:10am the havenot room –
Meg, Jason and James are talking. James says now we're going to see where everyone is at. Jason says no one wants to get Johnny Mac out. Jason says I feel bad for Day though. Jason says it doesn't even matter we have to save Day otherwise we're down one. If we save Day do you think Shelli would backdoor someone other than Audrey. James says Maybe not. Meg says I don't know if I would trust what she would do. Jason says I'm already safe for the week so me winning it doesn't even matter. Meg says its still so early in the game that if you go against what she wants it could be this whole other blow out. James says it sucks. Jason says its going to come down to campaigning but how do you campaign against Johnny Mac!? Meg says she (DaVonne) has to win the veto. Jason says then its one of us campaigning against Johnny Mac… its you (Meg) or him (James) up there. Jason says she's not going to put up Audrey. We might have to push the dentist thing hard or like plant something to make people lose trust in him (Johnny Mac). I know he's not going to do me dirty but he's not going to be as loyal as Day would be. James says this is crazy, we're definitely in a pickle. Jason thinks the veto will be tomorrow and then Veto Ceremony on Monday. They speculate on that the BB Takeover twist "last laugh" will be. Jason describes BBAU where each evicted house guest gets to throw a grenade (type of punishment) into the house as they're evicted.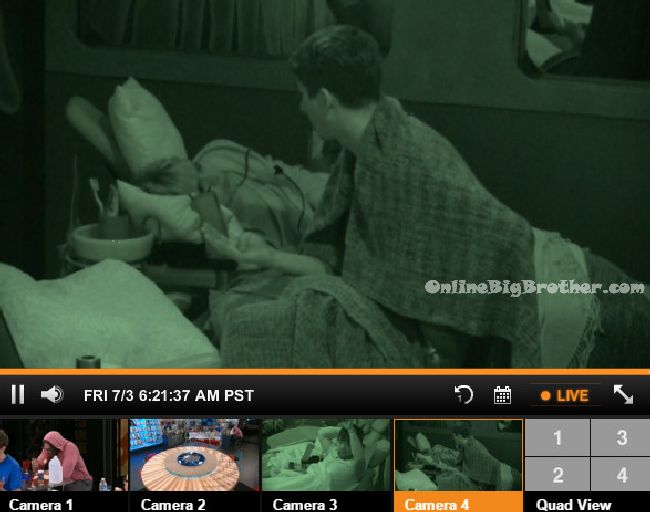 Up in the HOH room – Shelli says I feel aweful. Someone must have talked game with him if he is saying I'll talk to you later. I just feel bad. If I hadn't asked him to throw it I still would have put him up there. Clay says maybe because he just sealed Day's fate. Shelli says that last night Audrey slipped and said something. Something along the lines of how she's only here for a specific amount of time. She was talking about her psychic and then said something like .. they told me to not give away her secret until later in the game. Clay says she's got a twist. Shelli says I could totally be wrong. Even though everyone wants her gone I trust her. Maybe its just stay for 5 weeks and get 50K. Shelli says Audrey said she couldn't do this for 8 more days and was thinking of walking out the backdoor. I told her there are psychologists here you can talk to.. Big Brother blocks the feeds.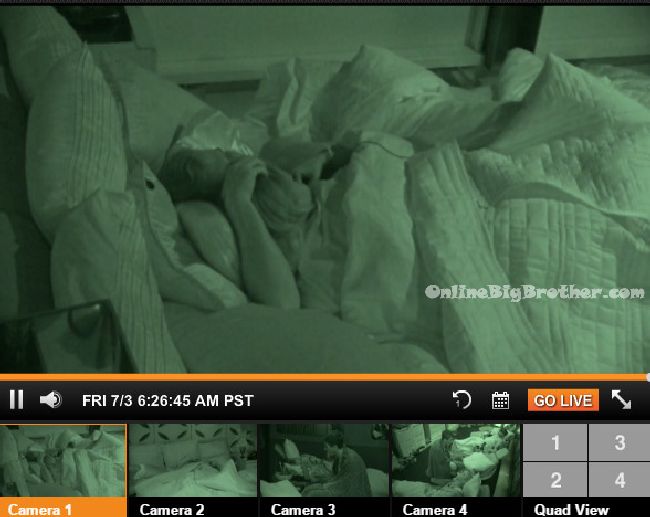 Jason & Meg talk about Audrey's theory there was a twin in the house. Meg says all Audrey heard was a name in there (Diary Room). Jason suspects the twin could be Johnny's. Meg says did you know Mac is short for Mathew. James says all I know is that Audrey needs to go. She needs to go kick rocks. Jason says all I know is Johnny looked a lot more attractive today when he woke up. Meg says I want to go look at him right now. Jason says just have a really random conversation with him like about butterflies and then 4 days later ask him about it.
Johnny MAC excited he LOST the Battle of the Block @bigbspoilers #bb17 pic.twitter.com/1kw61DnVGX

— Dawg (@DawgsBigBrother) July 3, 2015
6:50am – 7:15am Up in the HOH room –
Clay and Shelli talk to Johnny Mac. Johnny putts his arms up in the air and smiles. Johnny says I didn't do anything!! She had such a bad strategy I was like lets go with it. Shelli asks are you okay. Johnny says well I couldn't be too excited. Shelli asks were you acting?! Johnny says it was bugging me a little bit. She was doing so bad I wondered if she was throwing it. Clay says we're going to look out for you. Johnny asks if I get house guest choice who do I pick? Clay says pick me. Shelli says if he is already picked then pick Vanessa. Clay says everyone wants you to stay. She (Day) is just so controlling. Clay says don't think you're at the bottom with us because you're not. And its not like we'll use you as a pawn each time now either. Clay says Day is the head of the snake. James, Day and Jason is in a 3 person alliance. I like James and once we get rid of Day maybe we can pull James in. We have then numbers at this point. If you have any questions just come talk to us. We think you can help us as much as we can help you. They shake hands Shelli says congratulations on not winning the BOB!!! Johnny leaves. Clay and Shelli continue talking. Shelli says she loves this game, its so addicting.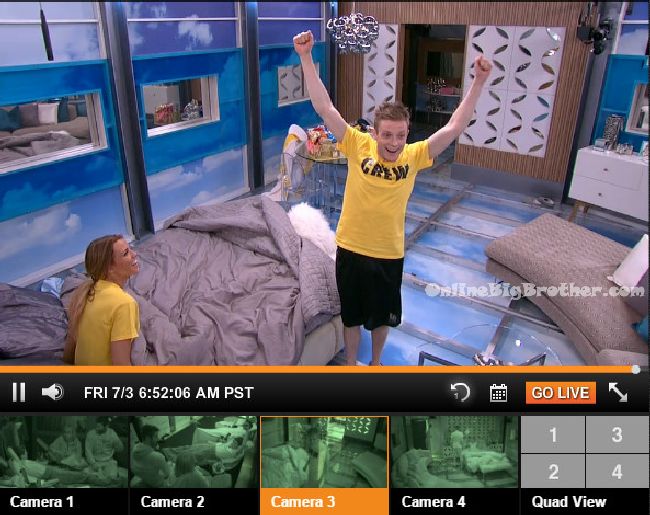 In the bathroom – DaVonne is crying. She keeps telling herself to get it together. Get your life. Get your life. They don't deserve it. Get your life.
7:15am – 7:30am In the havenot room – Meg says what if someone wins the veto. They take off Johnny Mac and then they put up Audrey. Then the house votes who they want out. Meg says if they don't put up Audrey .. then people like Becky who was trying to get her up will be pissed. Meg says she is livid. Jason says those Abercrombie and Fitch stores are run like the navy… She (Becky) is like the MOTHAF**KING BOSS! They wonder if Clay is who he says he is. Jason says the first few days in the house Clay was hitting on me .. like saying I have a cute butt. Jeff thinks Shelli is trying to play Clay just as much as he is playing her.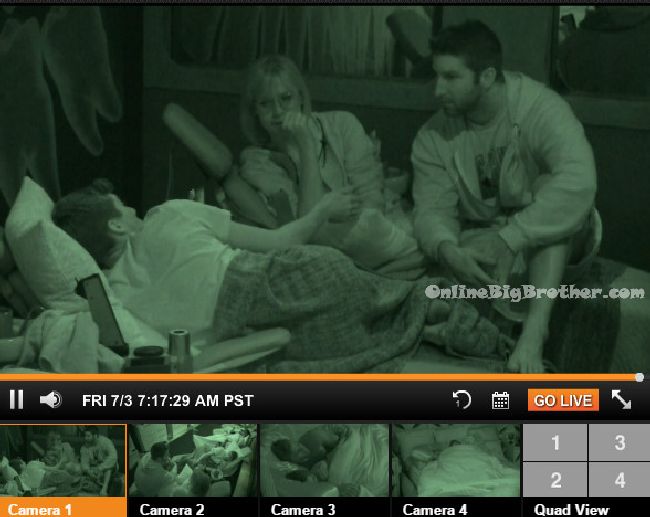 7:38am Shelli tells Clay that he is the hottest guy to ever be on Big Brother and ever will be.. We are way to fast forward in our flirtiness and cuteness. Clay says you're kind of like Brittney. She is good looking but you are extremely good looking.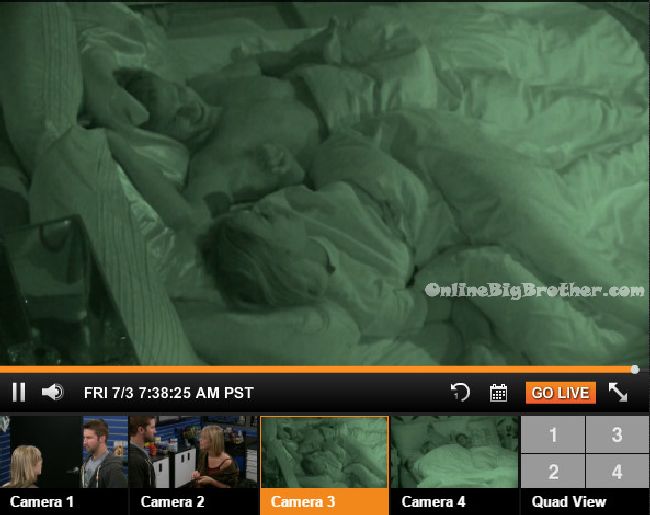 7:45am – 8am Meg says the only hope we have this week is that Day wins the POV or someone pulls Johnny Mac. Jeff says Day needs to step it up otherwise she is going to ruin it for everyone. I know Johnny Mac threw that competition. He was going way too slow. They asked him to throw it. Meg says he said to me that he thought about throwing it because he said he trusts Shelli over Becky. Jeff says if I wanted to play dirty like Audrey I could but I think its just way too early to do that. Meg says I don't think they're even thinking about the Becky & Jackie's will think (When they don't follow through with the plan to put up Audrey). Meg says you piss off the rest of the house .. the four people in your alliance aren't going to save you. Jeff says I want Austin out to which is why I'm trying to keep him so close to me.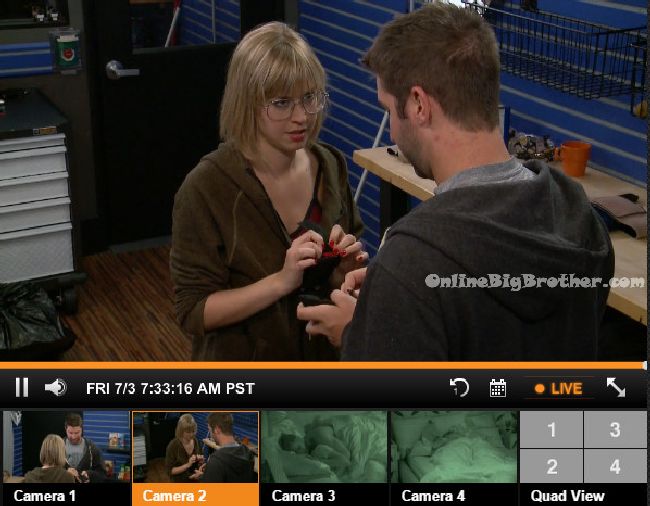 8:05am All the house guests are in bed trying to go to sleep.
10:20am – 11am Big Brother wakes up the house guests. James gets up and takes a cold shower. Clay gets called to the diary room. Johnny Mac was up in the bathroom but wend back to sleep along with the other house guests. James heads back to bed and says that cold shower sucked balls! But I had to because I felt gross. James says he can see why people can't stand being a havenot for a week.

Live Feed subscription gives you CBS All Access thousands of archived shows. Live Shows like Big Brother, all the Big Brother Seasons, and 24/7 coverage of what is happening inside the Big Brother House. Plus there's flashback that lets you go back to any second of the feeds and rewatch what happened. Simon and Dawg will index the season just watch the parts worth watching.
All this for $5.99 a month try it out 1 week free. Support our efforts and get your feeds via a link on this site. Live feed subscription Sign up

Share it YO!!
Tweet