POV Holder:
Paulie
POV Competition
July 1st?
POV Used
Yes
POV Ceremony
July 3rd?
HOH
Paulie
Next HOH
July 7th
Roadkill Competition Winner:
Victor
Original Nominations:
Paul, Bronte and Tiffany
After POV Nominations:
Tiffany, Bronte, Victor
Have Nots
Da'Vonne, Paul and Zakiyah
Big Brother 18 Alliances Help Guide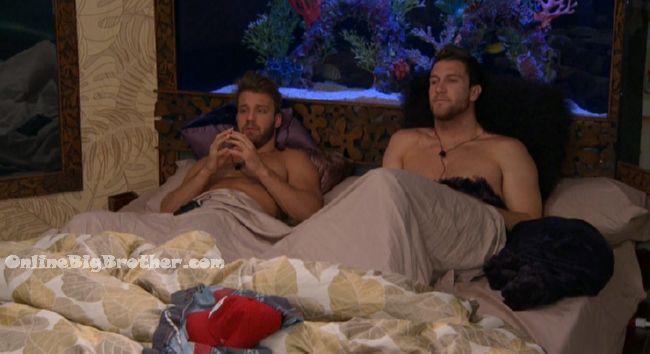 11:03am – 1:00pm HOH Corey and Paulie
Corey is concerned with the number of final 4's Frank is making. Corey says Nicole has been talking about it. Corey and Paulie consider forming a solid 5 with Nicole, Zakiyah and Da'Vonne with Mcihelle as a replacement. Paulie wants a final 2 with Corey.
Paulie – If the vote was 6 to 4 Tiffany would crumble she would become so paranoid she would shoot herself in the foot.
Paulie – she still thinks people want to get her out this week
Paulie – she is a wild card but she is aware of things that are going on
Paulie says Frank is telling him that Michelle and the girls figured out the name but Z told him it was Frank. She said he came out of the shower and said "We should call ourselves the 8 pack because Corey has a 8 pack"
Corey – the whole 8 pack thing is irrelevant now
Paulie agrees says those big alliances never work
Corey – I do like Michelle.. I do think she likes you and me a lot
Paulie – she can be pulled in the same way James and Paul can be pulled in
Paulie is having trouble believing Frank after he told Zakiyah not to trust him. He's worried Frank whispered to Da, Nicole and James… "Everybody"
Corey – ohh Frank you might have to go bud
Corey – maybe we should get him next week
Paulie – maybe next week is the best..
Corey – we can get Michelle to throw it tomorrow… I don't know if Z and Da want to put him up.. (they want a convoluted backdoor strategy that hinges on 3 comp wins)
Paulie thinks Tiffany should win it.
Corey – Nicole wants him out next week..
Paulie – really.,.. Dang.. .
Corey – I'm pretty sure.. She said it.. I was like OK
They count the votes.. they have 5 to get Fran out.
Corey – I can talk James into doing it..
Corey adds they will just put people on the block with Frank that will vote for him.
Corey – I'm just trying to stick week to week
They count the votes if Victor and Frank leave.. 8 girls and 4 guys.
Paulie – I just don't want to be naive to the fact their numbers are growing
Corey thinks they can treat Nicole, Michelle and Zakiyah as "Guys"
Paulie says with Frank gone it's going to be hard for his team to win an HOH competition.
Paulie says Frank isn't after them anytime soon. Corey says that's not Nicole and Michelle are saying.. Corey says Frank wants to anonymously put up one of them after a roadkill win. They count the votes and believe they are safe if Frank does that. Paulie is amazed Frank would rope them in and try to flip teh house on them next week with roadkill.
Paulie blames losing last weeks roadkill on not having enough sleep, "I was falling asleep.. math is my strong suit"
Paulie says Paul is a good dude outside of the house he would vibe with him.
Corey doesn't know he's heard him says thing that aren't cool. Corey explains that Paul said B1tches to Nicole and Da'Vonne after winning the POV.
Corey wants to put up Bronte and Bridgette and send Bridgette home because she is close to Frank.
They agree Natalie, Zakiyuah and Nicole have rocking bodies. Feeds flip to the have nots room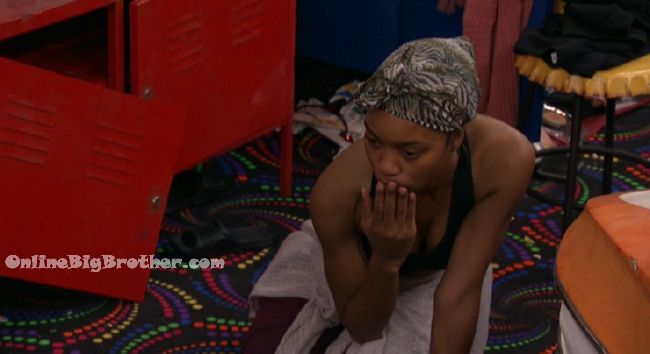 12:58pm Da'Vonne and Zakiyah
Zakiyah – who is better for your game.. the 5 he mentioned last night or you mean Michelle and Nicole..
Da'Vonne says the 5 with Michelle
Zakiyah – I definitely want Michelle around .. I trust yuo whatever you htink we should do
Da'Vonne – you gotta think about your game.
They can't decided what alliance to form..
Zakiyah says Corey is on Frank's radar, Paulie say Franks season before he knows what he's doing.
they decide to go with Corey, Nicole, Zakiyah, Paulie and Da'Vonne with Michelle on the side.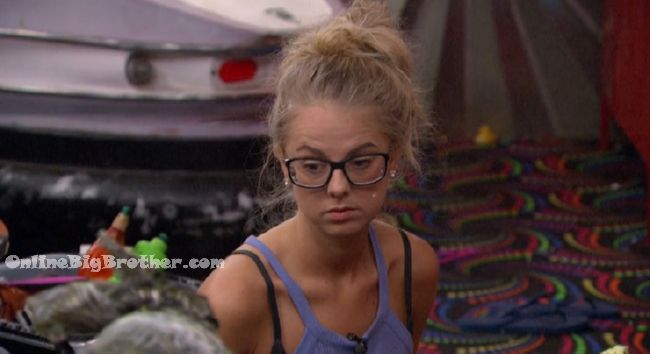 1:45pm Nicole and Zakiyah
They agree that Paulie is starting to turn on Frank. the more they talk about the Frank situation the more Charged Paulie gets.
Zakiyah – he's a threat he's a threat Frank has to go..
Zakiyah says Corey and Paulie are very close.
Nicole doesn't think she can get alone time with Paulie to talk to him about Frank. Zakiyah says she needs to be more forceful.
Zakiyah says Paulie wants them to cut out all of Franks votes before they take a shot. The girls are worried this is too dangerous of a strategy, "Something might change"
Nicole is worried Frank will take the shot first while they are working with Paulie to get the "Powerpuff girls" out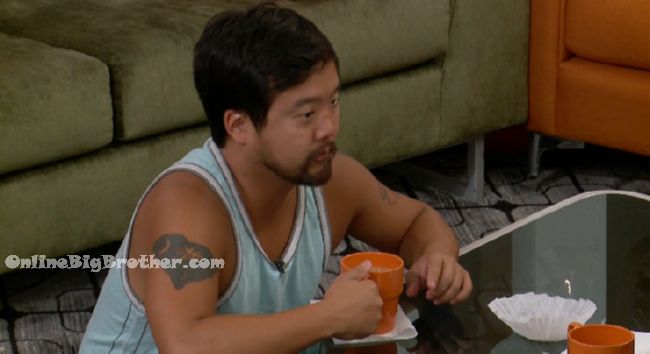 2:13pm Nicole and James
They agree the vets aren't making it to the end..
James – you know what is more sad.. Frank was my hero..
Nicole – put him down as my favorite player…
James – me to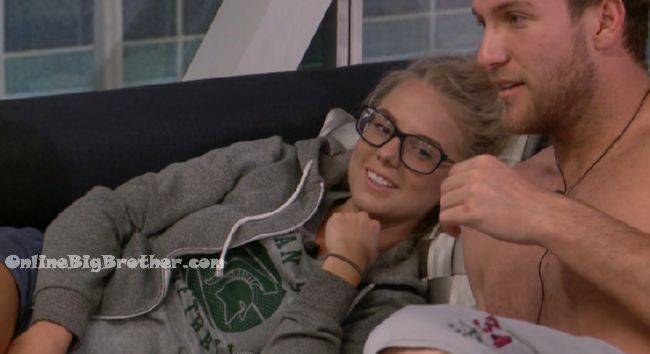 2:45pm Nicole and Corey
Corey
Corey brings up Da talking to Frank about getting them out.
Nicole – Da needs to go home too
Corey talked to Paulie this morning about Frank.
Nicole – I know he said he doesn't want to get frank out for 3 weeks.. Paulie tried to make an alliance with you, me, DA and Zakiyah.. Da'Vonne is pissed about it because she thinks it's 2 -2 and her..
Nicole – I don't trust her at all I don't want Zakiyah or Paulie to know that..
Nicole – you are the only person in this house I trust at all .. I'm so nauseous everyone is cutthroat..
Nicole says James accidentally told Frank you didn't want to throw the HOH.
Corey – I don't care
they both agree James doesn't trust Frank at all.
Corey – that makes me mad Frank and Da have been talking..
Nicole – I don't want to win with a cake walk I want some struggle (DING DING give that girl a medal)
Nicole – Da doesn't like the 5 person alliance.. where does she stand.. now she knows I trust you and Zakiyah trust Paulie and now she's pissed..
Nicole says Zakiyah trusts Da with her life, "I think they have a final 2"
Nicole – If I win Roadkill next week I'm putting up Da'Vonne
They agree to backdoor Frank next week if they can but Da'Vonne is also a target for Roadkill.
Nicole says she's played harder these past 2 weeks than she played her entire past season.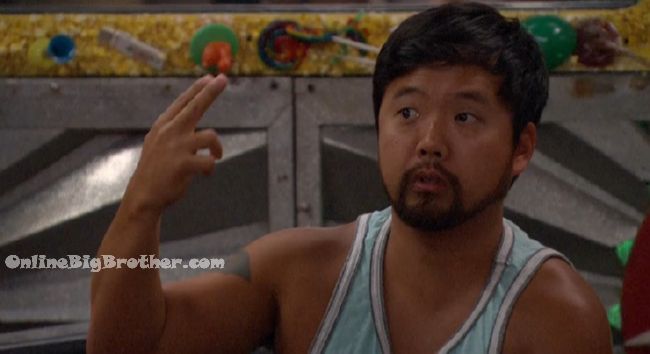 2:55pm Have nots Da'Vonne and James
Bummed out that the vets aren't making it to the end.
James – we would have been a powerful force
Da'Vonne tells him about the 5 person alliance that PAulie and Corey are planning and how she's the odd person. She doesn't think Paulie included her in the alliance Zakiyah just added her because they are friends.
Da'Vonne says paulie's new alliance wants to get frank out. James proposes they tell Frank and blow that alliance up. (ohh please do that)
James says they have to cause Drama they can't be quiet this whole game.
Da'Vonne brings up asking Nicole if the 5 person alliance is good for everybody in it and She said it was, 'HOW'
James wonders why he's never involved in anything..
James – I've been honest to everybody in my group.. if you watched my season last season I was honest 98% of the time.. those are good statistics for this game.
james we gotta get our group together
Da'Vonne doesn't know if they can Nicole is really close to Corey, she didn't want Nicole to get that close.
James and Da'Vonne proposing they get rid of Corey. it frees up Nicole and Paulie.
James- we have to be sneaky about it
Da'Vonne – and smart
James- I don't know if it's really smart to get rid of Victor.. Victor will go after Paulie.. I might be able to rope Victor back in
Da'Vonne says everyone wants Victor gone, "It's a lost cause"
James- damn
Da'Vonne goes on about having kids and how her and James have higher reasons to be on the show. She starts to cry says everyone else is worried about getting Instagram followers, 'We got kids dammit"
James says everyone here for their own reasons them having kids is their reason doesn't mean other players reasons aren't as valuable to the them. James and Da'Vonne both miss their kids.
James- she's starting pre-K I wanted to be there for her.
Da'Vonne – we got to get rid of Frank, Get rid of Corey and pull back Nicole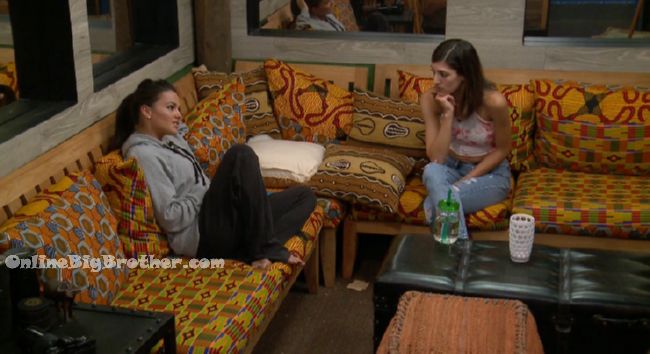 3:05pm Natalie and Bronte
Bronte says Cody is really into his acting so he can't come back into a reality show
Bronte – we need HOH girl.. then we can start turning the tides..
Natalie says James is going to watch out for them, 'I trust him we just have to be careful"
James comes in.
They tease him about kicking him out of team unicorn.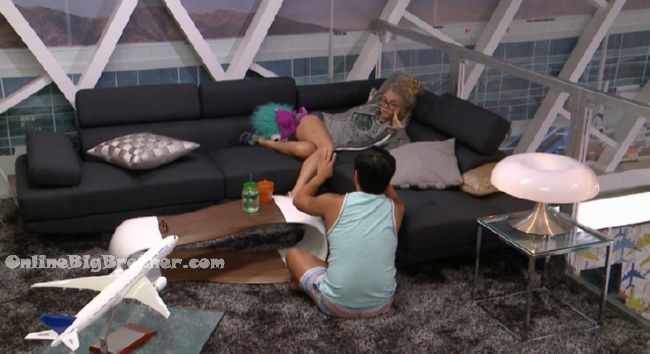 3:24pm Nicole and James
James hopes the returnees don't pay in the end for not sticking with their group.
Nicole says Frank talked to Paulie about putting us up.
James doesn't want the HOH says everyone doesn't have a set target anymore.
Nicole – we got to protect each other
James – they won't put you up..
James asks if Paulie trusts Frank
Nicole – I don't think so
Frank says they use to have one powerful alliance now they have groups forming all over the house.
Nicole – I have the feeling Frank is going to win HOH
James – I don't care anymore
Nicole – You have to care
FLASHBACK and watch everything you missed: CBS All Access FREE Trial!

[polldaddy poll=9459672]