Head of Household: Daniel
Nominees:
POV Players:
POV Winner:
Veto Ceremony:
Evicted:
Havenots: Joe, Michael, Monte and Kyle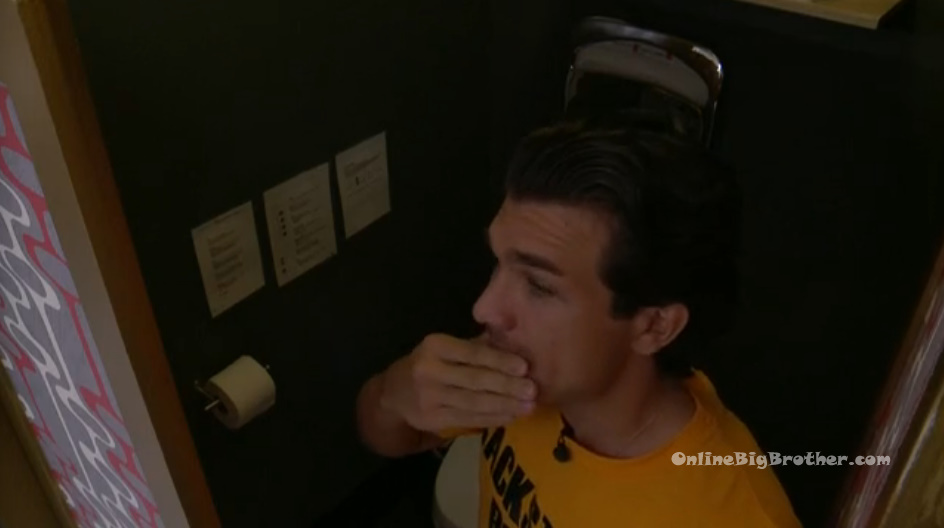 All the house guests are still up in the HOH room chatting.
11:18pm HOH bathroom. Pooch and Monte. Pooch – Joe is nice. Who I really like is me, you and Kyle. Like a group. Monte – solid. Pooch – Joe is cool but I think he can potentially rub people the wrong way. Monte – good intentions. Pooch – great intentions but he might put a bit more of a target .. I think.. you know what I mean at some point. Taylor joins them and the conversation turns to talking about bidets. Monte – I've never tried it. Pooch – me neither. I need a bidet training from someone.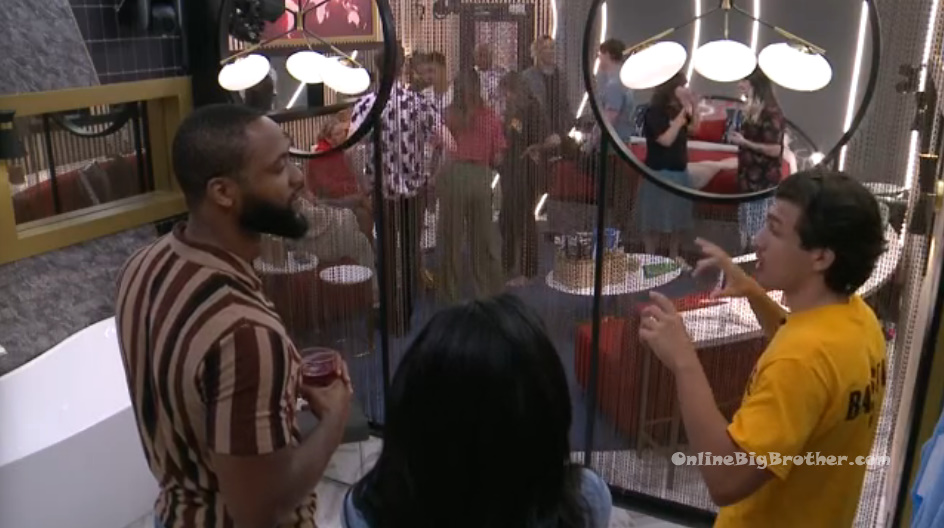 11:30pm The house guest head down to the kitchen to eat pizza. In the storage room all the house guests luggage are waiting for them.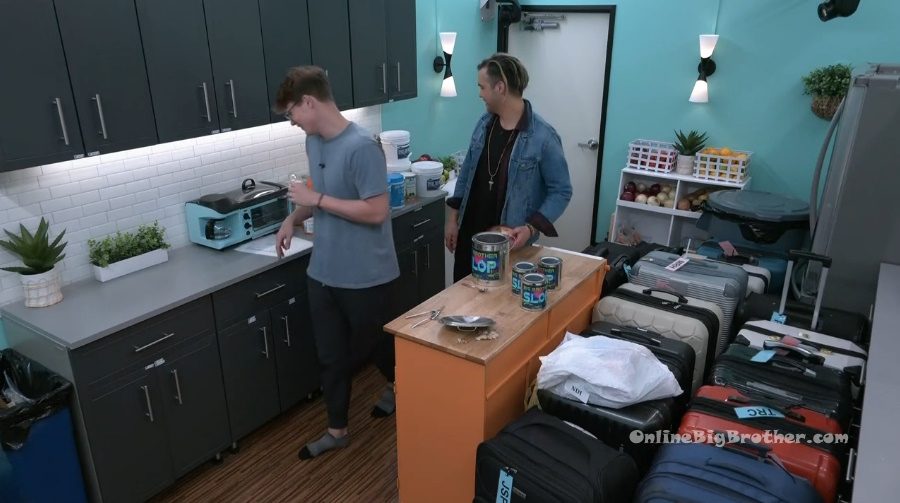 11:37pm Bedroom. Monte and Nicole.
Nicole – I also feel like doing this and being here …there is something about it that is like second nature. Its not like foreign. Monte – really?! Okay. Like this.. Nicole – except I have never lived with this many people. Monte – like this open concept sleeping like.. Nicole – and I never went away to college so I never lived in a dorm room. I worked on a boat that was like a bigger expedition type boat with like 50 people. Monte – oh really. Kyle and Matt join them.
11:40pm Daniel in his HOH by himself.
Daniel unlocks his HOH room door and says I'm going to keep it open and let someone.. catch someone scheming and put 'em up!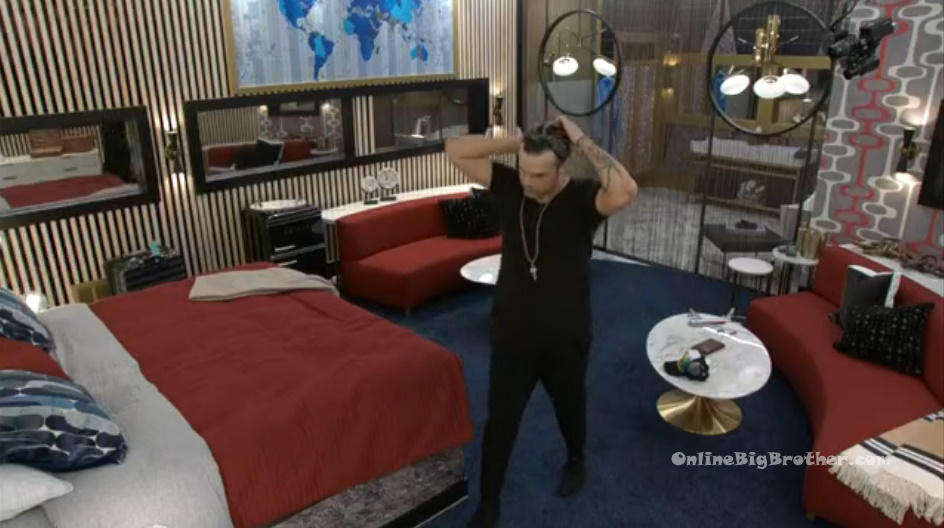 12:20am Kitchen. Turner, Daniel, Michael, Indy, Kyle, Paloma and Joe. They're talking about religion. Turner – my family were all like nuns and really conservative. Catholic or Christian.. I don't even know because I was so far removed from it. I was like the black sheep. My grandma was a nun. And like our family outings were to like abbeys. I had to like volunteer at the abbeys with the nuns. Michael – how was your grandma a nun? Turner – the sisterhood.. I don't want to be disrespectful .. my grandma left. Indy – yeah I was thinking that's not proper. Turner – she left and then met my grandfather and then they had their kids .. they just like breed nuns.. except for my mom of course.
12:38am Pooch and Brittany.
Pooch – I just didn't want to be the last one in the house. Brittany – well it worked out well for you. Pooch – like week one you just don't want to.. Brittany – ruffle any feathers. Pooch – I think it worked out. I think it really did at least with everything going on. I think you guys are fine. Brittany – right?! Pooch – yeah he (Daniel) seems super cool .. especially with you guys I think. Brittany – I am just going to lay low. Pooch – yeah I think so.. exactly. I think he might go after some bigger targets. Brittany – I hope. Have you talked to him.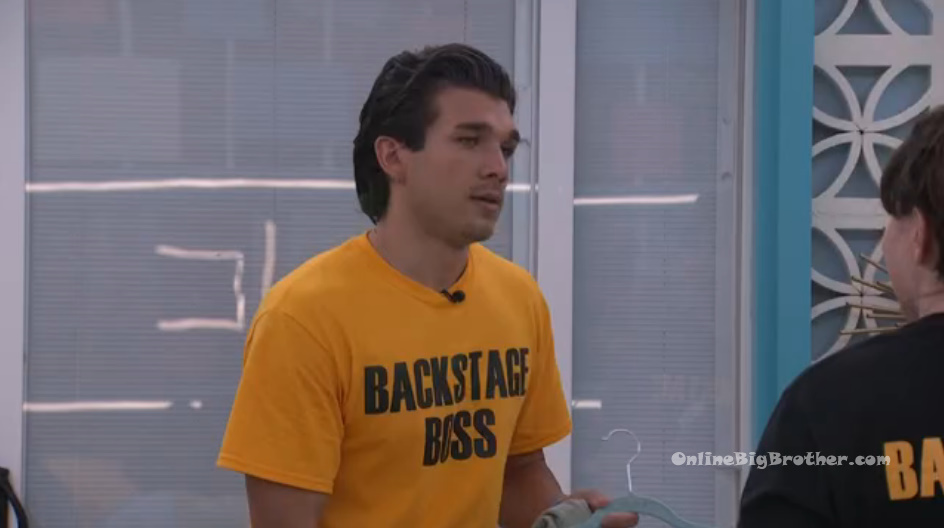 12:42am Workout room. Paloma and Alyssa.
Alyssa – we need to put together a _____. Paloma – oh I know. Alyssa – but with who? Paloma – I don't know but we have to feel it out… but I know its one of the two. You're a Scorpio. Alyssa – yeah. Paloma – I trust you. They head to the bedroom. Alyssa – we do have to have strong guys. Paloma – we have to have strong guys and the thing is. Yes we do have to have strong guys. Alyssa – I think our first is Kyle. And what's the guy who put us in these? (Backstage) Paloma – Pooch. Yeah Pooch is really nice. Jasmine is like so loyal dude. She is not someone that would turn on you if she is like in a final. There are already a few people that are sneaky.. like everyone is so nice. Everyone is so sweet.. hell no! There are snakes in the garden. Like signal snakes in the garden. And everyone is like oh this is such a wonderful cast.. no.. I can already sniff out the snakes.. like who are going to be the snakes. Like which ones of the girls are going to be the girls girls. Alyssa – I know Daniel is HOH but I don't trust him. We should tell him what he wants to hear to get through this week. Paloma – we should form an alliance .. but no one is talking game yet because they're scared. Alyssa – yeah .. what other guys should we recruit? Paloma – I really like Kyle. Monte is such a homie! Alyssa – I like that.. Kyle, Monte, Me, You and Pooch and Jasmine. Paloma – we should have 2 extra.. we'll be an eight person alliance but have the six. Alyssa – I think we should make a final two. I think we should try to make it to final two. Paloma – me and you. Alyssa – Scorpio sisters! They hug it out.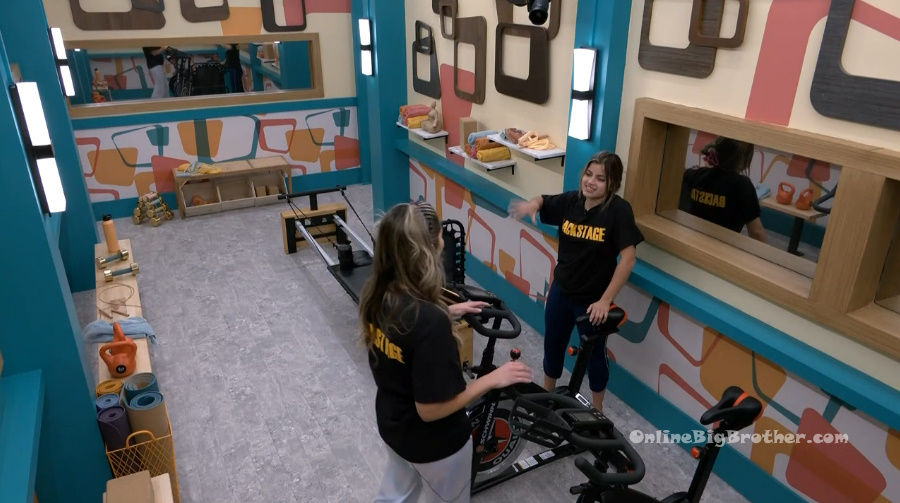 1:37am Bathroom.
Joe, Monte and Terrance recite the others names. They talk about how they need to learn them.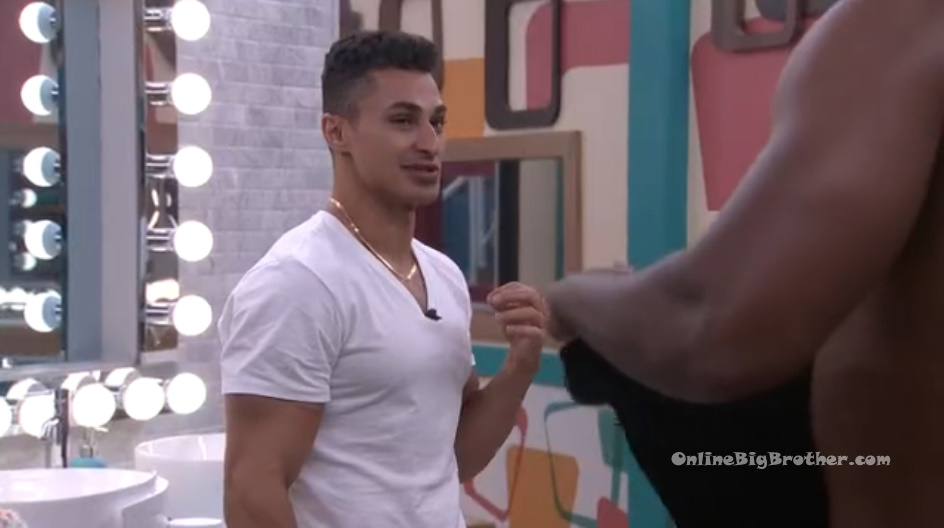 1:50am – 1:55am HOH room. Daniel is alone talking to himself.
Daniel – I've been auditioning for 10 years for this show and I said I always wanted to win the first HOH. I am going to wake up laughing tomorrow. I don't know when nominations are tomorrow so that will be fun. Nicole seems like the f**king homie. Alyssa is dope. I am going to try and talk to Nicole tonight. If not, then tomorrow. Kyle is cool as hell. I really think that Alyssa is cool. Her vibes are dope! Our humor is pretty on point. Paloma is cool as hell but she is too young for me to see where her mind is at as far as strategy so I have to see what is up with that. Tylor and Indy are firecrackers. I have to be careful. If you f**k with them, they're coming for blood you can just tell. Turner is chill. Its day one.. everyone seems like they're chill. I just need someone to piss me off and make my life easier. I forget who else is in this house. Terrance is cool and not a threat. We need to keep him in this house. Brittany is very sweet.. but also very easy to put on the block. It breaks my heart. Pooch is cool. I like too many people right now. But Nicole is a f**king homie!