POV Holder:
DAN
Next POV:
Sept 1 (Saturday)
POV Used
Yes
POV Ceremony
Sept 3 (Monday)
HOH Winner:
Ian
Next HOH:
Sept 6 (Thursday)
Original Nominations:
Jenn and Frank
Current Nominations:
Frank And Joe
Last Evicted Houseguest
Britney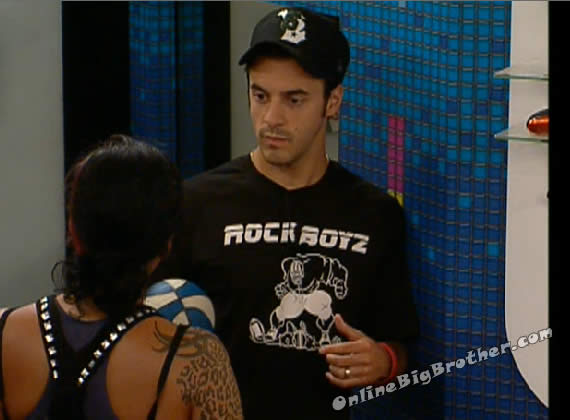 10:18pm Cam 3 -4 Jenn and Frank
Jenn gets a feeling that Frank is going home and it's got her thinking and worried. Jenn tells him he promised a final 4 with Frank and her and now he's going back on it with Frank what is stopping Dan from doing it to her .
Jenn: "it puts me in a bad spot.. I'm losing Frank.. "
Dan :"From my perspective all I have is you… "
Jenn: "You know we did talk about 4 but it's got me thinking Dan"
Jenn brings up if Joe wins HOH he's going to put her and Dan up they should be getting Joe out. Dan thinks it will be Dan, Jenn or Danielle.
Jenn thought them 4 were going to be strong and after talking to Danielle she knows Frank is going.
Dan: "how is Frank feeling right now"
Jenn: 'He thinks he's fine.. cause Danielle and Shane are telling him that"
Dan says that Frank asked him if he was arrogant and Dan told him no. Jenn and Dan agree Franks arrogance damaged his game.
Jenn says she wants to win HOH and put Ian and JOe up. She really can't stand Ian and is looking forward to sending him home. Dan: "Ian can't play in the next HOH he is ripe for the picking"
10:30pm Cam 1-2 Jenn and Frank
Jenn telling him everything is going to be OK, Frank is feeling the same way. Says he just had a long talk with Danielle he's feeling much better now. Frank says he told everyone that danielle Big Brother 14 was his big brother crush. Franks thinks Danielle really likes that he said that becuase she's brought it up to him when he was campaigning for votes.
10:37pm Cam 1-2 Dan and Danielle
Dan says that Jenn was a bit mad at Danielle but he's smoothed it over he had to promise her a final 2. Dan: "I had to tell her I would keep Her over you"
(Jenn was pissed because Danielle is voting out Frank)
Dan says Danielle needs to reassure Jenn that she isn't working with Shane. Jenn needs to feel at ease and calm.
Dan is going to tell Jenn that she needs to try and drive a wedge between her and Shane. Danielle wonders how can "they" can get someone in panic mode like they did with Jenn.
Danielle: "I'm about to go in there and blow my lid" (Diary room)
Dan: "They didn't do a thing.. it's OK this is our only Spike we need to get over"
(Apparently the DR asked Jenn 45 minutes of questions and now she's worried about the Danielle, Dan, and Shane)
10:44PM Cam 3-4 Shane and Danielle
Shane wants to get rid of Joe next . Danielle disagrees says she wants to get rid of Ian next because if he gets near the end he'll win everything. Shane: "Did Dan tell you that" Danielle :"Ya but don't tell anybody"
Shane: "I know Ian expects us to put up Joe and Jenn if we win HOH.. I just don't trust Joe"
Danielle: "But we can beat Joe"
Shane: "I know I know"
General chit chat.. Shane mentions maybe Danielle is America's player and she's getting paid to hug people in the house. Shane: "I would hug anybody in the house for money.. except for Wil that would be awkward"
Danielle: "If you want to snuggle or something you will need to start it.."
Shane: "You're a great cuddler.. but it's been so hot and i haven't been sleeping"
11:15pm Cam 3-4 Backyard
Ian explaining that the term backdoor is always being used incorrectly. Ian says that to be backdoored you need to be the replacement nomination and go home without the chance to play for POV. Ian says a lot of people this year are calling replacement nominee as being backdoored (Danielle and Shane are notorious for saying that)
Ian starts to explain Big Brother UK. Dan isn't too impressed by the rules, Dan says that it's obvious that there is no strategy in that game. Ian explains that the players cannot talk about nominations and the public gets to vote them out. Ian says it's more about entertainment and watching people get to know each other whereas Big Brother US is more about cutthroat strategy.
11:31pm Kitchen Rummy between Shane and Frank
Frank trying to get votes "Dont' go Sh!ting on my Dream"
11:46pm Backyard lounging
Dan: "If you don't join the Dan Gheesling Mailing list you are a buster"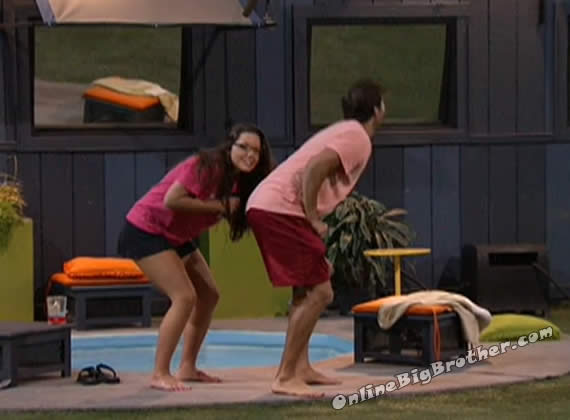 12:03am CAm 1-2 there's a bat in the backyard everyone Danielle and Shane freak out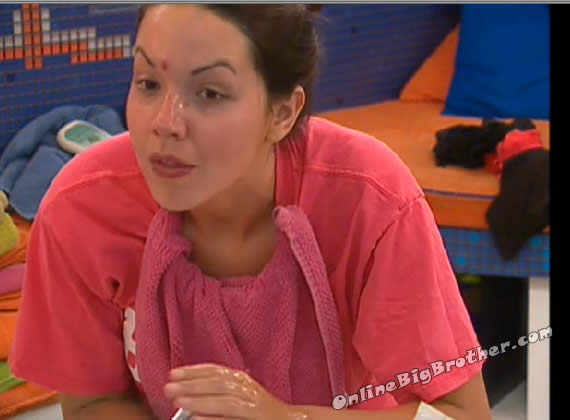 12:20Am Danielle getting ready for bed early (She's still picking at her pimple like crazy)
12:33AM Joe and Frank
Joe Breaks free from the Mist says that there is something going on between Dan and Danielle. It doesn't add up for him. He could be wrong but his gut is telling him they are working together. Joe stresses that he has no hard evidence he just feel like now they are "lovey dovey" and it doesn't' add up to his gut.
12:46AM CAm 3-4 Bedroom Shane, Joe and Danielle Joe shakes their hands and thanks them for keeping him in this game this week.
Joe is going to offer them some alone time from the Big Brother Cameras.
Joe: "I'm telling ya you got a solid 45minutes.. not sayign anything can happen"
Joe explains that he'll make a bunch of noise outside and when they hear production telling them to stop that that will be Danielle and Shane's Cue that there isn't any camera's on them.
Joe: "whatever happens in skid row stay in skid row"
Joe leaves..
Shane says that in less than 24 hours they will never have to see Frank again. They are both super excited.
12:51AM Cam 1-2 Ian and Joe
Joe tells Ian it's a lock he's staying. Ian doesn't know where Dan's head is at but he's confident that Shane and Danielle are voting to keep Joe.
Joe says that everyone knows about Shane and Danielle
Ian tells him that Shane and Danielle can wait they're is a bigger player to get out.
Ian says if they win HOH they have to really consider putting up Jenn and Dan because that pair needs to be broken up.
Joe: "I am extremely worried about Dan.. He's got a good mind"
Joe has thought about it and Jenn is the only person that would guarantee him the win
Ian more of less tells Joe that Dan has to leave as soon as possible for them to have a chance at final 2. Joe completely agrees.
Joe thinks that Ian has a good chance of winning. Joe doesn't think he does but he wants to make it to final 2 and get the 50 grand.
Ian: "Shane has won challenges but what has he done"
They agree that Shane has one some competition wins but he hasn't done very much thinking.
Ian really starts building up Joe's chances to win the game. Brings up some of the crazy stuff Joe did week 1-3. Joe thinks that Maybe if Jenn wins HOH she might not put up Ian and Joe she might put up Ian and Shane. Ian says if that happens it comes down to Dan's vote.
1:19AM Cam 1-2 Ian and Joe
Joe said to Frank today that his biggest mistake he made was keeping Dan in the game. Frank didn't think so and Joe had to argue it with him for 10 minutes. Joe told him when he gets home and watches the show he'll understand what he did.
Ian says that Britney and him were seriously considering working with Frank but after Frank put her up on the block it was over between them.
Ian: "He would have at least 2 weeks of protection"
Joe: 'At least it would have bought him a week"
Ian: "Ya"
Joe jokes that Frank is so arrogant he might not think he made any mistakes this season. Ian tells joe that everyone will know Frank threw his game away the day he kept Dan.
JOe: 'What do you think his reaction to leaving be tomorrow"
Ian: "I kinda hope he's going to be calm but I think he's going to showboat"
1:38AM IAn recaps the season with Joe
1:40AM Dan, Shane and Danielle sleeping


Share it YO!!
Tweet