POV Holder:
DAN
Next POV:
Sept 1 (Saturday)
POV Used
Yes
POV Ceremony
Sept 3 (Monday)
HOH Winner:
Ian
Next HOH:
Sept 6 (Thursday)
Original Nominations:
Jenn and Frank
Current Nominations:
Frank And Joe
Last Evicted Houseguest
Britney
Superpass Big Brother 14 Live Feeds: 3 Day FREE Trial!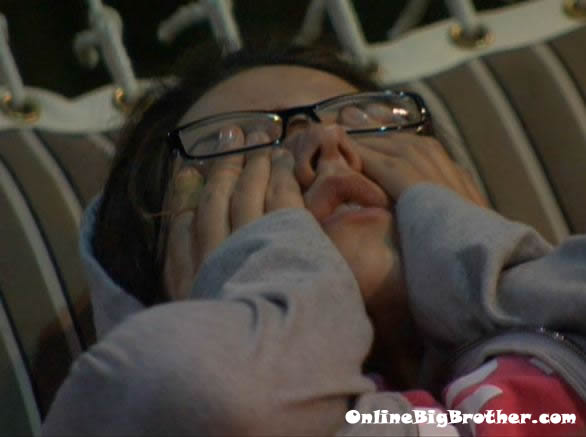 2am Joe is out in the backyard by himself with his feet in the hot tub. Ian is up in the HOH room listening to his cd with the lights off. Danielle gets up from trying to sleep in the kicks bedroom and heads out into the backyard. Joe asks Danielle what's wrong? Danielle says that she doesn't want to talk about it. Danielle goes and gets into the hammock. She is upset. Joe comes over to find out what is wrong. Danielle tells Joe that Shane commented about seeing Memphis standing next to Danielle at the finale. She says that it reminded her about the comment Dan had made telling her that she was dead to Dan. Danielle says that the comment still hurts her and she is tired of people having to tell Shane to be nice to her. Danielle says that she wonders if he is a mama's boy. She says that he is inconsiderate. She says that he acts like a boy when she wants a man. Joe tells Danielle that what Dan said to her was cruel, it wasn't right. He says that feels Dan is sorry about it though. Danielle says that when she thinks that he really means it, it hurts more. Joe comments that Dan said to Danielle that she was dead to him in this game only. Joe says that it's a very serious game to Dan. Danielle says she doesn't give 2 f**ks. Joe laughs. Dan wakes up from the kicks room and heads towards the bathroom. When he sees them in the backyard he comes out to see why they are still awake. Danielle tells him she is upset. Dan comes out to see what's wrong.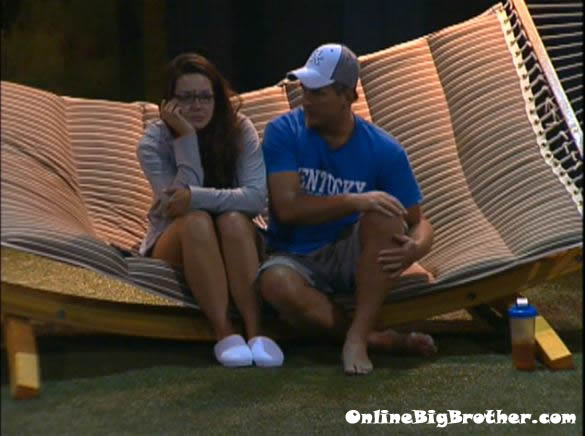 2:15am Dan joins Danielle in the hammock and they talk. Dan asks her if she told Shane why she was upset and she says no she told him she was missing her family. Danielle tells Dan that she is upset over the whole funeral thing. Danielle tells Dan she had a dream about it and in her dream Dan wasn't acting. Dan tells Danielle that she is probably one of the only people he will stay in touch with after this is all over. Dan explains that that was part of his gameplay and he had to do it. Dan stops and says let me just ask you one thing, are you on your period? Danielle says no! Danielle tells Dan that he had no idea how upset it made her. She wonders if even a part of it was true. Dan says that he didn't mean any of it and asks why he would do that to his only ally in the house. Dan says that if he was Danielle, he may feel the same way too but says that the only way to get to the end is if you trust someone 1000%. He says that there is no one else that he trusts in this game or that he has shared information about his life with. Danielle says that although that situation makes her sad, she would never double cross him. She says that it just breaks her heart. Dan says that no one else needs to know that we didn't really have an issue though. Danielle agrees that it's good from a game standpoint but as a person, she's emotional. Dan jokingly asks her if she is really emotional? Danielle laughs. Danielle says that it upset her beyond the game that Dan questioned her. Danielle tells Dan that Shane is such a d**k. She says that his words have been cutting her.
Watch the 24/7 Uncensored Live Feeds of the Big Brother house 3 Day Trial!
2:20am Joe gets ready in the bathroom and heads to bed. Joe tells Shane that Danielle is upset in the backyard. Shane asks if it was something Dan said or he said? Joe says something Dan said but that she is also upset at you. Shane says freaking females and estrogen, she is so emotional! He says it's so stupid, whatever I'm not worried about it! They talk about how Danielle needs to move on from the whole funeral thing. Shane tells Joe that Dan told them that Memphis will hopefully be at the finale. Shane says that he made a comment about not letting Danielle and Memphis stand next to each other. Shane says that it was just a joke. He says that he hates dealing with girls. Shane says that he is over it and going to sleep. Shane and Joe say goodnight.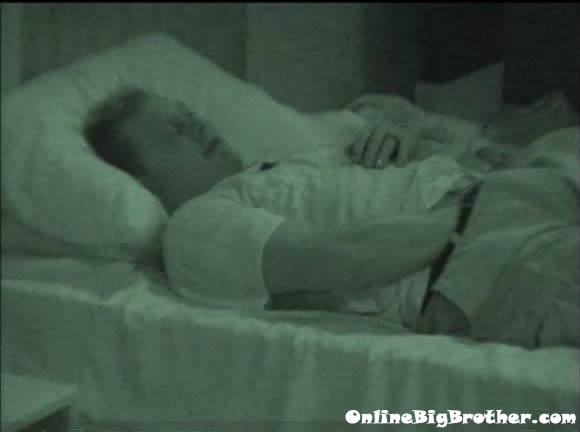 SEE WHAT THEY CAN'T SHOW YOU ON TV!
SuperPass Big Brother Live Feeds – FREE 3 Day Trial!
2:30am
Dan continues to talk to Danielle and tells her about his relationship with Renny from his season. Danielle tells Dan that if she and Shane were in the real world and he did this to her she would have dropped him a long time ago. Dan says that Britney saw that Shane was a d**k to you. Danielle says that Britney used to point that out to her. Danielle starts talking about Trey and asks what did he do to deserve this? Danielle says that she left him back at home. She says that they left as friends but says that they had dated a few times, and then now he has to see her on the show with Shane. Dan asks what his full name is? Daneille tells him. Dan says that someone should send Trey Gorman a message on Facebook and tell him that Danielle misses him and she is just waiting to stab Shane in the back and come home $500,000 richer. Danielle asks Dan if he thinks Shane is a nice guy outside of the house, and if he will magically start treating her better when they leave the house? Dan says maybe they will hook up once or twice but he says that he doesn't see them developing any real relationship. Danielle says that she appreciates the honesty. Danielle tells Dan that he is the reason she has the huge zit on her face! Danielle says that Jenn thinks that I trust her more than you. Dan tells Danielle that she just needs to make Jenn feel secure because her insurance policy is going home. Dan tells Danielle that she should make sure Jenn thinks she would take her to the final two over Dan so she feels more comfortable in the alliance. Dan says they need to make Jenn believe she is gaining two teammates instead of losing one.
2:45am Danielle tells Dan that Joe thinks he has a final two deal with Ian. She says that Ian never talks to her about deals beyond the quack pack final four. Dan says that he thinks Ian would keep Danielle over Shane because he thinks that he can beat Danielle in the end. Dan tells Danielle that he was worried that Frank would pull a fast one and tell Danielle that Dan told him everything about them faking a fight so that Danielle would tell him stuff. Danielle says that Frank tried to pull the flirtmance card on her. She tells Dan what Frank said about having a huge crush on Danielle and if she hadn't gotten so close to Shane week one he would have made a move. Danielle tells Dan that she knew if Shane heard her crying in the bed, he wouldn't even care. Dan tells Danielle that everything that's his in this game is hers. Danielle says that she was just worried that he really did get hurt. Danielle says that Joe even brought up the funeral and said that Dan was brutal in the funeral and that Dan told him that it was about the POV. Dan says that Joe is a f***ing liar because he is lying about stories. Dan says that Joe told him that the funeral was a genius move and that Shane told him that Dan was mad about the POV. Dan says that Joe is a mohawk rat from Kentucky, he's a f***ing liar. Danielle wonders how much longer they can keep Joe around. Dan tells her they keep him around because they can beat him at competitions. Dan heads inside to go to bed.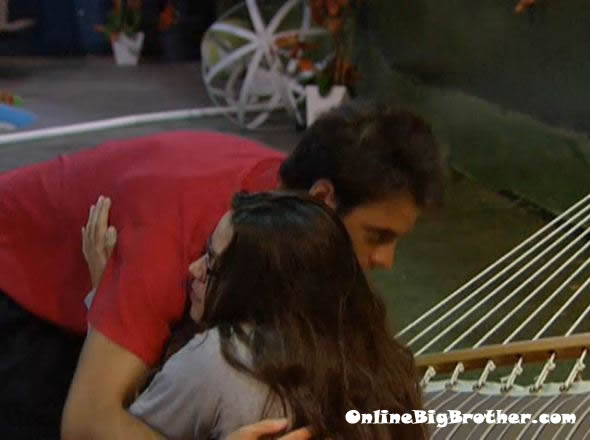 3am Danielle is lying in the hammock by herself and talking. She wonders why is Shane so mean to her? She says I'm not even clingy. She says that he acts sweet for a short amount of time and then acts like a mean a**. She says that he really treats me like I'm nothing. She says and then for Trey, one of my good friends, there was chemistry and we only went on two dates. She says for him to see me come on here and think there's some showmance with Shane really breaks my heart. I don't have to lose something good to know what I had and I mean that with Trey. Danielle asks who is the real Shane? She says is it too much to ask to want someone to be nice to me? She says whatever I'm going to bed! She then gets up and goes inside to bed.
6am All the house guests are still sleeping..
8:20AM Cam 1-2 powerhouse
Everyone still sleeping
10:18AM
Frank is the first up getting a morning coffee.. Feeds cut straight to trivia. :(
Simon and I work 24/7 all season long to bring you all the live feed updates and spoilers, please consider donating. Any amount is greatly appreciated, your donations go directly to paying the server and bandwidth fees needed to run this site. Donation Link
Share it YO!!
Tweet