First HOH
Dan
Second HOH
Ian
Third HOH
 ?
Final HOH
?
Last Evicted Houseguest
SHANE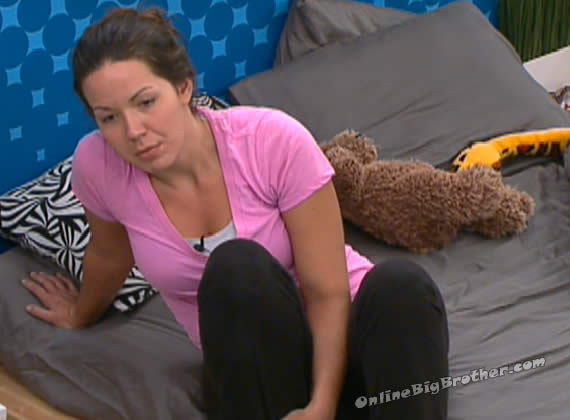 9:24pm Cam 3-4 Dan and Danielle Bedroom
Danielle: 'What's wrong"
Dan: "I don't want to talk about it"
Danielle: "Did I upset you"
Dan: "No"
Danielle: "are you lying.. I'm sorry if I did something"
Dan says his social game was a joke. Danielle disagrees says he's played a phenomenal game. Dan mentions how he feels like people carried him. Danielle: "I never once thought I carried you" Dan says he played a horrible game he sucked at everything. danielle says that right now dan is carrying her. Danielle: "You are a great coach and a great player.. you didn't play a sh!tty game.. you survived your own funeral.. I have never seen a player pull off the shit that you do"
Dan whimpers says he has nothing for a jury speech.. Danielle tells him all the points that make him a great Big Brother player.
Dan: "It's all BullSh!t it doesn't matter.. I never really thought about it until tonight and thats why I got mad"
Danielle keeps pointing out all the things that makes and Dan keeps saying he played a 'Sh!ty game"
Dan explains to her that Ian wants to take him to the end because Ian thinks he can beat him and ian is right. Danielle says if Dan makes it to the ends with Ian he wins he has Jenn, Danielle, Shane and Frank's vote.
Danielle tells him that she fell off the first HOH competition because she believed in Dan he's the best player in the house. Danielle mentions that Ian is here because Dan can control him that is what Dr Will did.
Danielle: "DAN nobody has carried you PERIOD.. you carried me"
Dan: "You thought it was the other way around"
Danielle: 'No i didn't.. you are joking"
Dan: "Doesn't matter I played a Sh!tty game.. it's a waste of a summer"
Danielle says unless he's going to throw the HOH competition to get her jury vote he's going to be fine to win, he's the most deserving of everyone.
Dan: "Doesn't matter I played a sh!tty game"
Danielle: "The moves you can pull and the way you talk to people is on par to none" Danielle says he surpases Dr Will levels.
Dan: "Doesn't matter I played a sh!tty game" (LOL dan keeps saying that one line)
Danielle: "I could write 2 books with the amount of knowledge you've given me.. I am proud to call you my coach.. no one else would say that about their coaches"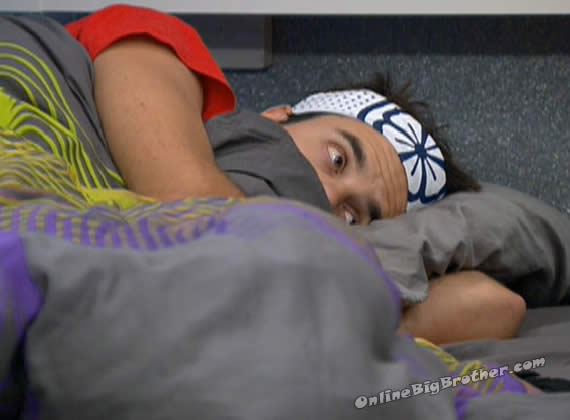 Danielle just goes on and on about how awesome Dan is, Danielle doesn't think Dan will even have to give a speech and he'll win Big Brother 14. Dan says he won't win against Ian or Danielle he played a sh!tty game his. Danielle starts imagining all these votes Dan will get if he's against her in the final 2. says he has Ashley, Frank, Joe, Ian and maybe Jenn. Dan disagrees doubts he'll get any of those.
Production tells Dan to reattached his microphone (This basically tells the people in the house taht Dan is whispering) Danielle freaks out about this says sarcastically "Ohh THANKS! FOR THAT"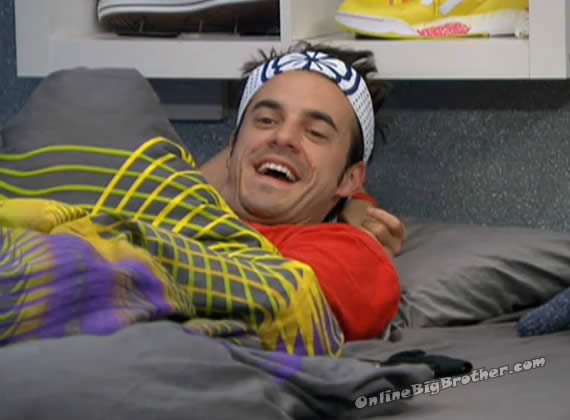 9:55pm Danielle leaves.. Dan starts laughing
Dan :"I love this game.. Thats the best way to get into peoples heads .. just let them spill their guts.. " He gets called into the Dairy Room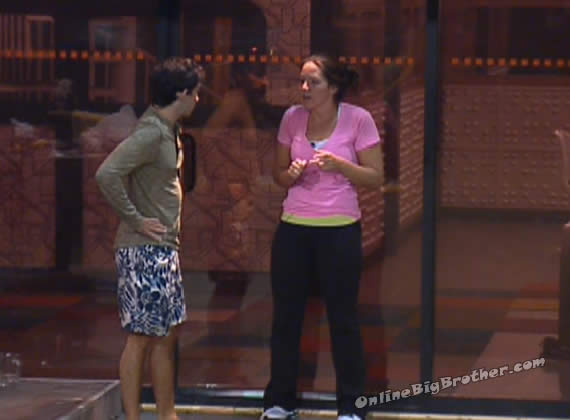 9:55Cam 1-2 Danielle tells Ian that Dan is upset because earlier today they were joking that they carried Dan.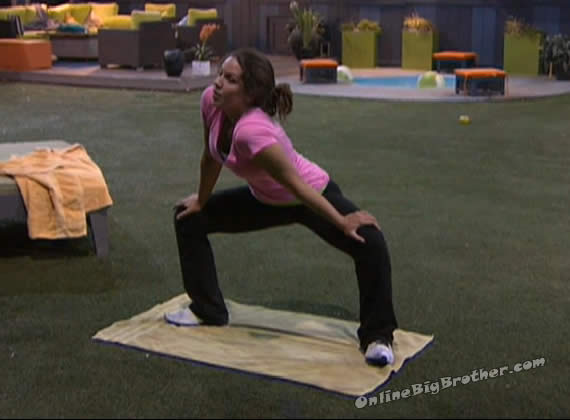 9:59pm Cam 1-2 backyard Danielle and Ian
Danielle is working out.. bending her legs and moving her arms around really digging deep.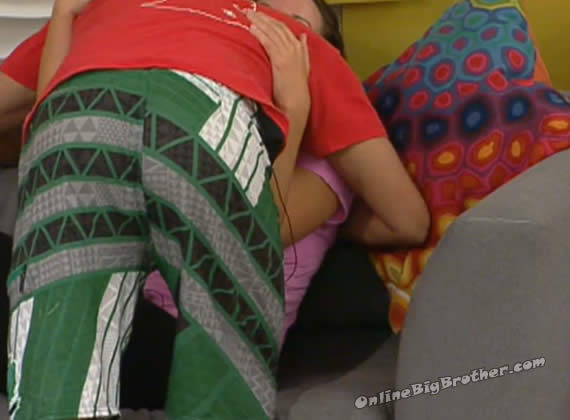 10:45pm Cam 3-4 Living room Dan asks her whats up. Danielle says she's been waiting for him to get out of the Diary Room. Danielle says she's been wating for a long time because she's worried, Danielle: "I care". Dan goes up to her and gives her a hug
10:50pm Cam 1-2 Ian working the hammock hard
11:17pm Cam 1-2 Backyard Dan and IAn Talking about Survivor for the past 20 minutes
11:35pm Cam 1-2 Backyard Dan and IAn Survivor talk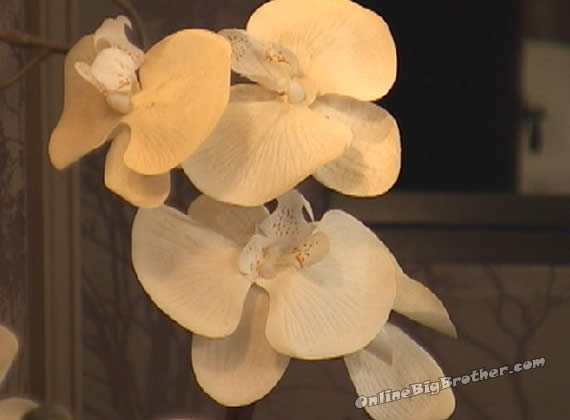 11:47pm Survivor talk More survivor Talk. Ian says cochran from survivor makes him look like Remington Steele
(Picture is from a random shot on cam 3)
Ian tells Dan his dream cast for Survivor.. includes mostly "Thinker men" and "Sexy" Females.
Dan asks him to build the most Completely f**king useless cast for Big Brother
Cathy
Lawon
Kalia
Natalie (BB11) Dan is surprised by Natalie says she doesn't belong in this list.. so ian takes her out.
Bunkie
Ronnie
Amanda (BB9)
Adam
Cowboy
Fitness twins.. Adria and Natalie
April lewis (Nerd herd)
Mike the commercial painter from Season 8
Dan laughs says cathy will win
Dan asks Ian for his Best 8 big brother players to take out the best 8 survivors players
Dr Will
Dan
Jase
James
Janelle
Rachel
Brendon
Jeff
Dan suggests Britney but Ian doesn't think she could handle losing the weight, Ian: "If she lost 10 pounds she would wither away to nothing"
Dan thinks they should replace Brendon with Memphis.
12:24AM Danielle joins the guys She dips her legs in the hot tub while Dan and Ian talk about the first HOH competition. (Image Link)
Ian tells him that Janelle's team came in second
Ian says Time Flies was the hardest competition, Danielle thinks the bed one was. (the first comp of the season) Ian says that the quack pack was the second best looking alliance in Big Brother History with the Sovereign Six being the best looking.
Ian tells them that Boogies coaching was pretty basic for Him and Jenn. He told both of them to keep their heads down, don't talk and win the HOH. (Image Link) Ian mentions how Boogie hated JOJO the most in the house. There was no way that Danielle was going to be send home when she was nominated along side JOJO. Dan tells them that the day before the live eviction, Boogie told him that Danielle was going to be safe then right before the votes were cast he told Dan, "Sorry man" implying that Danielle was being evicted and Dan was being sent home.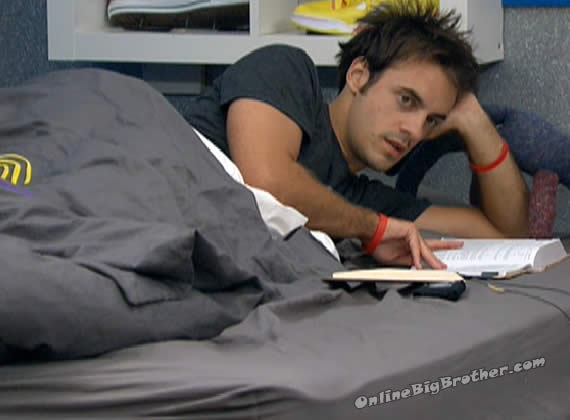 1:00AM Cam 1-2 Dan and Danielle
Danielle feels bad about joking that her and Ian carried him to the final 3. Dan tells her not to worry about it, he just never thought of it like that and now that they mention it he can see it.
Dan starts reading the bible to her. He reads about Envy and says that is what he has right now. He's envious of Danielle for player a good game. Dan tells her he swears he's not going to "get her again". Dan says the medicine she taking is making her act weird. Danielle says it's no she's just been thinking about things.Danielle mentions that "They" are watching how much she eats. Dan asks why. Danielle: "The melt down I had in there was so severe.. I told them I just want to go home and it caused such a frenzy with them" (She's talking about production.. Feeds switch to Ian showering)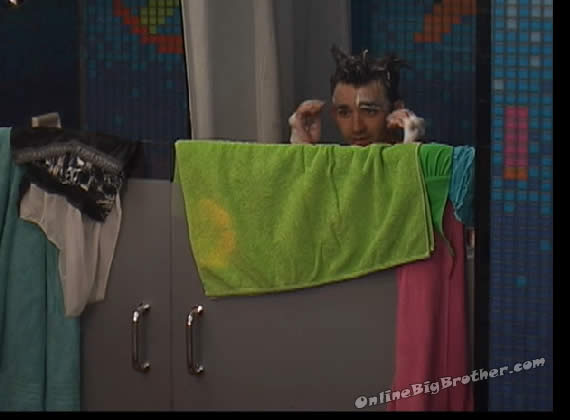 1:16AM Ian joins them in the bedroom and bible study starts.
1:30AM Danielle is talking about Trey. She says Britney made up a song that was a play on "Forget about Dre" instead she was singing "Forget about trey" Danielle tells Ian she's been on a couple dates with him. It's not serious or anything. Feeds go to fish. Dan keeps asking Ian questions about people Ian knows..
1:47AM Cam 1-4 Dan, Danielle and Ian Ian and Dan joking about ian sending 2 HOH tweets to a girl he likes. Dan: "So john blaze"
Ian: "John Blaze.. So john Blaze…john blaze…john blaze.john blaze…john blaze..john blaze…john blaze..john blaze..john blazejohn blazejohn blazejohn blazejohn blazejohn blazejohn blazejohn blazejohn blazejohn blazejohn blazejohn blazejohn blazejohn blazejohn blazejohn blazejohn blazejohn blazejohn blazejohn blazejohn blazejohn blazejohn blazejohn blazejohn blazejohn blazejohn blazejohn blazejohn blazejohn blazejohn blazejohn blazejohn blazejohn blazejohn blazejohn blazejohn blazejohn blazejohn blazejohn blazejohn blazejohn blazejohn blazejohn blazejohn blazejohn blazejohn blazejohn blaze"

Dan talking about the video game minecraft asks him if he's played it before Ian says he's heard of it but it's not his cup of tea.
Ian goes to run off the lights.. Ian: "good night Dan.. Good night Danielle.. Dan you are really really funny and Danielle you are really really sweet"
7:45Am early wake up call..