First HOH
Dan
Second HOH
Ian
Third HOH
 ?
Final HOH
?
Last Evicted Houseguest
SHANE
WATCH the last 3 DAYS OF Big Brother 14 for FREE:
3 Day FREE Trial!
6:45pm – 7:15pm Danielle asks what do you think Chelsea thinks about me? Dan says she probably hate you. Danielle asks really?! Dan says just kidding. Danielle asks what do you think she thinks of me having to put up with your antics? Dan says she probably feels sorry for you. Ian joins them. He asks Dan what kind of bread he is using to bread the chicken. Dan says homemade bread, pretty john blaze. Ian says that's so john blaze. Dan says so john blaze. Daneille says if you two say that one more time I am going to pop! Dan says that's what she said. Ian tells Dan that we can't have any more pool tournaments because we are both too weak to lift it to level it out. Dan says Danielle can lift it.
7:30pm Dan says they normally come in the house don't they, The Talk? Big Brother cuts the feeds. Dan and Ian keep saying john blaze to everything. Ian says maybe we should cut that out. Dan says you can but I won't. He says bullying is not okay and I will not be subjected to it. They talk about Frank saying that in his speech.
7:45pm As they wait for their dinner to finish cooking they play card games.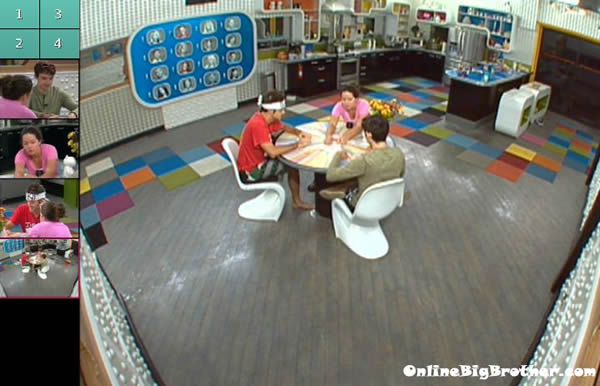 7:50pm Danielle caught Dan cheating in the card game. Dan then threw all the cards on the floor.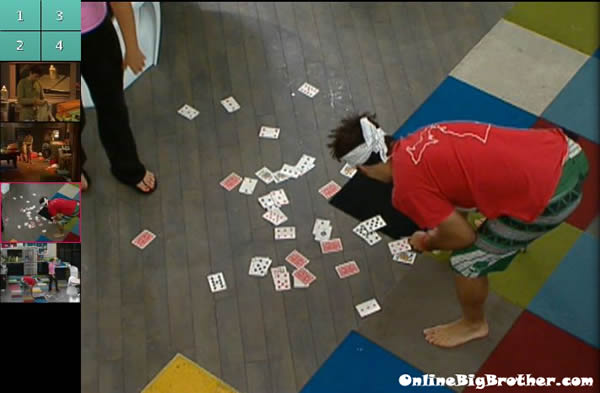 7:55pm – 8:05pm Dan beats Danielle at a game of speed. He starts yelling and screaming YEAHHHH! He then runs out into the backyard yelling that he is the speed champion! He comes in yelling. Danielle tells him that he beat her once. Dan says you are only as good as you last game! Dan then claims the big pot as the speed cup trophy. Dinner is ready so they all sit down to eat.
8:30pm – 8:40pm Dinner is finished. They start playing card games again. Dan tells Ian he wont play him till the dishes are done. Ian finishes the dishes and comes back to challenge the speed champion of the world. Danielle goes to the bathroom to pick her zits. Ian yells spee.. Dan yells speed and says that he wins. He runs to the bathroom yelling he won. They ask Danielle who won. Danielle says that if Ian's card was down first he won. Ian challenges Dan to a rematch.
9:16 Cam 1-2 Kitchen Ian getting a bowl of Ice cream ready for eating.
Simon and I work 24/7 all season long to bring you all the live feed updates and spoilers, please consider donating. Any amount is greatly appreciated, your donations go directly to paying the server and bandwidth fees needed to run this site. Donation Link