POV Holder:
Next POV:
Sept 8 (Saturday)
POV Used
POV Ceremony
Sept 10 (Monday)
HOH Winner:
Ian
Next HOH:
Sept 13 (Thursday)
Original Nominations:
Jenn and Shane
Current Nominations:
Last Evicted Houseguest
Frank And Joe
Superpass Big Brother 14 Live Feeds: 3 Day FREE Trial!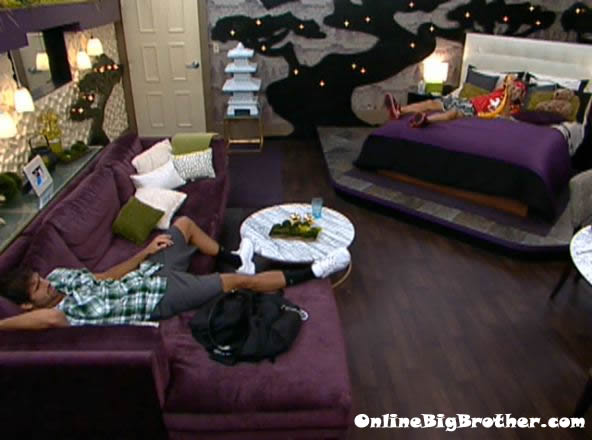 12:15am Ian, Shane and Dan are talking about past seasons of Big Brother. Ian starts talking about Big Brother all-stars, who was on the season and why they were an all-star. Ian says that he thinks out of everyone on this season only him, Danielle and Shane would be considered to be asked back. Ian adds that if the all-stars season was an Evil versus Good than he says that Frank might be considered to be on the evil side.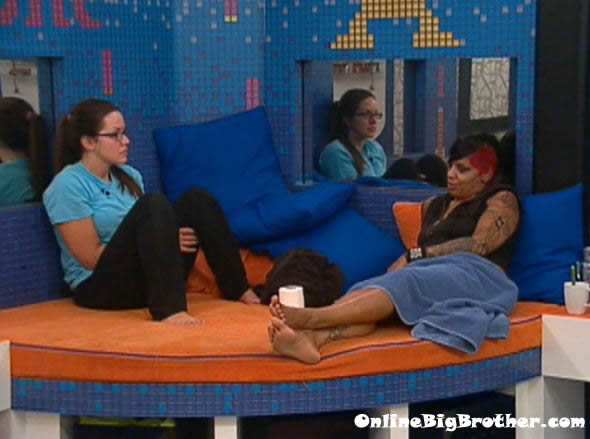 12:35am Danielle and Jenn are alone talking in the bathroom about Shane. Daniellle is telling Jenn about how mean Shane is to her. She says that he is only really nice for the live shows. She says that he only holds her hand for live shows. Danielle says that she thinks he is using her as a shield. Jenn is agreeing with Danielle about how Shane treats her. They talk about how Shane is always with her and how he never leaves her alone. Jenn starts talking about Ian and says that he is not a loyal player. Danielle says the boys will want to cut her at three. Jenn tells Danielle that we can beat the boys. Danielle says that Shane is using her; she says that it's just all part of the plan to fake a showmance to get further in the game. Danielle talks about how Shane won't kiss her at all. She says that he won't even kiss her under the covers. She says that she has been pushing him, but getting nowhere. Danielle says that she has been treated well before and knows how she should be treated. Danielle says that she will continue playing along being the naive girl. Danielle says that Shane didn't even have to work for it, that she kept him safe. Jenn says that she thinks if she doesn't win power of veto, she is gone. She says that if Shane wins it she is gone.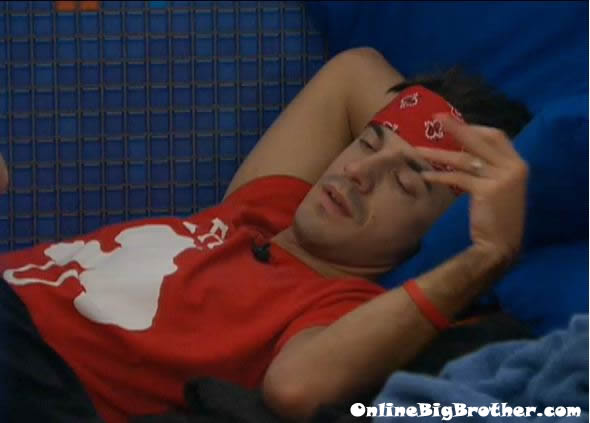 1:25am
Dan joins Jenn and Danielle in the bathroom. Dan tells Danielle that Shane doesn't like her like that. Dan tells her that in his past when he didn't really like a girl he would treat them in a similar way to how Shane treats Danielle. Dan says that he also didn't treat girls as bad as Shane is treating Danielle. Danielle leaves the bathroom and goes to lay on Shane's bed. Shane joins her in the kicks room. Danielle asks him are you just trying to make me mad? Shane tells Danielle that its payback for being mean to him today. Danielle starts to get mad and asks Shane if he is really going to stay over there in the other bed? Shane tells her he has a lot of energy and doesn't want to kick her in his sleep. Danielle tells him that the bed he is on is funky and that he shouldn't be on it. She says that she is just looking out for him. Shane joins Danielle in the same bed. Danielle says that she hates that he said to her that he likes a girl that can out eat him. She says that he directed that comment at her and she says that it was brutal mean. Danielle tells him not to talk about weight! Shane tells her you see why I can't be in a relationship? He says he doesn't like a girl that is a size zero. Danielle says that the comment made her feel huge! Shane tells her that she is beautiful. Danielle says thanks and tells him that he has to be careful with the weight talk with her because she has had issues in the past.
Watch the 24/7 Uncensored Live Feeds of the Big Brother house 3 Day Trial!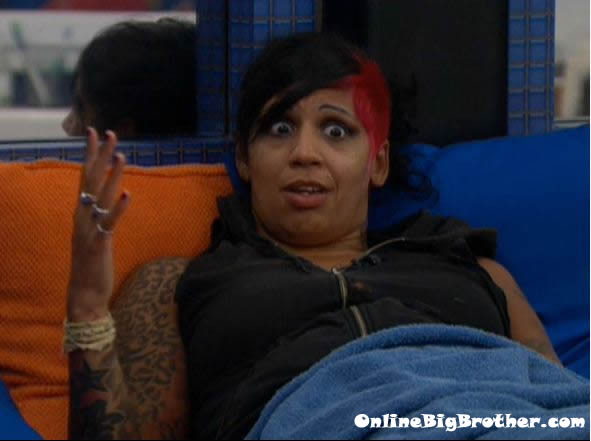 Jenn and Dan are along talking in the bathroom. Dan tells Jenn that he thinks the power of veto competition will be the face morph one. Dan tells Jenn how it works. They start talking about Ian and how he is socially awkward. Jenn says that she doesn't trust Ian. Dan tells Jenn that Shane can't win veto this week. Dan starts talking about Britney and says that she was a hell of a player. Dan believes that she would have won a lot of the competitions that they had after she left. They both agree that Britney had a great social game. Jenn says that Britney and Ian were super close and she really helped him with his social game. Jenn says that Ian was lucky to win HOH this week, he could have been the target if he hadn't won it. Dan remembers that they had an endurance power of veto during last season. He says that was the first time Big Brother had done that. Dan then says oh s**t it could be an endurance comp! Jenn says that she is worried that if there is a tie and the nominations stay the same that Ian will send her home. Dan tells Jenn that he needs her here. Jenn tells Dan that she needs him here too. Jenn heads to bed.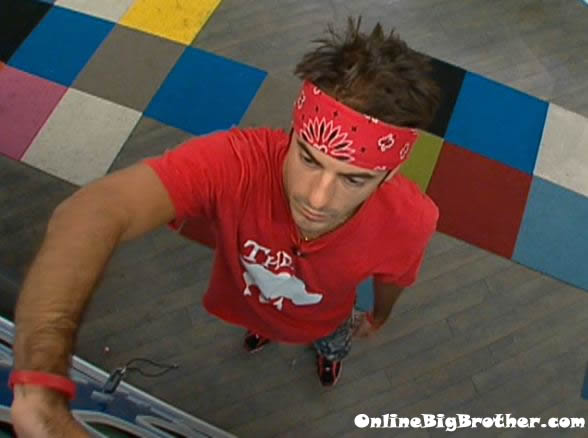 2:35am – 3am Dan is in the kitchen studying the memory wall. He starts covering up parts of the house guests faces to remember their different facial features. Ian comes down from the HOH room. Meanwhile Shane and Danielle are talking about how the worst case scenario would be for Jenn to win the veto. They think Danielle would then go up on the block as the replacement and he would go home. Shane tells Danielle that if he wins the power of veto and Dan goes up they will vote to keep him. Danielle agrees. Shane says that if Danielle is up against Jenn, then he and Dan will vote to keep her. Dan joins them. They all go to sleep.
Watch what happens, AS it happens: Big Brother 14 Live Feeds!
FREE for 3 Days, then ONLY $14.99 per month!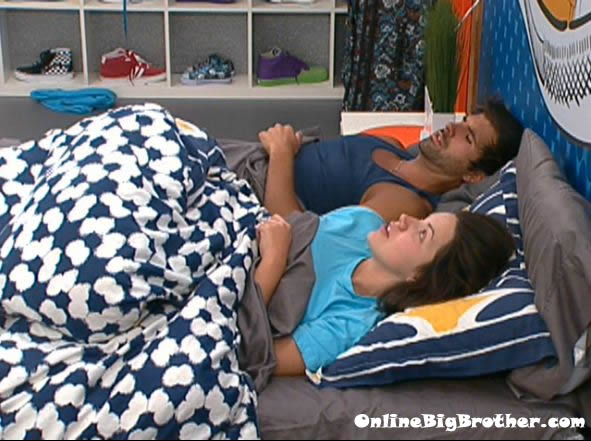 8am All the house guests are still sleeping..
8:45am – 9:35am Big Brother wakes up the house guests. Danielle gets up to change her batteries and goes back to bed with Shane. Dan is in the kitchen eating cereal. Jenn is up and then goes back to bed. Ian gets up to change his batteries and goes back to bed. Dan comments to Ian that he has a deal with big brother if they play Weezer I get up. Dan goes to the stereo room and grabs his blanket and takes it to the living room and lays down on the couch. Dan says lets watch some TV, what's on now? Dan says he is fighting for his life. He says that he has made the final four. Dan tells Big Brother that they are losing him to the sleep battle call me if you need me. Dan starts to fall asleep. Big Brother calls Dan to the diary room.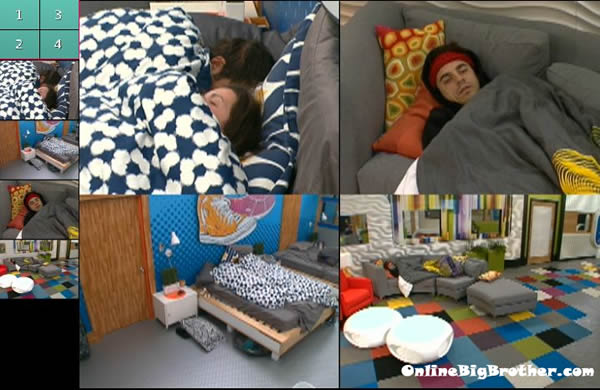 9:55am Danielle is in the bathroom putting on her make-up, while all the other house guests are back in bed trying to sleep.
10:15am – 10:25am Danielle is finished putting on her makeup. She tells BB I'm ready! Jenn is in the kitchen cleaning up. Big Brother calls her to the diary room. Shane, Ian and Dan are still sleeping.
10:45am Danielle is eating breakfast while staring at the memory wall. Big Brother calls her to the diary room.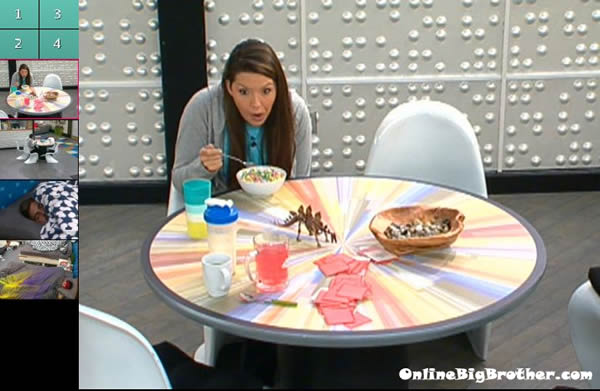 Simon and I work 24/7 all season long to bring you all the live feed updates and spoilers, please consider donating. Any amount is greatly appreciated, your donations go directly to paying the server and bandwidth fees needed to run this site. Donation Link
Share it YO!!
Tweet