First HOH
Dan
Second HOH
?
Third HOH
 ?
Final HOH
?
Last Evicted Houseguest
SHANE
Superpass Big Brother 14 Live Feeds: 3 Day FREE Trial!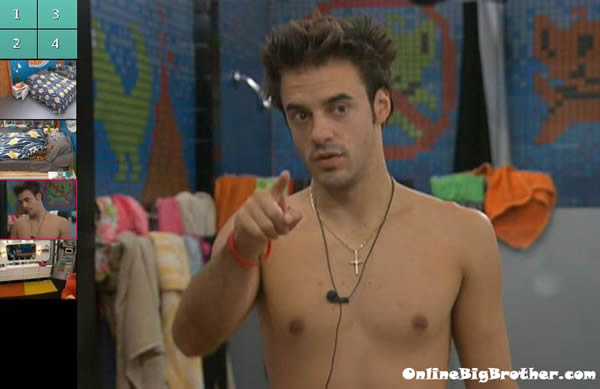 11:10am – 11:45am Danielle wakes up and joins Dan in the bathroom. Danielle says that she is ready for this to be over. Dan says yeah, I will never be back. Danielle asks never? Dan says it would have to have teams of three. Dan says that he has a lot of memories in this house. Dan remembers when he and Danielle were whispering and Kara walked by. They start talking about Britney. Dan comments on how he feels bad for her husband because she probably leads him around on a leash. Dan says that he's a nice guy too. They talk about Ian and how she is only two years older than he is and she is so much more mature. Dan goes to the washroom. Danielle asks why are they still building? What is this? Dan tells her that he has seen elaborate morph competition sets before. Danielle starts studying the past events of the house. Dan points out features of the house guest faces to Danielle. Dan wonders if it might be at night. Dan tells Danielle about a competition from season 7 where they had to use a laser and a mirror to match house guests up in the proper order. Danielle tells Dan that she wants the morph comp. Dan asks Danielle if she is okay. She says that she is stressing out. Danielle tells Dan what Ian said last night, she says he said what a dumba$$ for you to listen to Jenn and Joe the two biggest floaters in the house to get rid of a couple. Danielle says he is just trying to make sure I pick him.
11:50am – 12pm Dan tells the internet to please make a photo of Danielle and Shane on the Titanic with Shane falling over the edge and me in the back ground with the veto around my neck. Danielle tells Dan he is horrible. Dan says please make a photo of Danielle's and Shane's face on the movie cover of Betrayal with me dropping the veto in on it. Danielle says I didn't betray anyone.
12pm – 12:15pm Danielle says that she is innocent, she has a hallow over her head. Dan says that she isn't innocent she might have a hallow around her head but it has two red horns sticking through it. Dan tells her that she acts like she has two pair off suit, when really she is holding four aces. Danielle doesn't know what he means. Dan tries to explain that she acts like she has the worst hand when really she is holding the best hand. Danielle is still confused. Danielle tells Dan that she is getting offended by what he is saying. She asks him if he means she has a good poker face. Dan says that she has fooled people into thinking she is one thing when she is really another. Danielle asks Dan if he really thinks she pretends to be a nice person. Dan says no but I think you are capable of Dan like things. Danielle agrees. Dan and Danielle move into the living room. When Danielle starts talking about Trey all four cams switch to Ian sleeping under the covers with his snake and bear.
WATCH the last 3 Days of Big Brother for FREE: Superpass FREE 3 Day TRIAL!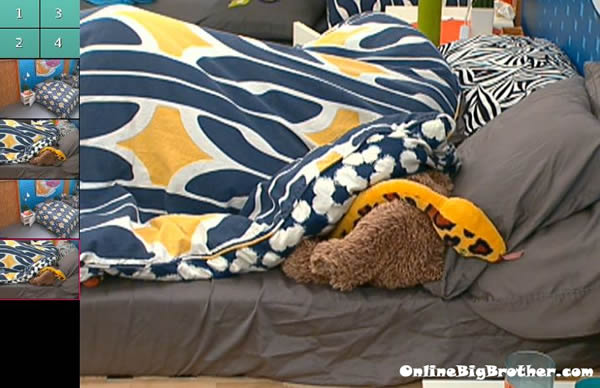 12:20pm – 12:35pm Danielle tells Dan that she doesn't think that she could ever come back in here. Danielle asks him if he really wouldn't come back. Dan says this is his last time, it's a grind. Imagine living half a year in here. Dan and Danielle discuss Dan's speech to send Shane home. Danielle talks about the point at which she knew and her reation. Dan says that at first Shane's face was blank and then when he was walking out he was PISSED! Dan says nothing personal, just business. Danielle asks what do you think Trey is thinking right now, he is probably over it after watching that date and stuff. Dan asks Danielle what the chances are that her and Shane will be together after the show is over if he reacts well to being evicted? Danielle says 30%. Dan asks what if he doesn't react well to all of this. Danielle says 5%. Danielle says that she cares more about Dan in the game. Dan says so Shane was expendable. Danielle says that she can't let those words come out of her mouth. Danielle wonders how different her life will be after. Dan says that it will be different for the first couple months. Dan says that he is going to catch a lot of flak this time, I will get the full big brother experience. I didn't get any flak the first time.

12:50pm Big Brother cuts the live feeds, when they come back Dan and Ian are in the kitchen looking at all the ants. Dan starts spraying all around the fridge. Dan says "You can run but you can't hide!" Ian says that he thinks he knows where they are coming from, the mound beside the hot tub. Dan says we should defecate on it.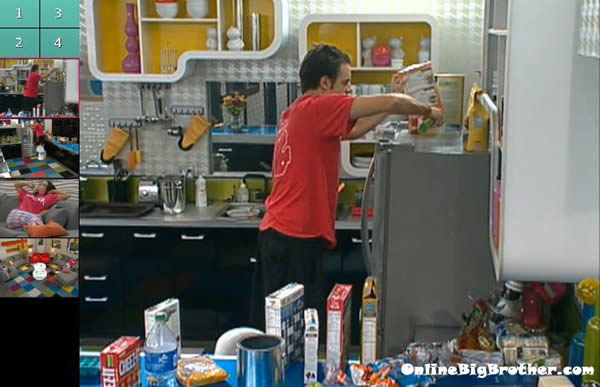 1:10pm Dan and Danielle continue to clean and sterilize the kitchen while Ian watches from the table.
1:30pm Dan and Danielle continue to clean while Ian takes a shower.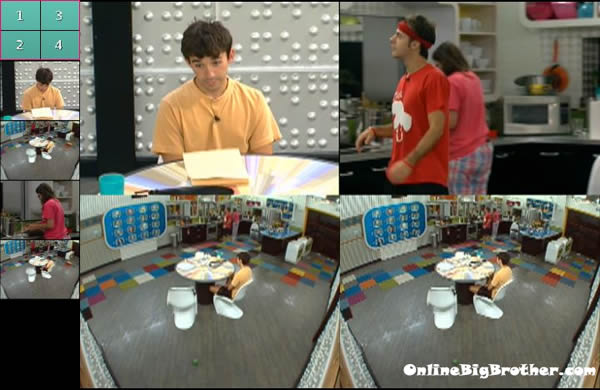 1:45pm Ian finishes his shower and comes through the kitchen. Dan asks him if he minds getting his s**t out of here. Ian says sorry. Dan says its no problem. Ian picks up his big brother bag by the door and takes it to the bedroom. Dan says the kitchen is so clean you could eat off it. Dan and Danielle finish cleaning and sit down at the table to play a game of cards.
2:15pm Ian comments that he was freaking out this morning when they woke them up because he was chubbing. Dan asks what does that mean? Danielle says morning wood. Dan says oh. Ian says he wasn't too worried though because he would use the Joe technique, lift and tuck.
The live feeds are insane right now .. i cant keep up .. spark the feeds man .. best of the season happening RIGHT NOW!
Watch the last few days of BB14 for FREE: 3 Day FREE Trial!
2:50pm – 2:57pm Dan goes to eat something from the fridge. Danielle asks him why he is eating that when he knows they are getting burgers. Dan says we might not even get them till 4pm. Dan asks Ian what they said about the burgers. Ian says In and Out. Dan goes to check the storage room. Dan comes out with burgers from In & Out. He says we got games too! Dan says 5 burgers for 3 people BOOM! Dan says thanks big brother! Dan says it tastes like liquid sex! Dan says big brother if you were big sister I would thank you in a special way… but you're not. Dan tells Danielle to hurry up because he wants eat. Dan tells Danielle this is like Ian without his hammock, not being able to eat. Ian says I don't appreciate the joke Dan. Dan says what its like your stemming, I can't wait to eat it. They all take a bite together. Ian says man I need to move to LA just for this food. Dan says that once In & Out is in his system he is the nicest person.
Simon and I work 24/7 all season long to bring you all the live feed updates and spoilers, please consider donating. Any amount is greatly appreciated, your donations go directly to paying the server and bandwidth fees needed to run this site. Donation Link