First HOH
Dan
Second HOH
?
Third HOH
 ?
Final HOH
?
Last Evicted Houseguest
SHANE
Superpass Big Brother 14 Live Feeds: 3 Day FREE Trial!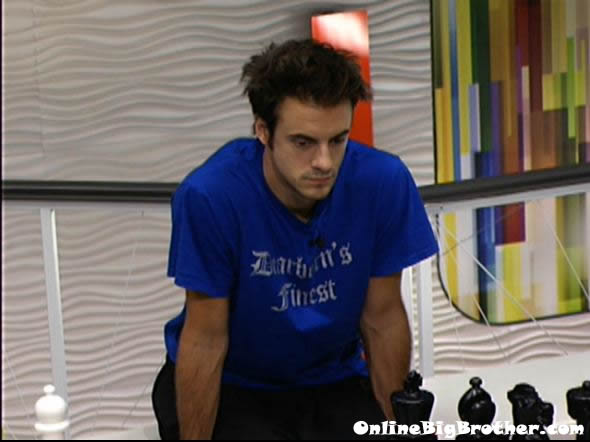 1:30am Danielle and Dan are playing a game of chess. Danielle tells Dan that she thinks her dad might have been so hard on her when she was growing up because she was destined to do something difficult like this. Dan starts talking to Danielle about the face morph competition. Dan tells her about the face morph competition during his season. Danielle tells him that she has been studying the memory wall photos. She tells him that she has a photographic memory. Dan starts giving her pointers on how to complete it within the time limit as it is a timed competition. Danielle says that she always did really good at the face morph competitions when she was watching them on TV. Dan tells Danielle that if Ian knew what was up he wouldn't have dropped during the first part of the HOH. Dan beats Danielle at the chess game. Danielle mentions that Dan has beaten everybody in the house at chess this summer. They both head downstairs to the bathroom.
Watch it ALL on FlashBack: Big Brother 14 Live Feeds – FREE 3 Day Trial!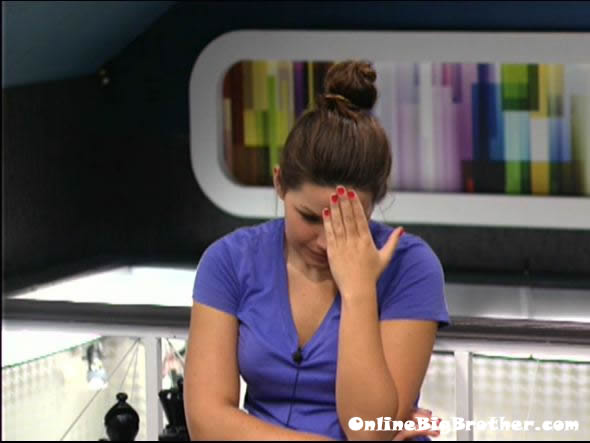 2am
Danielle is on the bathroom couch. Dan starts taking a shower. Danielle mentions how much of a mess the bathroom is but that there isn't much of a reason to clean it since they only have a few days left. Danielle says that she can't believe they made it to the end. Danielle says that she wouldn't be sure about doing another season of Big Brother because she could never find a partner like Dan again. Dan asks Danielle if she would come back to the game with Shane? Danielle says that she wouldn't want to come back with him. Danielle says that in the game she can't imagine trusting someone as much as she trusts Dan. Dan says that if it weren't for the coaches twist he wouldn't have believed he could have found someone to trust as much as he trusted Memphis. Danielle tells Dan that she cares so much for him and that is why she got so mad earlier. Dan tells her she needs to be careful because she can't play this game emotionally. Dan mentions that he thought Shane was going to hit him when he got evicted. Danielle says that he wouldn't have done that. Danielle tells Dan that she thinks he may win the game again. Danielle says that she doesn't think people in the jury house will look at him like a bad guy. Dan isn't so sure and tells her that it is so difficult to win this game once, let alone win it twice. Danielle says that she prays that the second part of the HOH is the face morph competition. She says that she knows that she can beat Ian at it. Dan says if Ian win it he is going to high five Ian in front of her. Dan tells her to asks why I am so happy? Dan tells her that she has to make Ian think that I got you to trust me again. Dan tells her to tell Ian that if he takes Dan to the final two that Dan will have her vote and she will tell Shane to vote for Dan too. Dan tells Danielle to really be angry. Danielle tells him she can do that, she says that she will make it really awkward in the house.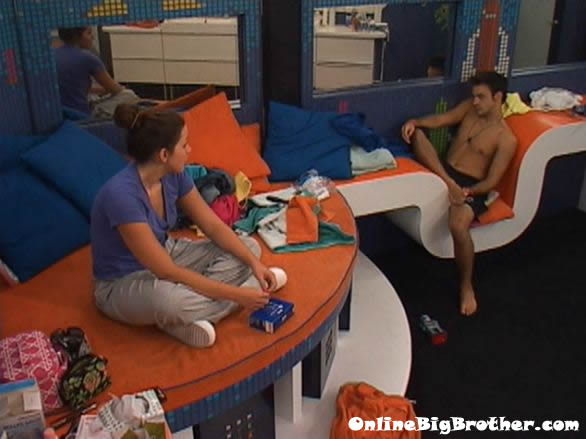 2:30am – 3:10am
Danielle say that's only if he wins, what if I win? Dan tells her that if she wins they will sneak away to the back room and celebrate. Dan tells Danielle to tell Ian whoever cuts me doesn't get my vote. Dan wants Ian to throw the final competition to him. Danielle asks if Ian told Dan he would take him? Dan says Ian knows he can beat Ian. Dan says that Ian thinks he has made a bunch of big moves but he hasn't done s**t. Dan tells Danielle that if Ian beats her tomorrow he will run up to him and tell him we did it and pick up to really sell it. They both end the conversation, Dan heads to bed and Danielle has a shower. When she is finished she goes to the memory wall and studies it. After she studies all the house guests photos she heads to bed.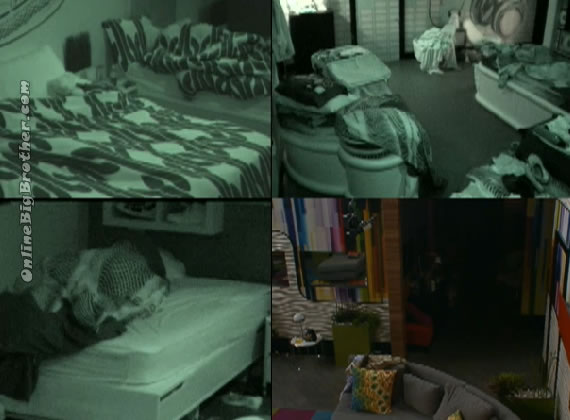 8:04AM Sleeping
8:25am No wake up call yet, all the house guests are still sleeping..
9am The final 3 are still sleeping..
9:30am Lights are still out..
10:20am MORE SLEEPING…
10:30am Big Brother switches the live feeds to the we will be right back screen to wake up the house guests..
While we wait for the final 3 to wake up, take a look at a photo of the Jury House members taping their deliberation.
Joe, Britney, Shane (left side of photo), Ashley, Frank, Jenn (right side of photo)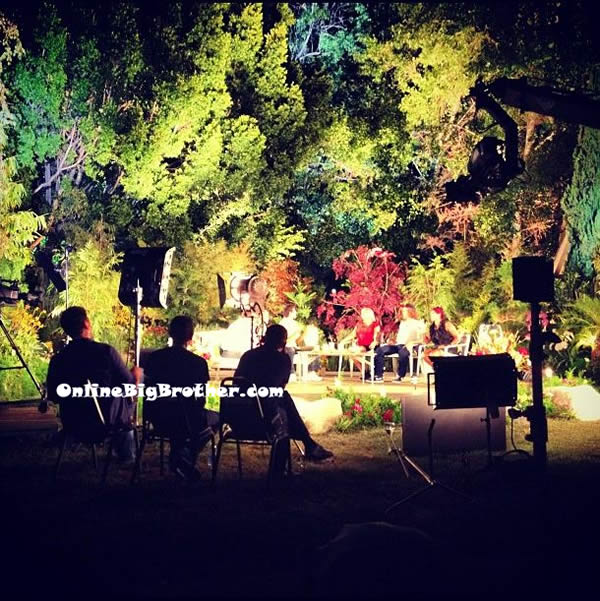 10:53am The live feeds come back to show Dan awake in the bathroom. Ian and Danielle are still sleeping. Big Brother tells them to change their batteries, but they don't move.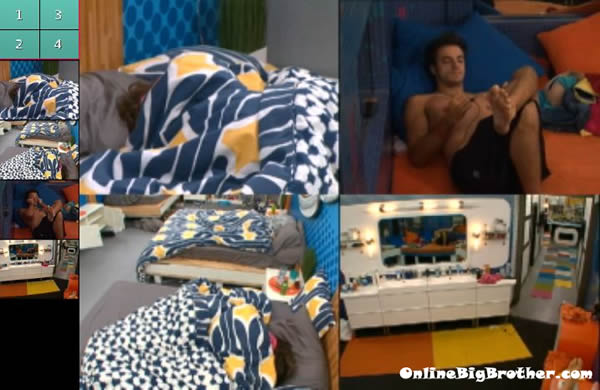 Simon and I work 24/7 all season long to bring you all the live feed updates and spoilers, please consider donating. Any amount is greatly appreciated, your donations go directly to paying the server and bandwidth fees needed to run this site. Donation Link
Share it YO!!
Tweet