First HOH
Dan
Second HOH
?
Third HOH
 ?
Final HOH
?
Last Evicted Houseguest
SHANE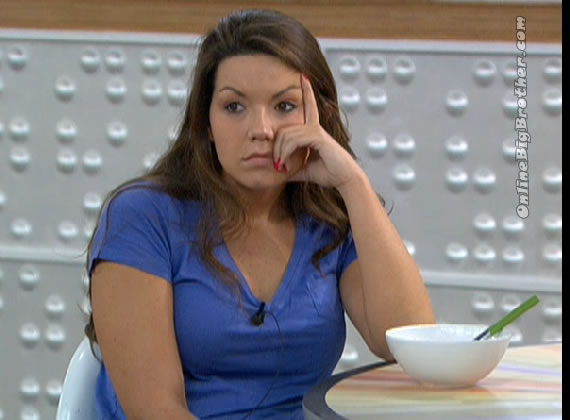 4:00pm Cam 3-4 Danielle and Dan
Ian says it feel like eons ago when Frank left. When looking back at that veto he won it's "Scary Sh!t"
Danielle wonders if what Dan did last night brought in a lot of ratings. Ian thinks a lot of people watched it. He thinks it will affect how viewers like Dan but it won't affect the ratings.
Ian: "You want him gone don't ya"
Danielle: "you have no idea"
Ian: "Holy Sh!T"
Danielle: "You have no idea… you (Dan) just took out my best friend.. my romance.. whatever.. and it wasn't that you took him out it's how you took him out"
Ian: "What did he swear on"
Danielle: "Nothing.. he just swore he would keep Shane safe"
Ian: "Cold Blooded"
Danielle wants to win the next round of HOH so bad so she goes up against Dan in the third round and beats him so he can get blindsided. Ian says that he's happy with winning 50K he certain he won't win this game he's only got Joe and Britney's vote. Frank, AShley and Jenn will never vote for him. Ian: "Shane will obviously vote for you.. and Jenn will never vote for me because I have a penis.. and Frank hates my guts"
Danielle disagrees says that Frank and Ashley will vote for Ian. Ian points out that his goodbye message to Frank won't help get his vote.
Danielle thinks that dan will have the votes to win because he played such a strong game. Ian agrees but points out it really depends how bitter the jury is this year.
Ian thinks that Shane will get America's vote. ian heard the cheers shane got when we exited the house and he heard the cheers when the interview was over. "They roared"
Danielle asks him if Ian won he would take Danielle. Ian says he doesn't think he can win either way. Danielle thinks that Joe will vote for Dan he told her, SHe can also see Jenn vote for him, "They were super close"
Ian points out that there is no easy option in the final 2.
Danielle really plays up her dislike for Dan
Danielle: "If dan wins it and he votes to evict me I will never give him a vote Over my dead body"
Ian says the silence is awkward in the house, he can hear every creak every sound. They are building things in the front of the house and Danielle and Ian can hear the workers voices.
Ian points out that the power is out in the houses kitchen. He's worried that the food might go bad. Ian heads to the washroom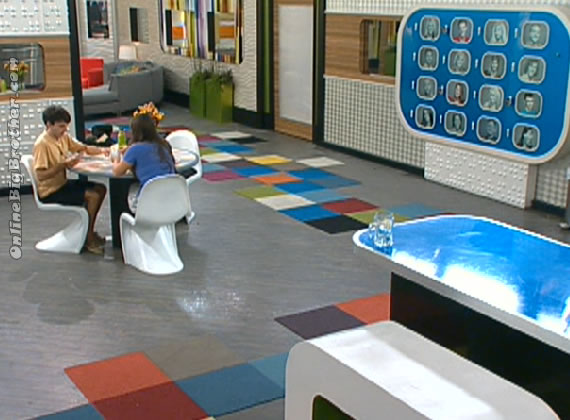 Danielle wonders how they are expected to survive with nothing to do. Ian mentions that Boogie told him that during Big Brother 2 the challenges were not elaborate at all they were super simple so the lockdowns were only a couple hours. Ian really wants to get outside hopes they open it up soon.
Danielle says that the Jury is filming their questions today and they are having that "Campfire thing" today. Ian asks her how she knows. ** Feeds Cut***
Ian: "I miss Brit.. I really do"
Ian about Shane: "What a kick in the pills"
Talk starts about Jenn having anger issues. Danielle mentions that Jenn had to get help to control her anger. Ian says Jenn got super salty when he put danielle up as the replacement nominee against Jenn. He mentions that Jenn didn't win HOH, POV and wasn't in the Quack PAck so she had to go. He wonders why she felt like she deserved to be in the house over Danielle, Dan and Shane everyone has to go at some point and if you don't win comps you go home.
Danielle: 'What makes me the maddest about Dan is I carried him most of the way.. Because I was so close to SHane and Shane didn't want to hurt me so he kept Dan in the game" Danielle: "I carried him this entire game.. IAn.. and I just saved his ass" Britney always told me He was going to cut me in the end.
(INSANITY OMFG I love it.. )
4:54pm Cam 1-2 Danielle and Ian are playing cards while cam 1-2 shows Dan sleeping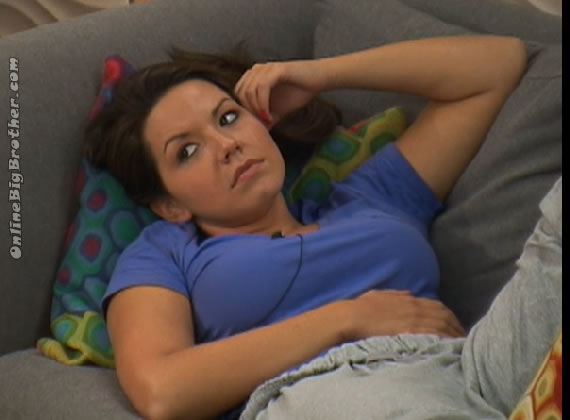 5:30pm Cam 3-4 Living Room Danielle and Ian
Ian: "When they redesigned the house between 6 and 7 it cost 450 thousands dollars.. This house was used since Big Brother 6". Ian says 2,3,4,5 were all in a one story house.. it was nice but not as elaborate as the newer one they are in. They chat about their favorite rooms, Ian likes the arcade room but thinks the Chess area sucks. Danielle doesn't mind the Arcade room, she likes the arcade room though. Danielle thinks the Living room is the best one she seen on the show. Ian agrees. She wonders what the electric bill is like for the Big Brother 14 House. Ian is sure thinks around 100-200 a day he then decides it would around 100.
Ian: "I need to watch BB7 after this"
Danielle: "I do?"
Ian: "We both do.. see Boogie and Janelle in action"
Danielle wants Ian to Label People in the Cast this year and tell her who he thinks the viewers like
Jodi – Loud.. (Feeds CUT**)
6:13pm Trivia
6:47pm Trivia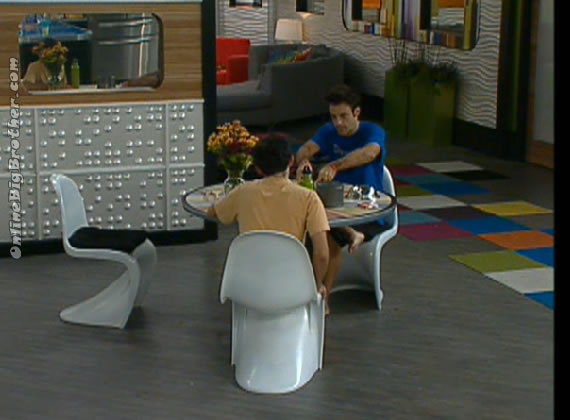 6:51pm Cam 1, 3 Dan and Ian playing cards Ian says the house lost power the camera's were going crazy, the storage room was closed, fridge was off and the clocks were off.
Cam 2,4 Danielle popping zits
Share it YO!!
Tweet