First HOH
Dan
Second HOH
?
Third HOH
 ?
Final HOH
?
Last Evicted Houseguest
SHANE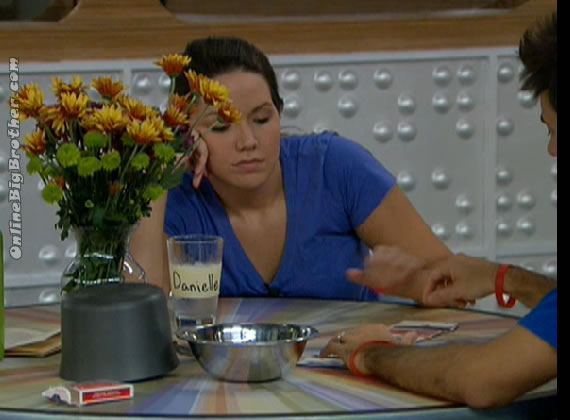 7:10pm Cards
Dan gets out Ian's volcano set and starts taking it out. Pulls out the instructions and throws them into the kitchen says "Instructions Who needs them". Ian tells him they should keep the instructions otherwise they will not know the correct amount of water to add to the paper mache.
Dan asks Ian if he wants to build it and Dan will ignite it. Ian wants them to build it together and they can start the eruption together. Ian just doesn't want Dan to break it. Ian asks Dan if During Big Brother 10 on the first night was Jerry going to sleep in the lounge because he didn't know where the HOH was suppose to sleep. Dan doesn't remember all he recalls is Jerry was super worried about where to sleep the first night.
Dan asks Ian if Big Brother offered him a job to be a Diary Room producer would he take it as a career. Ian says Yes it would be fun. Dan starts impersonating what the Diary Room Producers says "OK This is Ian we're going to get these shots very quick so please no talking.. " (feeds cuts to fish)
7:40pm Dan: "Lets pull a all-nighter tonight". Ian says no way he's going to bed at 10.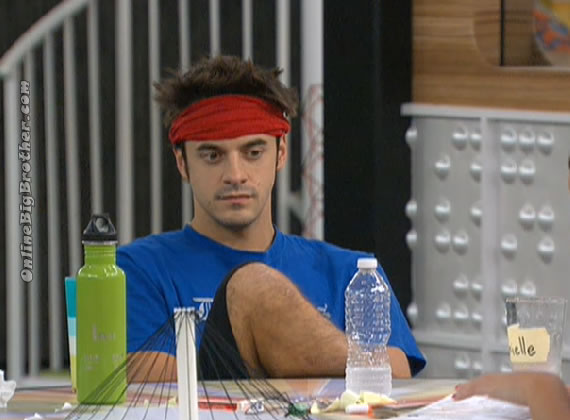 8:00PM Kitchen random talk about beer, the volcano kit and ants in the cereal.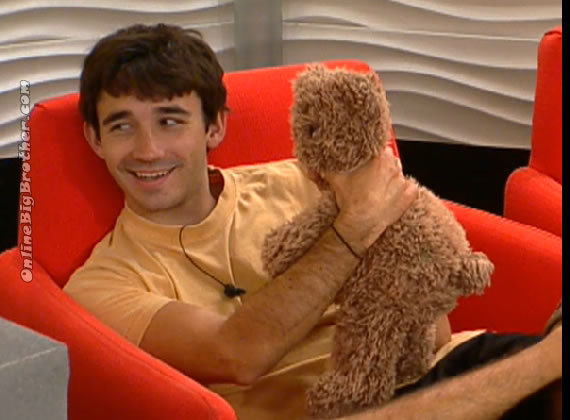 8:13pm Cam 1-4 Living Room Dan, Danielle and Ian
Dan is saying that Britney would get mad of him when he pushed the teddy bears nose in. Danielle says it drove her nuts when Shane walked around with Dozer the stuffed dog on his shoulder. Ian thinks he did it for Camera Time. Ian says he's not going to sell his teddy bear
Dan: "WHAT .. you are not going to sell it.. what if someone offers you 2 thousand bucks"
Ian smiles, they joke around that Ian is reconsidering.
Dan starts talking about things to keep and things to sell. Dan asks Danielle is she will part with her Bag.
Danielle is adamant about keeping her bag. Dan asks her if it was on Ebay what amount is the minimum she would be happy with. Danielle says her Big Brother 14 Bag would have to sell for 5 grand.
The guys tell her out of the 7 million people that watch this show there is at least 10-20 that have a unhealthy feelings towards her. Danielle cannot believe there is 20 thousand people with blogs out there. Dan corrects her says not 20 thousand blogs 10-20 people. Danielle wonders what they would have on the blog. Dan explains that they will creep her online identity and post pictures of her in her Bikini.
Danielle wonders what type of fans like her. Ian says that Danielle has the cat lady crowd and older men. Dan questions what a cat lady is. Ian's definition of a cat lady is a older women that has 6 or more cats.
Ian says the young men are probably rooting for Dan, Shane and Ian. Dan laughs asks him why would the guys be rooting for them they would like the girls. Ian thinks people will like the players they can relate to. Danielle laughs says she gets the cat ladies and the old men.
Dan warns them that there will be photographers that contact them after the show is over. "Pretty much all creepers". He asks Danielle is some bar paid her a thousand dollars and flew her in for one night to party would she do it. Danielle says she would as long as they paid for everything. Dan is positive they will all get those requests.
Dan: "theres a rumour that someone from Big Brother 8 was paid 5 grand to play beer pong.. I don't really believe it based on the source"
Ian: "I would pay 5 grand not to play beer bong with him"
8:34pm Danielle says she thinks there is a chance of her and Shane getting together after this. Dan asks Ian for a "Number Crunch" on it.
Ian: '30% chance of them working out"
Dan: "I'm going to knock off 18% because of distance"
Danielle: "Only 12%"
The Guys tells her they are just being honest
Updated
Going over the better of the zing bot zings. "So Joe how does it feel to be the old man in the house ohh wait I didn't see boogie there.. Zing"
"Danielle after the show Shane will get you a special gift a restraining order"
Danielle asks Ian if Boogie talked about her body ever. Ian doesn't want to say But Danielle demands it. Ian told Boogie he thought Daneille a$$ looked good and Boogie disagree. Boogie told him "A perfect A$$ is like a shelf Danielle a$$ is wide but it's not shelfish"
9:24pm Dan asks Danielle if she would play world of warcraft with her boyfriend. She says no unless it was a big deal for him. She says she's hugely into technology she was able to work her parents VCR before she turned 1.
Dan continues to ask Danielle a series of questions, Would you eat your dogs liver, would you do a autopsy on a family member, would you sell 500K worth of drugs if you would never get caught, If you would smoke drugs,….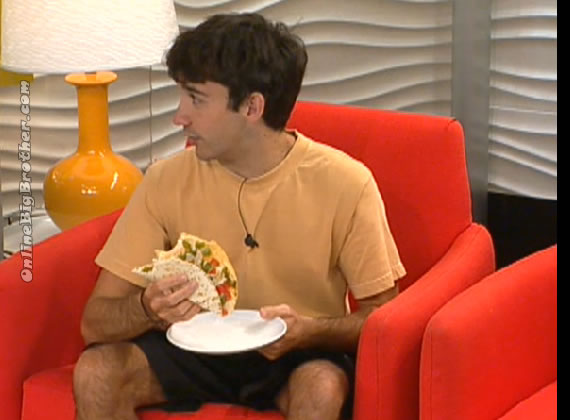 9:37pm Ian joins them Danielle asks Dan if there is one thing he could change about this season what would it be. Dan says the patio furniture and the Chess bench. Ian suggests maybe to allow Jodi to actually play. Dan doesn't think so he's happy with Jodi leaving because he knew they would but heads.