First HOH
Dan
Second HOH
IAN
Third HOH
 ?
Final HOH
?
Last Evicted Houseguest
SHANE
WATCH the last 3 DAYS OF Big Brother 14 for FREE:
3 Day FREE Trial!
2pm – 2:45pm Dan and Danielle talk in the pool. Danielle asks Dan what type of guy do you see me marrying? Dan says one that doesn't wear the pants. Dan tells Danielle that she would be the passive aggressive one in the relationship. Dan continues to talk about the type of guy Danielle would marry. Dan then tells Ian the type of girl he would end up with. Dan says someone that likes the internet, Pokémon, she would be super skinny, and a little nebbish, just a little nebbish. Ian says okay. Dan says that Ian will probably be out-chicked. Ian asks what that means? Dan says like Chelsea and I, out-chicked. Dan grabs his salsa ball bowl, fills it with water and dumps it on Danielle's back.
WATCH the last 3 DAYS OF Big Brother 14 for FREE:
3 Day FREE Trial!
2:50pm Ian continues to swing on the hammock. They wonder what time it is. Ian asks how much sun in on the pool. They tell him and he says that its around 3pm. Danielle and Dan head inside.
3pm – 3:20pm Dan and Danielle are sitting out on the backyard couch. Dan asks Danielle what she is going to do when she gets out of here. Daneille says go crazy. I am not going to miss you jumping on my bed in the morning to a Weezer song. Dan impersonates Danielle saying oh my god you broke my leg in three places! Dan gets called to the diary room. He heads inside. Danielle says oh my god he is wearing me out! Dan comes back out and Danielle gets called to the diary room. Dan and Ian talk on the couch. Ian comments on how Danielle has gotten considerably better. Dan says you know when I said I would spend a year in here, I would like to retract that statement. They talk about counting down the hours that are left till they get out..
3:25pm Dan and Ian talk about the Part 2 competition and how Danielle got mad when they said it was pretty john blaze. Ian says that Danielle said I wouldn't be saying that if I had lost it. Ian says that regardless he thought it was pretty john blaze because we got to scale a building. Dan and Ian recount the events of the house.
3:30pm – 4pm Dan, Ian and Danielle are sitting out on the backyard couch talking about random stuff. They laugh at how only the final 3's families get to watch the live show in the audience. Danielle asks Dan what he is wearing for the finale? Dan says you're looking at it. Danielle says for real? It's a big deal you have to dress up. Dan says what's wrong with this shirt and these shorts? Danielle says for real what are you wearing? Dan says he might wear his black shorts instead.
ONLY 3 Days left of Big Brother 14:
Watch it for FREE – 3 Day Trial!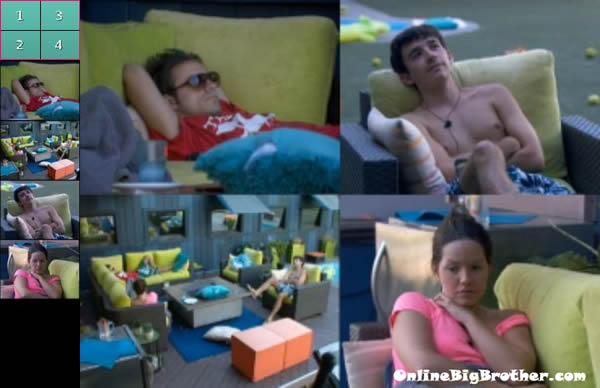 4pm – 4:35pm Dan and Ian talk about survivor. Dan and Ian talk about Randy from survivor gabon. Ian says that he was so ornery. The conversation turns to talking about Reality Rally and Vegas Bash. Ian asks about when they would get the cheque. Dan says after all the press stuff. Ian says that he'll tell his mom to put it in her purse. Dan tells Ian that there is a room that has all of the house guests faces crosses out except for the winners. Big Brother tells them not to talk about production. They continue talking about survivor. Ian really wants to meet Richard Hatch. Dan asks Ian what girls from survivor he would want to meet? Ian says that they are probably all old now. Dan asks you can't think of any? Ian says what like ones I would want to bang? Dan says no just meet.. Ian says Amber, Poverti, etc.. Danielle comes out and Ian heads inside. Danielle asks Dan if she is interrupting something? Dan says no we were just talking about survivor. Danielle tells Dan if someone does the dishes, I will cook dinner. Dan says that he will do the dishes.
4:35pm – 5pm Dan asks Danielle if Ian knows the super personal thing about Boogie. Danielle says the 90210 thing or the other. Dan says the other. Danielle says that its super super bad thing. Danielle says that her, Britney and Janelle all read about it before they came in here. Ian thinks he knows but Danielle tells him from his guesses that he doesn't know. Danielle says that it has to do with older people. Dan says lets change the topic. Danielle tells Ian that she will tell him Wednesday. Danielle says that she can't believe Boogie bragged about leaving here with third place money. She says he got $20 grand for being a coach and $16,000 in prize money.
(Danielle is referring to the lawsuit regarding Boogie's alleged Craigslist sexu*l escapades using money from the Geisha House. In the lawsuit Boogie is accused of using embezzled Geisha House resources to set up multiple sexu*l encounters with various older men. He apparently had these encounters to live out f*tish role play fantasies: father/son, and uncle/nephew relationships. This was apparently a made up story by a disgruntled business partner.)
5:10pm Dan and Danielle nap on the backyard couch. Ian rocks out on the hammock..
5:50pm – 6:15pm Dan and Danielle continue to sleep on the backyard couch. Ian heads inside and starts spaying the ants around the kitchen sink. He then heads outside to fold his laundry. Big Brother cuts the live feeds to the we will be right back screen. The feeds come back fro a few seconds and Dan asks Danielle if she is excited? Danielle says yeah. Dan says that they have never done this before. He says that they will give family the heads up tomorrow. Big Brother cuts the live feeds again. When the feeds come back again, Danielle tells Dan that she has faith that he can do it. Dan says thanks.
6:35pm – 6:40pm Ian comes back out to join them after he finishes the dishes. Dan jokes that Jodi did more dishes than Ian has done in the house. Ian says Jodi didn't even stay long enough to do dishes. Danielle and Dan head inside to make dinner.
Big Brother 14 FINALE Commercial – Controversial Coach, Naughty Nurse, Boy Genius

Simon and I work 24/7 all season long to bring you all the live feed updates and spoilers, please consider donating. Any amount is greatly appreciated, your donations go directly to paying the server and bandwidth fees needed to run this site. Donation Link