HOH – Dane
The Plan – Put up Maki & Kyra. He wants Kyra out this week.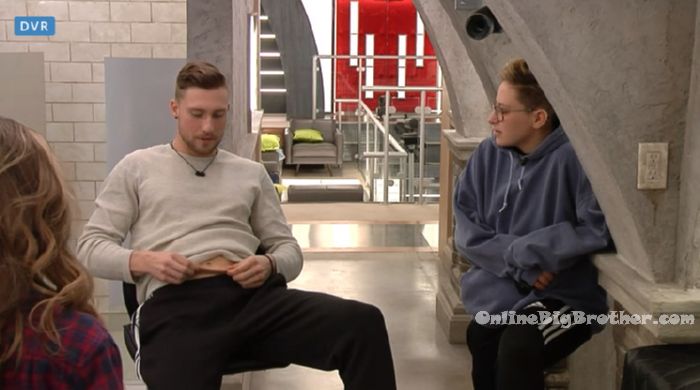 12pm Bathroom Samantha and Adam. Adam pulls at his skin on his stomach and says look at this loose skin! Kyra – it must feel super heavy walking around with that. Samantha – you're ridiculous! People are going to hate you if you act like that. Do you not want to be liked? Or do you want to be liked? Adam – shut up. Ever since I went on the keto my fat went away and my skin is really loose.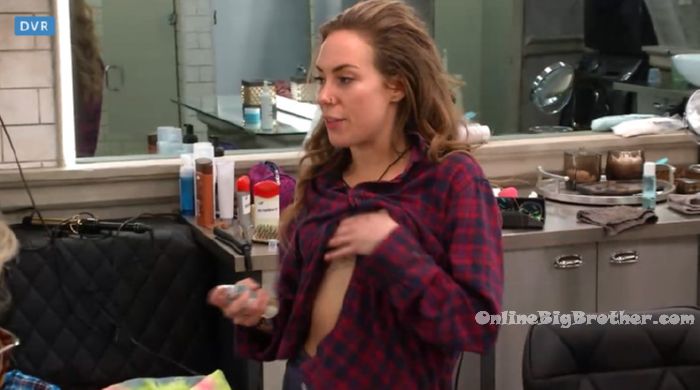 12:30am Living room. The house guests are playing games. They play a game where they have to guess which house guest is holding a ring in their hand. The next game they're moving around the living room and then freeze. Anyone that moves is out. In the next game two stand up and can only talk to each other in the form of a question and the first person to laugh loses.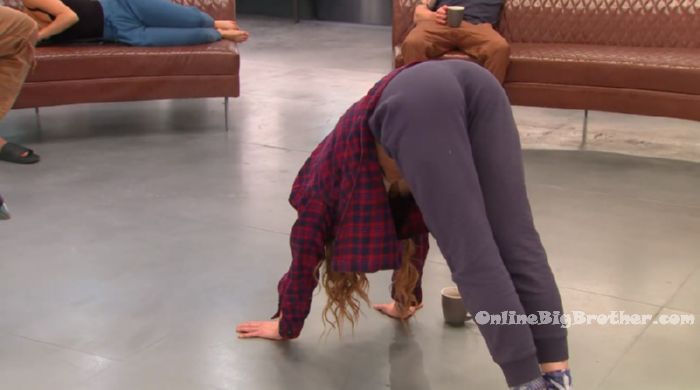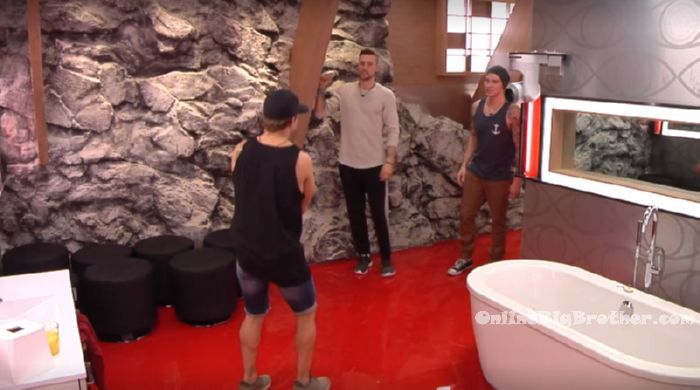 Feeds are blocked until from 12:45am – 1:50am. HOH bathroom. Damien, Adam and Dane. Dane – we just have to get rid of someone this week and then someone next week. We already have two targets in mind. One week here and the next week forward. So we'll already be top 10 … or top 11. Lets just keep with the game plan. So right now lets all enjoy this and then get back to game. Adam then asks Damien if he can leave so that he can speak to Dane. Damien leaves. Adam – I know how much you love this game and I appreciate it. How many times did you try out? Dane – I never tried out before. I didn't think I would be good on tv. How many times did you try out? Adam – five times. Dane – No one appreciates the game more than you and me. Can I let you in on something. Promise me this doesn't leave this room. Adam – promise. Dane – I've watched since season 1. BBCan and USA. I was 8 years old when I watched it. That's 20 years man. Its honestly been a childhood dream of mine. Adam – I would never in a million years think about taking out someone like yourself because I respect you. And a lot of people here I don't think this is… you know what I mean. Dane – I can't believe I am head of household! The four man .. PV Four. Adam – Sam man. Dane – there is going to be a point when we are going to need to snip her. Adam – I worked on her today. We're safe again .. he is chill with us. We're not going home. She said yeah well eventually we're going to have to split up. Dane – just promise me you won't turn your back on me for her! (Samantha) Adam – no! No no no! I had this plan way before I even came on this show. Dane – I had the exact same plan an you. Adam – I tell you everything. I think me, you and Mark have to have a conversation… because there is going to be things said to the girls that gets back to the guys. Dane – we're in good shape. Adam – I am never ever going to take what they say out of context and think something else. Dane – we might have to (take her out) .. and it might have to be sooner than later. She is very f**king emotional and it goes from one side and Bbrbrbrbrb.. Adam – I know. I think Mark has a crush on her. She already told me that she likes me and wants to hang out after this. They agree to talk later. Dane – I love you bro. The hug and fist bump. Anthony joins them.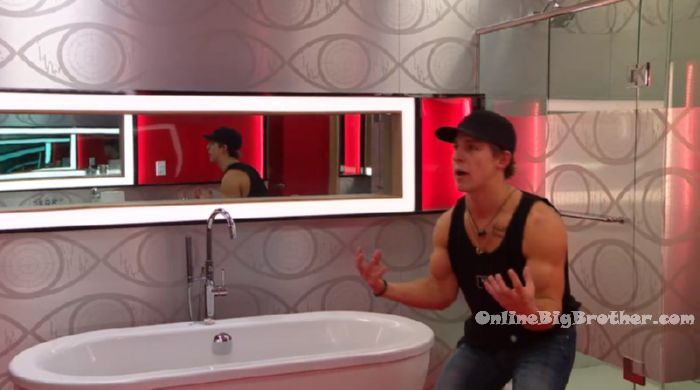 2:15am Dane tells Eddie that he is safe. No one even come to me and say that. This is only half the house but Eddie is safe. Eddie is not going up for noms, Eddie is not going up if someone wins the POV. Eddie – thank you. I appreciate that. They talk about how they were both up there for so long. (In the HOH competition) Dane – I am glad that it was an earned win. Eddie – respect!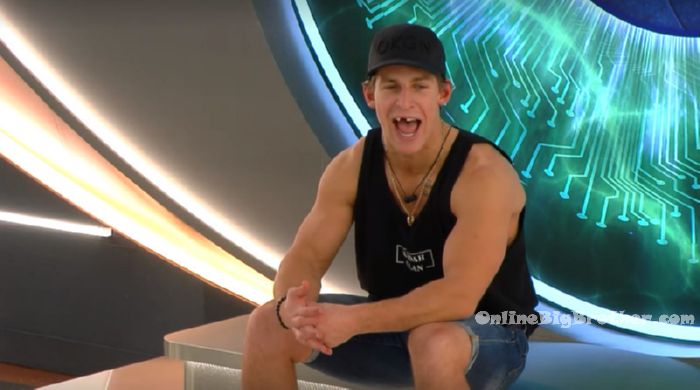 2:20am Bathroom. Dane and Estefania. Est – noms are in a couple days. Tomorrow is when everyone is going to be coming to you. Dane – I already know one that I am going to put up. I am going to talk to Maki and say that I've been trying to talk game with him but that he doesn't really talk game back. You're not the target. People are going to tell me to put up Eddie and I can't do that. People are going to tell me to put up Damien and I just can't do that to him. I can't do that back to back weeks. I know Maki might be a little mad but you can get into his ear a little bit. Est – ok. Of course. Dane – talk to him before .. like how we should all work together and then talk to him again after I do it. Est – ok..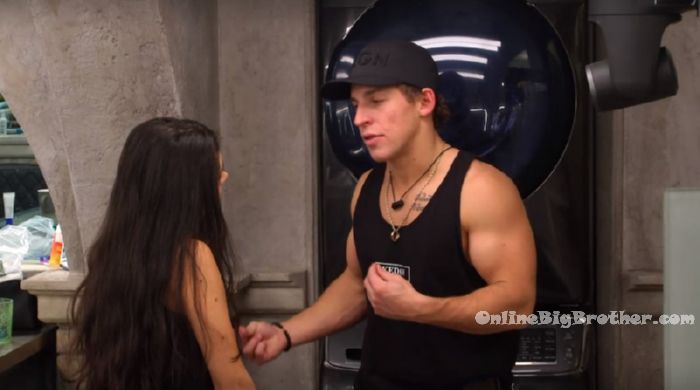 2:30am HOH room. Dane tells Damien that he is not putting him up. I am not doing that to you again. Damien – thank you. Dane – you have to protect me next week. I will promise you, you will no go up. You just have to promise me that you have my back next week because I can't compete. Damien – hands down. Dane – you have to pull out a win next week because you're not going up. Whoever wins next week has to get Cory out.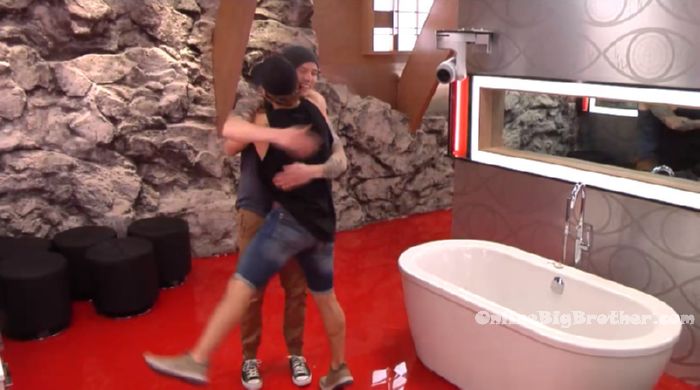 3:20am HOH room. Dane and Est. Dane – this is between me and you… and you can tell Adam. Obviously before it was going to be Kyra and Eddie. But I can't do that (to Eddie). So Kyra is going home for sure. Like for sure! I really do genuinely like her.. Est – Kyra really does mean nothing but love but in the game its just not working. Dane – she has .. its not working. In the game she has thrown my name twice under the bus. Est – and mine. Dane – and your name under the bus which is not cool.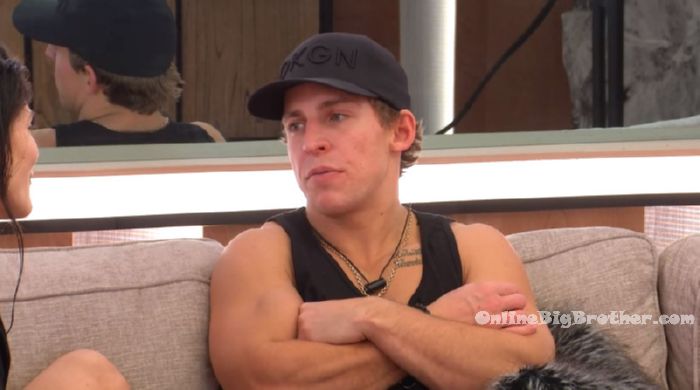 4am All the house guests are sleeping..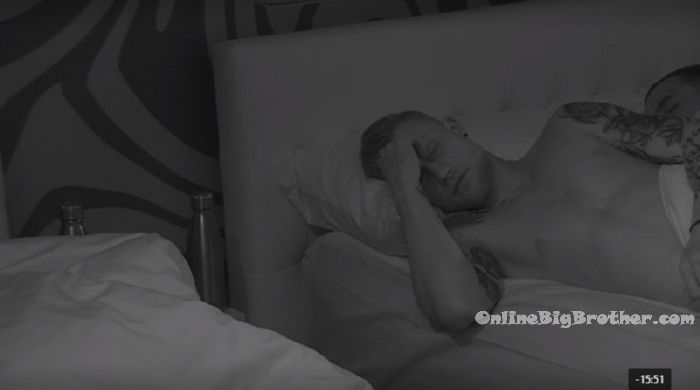 Support the site and purchase your Amazon goods through our links below. It doesn't cost you anything and we get a small commission off your purchase.
Amazon Canada
Amazon USA
3:30am Dane in the HOH room looking at his HOH photos and crying over someone that died.