POV Holder:
Next POV:
Sept 8 (Saturday)
POV Used
POV Ceremony
Sept 10 (Monday)
HOH Winner:
Dan
Next HOH:
Sept 6 (Thursday)
Original Nominations:
Current Nominations:
Last Evicted Houseguest
Frank And Joe
Superpass Big Brother 14 Live Feeds: 3 Day FREE Trial!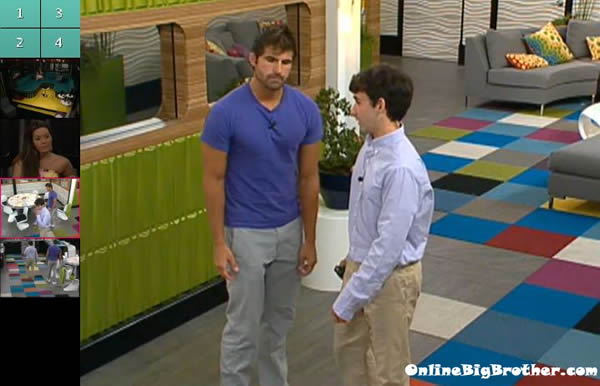 7:05pm When the live feeds come back, Ian is in the arcade room with Danielle. He hugs her and tells her that one of us just won a half million dollars. Shane and Ian are talking by the kitchen. Shane says it happened exactly how we wanted it to. Shane wonders if the HOH competition will be tonight. Ian says he hopes it's like the one Dan had in his season, the one where you have to answer the days of the events in the house.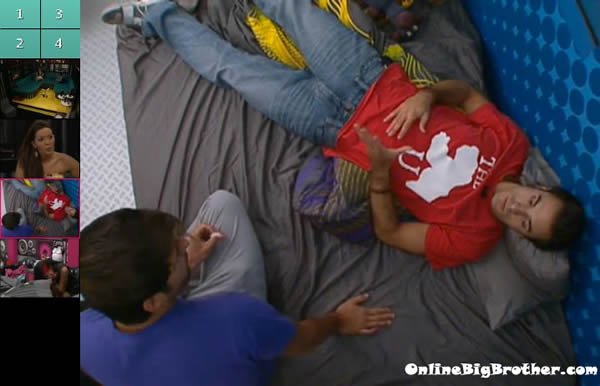 7:10pm Shane goes to talk to Dan in the kicks room and he says thanks for not putting him up. Shane says I appreciate it. Dan asks Shane not to tell anyone about their alliance. Shane says that he won't tell anyone. Ian comes in and Shane leaves. Dan tells Ian that they need to vote Shane out. Dan says that he will lock Danielle in a room for 24 hours just to get her to vote out Shane. Dan tells Ian not to say anything to Shane. Dan and Ian pinky swear. Dan tells Ian that he took that way better than Memphis did. Ian tells him that it's just a game. Dan asks if Jenn is crying. Ian says yeah. Dan says that she just lost her biggest supporter in the game. Ian says that he will talk to her.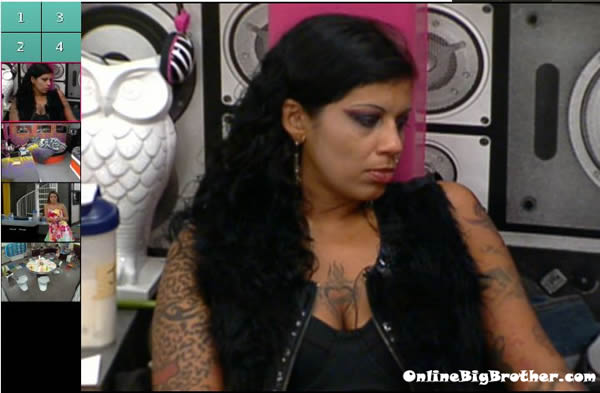 7:20pm – 7:30pm Dan and Danielle are in the kicks room talking. Dan asks if Danielle is mad at him? She says no. Dan says that he had to put her up because she had the votes, he says that he didn't know about Ian. Dan asks why Jenn is crying, I should have put her a** up. Danielle says she just needs a minute leave her alone for a bit. Dan and Danielle are trying to think about what they will tell the others about why he put up Danielle instead of Jenn. They say that he will say it had to do with Joe commenting about Danielle and Shane being in an alliance. Dan says he will say he panicked because of it. Dan says it needs to be me, you and her at the end. Danielle asks what she should say to Jenn about Dan putting her up. Dan tells her not to explain it but to just tell her that I talked to you about putting you up. Dan says it will be alright, you've got to reel her in.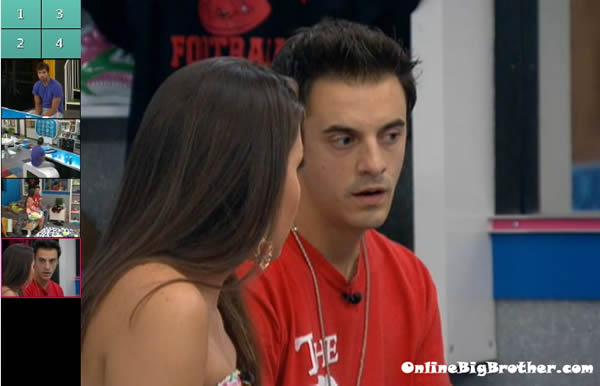 Ian, Shane and Danielle are in the kitchen talking. Ian says at least if I did go home tonight, I would have gone home in my Sunday's best! Shane talks about how he only got one question right during the competition. He asks how Danielle knew so much. Danielle says I don't know. Ian comments that he never thought he would see Franks face on the memory wall blacked out.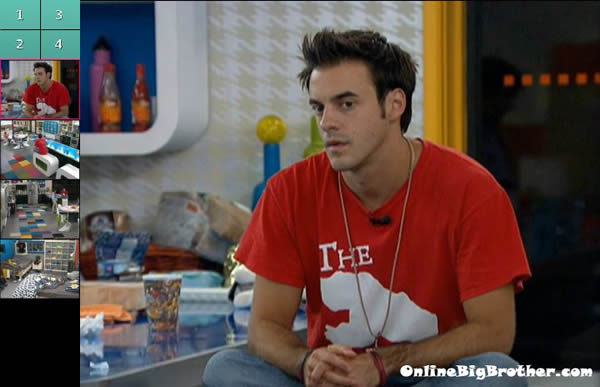 7:40pm – 8:05pm
Dan comes out of the kicks room and asks are we all on track here now. He asks for the finale are we all on track. Ian says yeah. Dan tells the Quack Pack, thank you for trusting me. Ian says one of us is winning $500,000! We can't let Jenn win this HOH. Ian explains that they have the votes in the jury house; one of us is winning this. They talk about Dan getting photos and a letter from his wife Chelsea. The conversation turns to talking about the answers to the HOH competition. Dan asks if Jenn said anything. Shane says she said she wanted to burn this mothaf***er down. They talk about how they have the votes to get Jenn out. Dan asks if Frank said anything when he wanted out. Ian says he didn't say anything to me, low class, not a class act. They talk about how shocked Frank was when the vote came back 3-1. Shane says now we are going to have to cook for ourselves. Ian talks about all of them, the quack pack up in the HOH room and revealing it to Jenn by all quacking. He says just like the Brigade to Britney. Dan asks can you believe you are still here? Ian says oh no, I thought I was going to be the first person evicted when Julie said there was going to be a double eviction. Danielle comments that she can hear them building out in the backyard. Dan says my hats off to you Ian for founding the quack pack. Ian says if we make it one more round we will have made it longer than the brigade. Danielle, Shane and Ian start studying the events of the house just in case for the upcoming HOH competition. Dan says that he is going to go lay down. Jenn comes out of the diary room and says s**tty, s**tty day! Dan then gets called into the diary room.
Danielle is in the kitchen cleaning dishes and putting them away. Shane is making something to eat. Meanwhile, Ian is pacing around the stereo room holding his HOH letter. He is mumbling to himself. He then grabs his snake and says it's my f**king bed now. He goes into the kicks bedroom and says claimed! He continues pacing around and then says I feel like I just won the super bowl! I did that s**t son! Thanks Brit, guided me through that one!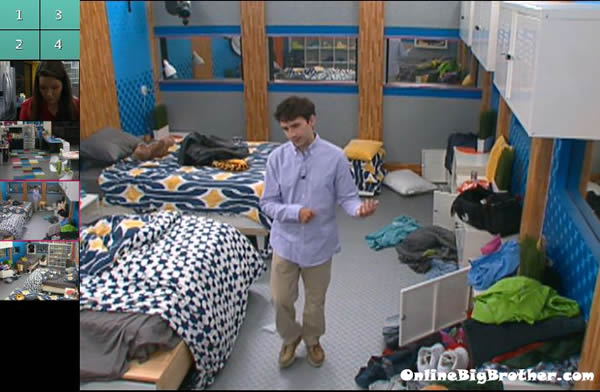 8:30pm – 8:37pm Danielle is talking to Jenn in the stereo room. Jenn says that it just shows me that he must have some sort of deal with Shane! Danielle says that she will sleep in here with Danielle if that proves anything. Jenn says no that's alright. Danielle tells Jenn that she did so good. Danielle says that she is so scared that the rest of the comps will be puzzle and that Ian will get them all. She says that Shane can't do those. Jenn talks about how Frank knew at that point and he looked at her. Jenn says that she is trying to control her anger and that if she loses it she will get thrown out of here. Danielle tells her that no one knows why you are upset they think you are upset about Frank leaving. Jenn says that she is too. She says that she doesn't know who to trust. If I win HOH its going to be hell fire! Danielle asks what for me? Jenn says no. Why didn't he tell me he was going to do that s**t. Danielle says he didn't tell me till right before. Danielle says you are still here and you aren't going anywhere no matter what. Jenn says I hope so. Danielle says that if Ian wins he might put up Dan and Shane. Jenn says that if she wins she will put up Ian. Danielle says we made it to the top 5, we beat out 11 other people! Danielle gets Jenn to give her a hug and says no matter what you have to believe me! Jenn says I believe you.
8:37pm Big Brother switches the live feeds to TRIVIA… The second HOH competition is most likely be happening right now..
Simon and I work 24/7 all season long to bring you all the live feed updates and spoilers, please consider donating. Any amount is greatly appreciated, your donations go directly to paying the server and bandwidth fees needed to run this site. Donation Link
Share it YO!!
Tweet