First HOH
Dan
Second HOH
?
Third HOH
 ?
Final HOH
?
Last Evicted Houseguest
SHANE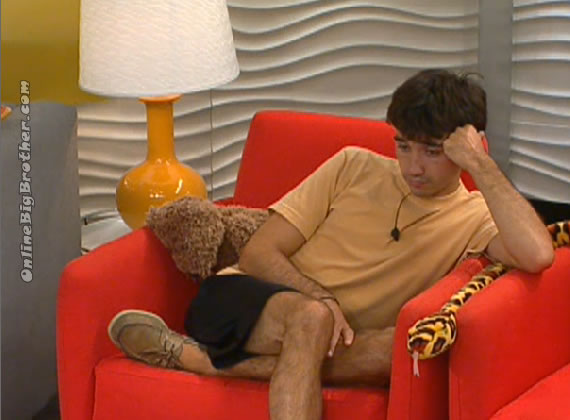 10:08pm Cam 1-4
Dan asks her if she would ever date Jessie. She thinks he's attractive but he's too full of himself. She adds that his muscles are a little too big but he seems like a really good guy. Danielle questions if he's really like that in real life or if it's all a act. Dan mentions that Jessie was half the size during BB10 then he is now. Him and Ian agree that having so much muscle isn't good for endurance competitions.
Ian mentions that Boogie really liked Kara and for some reason Frank thinks they will hook up after the show.
Danielle doesn't think she's interested in Boogie she asked Danielle advice on how to shut him down.
Dan: "Can't knock him for trying" Ian agrees.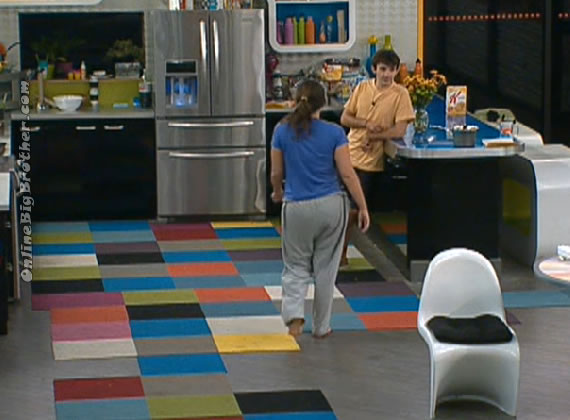 (Danielle appears to be expanding at a rapid rate)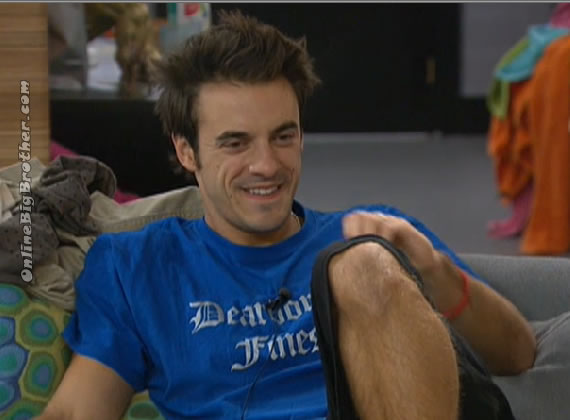 10:20pm Cam 1-4 Dan, Danielle and Ian
Dan says that once Frank came up to him and gave him the tickle monster and it felt really uncomfortable.
Ian: "I felt really uncomfortable a lot of times in this house and tickle monster is one of them.
Dan: "would anyone be opposed to me drinking tonight"
Ian: "Your beer.. no go ahead"
Dan asks Big Brother if they can have some pokemon cards. Danielle Says they won't do that because it only involves 2 people, they have to include everyone.
Dan: "You can be the prize girl..
Danielle: "What the hell is the prize girl"
Dan: "You flip over the prize cards when I beat Ian's Charizard"
Table Topics
Dan Asks if there is any place other than the US you would want to live in where would if be. Danielle says Australia because it's warm and the guys are hot. Ian says Australia is like a bunch of Franks.. he tells Danielle that Australian men are notoriously obnoxious his friend spent time there.
Dan asks Ian if he would gave breast implants for a month for a million dollars.
Ian: "How big"
Dan: "C"
Ian: "Ya.. not going to lie to you"
Dan asks what is more essential to their lifes, burgers or Seinfeld.
Danielle and Ian both say burger
Dan Asks them if for a million dollars they would spend an entire year in the Big BRother house by themselves. Ian isn't' sure thinks he would, "Would be like pulling teeth". Danielle would not.
what drug would you do if it had no negative side effects.. removing weed from the equation
Ian: "some of my friends say.. pretty good.. Acid High I guess I don't know "
Danielle: "I don't like to feel out of my control.. "
Dan: "Thats not a answer"
Danielle: "Blow"
Dan mentions when someone (Mouths their name but we cannot hear what he said.. I think it was Jojo) said they drank "Molly" all the time. Dan tells them that Molly is Ecstasy.
Danielle she says she drinks that a lot..
Dan asks Ian from this season who would be "marry", "Ding" and push off a cliff. Not including married players.
Ian would marry Kara, Ding Danielle and push Frank off a cliff.
Danielle would Marry Shane, Ding Ian and push Frank off a cliff.
Ian asks them if they could evict one person the first night who would it be. rule is Frank not allowed and they have make it to Jury.
Danielle: Ashley
Dan: Ashley
Ian: Jen or Ashley Probably Ashley.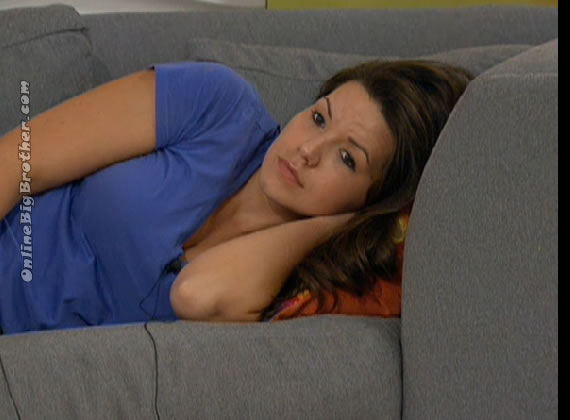 11:36pm Cam 1-4 Ian tells them that being a Have Nots and being in the Big Brother House was a party to him.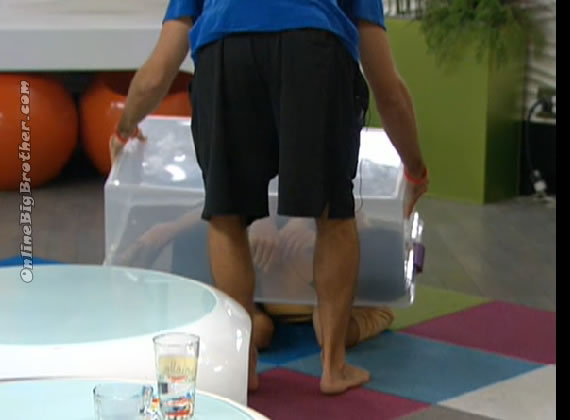 11:40pm Dan puts the plastic storage bin over Ian. Ian farts, Danielle :"IAN you've turned into Frank with your farting" Ian jokes "Never say that Again"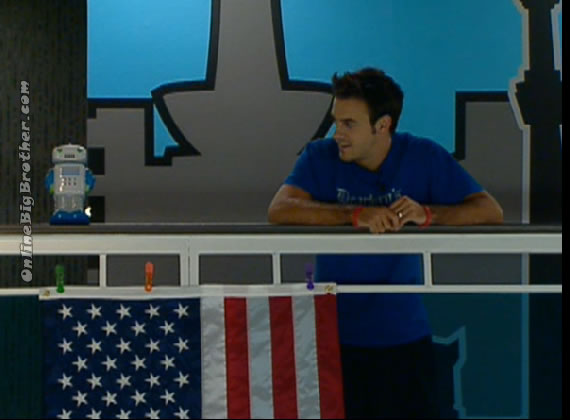 11:45pm Dan about to launch the robot off the balcony
Ian: "Dan I dare you to hit the Button" (Self eviction button)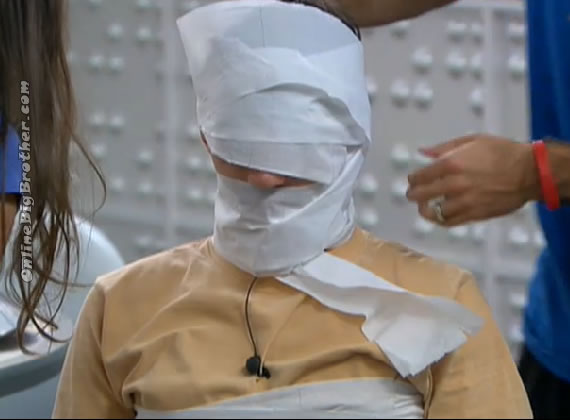 11:57pm More wrapping Ian up (Image Link)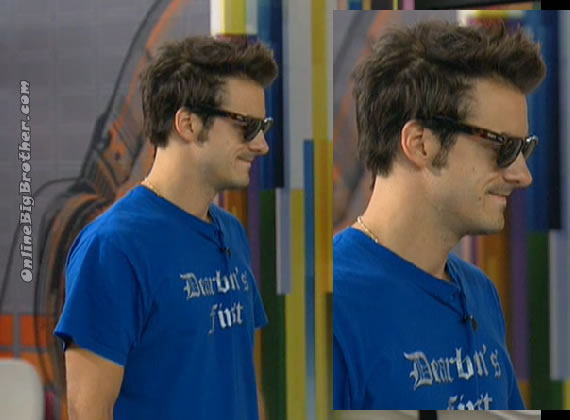 12:15AM Dan pretending to be a robot.. Danielle is laughing so hard she says her mouth hurts.
12:27AM Cam 3-4 Dan and Danielle
Dan says she needs to win the second part and they can sleep the next 3 days and not worry.
Danielle: "If he wasn't here we would not have had this problem"
Dan and Danielle seem to think the second part of the HOH is tomorrow night and it's the face morphing comp.
12:31Am Ian is in bed. Dan keeps saying he's staying up all night. They decide to play chess.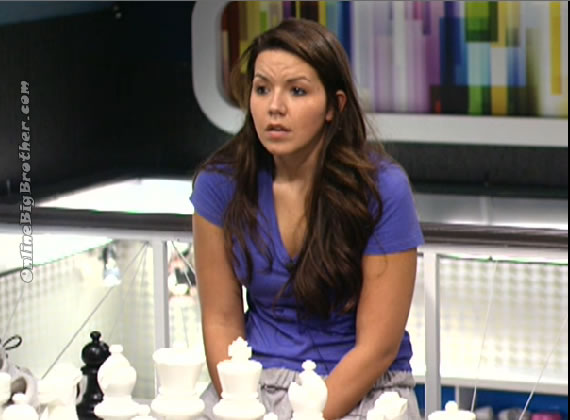 12:36AM Cam 3-4 Chess Dan and Danielle
Danielle is pissed that because Ian is still in the house she is going to get third place. Dan keeps telling her Ian will take her to the final 2. Dan says if Ian wins the next HOH he will act happy and try to convince Ian to throw the final part and then Dan will take Danielle to the end. Dan says she's going to beat him tomorrow so none if this is going to matter.
Danielle tells him she is getting heated with him, She thinks he's playing for himself. She cannot logically wrap her head around why Dan took Shane out. He explains to her that she could not logically wrap her head around the funeral at first either.
Danielle tells him if Dan screws him over in the end her dad will kill him. Dan tries to make it clear to her that he will not screw her over he's never done anything to hurt her game. Danielle feels like Dan just keeps lieing to her and backstabbing her and she's the sweet girl who takes it.
Dan: "the reason you should have accepted is the final result.. what does getting angry about it do now.. I cannot explain it anymore.. all this getting angry is distracting her from what she should be doing.. she's got a big competition tomorrow"
Dan: "listen The bottom line I care about you.. and I will never do anything to hurt your game and if it's worst case scenario I will take care of you"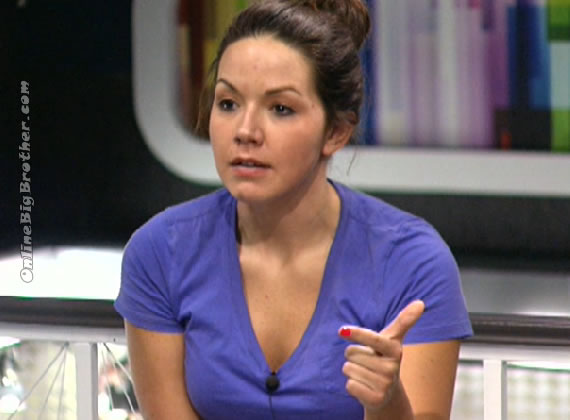 12:57AM Danielle says she keeps having this nightmare that she's going to be sent home on Finale night by Dan and she will look like the biggest dumbA$$. Dan says he's gotten her to take her to the Final 3 she needs to trust him. Danielle mentions that Dan always says he's gotten her to the end we'll in reality she was the one winning all the competitions for them this year. Dan reminds her that the game is not about competition it's a social.
Dan: "This is the difference between me and you.. I have no emotion in this game.. that is why I slept like a baby last night and you are still wearing Shane's clothes"
Dan wanted to get rid of Shane earlier but Danielle talked him out of it. He points out if he had his way they would be up against a flaoter like Jenn right now. Dan couldn't sleep for 2 days when he figured out the mistake me met not getting Shane out. When he finally had another shot to get rid of Shane he took it.
1:13AM Danielle says she never had a problem with them taking Shane to final 3. Dan says he did and she never asked him. Dan: "Like I said I have to be in control of this game.." Dan gives her a football story tells her the lesson of the story "When the game is on the line always listen to your coaches"