POV Holder:
Shane
Next POV:
Sept 8 (Saturday)
POV Used
POV Ceremony
Sept 10 (Monday)
HOH Winner:
Ian
Next HOH:
Sept 13 (Thursday)
Original Nominations:
Jenn and Shane
Current Nominations:
Last Evicted Houseguest
Frank And Joe
Superpass Big Brother 14 Live Feeds: 3 Day FREE Trial!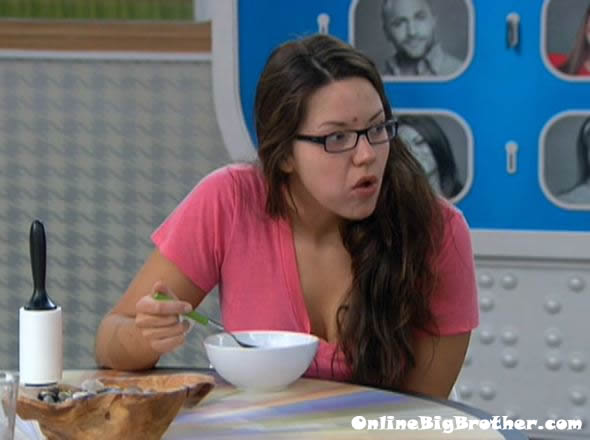 10:45am – 11am Danielle tells Dan about last night when he walked in on them talking. Dan talks about how Jenn isn't happy. Dan starts talking about Jenn and says that she doesn't like that Dan is happy right now. He says that she is going to be so pissed when she finds everything out. Dan says that Jenn is going to yell that they f***ing played me! Dan says that he is going to tell her that they needed a new insurance policy and not a 37 year old rocker chick from Brooklyn. Danielle says that Jenn is going to lose it ..she is going to lose it.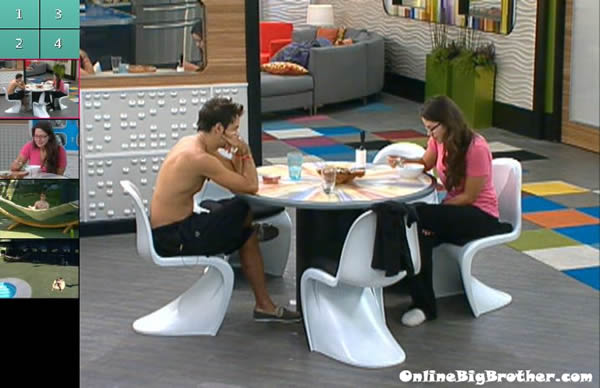 Danielle starts telling Dan about what her and Shane were talking about last night when he walked in. Danielle talks about how Shane was commenting on how he thinks you have a final two deal with Jenn because you talk to her. Danielle says that she played it off like you are friendly with everyone. Dan asks Danielle if she thinks Ian threw the power of veto competition. Danielle says that she thinks he did. Dan asks Danielle what her main reason for Shane not to use it? Danielle says me. Dan asks what can you say you did for him. Dan tell her when Shane starts talking about Marcellus, you need to shut that down. Danielle says that it's already in his mind. Dan asks what Shane was saying when he said he would talk to Ian. Danielle says to find out who was going up as the replacement. Danielle then tells Dan that Shane was telling her to just tell Dan whatever he needs to hear telling me to tell you I will take you to the final two, just to make sure you save me and vote out Jenn. Danielle tells Dan that Shane is getting ridiculous, he is so douchy. Dan tells her that she needs to talk him into not using the veto. Dan tells Danielle she came in here like a little seed and you tried to grow into a flower but I grew you into a venus flytrap. Dan tells Danielle that all these flies come in here and are attracted to her nectar and she lures them in and snaps them up and digests them. Dan tells her she knows she is too..
Watch it ALL on FlashBack: Big Brother 14 Live Feeds – FREE 3 Day Trial!
11:20am – 11:35am Shane is working out in the backyard. Ian is swinging in the hammock. Dan comes out and joins them. Dan and Ian are in the backyard talking about how there were two incidents of cheating in the same competition. Dan says that he remember Boogie saying he would "Stay" then said "Fold", he says then her heard someone over the loud speaker say he changed his answer.. Dan talks about how then Frank was whispering the word "summer" to Danielle. Big Brother then cuts the feeds to TRIVIA…
11:45am When the feeds come back, we find out that Shane got the luxury prize for winning the veto. He gets to go to a movie premiere or music awards and take a guest. Something about a red carpet. Shane picked to take Danielle. They aren't even sure where there are going. The card said something about going to see the stars. So they get to leave the house for part of the evening.
Dan and Jenn are talking in the stereo room. They are talking about how Shane and Danielle getting to leave to go to a movie premiere or music awards. Jenn says that this couldn't have worked out more perfect, them leaving. Jenn tells Dan that one day he is going to hear her claws come out! Dan says you've got to come wake me when that happens. Jenn says I promise.
Jenn heads into the bathroom where Danielle is putting on her makeup. Danielle asks what she should wear a dress or a jeans. Jenn says whatever you will feel most comfortable in. Danielle asks what did the card say? Jenn says you will get to see the stars. Jenn thinks it will be an earlier event. Danielle and Jenn head to the kicks room to help pick out an outfit.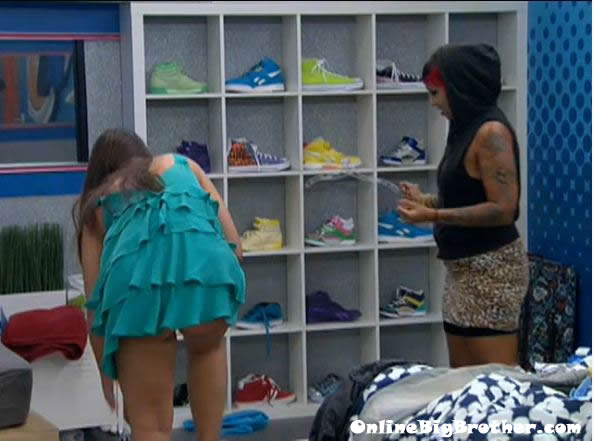 12pm Ian and Dan are talking in the backyard about how it will be great for them to get out of the house. Dan says that they are leaving at 12:45pm today. He thinks they will be back by 10pm tonight. Ian wonders if they might be back tomorrow. Dan says no I don't think so. Dan talks about how they will get to see things out of the car window. Ian asks if they will be blindfolded. Dan says just until they get out to the car.
12:10pm 12:20pm Dan tells Danielle that today is a business trip. Danielle says Dan! Dan says well do you want to go have fun at the MTV Music Awards or do you want to win half a million dollars? Danielle says win half a million dollars. Dan says you guys will have fun. Shane joins Danielle in the bathroom. Danielle asks him if he is excited. Shane says yeah, they said it was a life time opportunity. I thought this was a once in a life time opportunity. Dan comes in and asks if love is going to be in the air tonight? Danielle says DAN! Dan sings "can you feel the love tonight…" Danielle yells Dan STOP!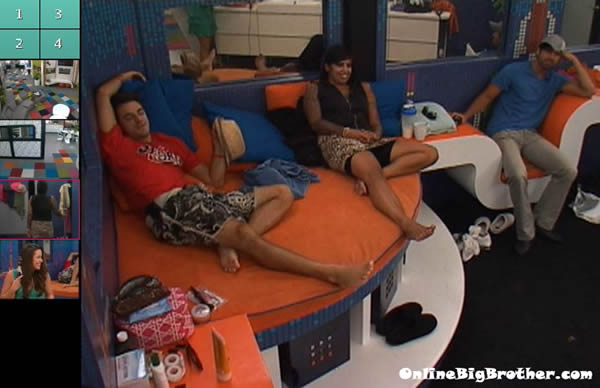 12:35pm Danielle keeps saying she is nervous. Dan asks why you get to leave the house. Danielle says that she isn't ready to leave or for people to see her yet. Dan asks if they are going to kiss? Danielle says if it happens, it happens. Dan laughs you're not ready for people to see you yet. Dan says this is your first date, you're setting the bar pretty high. Dan asks what if they start yelling SHANELLE! Danielle says no one will even know who we are. Dan keeps joking with Danielle calling it their first date and they want all the details when they get back. Dan asks Shane if he is nervous. Shane says he is just anxious to find out what it is. Shane says that he was hoping it would be a thing for the whole house.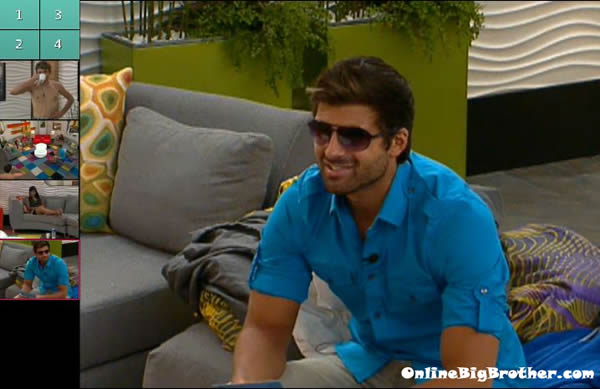 12:55pm Dan, Danielle, Shane, Ian and Jenn are all in the living room talking and laughing about past events of the season while they (Shane & Danielle) wait to leave the house for their luxury prize. Dan asks do you have your wallet, phone and keys just in case I need to get in touch with you..
1pm After the feeds return from the we will be right back screen, Ian, Jenn and Dan are in the kitchen. Dan asks do you think anything bad will happen to us while they are gone. Jenn and Ian say no, it's a luxury prize. They all head out into the backyard to lay out by the pool. They start talking about movies; Twilight, Harry Potter, etc.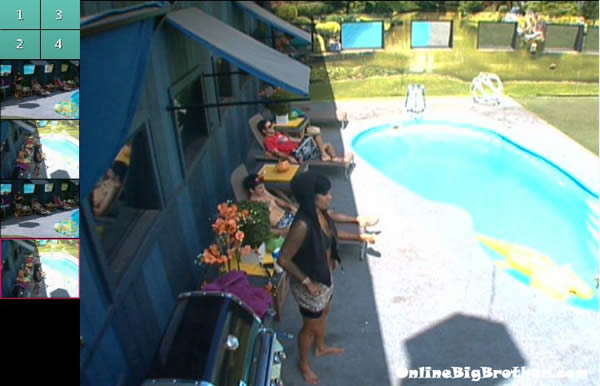 1:25pm Dan and Ian talk about Ian putting up Danielle when Shane uses the veto. Dan says I like our chances. Ian agrees. Dan says you are smarter than Danielle and I can beat Shane in the physical. Dan says I think we go against Danielle and win. Dan asks Ian who he would want to go against. Ian says Shane, he is less slick. They talk about what the competitions might be like and if they will bring back like the tank where they had the puzzle under water. Ian doesn't think they would do that one two seasons in a row. Dan says that they only challenge he had a problem with was the one in season 8 when they had to get naked. Dan looks at the backyard door and says that he keeps expecting it to open and something to happen. Ian asks what do you think Jodi is going to come in here and bother us? Dan says more like someone from the jury comes back in here, but nothing in the card said anything about something bad happening so I think we are okay.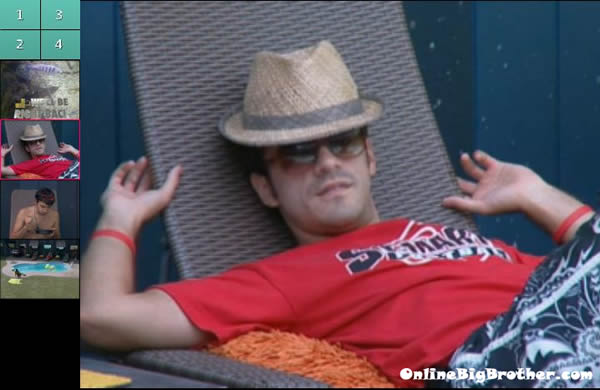 1:40pm Dan and Jenn are in the pool. Jenn and Ian are having a discussion about politics and other random stories.
2pm – 2:20pm Ian gets called to the diary room. Jenn and Dan discuss how Shanes story about how much he makes doesn't add up. She says that there is no way he only makes $400. She says she bets he makes a lot more in modeling and flipping houses. Dan starts asking Jenn about questions about New York, where she lives, where she would want to buy a place. Jenn is then called to the diary room and Ian comes out. Dan and Ian talk about Quacking when the door shuts when Jenn is evicted. Ian and Dan talk about past events of the house and how happy they are that they got Frank out.
Simon and I work 24/7 all season long to bring you all the live feed updates and spoilers, please consider donating. Any amount is greatly appreciated, your donations go directly to paying the server and bandwidth fees needed to run this site. Donation Link
Share it YO!!
Tweet