POV Holder:
Ramsey
Next POV
March 26th
POV Used
Yes
POV Ceremony
March 28th
HOH Winner:
Tim
Next HOH:
March 31
Original Nominations:
Dallas and Ramsey
Current Nominations:
Maddy and Dallas
Last Evicted Houseguest
Paige, Sharry, Christine, Kelsey, Loveita
Have Nots
No havenots this week
Want to watch the Big Brother Canada 4 live feeds but live outside of Canada?
Bypass the geoblocking with HideMyAss VPN and be Canadian Anywhere: VPN Help Guide
ALLIANCES IN THE HOUSE
There will likely be a lot of alliances during the season –
POV Holder:
Ramsey
Next POV
March 26th
POV Used
Yes
POV Ceremony
March 28th
HOH Winner:
Tim
Next HOH:
March 31
Original Nominations:
Dallas and Ramsey
Current Nominations:
Maddy and Dallas
Last Evicted Houseguest
Paige, Sharry, Christine, Kelsey, Loveita
Have Nots
No havenots this week
Want to watch the Big Brother Canada 4 live feeds but live outside of Canada?
Bypass the geoblocking with HideMyAss VPN and be Canadian Anywhere: VPN Help Guide
ALLIANCES IN THE HOUSE
There will likely be a lot of alliances during the season – keep track, read our alliance help guide.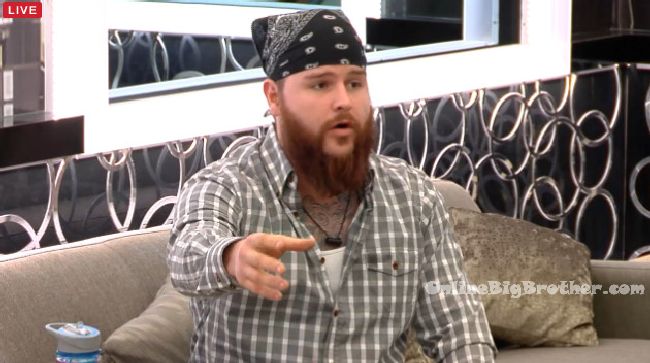 2:10pm In the HOH room – Tim comments on how Nikki says that Maddy and Ramsey kissed. Dallas says she's got a boyfriend bro its dirty. She's got no loyalty. Nikki says I could be friends with her but deep down I don't trust her. Dallas says she wants Jared to go, the brothers to go and then you (Tim) right after. Her phony attitude is pissing me off. Tim says you two were like brother/sister. You looked after her. I wondered if you felt like game aside it was a bit of a slap in the face. (When Maddy got Nick to use the veto to get Loveita out of the house during the double eviction.) Nikki comments on how Maddy was just making out with Nick and now she is with Ramsey … and she has a boyfriend. Dallas says I can sit here and give you my word. I know that you have people pitching their cases and they're waiting on you to give your word. As long as I'm in the house Jared and the Raul are my targets. Maddy's targets are Jared, Cassandra and you're not long after. Tim says he told Cass she needed to give a mapped out plan on how the game would look with Dallas still in the house. Nikki says I trust Dallas's word over Maddy's word. Tim tells Nikki do you realize what this would mean if we do this we would be going after Jared and the brothers. Dallas says not the brothers, I going after Jared and Raul. If I'm in the game I'll always have a target on my back over you two. Tim says if I work with someone.. I would never do what Maddy did. You never go against the grain. Dallas says my word is good and I'm good in competitions too which is good for us. Cassandra joins them. Dallas says If Maddy stays in this house you will never know where her head is at. If you keep me in this house I will make a final 4 deal with everyone here (Nikki, Tim, Cassandra, Dallas) Tim asks where does Joel stand with the group. Dallas says I like Joel. Tim says I don't think Joel wants Jared gone. Dallas says I give you my word. I will be the shield for you guys. I have a hard time going home over her (Maddy). She is just so phony. Tim says if we were going to do this we need a plan. Dallas says I can get Joel in here for a cosign. Ramsey is too close to Maddy right now. Tim says its food for thought.. nothing I do will be a knee jerk reaction. My game is that we make good tv. Its not my decision it will be talking with the girls and I guss the brothers. But we don't want Jared and Rual if we are going to do this. Dallas says on my mothers life you will have my honour and loyalty.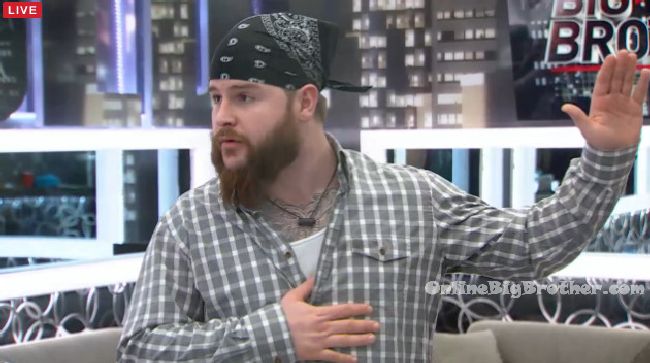 2:40pm – 3:15pm Tim says he wasn't saying what I needed to hear. Anyone can take out Jared and Raul. I could do that but I couldn't take out Mitch and Joel because then the whole house would be after me. Nikki says no one will vote the brothers out. Tim says no, everyone will. Tim says that side is just gross… Ramsey is gross, Joel is gross. I don't want to work with that. I wouldn't even want to win against sh*tty people. I don't want to play against stupid people. What do we know about Mitch?! He's a great guy but we need to know what he wants, what he thinks. And no one is questioning it. Cass says he told that if he won HOH he would put Ramsey and Maddy up. Lets just stick to the plan and vote out Dallas and then get out Ramsey and Maddy. Tim says Dallas has already made promises to Ramsey and Joel.. its very messy. Why don't you two girls just do what you want. Cass says Maddy's word means sh*t .. she's been in 3 showmances and has a boyfriend at home. Dallas the first week, then Nick and now Ramsey. Tim says if we rock the boat now .. there's just less security. If we rock the boat now we turn all these good people against us. Cass says she now sees that. Tim tells Nikki imagine if it was me and you at the end as a coo.. and we decided to kick out the Canadian at the end. Nikki says don't say that. Jared joins and asks what that conversation with Dallas was about. Tim says that Dallas was trying the only thing he can .. to totally shake up the house. .. But that would involve going against good people like you.

3:40pm Dallas and Joel are playing a game of pool while talking to Ramsey about travelling. Joel talks about going to Brazil during the world cup. Over on the backyard couches – Nick tells Mitch about how his dad thought he was gay growing up.
In the storage room – Dallas and Cassandra talk. Cassandra tells him she is sticking her neck out for him. Dallas says he's going to talk to Tim again tomorrow. Cass tells him that Tim wants specifics.. get out the macaroni and show him you'll go after Ramsey and Joel before us. Dallas says for sure I will. Cass tells Dallas to say, if he wins HOH, he would put up Jared & Ramsey. Cass tells Dallas to tell Tim if they save him this week he will take one for the team and take out Ramsey next week if he wins HOH.

4pm – 4:20pm – 4:55pm Tim gets the HOH camera and tells the house guests they have to make a calendar photo shoot for each of the months.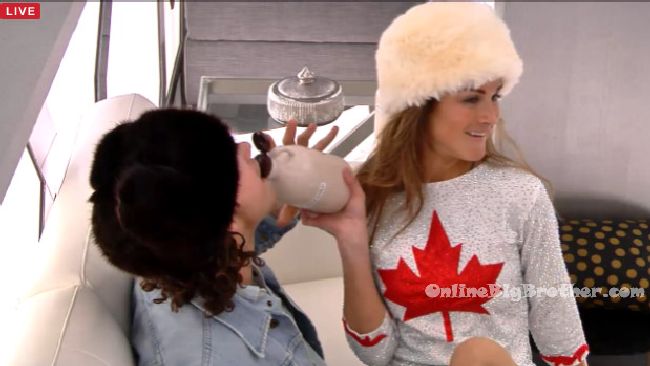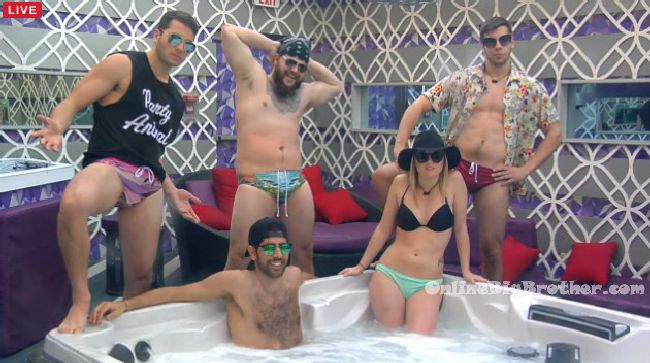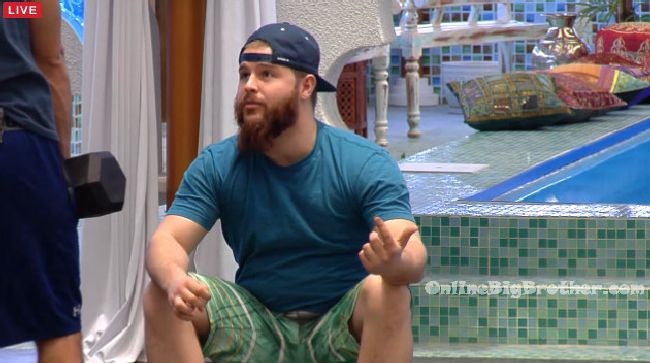 5:20pm – 5:30pm Backyard – Dallas says that Maddy slept with Maddy last night. I asked him if he got his pinky stinky and he said no. I told him to not get wrapped up with her. She was laughing about you saying you wanted to go see her. Nick says she looks bad and I look like the nice guy. Dallas says If you guys want to get the last laugh on this b***h here is your perfect opportunity. She is trying to make you look like a sucker. Nick says he's not worried.
In the bedroom – Nikki goes off about Tim and how she had asked him this morning if she could have a bath in his HOH. She says she cleaned the bath tub so she could use it and then she found out that Tim made a bath for Cassandra. Tim told her he won the HOH room fair and square and can do whatever he wants with it.