POV Holder:
PAulie
POV Competition
July 30th
POV Used
?
POV Ceremony
Aug 1st
HOH
Paul
Next HOH
Aug 4th
Original Nominations:
Bridgette AND Paulie
After POV Nominations:
? AND ?
Have Nots
Natalie, Paulie, Corey, Zakiyah
CBS All Access: Live feeds are only $5.99 per month – Try it FREE for 1 WEEK!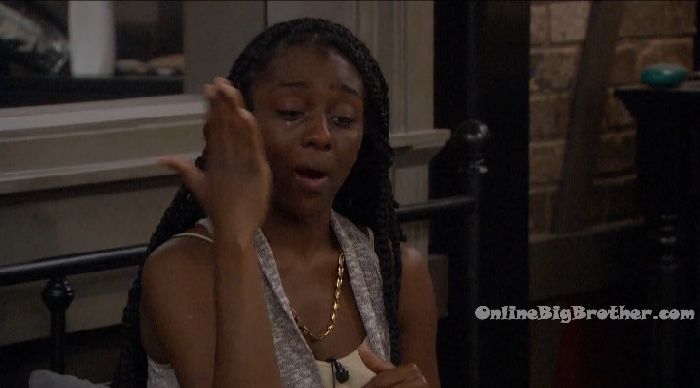 5:15pm Living room – Da tells James I need to talk to you. They head into the London Bedroom. Da says I might be going on the block. James asks why you? Da says she went and talked to Paul about the replacement nom. Paul said he might have to put me up be I trust you and you trust me. He said he couldn't put up Vic, Nicole, Natalie, Z because they started freaking out. So you would risk me?! He said no one wants me gone. He said that I should trust him if I go on the block. I don't even know where I stand in this house. Everyone is allowed to freak out and not go on the block but I'm the one that has to go on the block?! I said Vic is the perfect person to go up there so you don't have any blood on your hands. He said someone might take sympathy on her because of her knee and vote out Vic. With that same logic people might take sympathy on her and vote me out!! Da says I'm just tired of it. I went through 3 weeks of bullsh*t with Frank and Bridgette and now I have to sit on the block with her. Its like I can't catch a break in this house. I could understand if I was out here doing dirt and it was like DaVonne karma is catching up with you. I haven't even started to work game yet. James asks have you asked Paul what is his reason for putting me up? Da says he keeps saying he hasn't made up his mind but at the end of every conversation he says he would talk to me first about it. And what if his true colours is for me to go home? James says it would be game over unless you have a round trip ticket! Da asks am I going to have to stress every damn week in this house?! There are people sitting with their feet up eating grapes.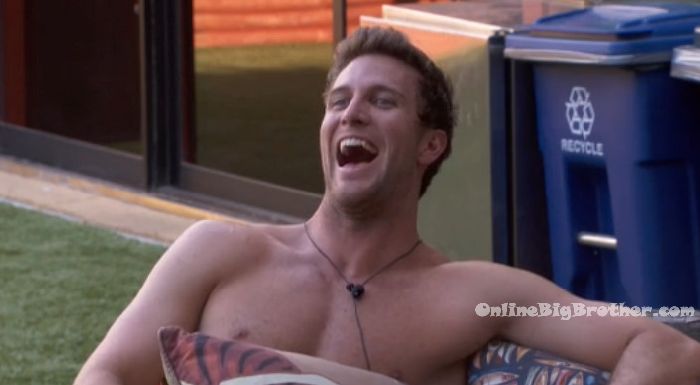 5:30pm Backyard – Corey, Vic, Paulie and Nicole talk about Da going up. Nicole says she is going to try and do something to get out of it. Vic says we've got 4 votes right here. Paul doesn't want a tie breaker. Paulie says it might unanimous minus 1 or 2. Corey says so that makes it not unanimous. We were undefeated this season minus 1 or 2 loses. Vic says and James is 2 votes (Nat does what he does). Nat joins them. Paulie messes with Nat about her going up.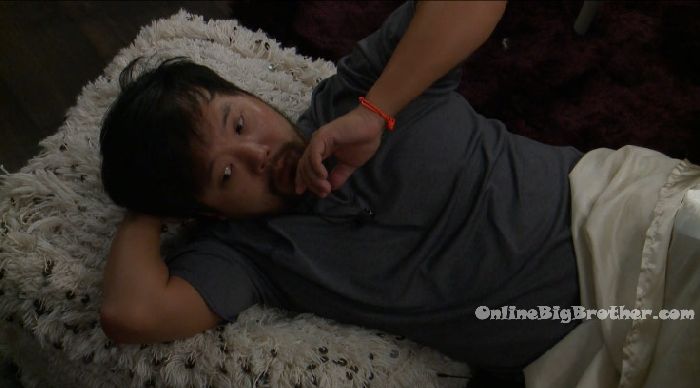 5:55pm James heads up to the HOH room to talk to Paul. James says you've got your girl down there freaking out. Paul asks really? What did she say? James says she said its not fair. Paul says I didn't say anything. I just said I was thinking about it. James says she said if you put her up it lets her know where she stands in the house. Paul says I don't know what that means. James says just that she's at the bottom. Paul says At the end of the day I want Bridgette gone but its up to the house. James says Z said she is going to vote to keep Da. Paul says so Z and Michelle will keep Da. James says that Da said whoever goes up next to Bridgette they'll go home. Paul says she's just saying that for sympathy so I won't put her up. Paul says what Z doesn't know is that Da was wanting me to put her up. That's her best friend. That says something about her character. It says that she would do that to me in the future. Paul says I trust you and I trust Paulie. I will talk game with you two but everybody else .. nope! I made an effort to get Bridgette out but if the house wants Da out so be it. Paul says that Bridgette has two targets… One being Z and Nicole.. James says and Michelle. I'm not going to lie if she (Bridgette) wins HOH my a$$ will be puckered. Paul says mine too.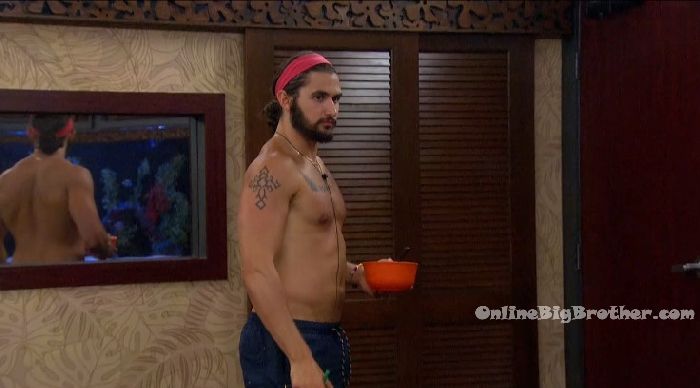 6:35pm HOH room – Paul tells Vic we could be up here talking about d*cks and people would still think we're scheming. Vic says I still think people think I am alone… which is good! Paul asks so you would put Natalie and Nicole up? Vic says now that I know how much Paulie wants Z out I would put up Natalie and Z. If I can do it for him, I would rather than have him feel the backlash for that.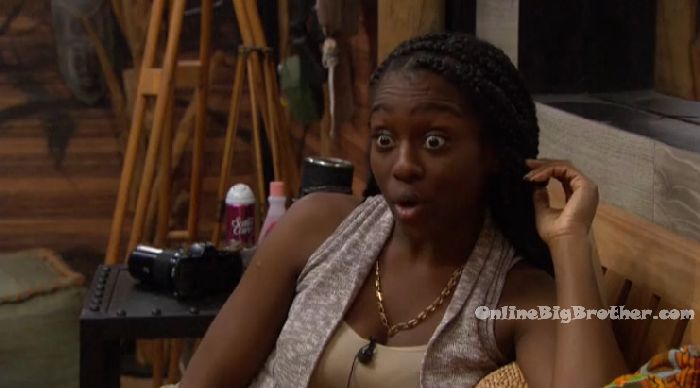 6:30pm – 7:10pm Paulie and Da head into the safari room. Da says you're a straight shooter and I'm a straight shooter too. Paul was playing with the idea of putting me on the block. My thing is we're all supposed to be working together. Why was I chosen? Paulie says he said to me that people that have been on the block before handle it better and he knows that you won't come after him next week. Da says this game is about trust and I'm trying to trust. You, him, Z and James are all I've got in this game. When it is my time, you are the person I am going to expect to come and tell me. Da says with everything we know about chic (Nicole) I don't understand why we aren't going after her. Paulie says it might have something to do with him being connected to Corey. Da says it almost feels like within our group .. I'm at the bottom of the totem pole. Why am I worth the sacrifice?! When won I ran and jumped on him… if I go home on his reign .. how will that look!? Da says I trust ya'll .. its just pre-veto good. Post-veto not good. When that time comes, just let me know. Paulie says I will, I know you would do the same. Paulie says I'll try and talk to him later. Da says whatever happens I would just like to know. He doesn't want to touch her (Nicole) because of Corey and he doesn't want to touch her (Natalie) because of James. I need a man. Paulie asks you want me to be your man? Da says no you're my brother. Paulie says any other season that would be a reason to put someone up. Da says just keep this between us, I don't want Paul to think I don't trust him.

7:15pm – 7:30pm Storage room – PP – Paulie says I know Da came and talked to you. Paul says yeah and she is being a f**k hole about it. She's shown her cards and is a sh*t head and needs to leave the house. I never cared. I just need you to keep your boys name clear. We need to have a conversation with Vic and tell him to shut the f**k up .. he keeps talking about final 3s. He needs to shut the f**k up. AND Da threw Z under the bus. And that's her best friend. That says something about her character. In the future she could do that about me. Paul says I don't give a f**k what Z says .. you know you can ask me. Paulie says there is nothing anyone can say about you that I would question. If someone tries to say sh*t I'll be like f**k this wh*re. Michelle joins them. They talk about how annoying Vic is. Da joins them. They talk about how Vic woke up after having a WD (Wet dream) and wanted to reenact it to everyone. Paul says what I want to know is who's bed was he in? Da says yours!
8:15pm – 9pm HOH room – Paul and Paulie – Paul says if you're ever on the block I am campaigning for you. Paulie says if you're on the block I will be trying to pull you down. Paul tells Paulie I've told you things I haven't told anyone else. Right now I want Da and Z out of here. Next week we really need to sit down and talk to Vic. Paulie says if Corey was more subtle I wouldn't mind working with him long term because I think we can beat him. Paul says I think Da should go this week for sure. I told Bridgette I am going to have to Sh*t on her again when Da goes up. And even after Da goes home I told her she can't come up and friendship me. I think the first chance we get we should clip her. Paulie asks who is next week? Paul says Nicole and Natalie. If we play in the veto we have to not win. Paulie agrees its like a chess match knowing when to win and when to lose. Paul says I know Michelle and Nicole would never put us up. Paul suggests telling Z about Da offering Z to go up on the block instead of her. Paul says I think James is a straight f**king shooter! Paulie says 100%! We just need to figure out people future strategies and then clip them before they happen. I'm going to go and talk to Bridgette and really cement this in. Paul says I already did today, do it after the nom ceremony. Paul asks should we keep Natalie. Why should we do it just because all the girls want it. Let them do it. Paulie says she is always another vote for James. Paul says unless he goes before her. I would never put James up. Paulie says I would never put any of us four up. Paul says me neither. These people are playing on strategy and we're playing on Friendship. No amount of money could make me stab a friend in the back. My morals come before anything. 500K never cared! Paulie says I'll play in the HOH to win. Paul asks who would you put up if you won? Paulie says Z and Michelle. Or Z and Natalie. Paul says we don't own Bridgette anything.. she owes us everything. Same with Vic the only reason to keep him around is for him to take shots at people we don't want to. Paul says this week will be tricky once Da goes up she is going to spit all kinds of sh*t.
8:30pm London bedroom – Da tells Michelle I might go on the block. Michelle asks why? Da says its not solidified. Just please have my back. I think people are starting to feel bad for her (Bridgette) with her leg. Its not set in stone but he said if I have to do that.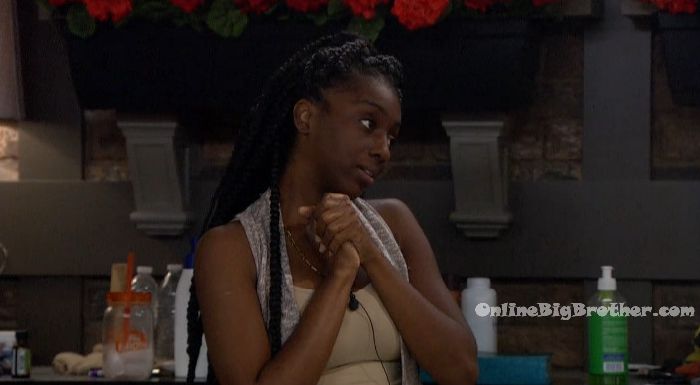 8:40pm – 9pm Havenot room – Z and Meech talk about Da thinking she is going up. Z says I think me, you and James will be the only ones to vote to keep her in. Meech says I'm not afraid of her, I'm afraid of Bridgette. I just hate all the butt kissing. Michelle says I need Bridgette gone for my game. (Then win HOH and do it yourself!) He promised us. I should have used the veto on Frank .. and Bridgette would be gone. I'm going to tell him that. Nicole joins them. Z asks if Nicole would vote out Bridgette. Nicole says I've always said I would. I'm down to do whatever everyone wants.