POV Holder:
?
Next POV
Aug 23rd
POV Used
?
POV Ceremony
Aug 25th
HOH Winner 1:
Cody
Next HOH
Aug 28th
Nominations:
 ?
Have Nots
?
POV Players
?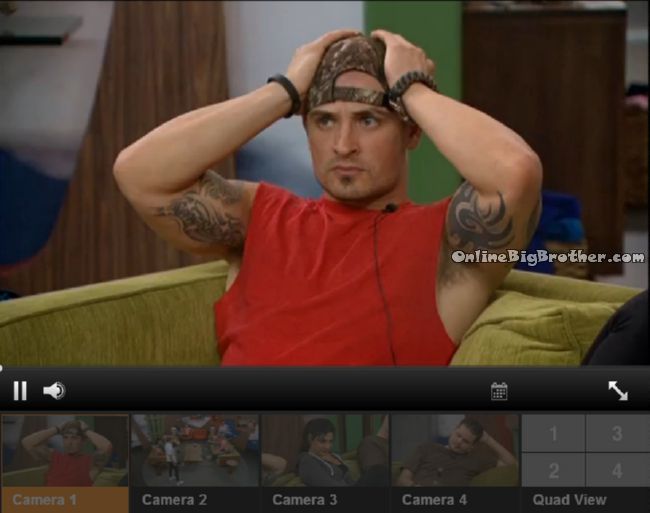 11:05pm Nicole is telling them all about her experience being evicted, Where they took her etc etc..
Victoria fills Nicole in about cutting her own hat up so that Zach couldn't have it. They say he doesn't know it's destroyed yet. Victoria corrects them says says she told him in the goodbye message.. Adds that he was really pissed at her for taking the hat.
They fill her in on the Zach saboteur event a couple days ago.
Nicole tells them her and Hayden had a talk about seeing each other. They kissed in the jury house. She regrets not kissing him after wining the jury competition. Nicole says Hayden had mentioned moving to Chicago which is only 1 state away. Derrick jokes that Hayden is a floater he can move wherever.
Nicole says that Hayden really likes her when he got evicted he was telling the handlers being apart from her made him realize how much he liked her he enver felt this way about a girl ever. Caleb jokes that Hayden got lucky he was able to tell Nicole she was drop dead gorgeous and she fell for it. Caleb told his girl and she told him to Drop dead.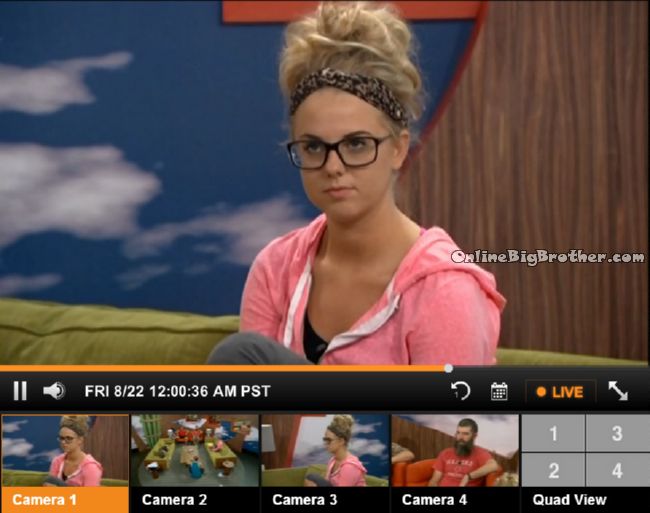 11:41pm Living room

Nicole – that was such a weird comp to get back into teh house
Christine and Frankie agree
Nicole – At first I don't think I understood it I was like Is this really going on
Frankie – you didn't have to have skill..
Feeds cut
Nicole – I can't believe there wasn't endurance today.. I thought it was.. you didn't have one last week
Frankie – 7 straight mental HOH's in a row
Caleb – they would have called that somewhat physical
Frankie – it's like saying the Veto competition was physical because we had to walk.. no no rose
Nicole goes back to describing the jury house says they take really good care of you.. They never got to watch full episodes but there was a lot of movies to watch.
12:03AM Cody gets his HOH room
Christine – damn you got a good looking family
Frankie – Your mom looks so hot
Derrick – Cody does your brother have highlights or is his hair lighter
Cody – His hair is lighter.. my mom is blonde.
Cody got Poppa Roach album and sour sticks.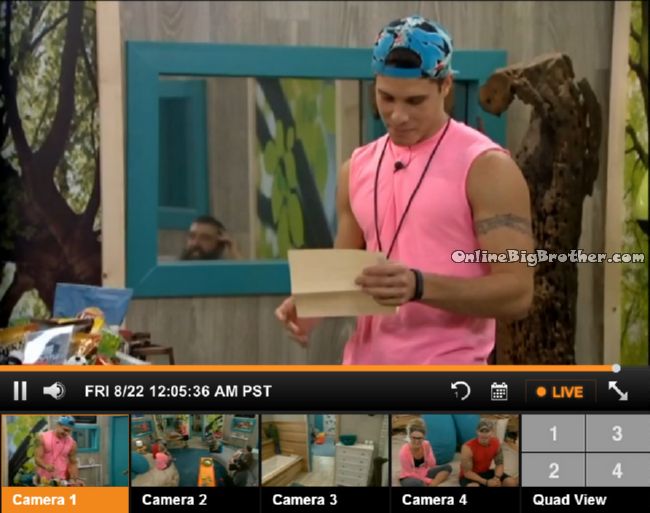 Letter from mom
Cody Bear you won HOH YA so excited that you get to have some of your favorite snackies and fun stuff you deserve it.. I'm sure it has to be tough but remember to thank go everyday for the fun you have and bless with where you are today and the rest will fall into place just were it was meant to be. I'm not going to lie I miss ya.. But I know you are right where you should be rocking the house with your new friends. Your new summer family will love you just like we all do so stay true to yourself love you baby boy keep your head up everyday you wake up because every new day is a blessing
Cannot wait to see you make yourself proud love mommy xoxoxox
12:14AM HOH
Donny – You going let me sleep here tonight
Cody – yes sir go right ahead
Frankie – Umm that's awkward cause that's where I sleep.
12:30AM HOh Nicole, Cody, Christine and Victoria
Nicole says Hayden made her breakfast for her in the mornings.
Nicole says Hayden and her watched the Notebook last night. They want her to keep talking about Hayden, "Do you hold hands, did you get his cuddle points up"
Cody – You made him a pro cuddler
Nicole – he's a pro.. he went skinny dipping..
Christine – Did you see his stuff
Nicole – No we ran inside
Cody – We
Nicole explains her and the two handlers, hey are always with them.
Nicole talk about the game with them but is was more like what would you have done differently, what would you do if..
Nicole doesn't think anything will happen between her and Hayden because he lives in California and She lives in Michigan.
Caleb, Frankie and Derrick join them. They comment on how much "Pounding" is going on outside.
Cody – Nicole you are so much cuter now that Hayden and you are together
Nicole – Thanks .. We're not together .. together..
Frankie – will you be cuddling other people
Nicole – I dunno probably
They start taking about Jocasta bottom lip shaking when she thought she was going to start talking in tongues. Caleb – she was about to cut loose
12:45AM NINJA Caleb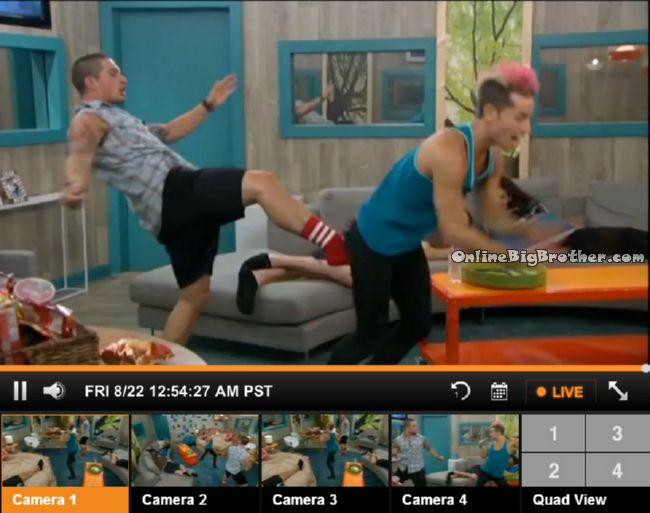 12:57Am Everyone sans Donny is hanging out the HOH mostly Caleb and Frankie goofing around and chit chat.
Christine start rubbing Cody's head says Cody is better looking than his brother.
Derrick says of course she will say that he's HOH.
They guess that nominations are tomorrow.
1:03AM Caleb runs down grabs Victoria spins her around.
Victoria – that's fun
Back in the HOH 1:09AM Cody is saying Zach got a lot of Applause when he left but there as the roar he was expecting. Derrick says Nicole had more cheers.
1:20AM Frankie, Caleb, Cody, DerrickTelling Nicole in the HOH about the last POV competition the black box one.
Caleb feels he's been screed on his HOH with the type of HOH pictures he gets. says the one was blurry.
Everyone clear out of the HOH leaving Frankie, Jocasta and Nicole.
Cody says he told the DR he wanted to go to bed early because they have a early start tomorrow. Production tells him they aren't getting up as early as
1:29AM Derrick and Caleb Kitchen Derrick, Caleb
Derrick pointing out that once again Christine was useless in a competition. Derrick I told her this is your comp.