| | | | |
| --- | --- | --- | --- |
| POV Holder: | Cody | POV Used | ? |
| HOH Winner | Caleb | Nominations: | Frankie and Victoria |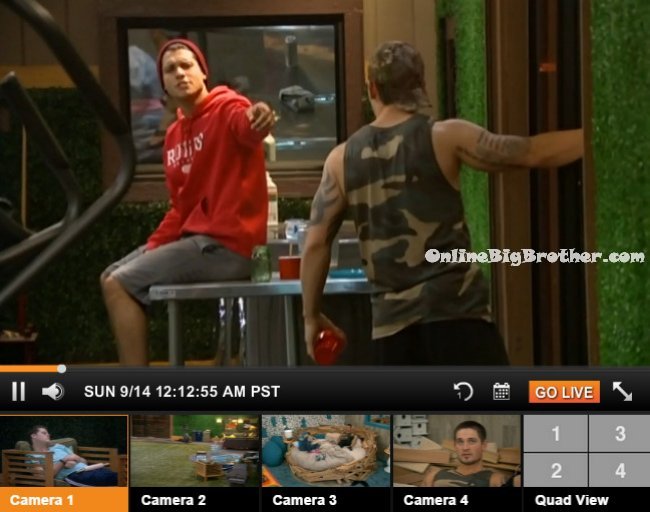 12:10am
Caleb misses hitting his ball and Cody laughs at him saying missed your ball completely there bud! Caleb puts the pool stick on the table and goes to head inside. Cody says ROOKIE! Caleb says let me say what Cody says .. Umm he didn't really beat me. Caleb calls Cody a CHUMP! Cody says yeah go clean the cups! Caleb asks did you like that salad on the table? Did you like that coke on the table? Did you like that glass on the table? Cody says none of that was mine! Caleb says you ate the salad. Cody says I made the potatoes and I cleaned the potatoes so shut up! Cody asks how much of the dinner did you clean up that you scoffed? Caleb asks you talking to me!? Cody says yeah I am, you ate most of it!! Caleb says no I didn't! Cody asks how much chicken did we make?! Caleb says I didn't eat the salad! Cody says you ate all of it!! Caleb says I helped make the chicken!! Cody yells did you help clean it?! Caleb says I cleaned my stuff! Cody says thanks for helping us clean yet again! Big surprise!! Thanks to Victoria for letting everyone else know though! Caleb asks what?! Cody says Victoria let everyone know what we've been dealing with for the last 89 days! 84? 85? Caleb asks what are you talking about? Cody says you're a SLOB!! Caleb says you're a slob! You're a joke! Cody says you're a joke! Caleb says you're ugly! Cody says wow! Caleb goes inside and slams the door. Cody says I'm glad I said it. Caleb comes back out and watches Frankie and Derrick's game. The guys continue to play each other. Cody and Frankie spin and the pool stick around like a "ninja". Frankie tells Cody to try and kill me. Cody starts to attack him and Frankie bends over.
Big Brother 16 Live Feed FREE TRIAL – Use the FLASHBACK feature to watch everything you've missed!
1:50am Frankie and Caleb do their ab workout. Caleb, Cody and Frankie sit in the backyard chairs and talk. Caleb starts talking about his past girlfriends and lost loves.

1:55am Frankie is up in the HOH room talking to Caleb. Caleb says I am done with this I've been in jail for 3 months. Frankie asks you don't want me to be evicted do you? Caleb asks do I want you to go out? Caleb shakes his head and says no. But I have no say so if you are gone or not. Frankie says do you think I am going to go? Caleb says I don't know that. They haven't said to me you were, so if they do their thing, they didn't tell me that. From what I know Victoria is going home that's why were all wondering why she seems so happy. Caleb says Cody even said it that he hates that she feels so safe. She's gotten here free. She hasn't done nothing. Caleb says they haven't said anything to me and as far as I know we're going to be the final four and I hope we are the final 4. Frankie says me too. But what if you're the deciding vote. Caleb says I don't think I would be. I don't think they would do that. They will both agree on something.. we will all agree on something. Frankie says it sucks that its even a question at this point. I am just pissed off that I got put up without warning. And then I got smoked in the veto. We have come so far to not be honest at this point. I've saved you so many times in this game. Caleb says you've saved me one time with the veto. Frankie says saved you in the battle of the block and two people tried to backdoor you in this house and I was the person that convinced them not to. Caleb asks who?! Frankie says does it matter. Caleb says yeah it matters. Frankie says it almost happened twice and I saved you. Caleb says I'm not worried about that. If you stay lets battle it out in the final 4 and final 2. I can't wait to get out to see who really has my back in this game. Frankie says I don't think they're going to pull a swift one. Caleb says and if they do I will know about it and we'll talk about it. Frankie doesn't understand why he had to go on the block Caleb says you tried to get me on the block. You were talking to Christine about it. Neither one of them two have ever said to put me up. I had 3 people that have been loyal to me. Cody had been sweating bullets all week. Derrick didn't get to play in the HOH twice so for him I didn't think it was fair. Frankie says Derrick wasn't going to win those HOH! Doesn't matter if he played. Ever .. in a million years. I earned my right to be safe for the whole week. I kept you safe. Caleb says you were safe for that week. Frankie says I was hurt and felt blind sided. Caleb says those guys have never wronged me. Frankie says that you know of. Caleb says Derrick has never wronged me .. Cody I'm not so sure about. Frankie says why wouldn't you take a shot at me the only thing is we made a pact together and I kept you all safe last week but money makes people do horrible things. Frankie says I don't want to be blind sided and the world would be pissed. They end their conversation and Frankie leaves.
One way to support this site that doesn't cost you anything extra is making your
Amazon purchases through the links Below
For in Canada use the following link:
Amazon.ca

2:50am – 3:55am Up in the HOH room – Derrick joins Caleb. They talk about the finale coming up soon and the after party. Frankie joins them again. They talk about how they sent everyone home. The discussion turns to talking about All-Stars and who would come back. Frankie says imagine coming in here where everyone is a beast from day 1! They head down stairs. Derrick talks to Cody about how its obvious Hayden doesn't like us. Cody says When Nicole came back its obvious he told her there are people you can't trust .. CODY. But I understand it I put a hot iron to his face…. to the back of his head. But he gave an awkward a$$ kiss when he was on national tv. Cody says yeah kid's a f**king clown dude! But Zach's my dude! Derrick goes into the fire room and says to the camera wow people don't know when to shut their mouths… like Victoria do you want me to play for you as well?! Unreal! Unreal! Unbelievable. Just shut UP! Derrick lays in bed and then gets up and heads to the kitchen. Cody and Victoria joins him. They're eating and talking about how bitter the jury is.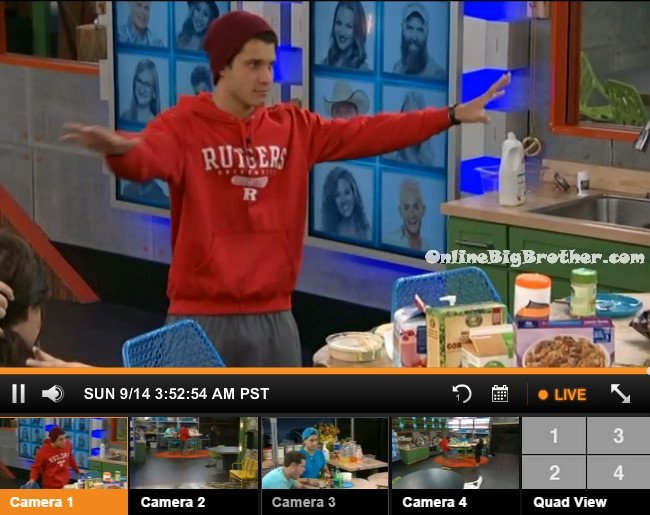 4am Cody and Victoria start chasing each other through the house spraying each other with shaving cream. Cody tells Victoria he is going to wreck her. Victoria asks oh you're going to wreck me?! Wreck me!? Cody says I am going to dump it all over you. Big Brother says that's what she said! Big Brother blocks the feeds. When the feeds comes back Cody grabs Victoria and she screams. Big Brother says I said STOP IT! Big Brother blocks the feeds again. Cody and Victoria are in the earth room. Victoria gets some shaving cream on his bed. He says this is where I sleep. Victoria calls a truce. Victoria goes into the fire room and Cody hides behind the door. She comes out and he chases her and squirts her. Big Brother says I said knock it off!!! Cody runs to the kitchen and Victoria goes to Cody's bed and squirts shaving cream on his bed. Cody screams from the kitchen you better not get any on my bed!!! Big Brother blocks the feeds.
See what they can't show you on TV! -Try the Big Brother 16 live feeds for FREE!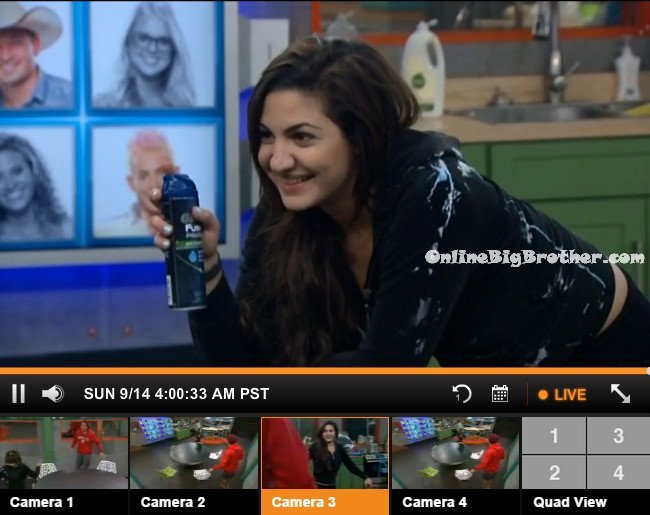 4:10am – 4:25am When the feeds come back Cody takes off his sheets and takes them outside to wash them. He tells Victoria that he's bringing Caleb into it. Victoria tells him not to. He says I have no where to sleep!! Cody tells her that he is going got get her a lot worse then she got him. I hope you sleep well. I hope you enjoy it! Victoria ask what does that even mean? Victoria says you're such a baby. Cody says I'm the one cleaning the mess you made! Cody says sleep tight! Victoria asks are you threatening me?! Is that a threat!??? Victoria goes into the fire room and then comes back out to follow Cody around. He tells her that Caleb and him are going to think of something good to get her back with.. and that she should sleep now while she can. She keeps saying he started it.
4:40am Cody is staying up playing pool while he waits for his sheets to be cleaned.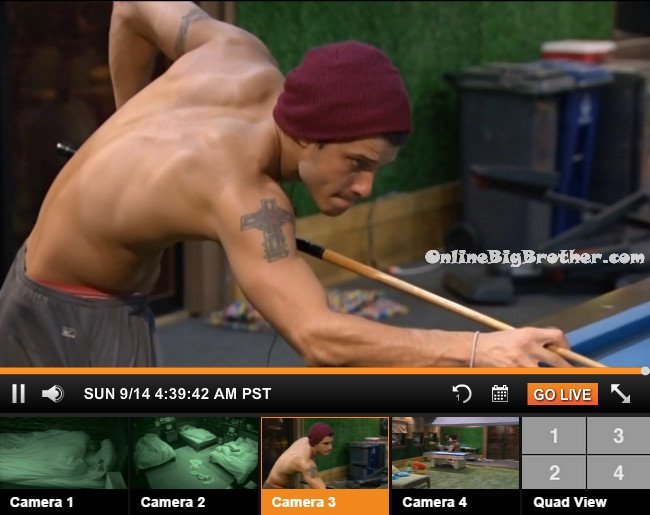 If you found value in our site, the work we do and the community we foster please consider leaving a donation using pay pal below.