POV Holder:
Chrisitne
Next POV
Sept 6th
POV Used
Yes
POV Ceremony
Sept 1st
HOH Winner
Caleb
Next HOH
Sept 4th
Nominations:
Nicole and Victoria
Have Nots
Derrick and Nicole
POV Players
Victoria, Nicole, Caleb, Cody, Christine and Derrick
Big Brother 16 Live Feed FREE TRIAL – Use the FLASHBACK feature to watch everything you've missed!
1:15pm Big Brother blocks the live feeds for the HOH lockdown. When the live feeds return – Victoria and Nicole shower in the bathroom and start getting ready for the live show tonight. Derrick and Frankie are in the kitchen. Derrick tells Frankie that he loves him. Frankie says I love you too. Frankie realizes the big brother gave him new pink hair die. Caleb is unpacking his HOH basket after moving out of the HOH room. Derricks eating at the kitchen table. Derrick, Caleb and Frankie discuss what the HOH competition might. They all don't think it will be the endurance wall. Derrick says he thinks it will be something more like being on a swing and hitting a wall. Frankie says but that's a big set up. Derrick says the wall is too. Caleb says that's a lot of set up in the backyard to have all of that. Derrick says it could be a question HOH, the veto and the wall on the back of the yard for the second HOH. Frankie says we got this sh*t. Caleb says I feel good about it.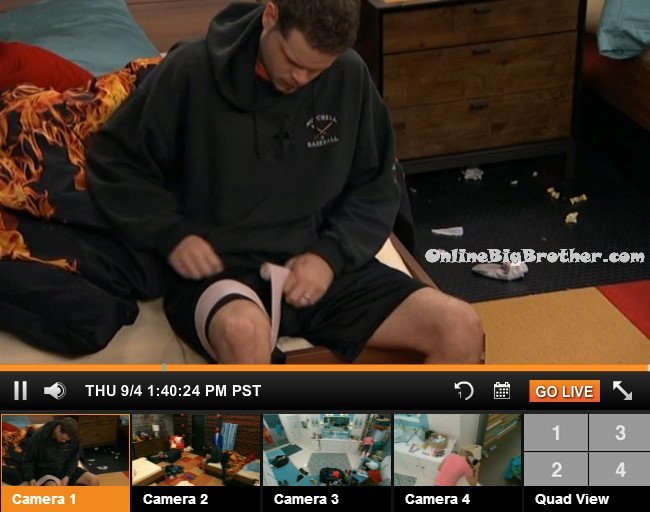 One way to support this site that doesn't cost you anything extra is making your
Amazon purchases through the links Below
For in Canada use the following link:
Amazon.ca
1:40pm In the fire room – Derrick and Cody talk. Derrick is wrapping up his thigh with a bandage. Derrick tells Cody that he was talking to Caleb a little while ago and he was dude we got this final 4, we're good. I told him that my head was just spinning last night making sure we're making the right decision. I didn't mention anything about our conversation. I just said I was wondering who would be better for our game going forward .. either Christine or Frankie. Derrick says that Caleb said that Christine does nothing for any of us, there's no need to keep her. He said that Frankie can't be trusted. Derrick says just be careful what you say to him. Derrick says I just told him he knows how I am and I just get paranoid and was running stuff my Cody. He definitely said he doesn't trust Frankie though. You just need to be careful what you say to him. Cody says I just hope he doesn't say anything Frankie. Derrick says he won't. We got to f**king win tonight. Cody says I'm putting up Frankie and Christine. Derrick says if Christine goes home then Frankie knows you put him on the block. Cody says then he goes home. Derrick says so regardless of who goes home the other goes right after. Cody says he can't just put up Christine with Victoria because if Frankie wins the veto he can use it to take Christine off. Derrick says with Frankie & Christine up ..if Frankie does win the POV which he's capable of doing then he pulls himself down and can't take Christine down.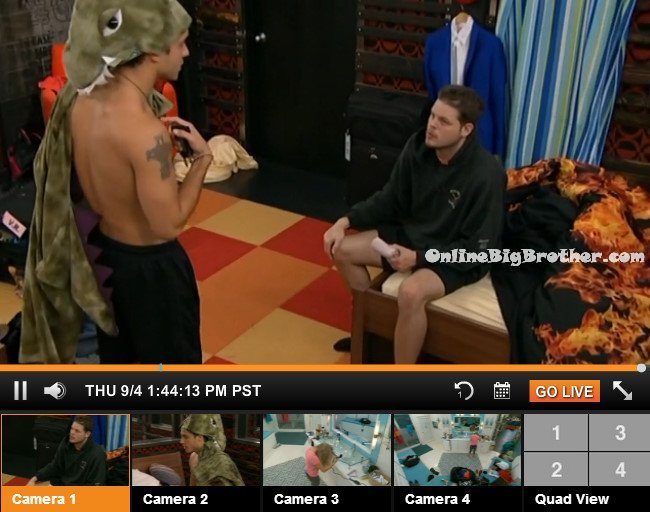 1:55pm – 2:10pm In the bathroom – Derrick shaves off his facial hair. Frankie joins him and saves too. Victoria says wow Derrick! Frankie says look how much thinner you are! Meanwhile Cody has gone back to sleep.
2:20pm Derrick comes into the bathroom with Frankie to trim his hair. Derrick asks Victoria have you seen Derrick? I'm looking for him. (Because he looks different without his facial hair.) Victoria laughs. Derrick asks Frankie to put some makeup on him to cover up his bags under his eyes. Frankie says you're going to look 1 and a half. People are going to be like who's that fetus. Frankie says okay look at me? Wow so pretty! Derrick says I would never do this every day. Frankie says Brad Pitt does it. Derrick says I don't feel any different. Wow my eyes look.. Frankie says like you slept. Now don't tell anyone and see if anyone notices. Derrick then starts trimming Frankie's hair. Frankie says I realized why Donny was so bad for us and team america.. its because to be a team america player you have to have an impeccable social game. Derrick agrees that's what hurt us. Frankie says everything we accomplished was through social. They talk about the money they lost because of Donny.
2:40pm – 3:15pm In the bathroom – Victoria talks to Derrick about her speech. Victoria is nervous and can't remember what to say. Derrick tells her that she's thinking about it too much and is going to mess up. Victoria practices her speech. Frankie says that's good. Victoria asks you heard it? Derrick says you said it out loud. The house guests continue to get ready in the bathroom. Cody and Christine are sleeping in the earth room. Derrick starts trimming Caleb's hair.
If you're enjoying the live feed updates this season, please consider donating. Simon and I work 24/7 all season long to keep you updated on everything that happens inside the BB16 house. Any amount is greatly appreciated! Your donations go directly to paying the fees required to run this site.
[polldaddy poll=8285104]