POV Holder:
Chrisitne
Next POV
Sept 6th
POV Used
Yes
POV Ceremony
Sept 1st
HOH Winner
Caleb
Next HOH
Sept 4th
Nominations:
Nicole and Victoria
Have Nots
Derrick and Nicole
POV Players
Victoria, Nicole, Caleb, Cody, Christine and Derrick
Big Brother 16 Live Feed FREE TRIAL – Use the FLASHBACK feature to watch everything you've missed!
12am In the fire room – Nicole, Victoria and Christine are talking. Nicole comments on how fast the double eviction happens. All in an hour. And I didn't even compete in the HOH or the veto. Nicole says Donny's a beast. He beat Hayden, Zach and Beast Mode in the Double eviction veto. The cameras switch to Derrick and Cody in the bathroom talking. Cody says I don't understand. Dude I can't go after Christine and Frankie tomorrow. No Chance. Derrick says like I said its up to you brother. I'm not going to.. same thing with Caleb. You're a grown dude. You've got to do what Cody feels is right. Frankie told me two days ago flat out who he's putting up. Could he be lying to me? Of course. Cody says and Christine told me and you flat out who he's putting up us up and could he be lying of course. Cody says Christine is putting Frankie up. Derrick says she's not going to take us to the end. Cody asks is Frankie!? Derrick says she'll go to the end with Frankie. Cody says yes but if I put up Frankie and send him home .. dude I'm telling you right now. I don't know if you're looking out with Caleb but that motherf**ker doesn't want to go to the end with me. And so me looking at him, he's fighting for Frankie to be here. Derrick says he said he wants him gone. Cody says he'll vote him out if he's up on the backdoor. Did you see how insulted he got when you said if Frankie goes to the end he'll beat you. He said he ain't beating me. That in my head ..No but Frankie will beat him but Caleb doesn't think its a chance in hell. That to me alright well I think I have a chance at going against Frankie so I'm not going to get rid of him so I can bring him to the end. Derrick says like I told you bro, I like you and respect your game and you've got to do what your gut is telling you to do. Derrick comments on how if its not a double eviction, they could extend the season another week. Frankie joins then and says no! It's not happening, the finale's on Sept 21st. The guaranteed us out by the 26th. (Finale is on Sept 24th.) Cody says that's a lot longer. Frankie says I would kill myself. Frankie leaves. Cody says dude this kid is a f**king snake. I don't understand how we've go this entire game allowing a snake to get further. If I don't send Christine home and she sends you home, that would make me feel like sh*t. If next week I win this and send home Christine and that kid wins it and puts me up next to Caleb. You don't have a f**king vote. Derrick says Christine is probably coming! Don't tell me she isn't f**king paranoid. Cody says if Frankie gets it and wants to send me home.. Derrick says I don't think he can. Christine joins them. They talk about past competitions. Victoria and Nicole join them.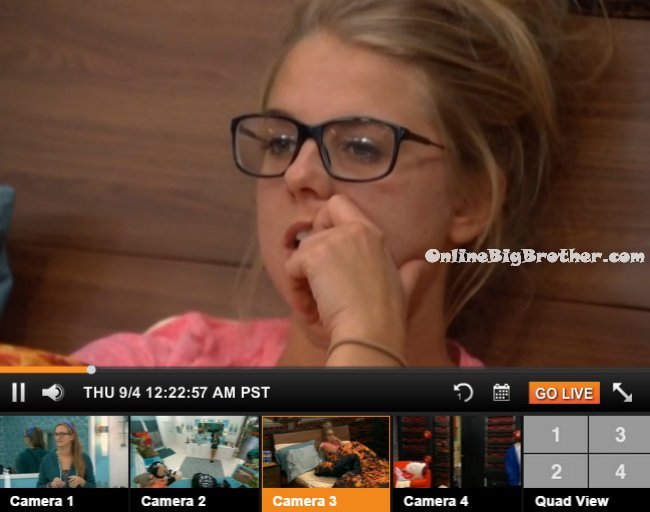 In the fire room – Victoria asks Nicole do you think Cody wants Christine here? Nicole says yeah. Big Brother blocks the feeds. Nicole says basically Frankie, Cody, Christine wanted me out. Cody asked me why I didn't try talking to him. Nothing I could say would change anything. I offered him safety and he still didn't want to keep me why would I go talk to him again. I'm not going to beg on my knees and be made a fool of. Victoria says Frankie is his (Caleb) brain. Its literally two bodies and one brain. If I put up Christine and Cody who do you think would go? Nicole says Christine. You never know though. Whoever they feel is the biggest target at the time. Nicole asks who would you want out. Victoria says I can't stand Cody. He grosses me out. He's getting way to cocky. Nicole says I don't even know but that's the benefit it doesn't even matter. Victoria says I don't think Derrick wants Christine. Victoria says hypothetically me and Frankie. Me as the pawn and Frankie as the target. Nicole says Frankie would go. Either way you're not a target right now. Victoria says Derrick doesn't want Christine here. God.. she annoys the f**k out of me. So does Cody .. he's very cocky in is everyday life. He's an a$$hole. Nicole says yeah he's trying to make us be on good terms. Victoria says he's super fake. Super! You don't think he is?! Nicole says I know but he is. He can be very nice and he can be mean. Nicole says it was awkward when he was asking if Hayden likes him. Victoria says if Derrick and I stay and there are 5 people left. Nicole says please let it be a double and Cody go right behind me. Victoria says top 3 is going to be intense. Victoria says Derrick goes to brush his teeth and of course he has a trail following him everywhere he goes. Nicole says you should go check.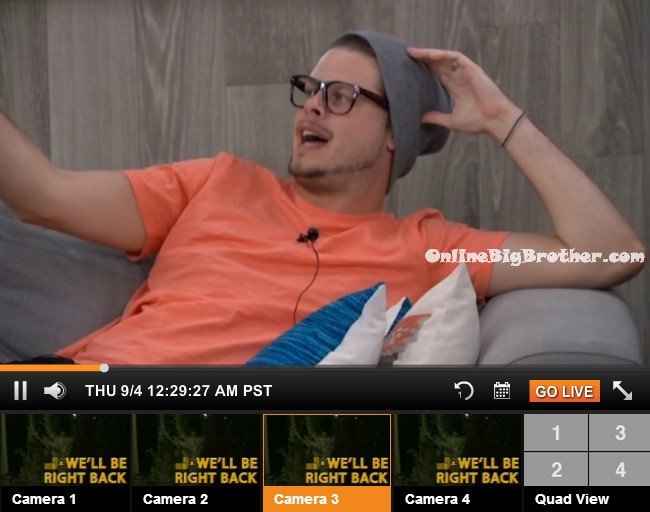 12:30am – 12:50am Up in the HOH room – Caleb, Derrick and Frankie are talking. Caleb says we just need to win another HOH and then we're there. Caleb says so every girl is in the bathroom talking. Derrick comments on how tired Victoria is. She is so paranoid that people are talking that she won't go to bed. Caleb says he's at the point where he just wants to tell the girls its day 75 get off his (Cody) jock. Its not that I even want to talk game. I would be like You're (Christine) married, You're (Nicole) going home tomorrow. And You (Victoria) I didn't even know you were here! They literally do that because he feeds to all of them. He flirts with all of them. Caleb says if I was Cody I would be like let me talk to Derrick. Derrick say so no you can't do that it looks bad because even if you're not talking game they think you are. Derrick says Cody's hanging out with them (Christine, Victoria, Nicole) for strategy. They're not f**king good looking. I like them all and will talk to them outside here but the girls he's snagging outside of here are not that calibre. All nice girls but they're not dime pieces. Caleb says no. Derricks says I'm just being honest but neither am I. That was a strategy I don't care if Christine was married or not he's not hanging out with her outside this place. Caleb says they know I don't feed into it either you know what I mean. I don't care if you're married or not I'm not laying on the hammock playing with your finger tips. I don't care if its strategy or not. My strategy isn't going to be to breakup a home either. Frankie says so bad. Caleb says Like the other ones I understand they're single, go ahead do it. But Christine after the Zing-Bot thing you would have found me 5 foot from her. Frankie say he (Cody) was kind of excited to be the one to give her (Christine) the axe too. Which is good. He was like if it comes from me it would be epic. Frankie says he's not married so its not his home. Caleb says 17 days and then we're done. Derrick says unless they extend it a week. Frankie says you're the grim reaper. Caleb notices Victoria studying. Derrick says I respect that. She ain't going to remember anything but I respect it. Frankie asks if she wins HOH who would she put up? Derrick says Christine and I don't know who .. maybe Cody. She ain't going to put me up we all know that. She's not as manipulative as you think. She's feisty. Derrick heads downstairs. Caleb and Frankie study the days of the season.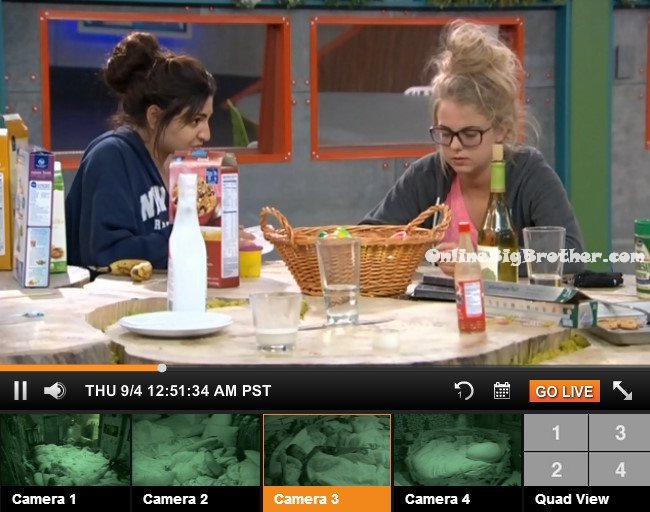 1am In the kitchen – Nicole is talking to Victoria. Nicole says I can't talk to those two (Frankie & Caleb) up there. I am going to talk to Cody and Christine real quick. I do want to tell them what I think of them exactly. You know what I mean. I don't have anything to lose at this point. I've got to get some stuff off my chest. Victoria says that's good. Nicole and Victoria get ready and go lay in bed.
One way to support this site that doesn't cost you anything extra is making your
Amazon purchases through the links Below
For in Canada use the following link:
Amazon.ca