POV Holder:
Chrisitne
Next POV
Sept 6th
POV Used
Yes
POV Ceremony
Sept 1st
HOH Winner
Caleb
Next HOH
Sept 4th
Nominations:
Nicole and Victoria
Have Nots
Derrick and Nicole
POV Players
Victoria, Nicole, Caleb, Cody, Christine and Derrick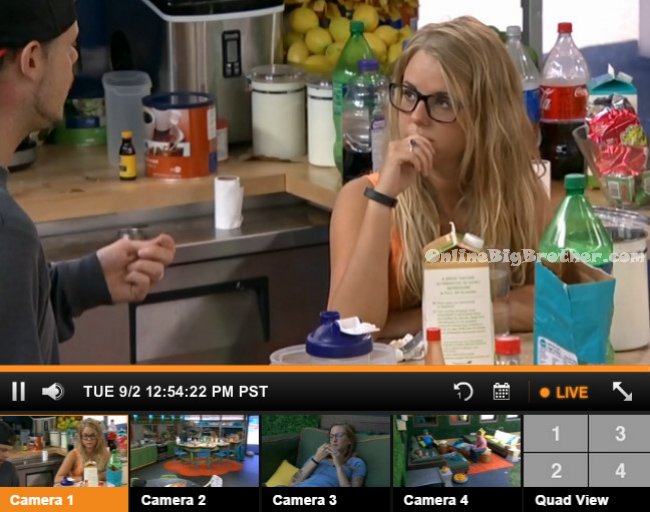 12:50pm Caleb tells Frankie and Nicole that his HOH blog was pretty good. I wrote it like a story. Frankie asks him about what he's going to tweet. Caleb says I don't really know what, I don't tweet. Frankie says short, sweet, retweetable. Frankie says like Bomb squad blowing it up. They head outside to the backyard couch were Christine is sitting. Christine says for Caleb to tweet Beast Mode Cowboy in the HOUSE! She tells him to add #beastmodecowboy to everything. Caleb gets called to the diary room for his HOH camera.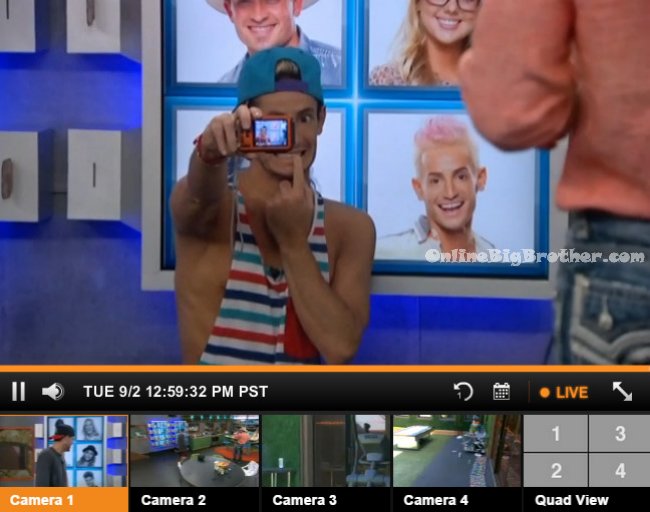 1pm – 1:35pm In the kitchen – Derrick talks to Nicole about studying the days. Nicole laughs about how Victoria says she couldn't remember the days unless they told her which week it happened. Nicole says she didn't say anything but was thinking if they tell you the week then you know the day. Derrick and Nicole agree to study more later. Caleb comes out with his camera and they start taking HOH photos. Nicole tells Caleb that he photographs really well. You'll definitely have a modelling gig after this. They continue going around the house taking photos.


1:40pm – 2pm Out in the backyard –
Derrick tells Cody that he's been studying like crazy. Hit me with a question? Cody asks when did Nicole win her 3 competition? Derrick gets it wrong. He says oh well back to studying. Cody says Frankie is still playing like a snake! He's throwing everyone under the bus. Why would he go to her (Christine) and tell her what Caleb was saying? Derrick says I think they're working together. Cody says I think he is working with her more than she is with him. Christine joins them and the conversation ends. Victoria joins them. Derrick heads inside and comments on how Caleb and Frankie are still taking selfies. Cody tells Christine how he should go in and take his shirt off and stand by Frankie. I would crush him. My body on a camera blows his body away. Then Caleb would join and I'd be like no thanks. Christine asks is his body really that good? Cody says no, he's just bulky. Everyone around me looks like that. Cody says that Frankie is pissing him off. I don't even want to get up because of the Dino outfit. Frankie made a comment and I almost got like how I get at home.
One way to support this site that doesn't cost you anything extra is making your
Amazon purchases through the links Below
For in Canada use the following link:
Amazon.ca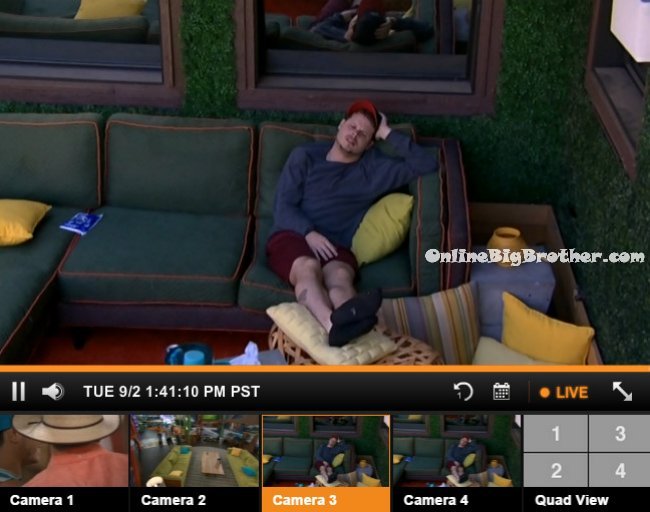 2:10pm – 2:25pm In the kitchen – Derrick tells Victoria the only person I see you hanging around is the one person (Nicole) that can't help you. So as your alliance member, as your friend I am telling you.. you're on the outs. And Christine's hanging out with everybody. And they'll be like Christine's cool we'll keep her over Victoria. If Nicole was staying I would be like sure use her but she's not. She's going home Thursday. She's (Christine) being nice to Caleb and Frankie because if she's on the block who are they going to keep. Victoria says Frankie can't stand Christine. Derrick says yes but if all week you're hanging out with the girl that wanted him to go home instead of him.. who do you think he is going to think is going to come after him next? Victoria says obviously. Derrick says I am telling you socially you need to share yourself. I planted the seed for you now you have to help it grow. You don't need to be hanging out with me all day. Victoria says she (Nicole) is just putting sh*t in my head. Derrick says she's going home for the second time.. so how accurate is her info. Victoria says Nicole is saying things like there's an alliance like the brigade. Derrick asks where is she getting that from? Victoria says Christine. Derrick says Nicole hasn't talked to Christine in 3 weeks since she went home the first time. Derrick says people see how when Nicole goes up stairs you go upstairs, when she comes down you come down. Victoria says she follows me. Derrick says there are people outside right now, why not hang out with them. Victoria says I'm not hanging out with Christine and Cody. Derrick heads out to hangout with Cody and Christine.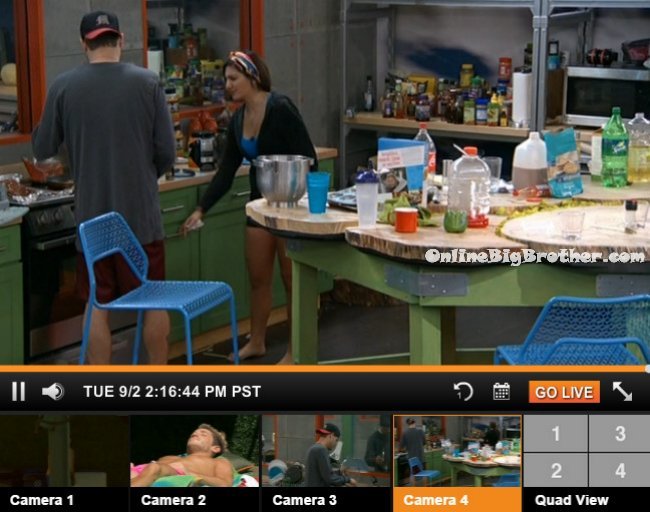 2:25pm – 2:30pm Victoria eats in the kitchen and Nicole joins her. Caleb joins them and talks about his HOH questions. A couple of them were: What do you look for in a girlfriend? How did you get the name beast mode cowboy? Caleb heads outside. Victoria asks Nicole if she wants to hang out? Nicole says no. Victoria says I want to hear stories. Victoria heads outside and sits with the others on the couch.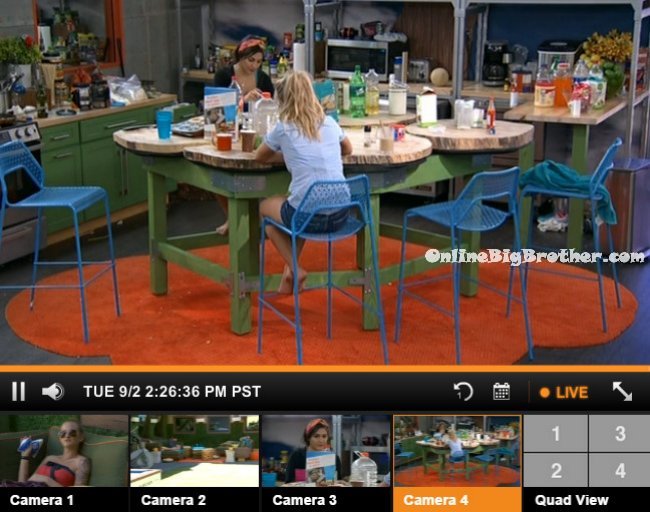 2:40pm – 3pm
Cody, Caleb, Christine, Derrick, Victoria and Nicole are sitting on the backyard couches talking about random things. Caleb, Derrick and Cody head into the kitchen. Cody and Derrick laugh about how Caleb wanted to go back into the diary room to make sure they used one of his answers to what he's looking for in a girl. Cody says he's legitimately concerned about it. Derrick says he's the bachelor. Cody says Frankie said they wouldn't put him on the bachelor because its on the ABC network. Cody says wouldn't it be funny if in a few years he was on the bachelor. Caleb comes back out and says he's going to have hundreds of messages in his inbox when he gets out. I can't wait to see all my applications. All the girls that want to go out with Beast Mode. I haven't really been on a date in a long time. Its about time old beast mode gets out and dates around you know what I mean.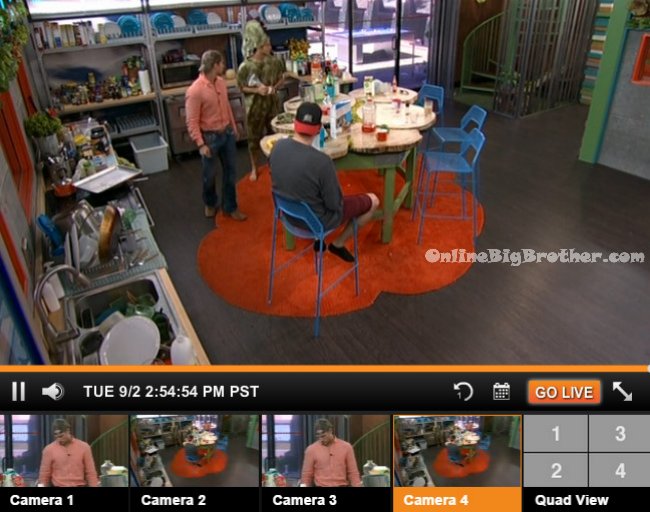 Cody and Caleb head to the earth room – Cody talks about how Christine made the comment about why does Caleb think that Frankie would have only gone after Cody and him. Cody says and I was like how the f**k would she know that. Frankie must have told her. Caleb says I don't know man. I don't think it matters.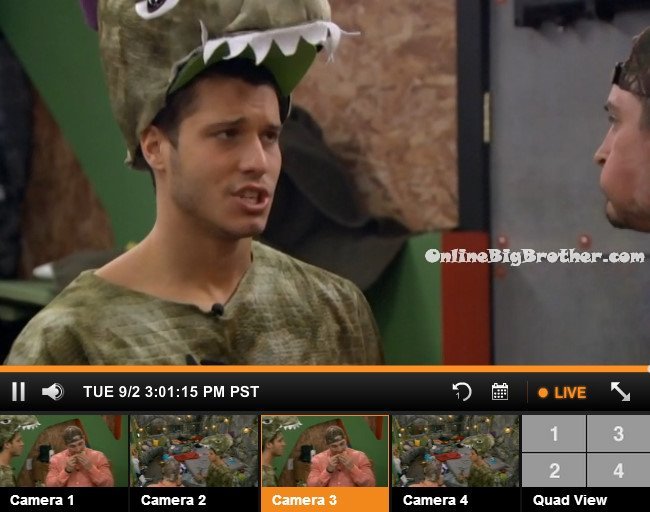 In the backyard – Frankie tells Victoria how its sad that people can lose focus. Like a sad puppy. If you really did love everyone equally it would be very very difficult. Victoria says that is true.
Meanwhile over by the pool – Caleb and Derrick talk about how she's (Christine) isn't happy she went up. If she wins HOH she could put one of us up with Frankie. Derrick says we just have to wait and see what happens. Caleb says that Christine went up to Cody and asked why does Caleb think if Frankie wins he would only put up Cody and Caleb. AND not me (Christine) and Derrick. Big Brother blocks the feeds and when they come back Frankie has joined Derrick and Caleb. Frankie says Christine is just trying to stir up sh*t. Caleb says I am just trying to figure out why she would say that. I just don't know why she thinks you would only come after me (Caleb) and Derrick. Frankie says that Nicole is trying to plant seeds before she goes.