POV Holder:
Chrisitne
Next POV
Sept 6th
POV Used
Yes
POV Ceremony
Sept 1st
HOH Winner
Caleb
Next HOH
Sept 4th
Nominations:
Nicole and Victoria
Have Nots
Derrick and Nicole
POV Players
Victoria, Nicole, Caleb, Cody, Christine and Derrick
See what they can't show you on TV! -Try the Big Brother 16 live feeds for FREE!
9:30am – 10:10am Big Brother blocks the live feeds to wake up the house guests. Caleb tells Derrick that he didn't get up and dance with him. I was looking like a god damn ballerina.. having a good old time. Derrick and Caleb sit in the living room. Caleb tells Derrick to go back to sleep for a little bit. Derrick says I can't they woke me up for the DR. Cody gets up and asks Caleb what he told Frankie. Caleb says me personally I told him I was thinking of putting him up. I told him I had it running through my head that if putting him up was an option, now would be the time to do it because he can't pull himself off and he's a beast and he could. BUT I didn't tell him that we were all discussing that. Cody says I just talked about it and he was like are you questioning me. I said to be honest at this point in the game I am but at this point in the game I am questioning her too. It wasn't huge or anything. Caleb says I told him me personally I was questioning him. In this game you can't trust no body 100%. I just basically said my wheels are spinning. Cody says thats what I said and then Nicole and Christine came into the room so we couldn't really talk. I didn't want to say anything differently so I wanted to find out what you said. Caleb says I just told him that my wheels were spinning and I was just thinking who would do it to me first. Cody asks did you mention anything to Christine. She made a comment that makes me feel like she knows. Caleb says that Christine said just so you know if Nicole stayed I wasn't going to work with the girls. In my mind I was like what is she talking about. Cody says she made a comment yesterday with how you're a b***h with Frankie. That he was going to come after us two. And I was like how the f**k do you know that which made me think you mentioned something to Frankie. How would she know that? That's what made me really nervous yesterday. Caleb says he may have. I don't remember saying that to her. That she was going to come after us two? Cody says no that he was. Caleb says I told him how I felt. I didn't tell him anything about you guys. He was basically like oh you don't trust me. And I said I trust all you guys but its a game. Derrick asks again if Christine said she wasn't going to work with the girls. Caleb explains it again and says that Christine said a couple people told her that. Cody says that dude (Frankie) is such a f**king rat! Cody says that's all I needed to know, I'm going back to bed. Cody heads back to bed. Derrick says someone said something to her. She said she heard from a couple people? There are only 7 people in the house, a couple people didn't tell her sh*t. Caleb heads back to bed in the HOH room.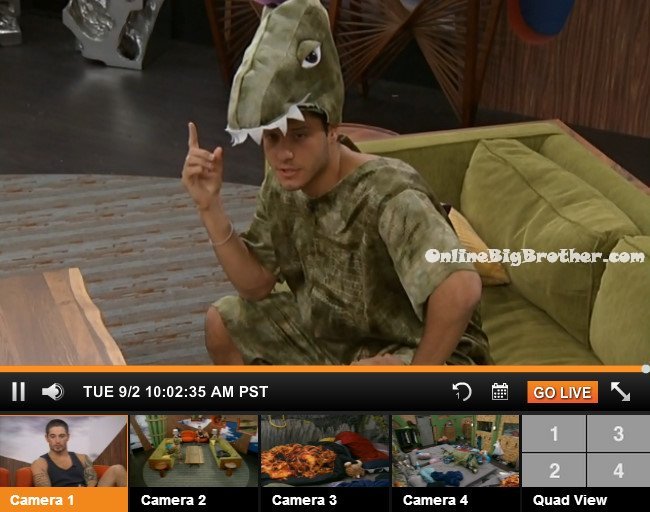 10:50am – 11:05am
Nicole and Victoria are in the bathroom getting ready for the day. All the other house guests are sleeping.
11:30am Nicole asks Victoria to come out and tan with her. Victoria says she still has to do her hair. Nicole says you don't need to do your hair. Come on you fashionista! Nicole heads outside. Nicole says to herself how am I going to stay in this house next to Victoria? I need to talk to Caleb today .. just a normal conversation between two people. Caleb joins Nicole outside. Victoria changes and comes outside to lay out on the lounger. Caleb comments that he was woken up so they could get his HOH blog ready.

In the bathroom –
Derrick tells Caleb how he had a conversation with Victoria last night and dude we're golden! She had nothing bad to say about us. Caleb asks what did Cody say that Frankie said to him? Derrick says I'll tell you when you get out of the stall. Caleb comes out and Derrick says that Victoria said the only people that have always been nice to her are you and me. So if we're ever on the block we have her vote. Derrick says that Cody is nervous because he's been talking a lot about Frankie. Derrick says Christine is bad for your game and mine because if she wins she will go after us. Derrick says that Victoria is best for our game. Caleb says I think Cody is more loyal to us than her (Christine). Derrick says he's been pretty close to her. Caleb says he's close with her just in case she wins. Just like Frankie. Derrick says Christine has to go. Caleb says that only thing I said to Frankie that Nicole has to go because if she wins she might try and pull you back in to work with the girls. Derrick asks who did you say that to? Caleb says I thought I said it to all of us? Derrick says I though it was you, me and Cody. Nicole joins them and the conversation ends. Caleb leaves. Nicole leaves and Caleb comes back. Derrick says I'm trying to figure out when you said that. Caleb says them three (Frankie, Cody, Christine) maybe, possibly have a final 3 deal. Derrick says they're both working Christine. But I think Christine's more loyal to Cody all day long. She doesn't like Frankie. Me and you know that. Frankie doesn't know how much she doesn't like him. She f**king loves Cody. Caleb says then we say Christine if you win this Thursday you put up Frankie and Victoria. I know she ain't going to put up Cody.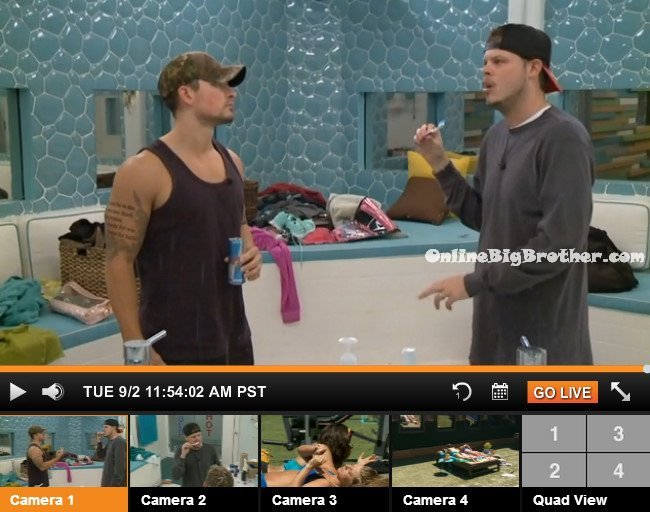 12pm – 12:10pm In the fire room – Derrick talks to Frankie. Derrick says Victoria and I had a heart to heart and she said that the only people that have been nice to me is me and Frankie. She doesn't know we're close. The way I look at is if we're on the block she is a vote for us. That way we have two votes. If I'm up then I have you and Victoria and vice versa. Frankie says that Christine is more loyal to Cody than to us. Derrick says so hypothetically if you win HOH you would put up Christine and Victoria and want Christine out because if she got to the final 3 she would take Cody over us. Frankie says and she would be pissed I put her up so she would have to go. Derrick says I didn't know you were really nice with Victoria. Frankie says oh yeah I've been nice to her.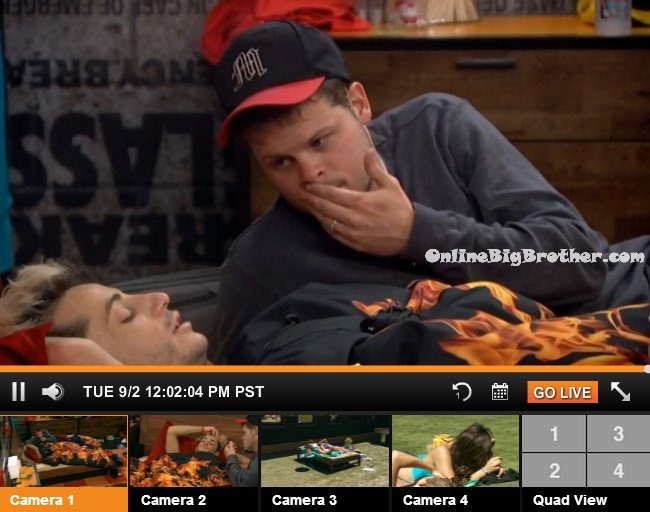 12:11pm There's a feed leak of Caleb doing his HOH blog. This is normally never shown on the live feeds or on the episodes.
See what they can't show you on TV! -Try the Big Brother 16 live feeds for FREE!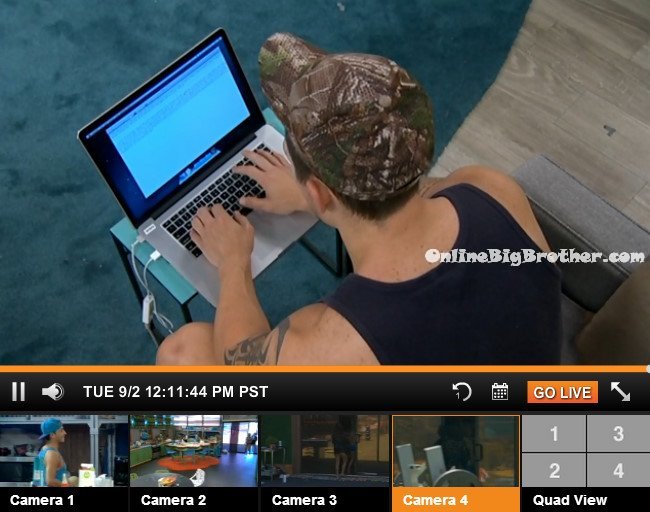 12:15pm – 12:20pm In the kitchen Victoria shows Frankie her swollen hand and she says EWW.. my hand looks demented! It looks disgusting!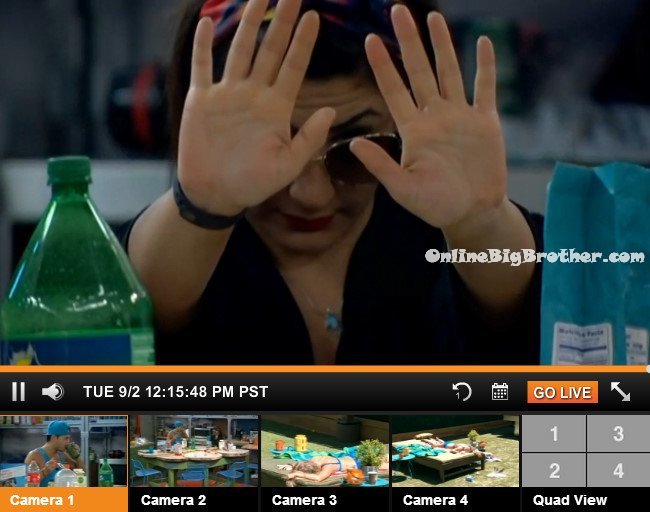 12:30pm – 12:45pm Caleb comes down for doing his HOH blog and talks about how he mentioned them in his blog. Derrick tells Victoria how he told Caleb this morning about how much you like him. Victoria jokes eww.. I hate Caleb. She laughs. Alone Derrick tells Victoria to do the innocent flirting with Caleb. He likes you and be nice to Frankie too. Its two votes right there. Victoria says okay. Victoria says if there's an alliance between the three of them then they're going to vote me out. Derrick says that's why you need to be nicer. Victoria says that won't matter. Derrick says yes it will. Derrick says you're prettier. Victoria says obviously. Victoria says that won't matter. Derrick says yes it does. Caleb joins them. Caleb says in 14 days we'll know how many people love us and hate us. Caleb says I will try to see if I can get Jordan to divorce Jeff. Victoria says first Jessie now Jordan. Caleb says Jessie was cute enough to date. Derrick says you might have messed that us. Caleb says I hope I still have a date with her. I have a date with Amber after the show. That's my first one.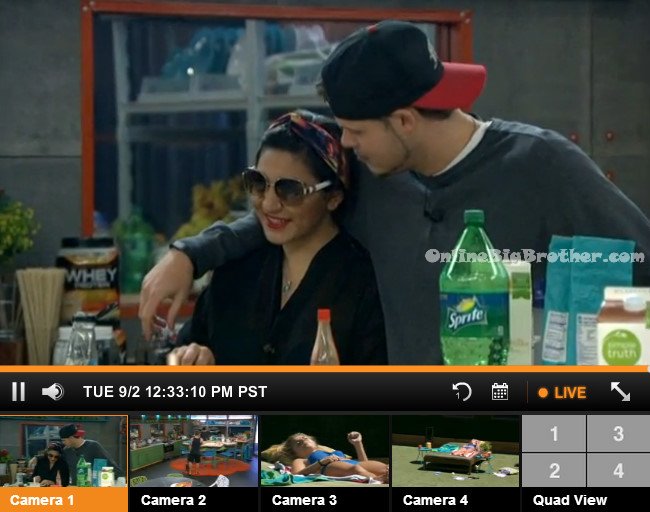 If you're enjoying the live feed updates this season, please consider donating. Simon and I work 24/7 all season long to keep you updated on everything that happens inside the BB16 house. Any amount is greatly appreciated! Your donations go directly to paying the server and bandwidth fees required to run this site.
[polldaddy poll=8274218]