How does the final HOH work
All three players compete in part 1. (Cody won this part)
The two losers of part 1 compete in part 2. (Not sure when this will be played)
The winner of parts 1 and 2 compete in part 3. the winner of part 3 gets to decide Who to take to the finale.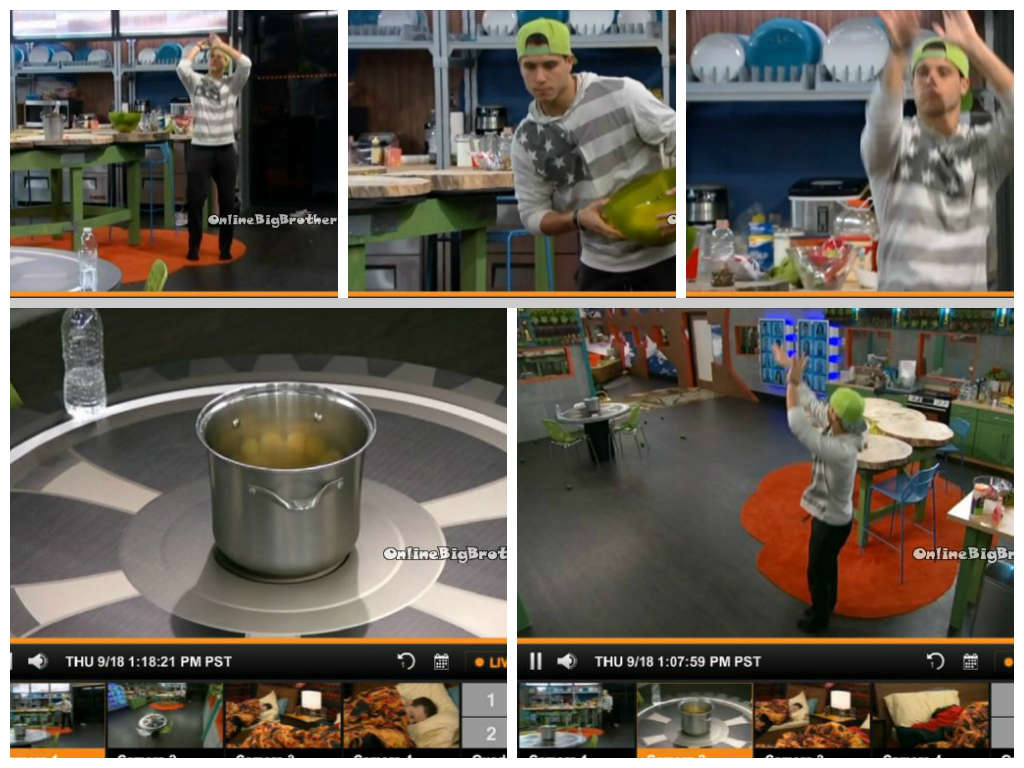 1:10pm Cody keeps himself occupied while waiting for the torture to end.
IN the Fire room Derrick and Victoria are talking Derrick doesn't know what they are going to do for the next 7 days. Points out to Victoria she was a genius and a mastermind to their little lie. (Getting the remaining players in the house to thinks she hated Derrick and so did the Jury)
1:28pm Cody still practicing his lime toss, 'Crushing it.. Bucket buckets.. Clock work.. that's dirty.. Crushing it.. Smoke bombs..
Derrick and Victoria are sleeping at 1:30pm Cody gets called into the Diary room.
1:55pm Everyone sleeping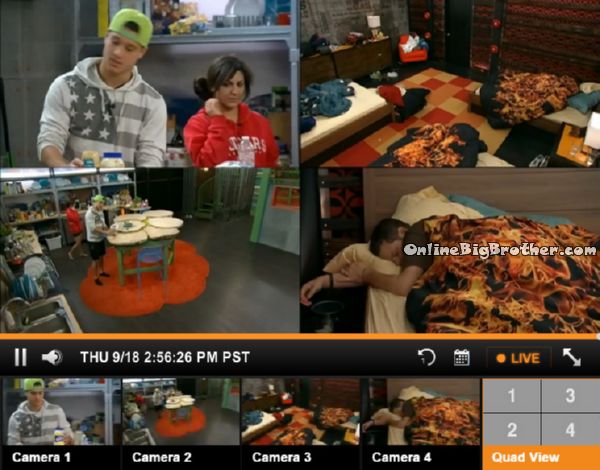 2:54pm Victoria and Cody are up.
Victoria says she had a dream that Production woke them up right away, it was raining in the fire room and the competition was for either Caleb or Frankie to come back into the house. Victoria said it felt "So real" she adds that in her dream they hurried them along she wasn't even wearing a bra.
3:20pm Kitchen Victoria and Cody eating and chatting
Talking about how full of himself Caleb was. Cody mentions how Caleb was always competing with him from day one. Victoria though Caleb had a thing about Cody's looks.
They mention how Caleb as still talking about Amber before he left about how her and him can finally have a serious conversation without the cameras.
Cody says Amber was not into Caleb at all but didn't want to hurt him.
Victoria – I know you think brittany was the hottest
Cody – No, to be 100% honest amber was gorgeous Brittany was attractive.. I thought you were the best one
Victoria laughs
Cody – you are laughing at me … I thought POWPOW… when i first walked into the house I was like ohh ok . (Grunts like he was interested in how POWPOW looked)
Victoria – she was very overwhelming
Cody says after day one he was turned off by POWPOW. Brittany was very attractive after the BOB when she came back she was beautiful. Victoria says when Brittany first walked in show looked like that.
Day one Cody looked at amber.. "I just thought she had really really nice eyes"
Cody – I actually liked frankie at first
Derrick wakes up they comment on how much noise is coming from the backyard. Cody thinks the competition is being built and it's massive.
3:40pm Chit chat
Cody – ohh my god this is so insane what are we doing here.. how did we get here.. how did we get hear Derrick..
Derrick – what are we talking about..
(Just random things being said)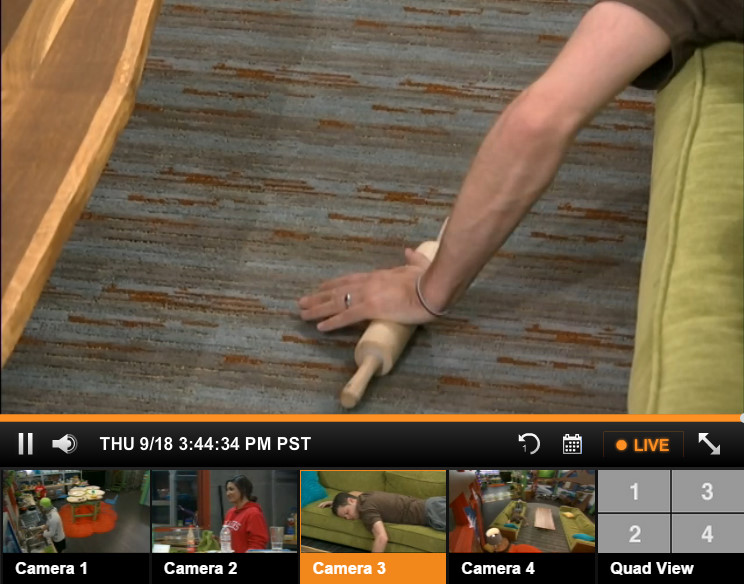 3:44pm Derrick rolling out his sore hand
4:22pm Living room Chating about he game
Derrick believes that Christine was going to cut Cody but wanted to rid with him until later in the game.
Cody says Donny had no social game and wanted to use Hayden and him as puppets.
4:43pm Here is a taste of the chit chat going on.. Derrick's wardrobe back home is heavy on the black and red.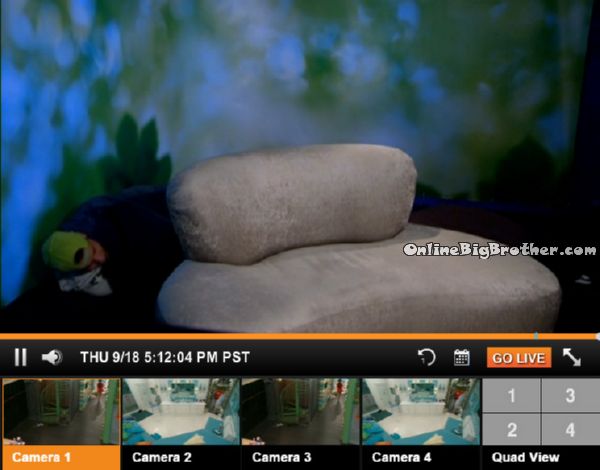 5:15pm Hide and Seek, Cody and Derrick hide in the Diary Room on Victoria
Victoria finds them and gets a bit of a scare.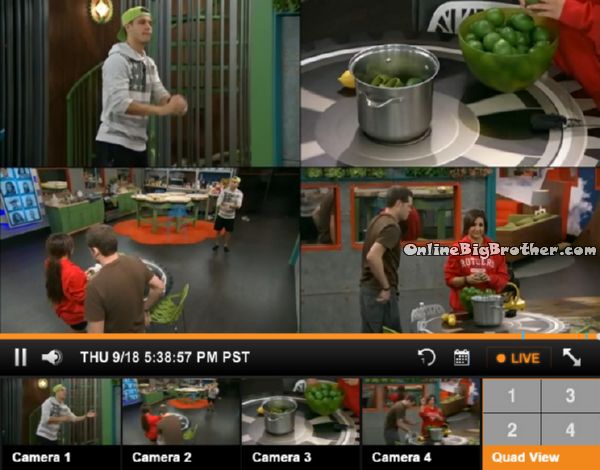 5:39pm Lime toss..
6:08pm Living Room Derrick and Cody
Derrick thinks the Competition will be tomorrow if it wasn't the backyard would have been opened this morning. Derrick hopes the competition is more pure knowledge not like OTEV where you have to run and get a piece. Derrick doesn't want an oz of chance in the competition.
6:24pm Victoria says her friend looks like "That Girl on American pie.. Bangs.. brownish skin.. "
The guys know who she is talking about but they can't place a name. Cody remembers her name "Nadia" (played by Shannon Elizabeth)
7:01pm Trying to occupy their time. chit chatting.. long moments of silence.
7:15pm Victoria is saying she's sick of fish after eating it all season. She thinks that is why her stomach has been so sore from all the mercury poisoning.