How does the final HOH work
All three players compete in part 1. (Cody won this part)
The two losers of part 1 compete in part 2. (Not sure when this will be played)
The winner of parts 1 and 2 compete in part 3. the winner of part 3 gets to decide Who to take to the finale.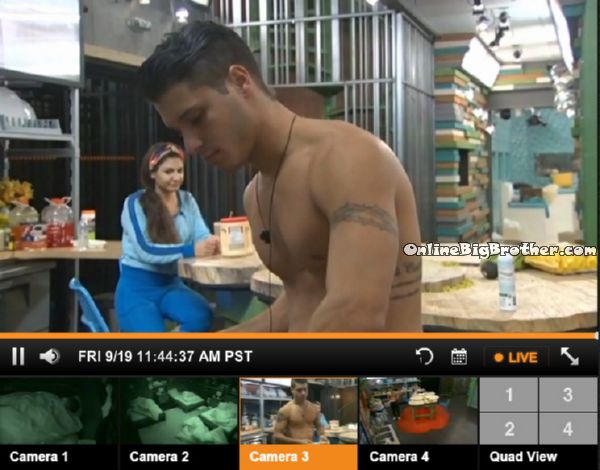 11:43pm Cody and Victoria are now awake. Cody is making eggs on the frying pan.
Cody – the bedroom lights must remain on during the day
Cody – They are still building out there (HOH part 2 still being prepared)
Cody comes back from the Diary room says production is getting them lunch whatever they want. He wakes up Derrick to find out what they should get. Derrick tells them about a dream he had that involved his wife and daughter. Shares with them his big concern that his daughter will not recognize him on finale night "She hasn't see me"
Sounds like they've decided on getting Chinese food. Victoria – "That is so nice of them"

Derrick thinks the competition is today thinks it will be tonight. "It's it's only a puzzle could be a 6 7 o'clock comp" COdy isn't as sure.
Derrick says he's not like Cody he can't turn it off he's still in game mode. He wants these comps to end so he can relax.
Derrick doesn't want to eat heavy today because he's sure the comp is coming later.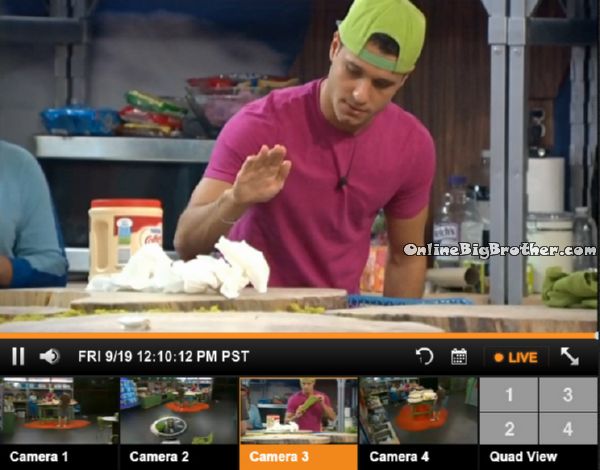 12:10pm Cody kills a fly
Cody – "YES f***ing hate that thing crushed him we gotta find him on the floor"
Derrick – his body is in a thousand pieces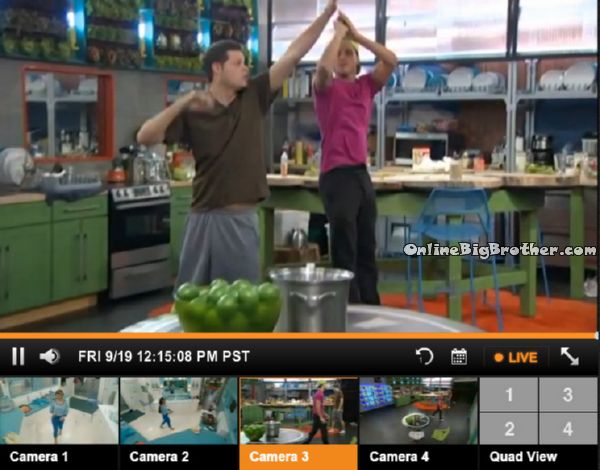 12:14pm Lime Toss..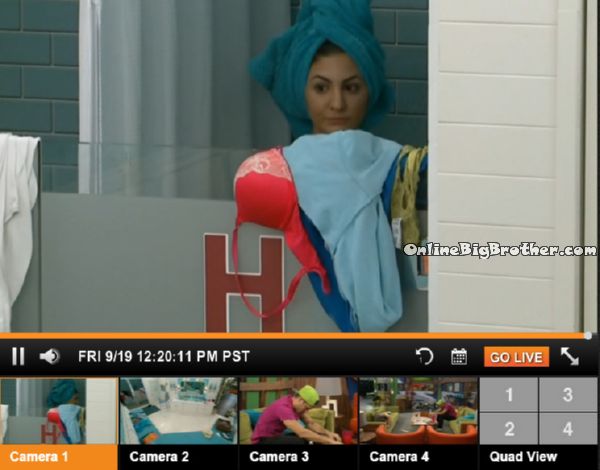 12:20pm

12:23pm Cody and Derrick Living Room
Trying to play backgammon.Derrick – She's still worried about what clothes she's going to wear on finale"
Cody – She's not going to be there :"
Derrick – I'm going to get it done for us.. no doubt in the world.. i'll get it done
Derrick says if the comp is mental, "Congratulations you've won at least 50 grand"
Cody – "If its a makeup competitions.. they are not going to leave the last f***g competition to chance"
Derrick and Cody says they are just banking on this HOH not being to chance.
Derrick – I'm one comp away from reaching my goal.. I have to.. 50 is life changing.. life changing..
Derrick says walking away with only 13 grand is not worth it for him he needs to win the 50 K at least.
Derrick adds unless there is something illegal there is nothing he can do to make that much money is such a little time.
Derrick says Victoria doesn't deserve to be here says Cody and him earned their
Derrick – In good conscious and as a fan of the show you do not deserve to be in that seat and that's why he's there and he's a big part of the reason why i'm here. ..We would look like fools
Cody – straight as$$holes
Derrick – straight clowns.
Derrick points out how awkward the house would have been if Caleb was still in the house. Adds that Victoria knows she's going home unless she wins the HOH. Cody also thinks from a game perspective Caleb had a better chance to win the final HOH than Victoria.
12:33pm Derrick – I'm hoping it's today, I'm praying it's today, I know it's today
They talk about "John" being there today and cracking out Diary Room sessions.
Feeds cut..
12:50pm
Playing go Fish waiting for Chinese food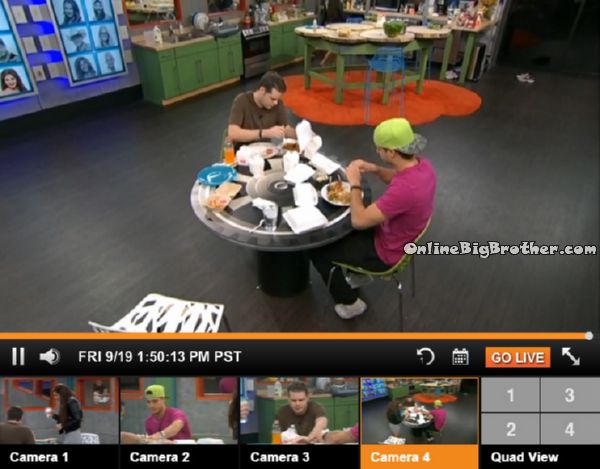 1:50pm They get their Chinese food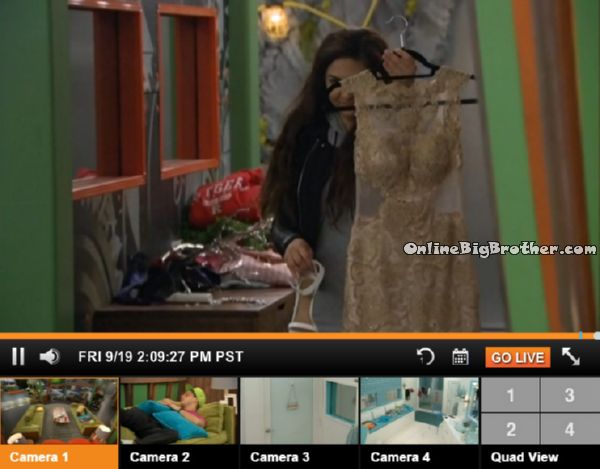 2:10pm
Potential Victoria's outfit for finale night
Victoria – Yeah no.. it looks funny. (The search continues)
2:56pm Victoria shares a story about when they went to Israel for her brothers bar mitzvah and they had KFC. She found out later that evening that the breading they used for the chicken fingers contained milk that wasn't kosher. She threw up when she found out she didn't want any of that in her system. She adds that most of the fast food in Israel is Kosher.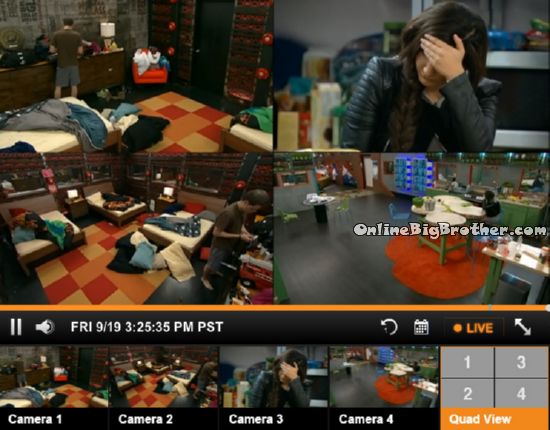 3:31pm Kitchen Competition is about to start
Derrick telling her he will smoke Cody in the final HOH as long as it's the same type of competition they've always had for final HOH. Victoria seems unsure about what she's going to do She's worried if she does win and goes against Cody Cody will take her over Derrick. (She's been entertaining the idea of throwing it to Derrick so Derrick takes them to final 2) Derrick says she needs to make this decision on her own. When she leaves she has to be able to look back at that decision and own it.
3:50pm for the past 30 minutes Derrick and Victoria have been convinced that Cody being called into the Diary room means teh competition is about to start. Cody comes back says the competition isn't starting it was a "regular DR Sesh"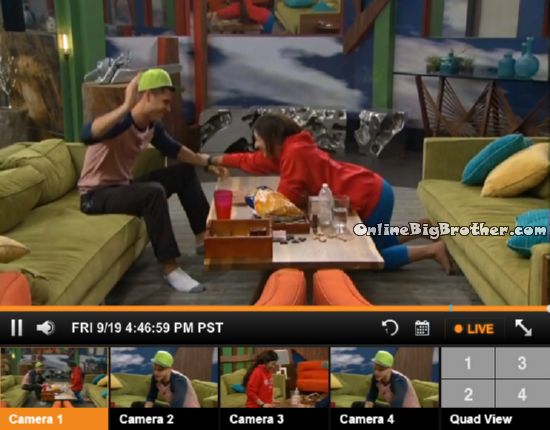 4:47pm Cody and Victoria playing cards. Derick in the Diary room.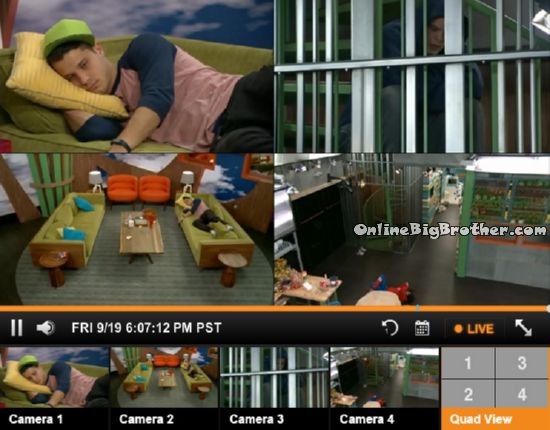 6:09pm No Comp yet and very little talking…
6:37pm Jeff on feeds… HOH part 2 must be being played
(Liked the spoilers all season? Please consider a donation through PayPal)
Make your Amazon purchases through the links below it Supports this site
[polldaddy poll=8244330]