| | | | |
| --- | --- | --- | --- |
| Part 1 HOH | Cody | Part 2 HOH | ? |
| Part 3 HOH | ? | Final HOH Winner | ? |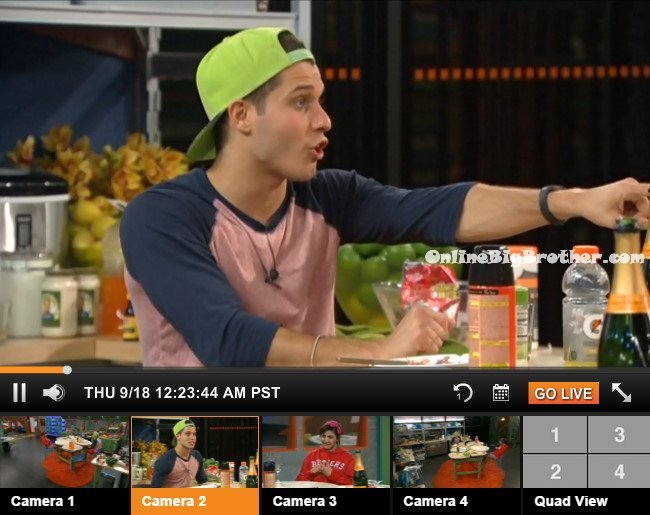 12:20am In the kitchen – Victoria and Cody continue to talk. Cody says that he wanted to send home Caleb week four but that Derrick said Brittany has to go. She knows how tight we are we have to send her home. So I didn't put up Caleb and unfortunately my love of this game went home week four. And then after that it was supposed to be Caleb but Amber was starting to start an all girls alliance. So it switched from Caleb going home to Amber. Victoria says she remembers. Cody says after that you really know what happened after that. After that Frankie wanted Zach to go and I said no! Because anything Frankie wanted I wanted to go opposite. Victoria says that she heard Amber was fighting to get me out. Cody says no, she never would have. Who told you that. Victoria says Pow Pow and Nicole. Cody says Pow Pow is a liar and Nicole is a liar. Victoria talks about her hair and how she almost didn't come on the show because of it. My mom told me I had to do it. That I could do my hair in the bathroom and take my medicine. Cody says you weren't going to come in here and look at you now you're in the final 3. Victoria says I just have to take care of some stuff when I get out of here. Cody says he would like to stay in touch with Caleb and hope I can. I would love to meet his Brother Blake. I hope I get to stay in touch with Christine. I loved Christine and would love to meet her husband. I was really tight with Christine, we were crazy tight and if I couldn't stay in touch with her it would suck. I would want to stay in touch with Derrick, Christine, Zach, Caleb and Victoria and Amber for different reasons.

One way to support this site that doesn't cost you anything extra is making your
Amazon purchases through the links Below
For in Canada use the following link:
Amazon.ca
12:50am – 1am Derrick comes out of the diary room. They go over their lists of house guests they would want to stay in touch with outside the house. Cody says I don't know if I could stay in touch with Caleb because of all the boasting. Derrick says I will definitely talk to Victoria outside of here. Victoria asks Derrick if he talked about the Hitmen in the diary room. Derrick says no I talked about you. Cody says I can't wait for our morning tomorrow!! (They'll have ha final 3 breakfast tomorrow where they reminisce about the season.) Derrick says me too that's why I want to got to bed now. Cody says lets go to bed together. Victoria says I can't wait my key will be here till the end. They all hug and say bed time! They head into the fire room. Cody starts calling Derrick a little soft b***h for not putting up Frankie. Cody says even if you had put up Frankie the rewind would have happened and it would have been the same result. Derrick agrees and says it would have happened the same way any way. Big Brother plays his daughters Hollar Derrick. Derrick says thank you. Cody says if we don't meet every single person at the wrap party I will be so pissed. Victoria says I am so excited! Final three!!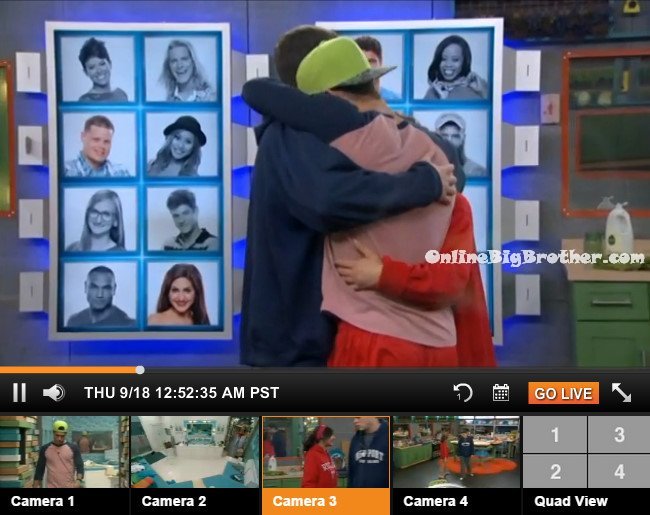 Cody laying in bed being a "Hitman" shooting at the cameras: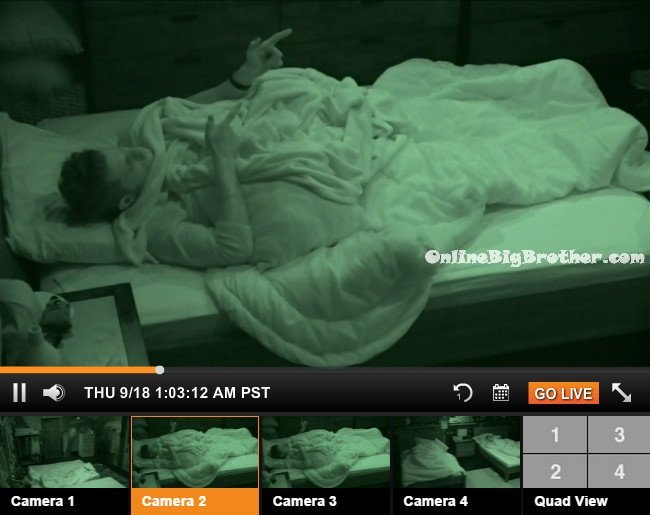 1:05am The final 3 go to sleep…
8am – 8:40am Big Brother blocks the feeds to wake up the house guests. Victoria is in the bathroom getting ready. Derrick and Cody are in the kitchen talking about the endurance competition and how sore they are. Derrick says he is definitely feeling it in his shoulders. Cody says that set was out of control!!! Derrick think they (production) is done with the 3 or 4 hour comps. They talk about past comps from previous seasons. Derrick asks what time did they say we were going upstairs? Cody says when they woke us up they said 30 minutes. Derrick says we're going to be up there for 45 minutes, huh?! Cody says I need food!! Cody asks Victoria did you know that Donny thought we had a final 3 deal? Victoria says yeah. Cody says it seems true now doesn't it. They talk about being able to see their families at the finale.
The final 3 will be having a catered breakfast where they reminisce about the season this morning.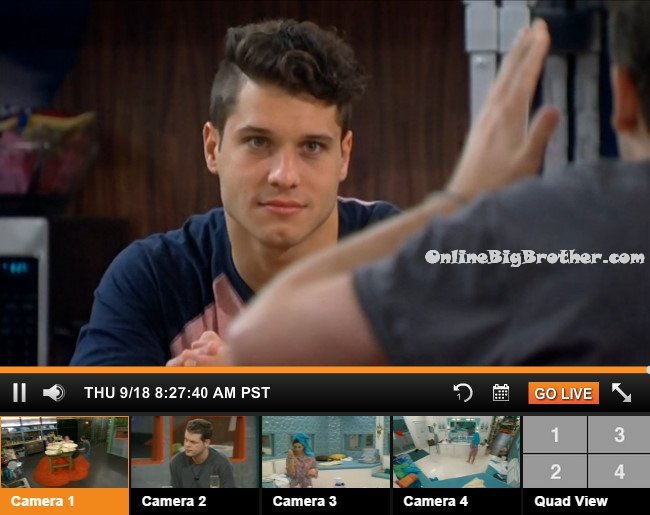 9am Big Brother blocks the feeds.. and starts showing the live feed highlights. The live feeds will likely be blocked until around noon.
12:10pm – 12:30pm The live feeds return – Cody, Derrick and Victoria talk about the HOH comp from yesterday how they're still sore. Cody and Victoria are in the living room talking about random things. Derrick goes to lay down because he was a bit buzzed from the champaign. Victoria and Cody talk about their families making arrangements to make it to the finale. Cody says that he hopes his dad is at the finale. Victoria says that she can't wait to see everyone's videos. Derrick walks through and talks about crushing his nap. Cody says he's wide awake from the coffee. Derrick and Cody head into the storage room to find the rest of their stuff from the HOH room. Derrick says I guess that was the last time we get to go up there.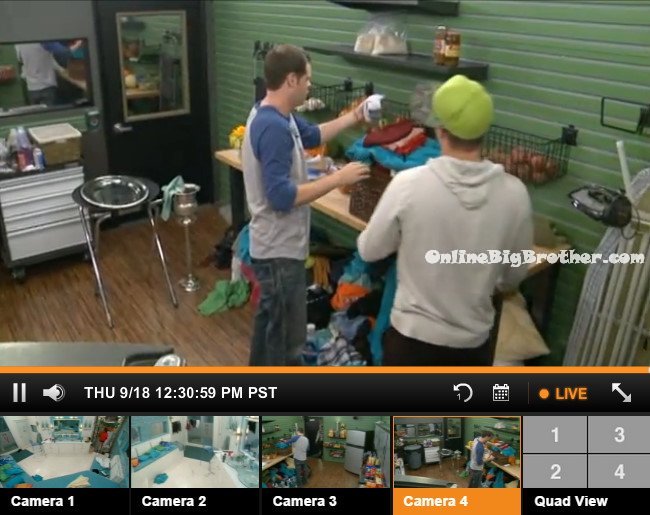 12:35pm Derrick, Cody and Victoria bring the left over food from the brunch and the whole setup into the storage room.
12:40pm – 12:50pm Victoria is taking a nap. Cody starts cleaning the bathroom mirror. Derrick asks Cody to quiz him on events of the house. Cody asks a few and then asks if he looks good in his shirt. Derrick says yes. Derrick has all the HOH's, nominations, POV down. "I've got it!" Derrick says if she beats me its going to a f**king miracle. And if its luck and she beats me then it is what it is. Derrick says okay I'm going to go snooze.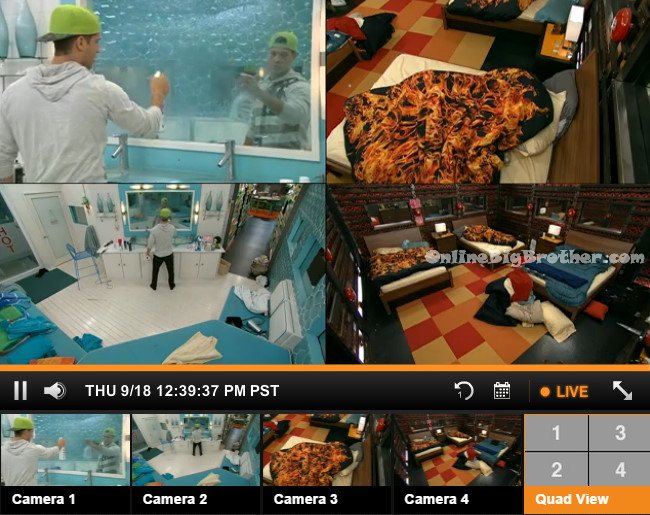 12:50pm – 1pm In the fire room – Derrick tells Victoria that everything Cody told her just confirms that he (Derrick) has been telling her everything all along. Victoria says except for the name (The Rationals alliance name). Derrick says I don't know why you're so fixated on that. Its such a minor detail that doesn't even matter any more. Derrick says we're connected for life now. Just like Dan and Danielle. Derrick tells her she better win. Victoria says that she panics though. Derricks says you beat me and then beat me in the final one. I told you last night its all on you. We have no idea what it will be like, we'll just have to wait to see when we get out there. We might not even do it together. It might be a timed one.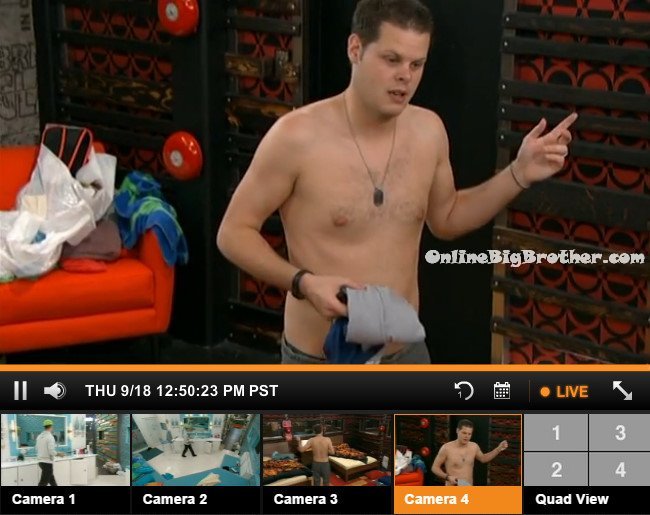 If you've enjoyed our live feed updates this season, please consider donating.
Simon and I work 24/7 all season long to keep you updated on everything that happens inside the house. Any amount is greatly appreciated! Your donations go directly to paying the fees required to run this site.
**** I want to personally thank all of our loyal Online Big Brother fans that have once again helped make this another great season. I unfortunately won't be around for much of the remainder of the season as I will be getting married to the most amazing girl this weekend and then we'll be off on our honeymoon. She puts up with me working every day for over 3 months straight and I couldn't be more lucky to have her in my life.
Go easy on Simon as he's juggling a new addition to his family and will be keeping you up to date on how the final week plays out.
[polldaddy poll=8244330]