POV Holder:
Donny
Next POV
?
POV Used
YES
POV Ceremony
June 29th
HOH Winner Team 1:
Frankie
HOH Winner Team 2:
Caleb (current HOH)
Battle of the Block Winner
Brittany, Victoria
Next HOH/ Next BOB
?
Original Nominations:
Caleb noms (Donny, Paola) Frankie noms (Brittany, Victoria)
Current Nominations:
Joey, Paola
Have Nots
Cody, Hayden, Joey, Brittany
POV Players
Donny, Paola, Cody, Zach, Caleb, Victoria (HOST = Jocasta)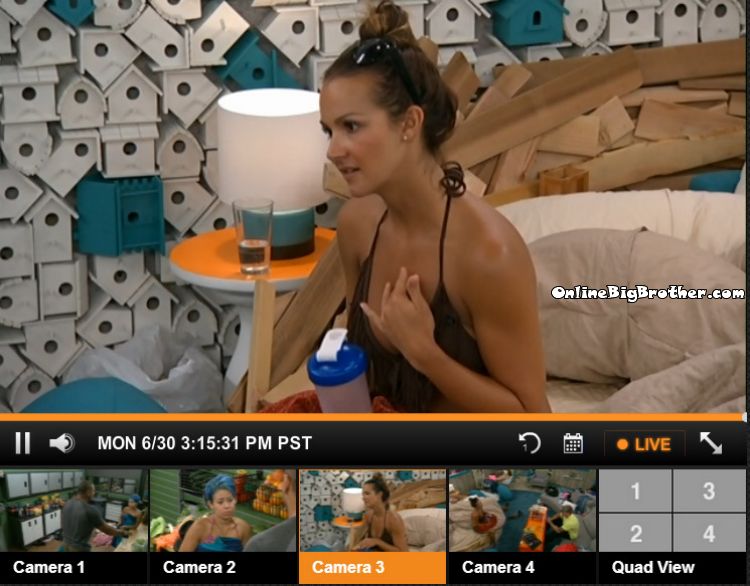 3:14pm HOh Brittany and Caleb
Caleb – "this is going to be pretty quick and sweet unless you talk like a crazy person."
Brittany says more people wants Joey to stay than POWPOW but she can see how Joey has rubbed people the wrong way. She says she's not as close to Joey as everyone thinks. Caleb mention how Brittnay and Joey are together all the time. Brittany explains that Joey is relying on her more than anything "I'm the only one she feels comfortable with", Brittnay points out how close she was with POW POW when they were sharing a room. Brittany doesn't want him to think she's automatically voting out POWPOW.
Caleb tells her he doesn't want to see her being the lone vote and being singled out he wants her to get a good read of the house before she places her vote.
Caleb says he knows the game quite well and the the most important thing in the game is loyalty Caleb – "Joey.. I see her being able to win competitions but not loyal"
Brittany says POW POW is very loyal
Caleb "she's never done anything wrong except for not winning any competitions". Caleb says everyone likes Joey but she has no idea how to play this game, "she tried to start a girls alliance". Caleb says POWPOW isn't going to win any competitions but she's loyal they know where she stands. Caleb wants it to be a unanimous decision on Thursday so he's talking to everyone.
Caleb -" the last thing I want is you to be singled out" Caleb warns if Brittany gives Joey a vote and Joey leaves it will hurt POWPOW. Brittany asks if POWPOW is upset with her now. Caleb thinks that POWPOW is under the impression Brittany wants to keep Joey. Brittany says she's been trying to distance herself from Joey especially now that Joey is trying to draw her into her plans, "I've been closer to POWPOW lately" Brittany adds the only reason why she got close to Joey is because she's a lot of fun to hang out with "She's a female Frankie"
Brittany is worried about Joey throwing her name out there and making it sound like they have an alliance. Caleb says the best thing to do is vote Joey out it will send a clear signal.
Brittany – "Both of my closest friends are on the block right now.. no matter what happens I hurt someone"
Caleb – "At the end of the day your loyalty to JOEY means nothing it means more to POWPOW because she's most likely staying"
Brittany says Joey never talked to her about making that announcement it was completely out of the blue to brittany. She looked around and could see by how everyone was reacting that it wasn't a good idea.
Brittany – is the majority of the vote is to keep POWPOW
Caleb says from what he's heard Joey is going home.
Brittany swears her mind is not set on keeping Joey she feels like a "pinball" going back and forth she's more looking at what the house does to make her decision.
Caleb – "You will be the next one put up if you are the only one that votes for Joey.. your smart enough to make the right decision"
Brittany is worried she's going to get set up.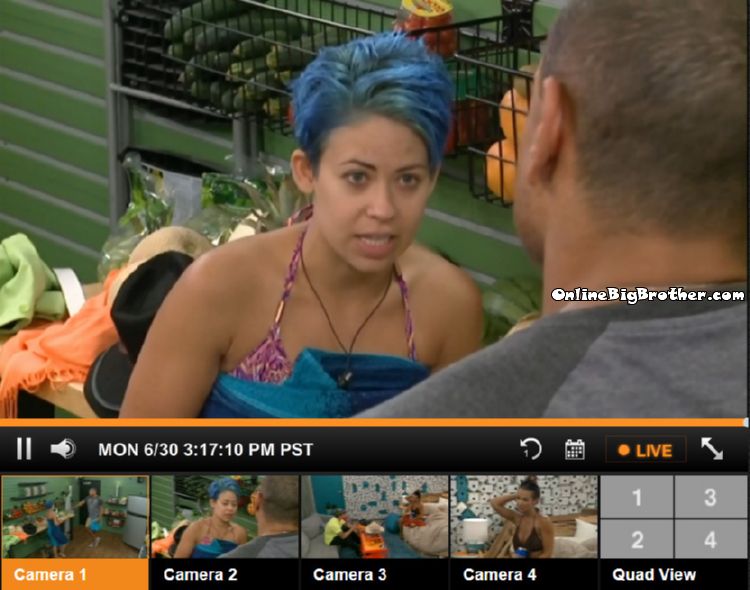 3:15pm Cam 1 Devine and Joey Storage room
Devin – "No matter if you stay or go it's going to be a unanimous vote.. 13-0"
He suggests she goes out there and campaigns as hard as she can and get the votes. Nobody is going to do it for her this early in the game.
Devin – "I'm going with the house.. if you have the house votes you have my vote otherwise you don't have my vote" He explains nobody wants to be the offside vote this week because they would become the target next week that's why it's important for Joey to campaign.
Devin- "I'm on the fence"
Joey – "I think everyone is on the fence"
Devin says at the end of the day if he has to see her leave to keep himself in the game that's what people are going to do. Joey understands asks him if people are leaning towards getting her out. Devin doesn't know the entire house is telling him 'I don't know.. literally I don't know there's still 2 and a half days" Joey comments how hungry she is and how much being a have nots suck,  Devin says if she does end up getting voted out he'll give her a few M&M's in her pocket
Big Brother 16 Live Feeds Subscriptions, Free 2 day trial. $26.99 for the season pass or $9.99 for the monthly pass Try It Free! Subscribe now to the official BB16 Live Feeds
3:56pm Backyard Donny and POW POW
Donny telling her people like her in the house the best thing for her is to chill and be friendly with everyone. POWPOW thinks the house really likes Joey as well. Donny assures her the house like POWPOW. He mentions how horrible she did early on in the competitions and now the house thinks she's weak. He stresses this is an advantage
Brittany joins them starts telling them she's not close with Joey. She explains the reason Joey is around her is because the house is distancing themselves from Joey and she has no one to turn to. Brittany tells POWPOW they were friends in the beginning before Joey, Joey use to be close to Frankie.
Brittnay – "She comes to me I can't not hand out with her"
Brittany starts to justify if she votes Joey out it doesn't mean she doesn't like Joey.
POWPOW understands
Brittany tells them she questions Joey's loyalty in the game.
Brittany says nobody especially Joey is saying anything bad about POWPOW, they agree they houseguests haven't really done anything "bad" and even the girls alliance thing wasn't a big deal.
POWPOW about Joey – "she attacked a lot of people she attacked the girls she attacked that whole battle of the block thing.. I'm not going to lie and be here saying it's not true.. how can you tell me my partner is a pawn and I should lose the battle of the block. you know what I mean i'm not mad at her i'm just saying I don't have anything to go around and say bad about her"
Brittany – "I don't think she thinks things through"
POWPOW – "that's not good"
Brittany – "all her ideas suck and she doesn't know the game"
POWPOW says Joey knows the games she's seen 6 season
Brittany thinks Joey just watched it right before the game started,
Brittany says how confused she is in the house not being able to figure people out or thinking a person is one thing then the next day they change. She has no idea what will happen next week or who will go up.
Donny pipes up says they have shown the house how well they've handled the block by not having any animosity and being peaceful the house may put them up the next week because it's easy.
Donny – "But it really matter who wins the HOH"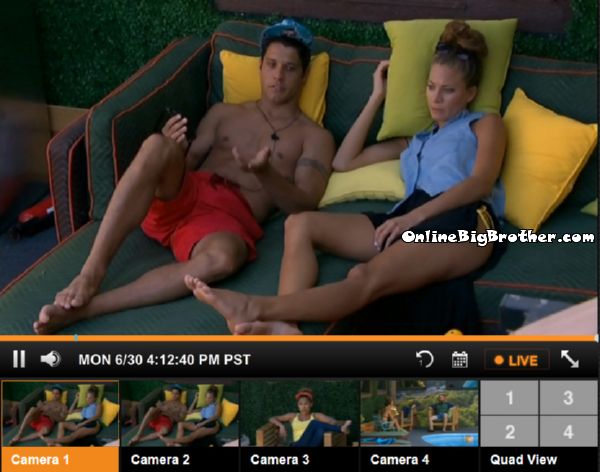 4:14pm Amber and Cody
They both want POWPOW to stay another week, they really have no reason to want her to leave right now. Both feel safe if POWPOW wins HOH even though they doubt POWPOW will win it.
Cody thinks the house will be gunning for Devin and Caleb next week. Cody tells her their alliance has 8 people as long as one of them wins it they have the votes to stay.
Cody – "I've already decided it's going to be JOEY.. POWPOW is nonexistent person in the game.. she makes bacon and rice for everyone and loses the competitions. "
Amber – "POWPOW is just having fun being here.. hayden's the same way"
AMber is nervous that once the bomb squad gets down 8 the guys will pick off her and christine. Cody tells her not to worry when they are that deep into the game it'll be everyone for themselves he's not worried about it he's just going to focus on next week.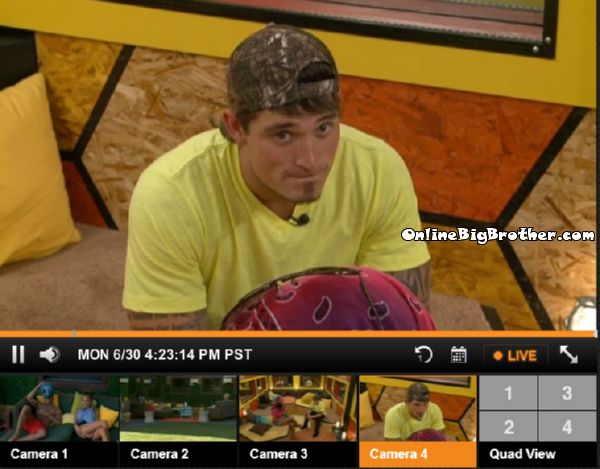 4:20pm Jocasta and Caleb
Talking about the BB prom. Jocasta says it was Donny and Victoria's idea. Donny had never been to a prom before and victoria is all about it. Caleb wants to take Amber, nobody has asked her yet because of him. jocasta says Cody is taking Christine and Hayden is taking Nicole.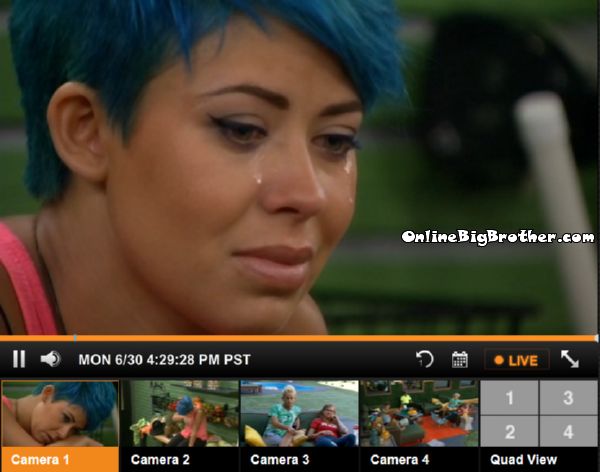 Alliances 
No Name – Zach, Cody, Derrick
Fragment A of bomb squad no name  = Christine, Frankie, Cody, Derrick Zach
Double Ds = Devin, Donny
Bomb Squad = Frankie, Caleb, Devin, Cody, Derrick, Zach, Amber, Christine
Bed buddies = Nicole, Christine
Final 2 Deal Zankie= Frankie, Zach
Old
TheCrazy8s = Frankie, Donny, Joey, Paola, Devin, Amber, Nicole, Cody
El Cuatro = Paola, Amber, Joey, Nicole
Where the vote is 
As of now Joey is going home.. (Still early)
[polldaddy poll=8154372]