POV Holder:
Chrisitne
Next POV
Aug 4th
POV Used
Yes
POV Ceremony
Sept 1st
HOH Winner
Caleb
Next HOH
Sept 4th
Nominations:
Nicole and Victoria
Have Nots
Derrick and Nicole
POV Players
Victoria, Nicole, Caleb, Cody, Christine and Derrick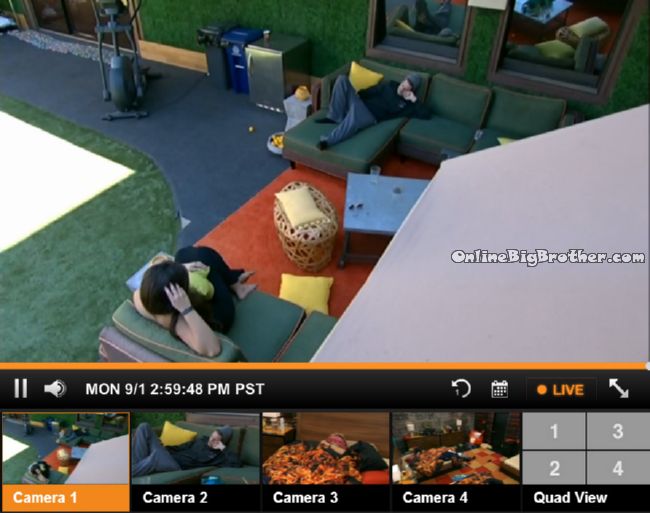 2:49pm Christine, Victoria and Derrick
Silence..
Derrick breaks it by saying to Christine he doesn't think they will get the wall this season.
Christine thinks he might be right
Production calls her to the Diary Room.
Frankie joins them playing his Russian Character saying he's got acne all over his chest.. .. MIUTE .. Frankie leaves I unMute
Victoria and Derrick Silence..
Victoria – I didn't sleep at all last night
Derrick – I can tell .. honestly you're going to be sick
She goes through her day.. talked to DR for a hour showered..
Victoria says she doesn't know what to say on Thursday. She starts to cry and leaves
Derrick – Victoria is crying again.. F***
Derrick – That's my ally pfft F*cked.. I'm absolutely f***d
Derrick starts studying.
Christine joins him. Derrick says Nicole is ready to leave she was actually complementing Frankie. She said he played the best game.
Christine says she hates the sound of that. She would rather lose to any of the three boys not Frankie.
Derrick says the Jury house is all tight they will vote as a block. His fear is If Nicole thinks Frankie played the best game she could lock up the vote for him.
Christine knows Frankie has been the strongest competitor of the season.
Derrick points out that Frankie is a beast he's won 4 HOH's, "He's probably the more articulate people in the house.. imagine that person final 2 speech oh my god"
Christine – he's very smart
Christine thinks she's safe from Frankei for a little while she just can't stand him so that is why she wants him out sooner.
Christine says there was a moment that she felt like Calling Nicole out but she didn't
Derrick – That wouldn't have been good for your game.
(Derrick is trying to make sure if Christine wins the HOH she puts up Frankie)
Cody, Victoria and Frankie joins them Frankie says he wants to have a pool tournament tonight.
Chit chat..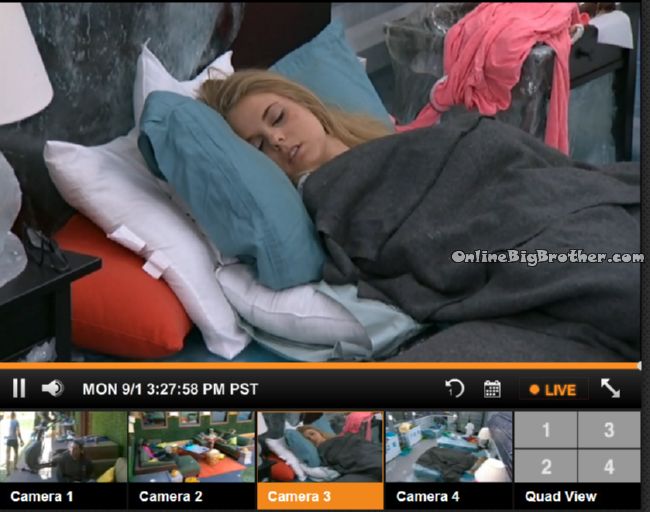 3:30pm
Nicole sleeping while the rest of the houseguests chit chatting about the seasons.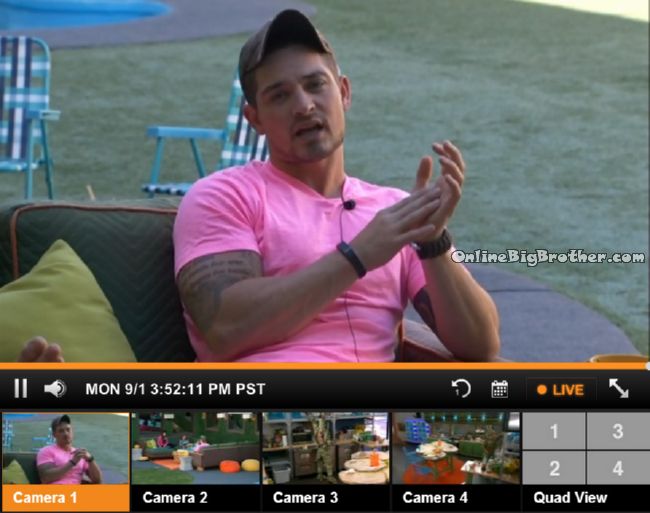 3:51pm Backyard Caleb, Victoria, Christine and Frankie
Backyard s$x talk, chit chat..
Caleb – that's how you get a good girl you wait.. she'll come to you it'll happen when it happens. I think i'll have the opportunity to date a few girls.
Frankei – you think
Caleb – On my facebook if you're not a christian don't even try it
Christine good for you I was the same way.
Caleb starts talking about a past girlfriend who wasn't super into religion feeds cut to Cody making a sandwich then to Nicole sleeping.. Feeds back to backyard at 4:10pm
Chit chat about being sore. Frankie points out how the pestilence has changed in the house, at first it was ants now it's flies.
Christine starts talking about flying ants, "I hate them they are a nightmare I hate them.. I hate them"
Derrick says he thinks Production has something planned for them because it's labour day.
4:16pm Hot Tub Frankie, Christine and Cody
Frankie doesn't know what is going to happen after Big Brother "Am i going to have a job.. am I going to LA or to New York"
Christine gets called into the Diary room, Caleb joins them says hit fitness tracker reads 5.
Caleb says they are doing goodbye messages today, Caleb said now Nicole gets to hang out with the rest of her alliance "Give Hayden a kiss for me"
Feeds cut.
When we're back Christine asks Derrick how he can wear that Sweater and sweat pants all day.
Derrick grumbles something back
Christine – Impressive
Cody and Christine alone at the hot tub.. laughing at Nicole's speech today at the VEto ceremony.. Cody – It was so good I didn't know what was going to happen
Christine – I didn't know what to do
Caleb rolls in with a burrito in one hand and a monster energy drink in the other.
Christine can't wait to tell Nicole she's been working with the guys since day one. Caleb – and there will be no more buybacks.
Caleb starts talking about in 20 days they'll have red carpet interviews in the backyard.
Caleb says the bomb squad will be remembered the biggest squad to make it from day 2. Christine wonders if someone will try again next year.
Caleb says they would have to start week 1 because him and Frankie started the bomb squad day 2.
Caleb wonders if Victoria suspects she's on her own
Christine doesn't know
Cody doesn't care what Victoria knows.
4:42pm Christine and Cody
Cody says this part of teh game sucks.
Christine – there's nothing you can do
Cody – except take a poo
Christine – Victoria if you are out there congratulations you floated way further than you should have
Cody called into the Diary room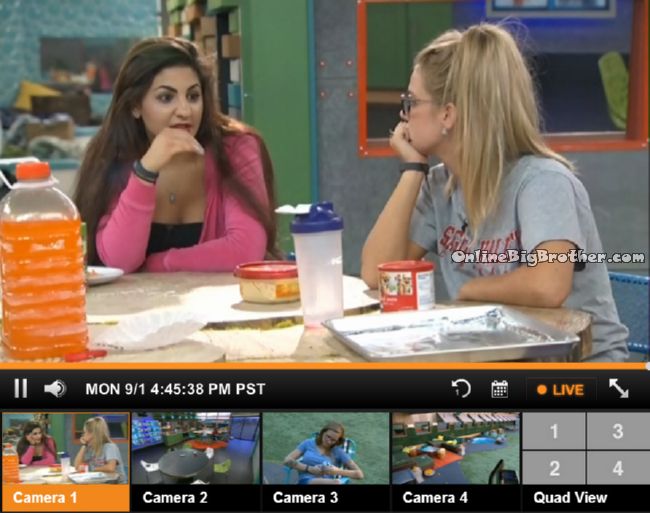 4:47pm Nicole and Victoria
Victoria thinks they are having a party tonight for the holiday. She say they are rushing through the Diary room sessions fast it's the only thing that makes sense given the Holiday. Nicole says she's a jury member and everyone has been mean to her for these past 2 weeks.
Frankie walks through says something after he leaves Nicole says "Good luck with him"
Nicole hopes it's a double eviction so someone goes home with with her.
Nicole says she knows sh'e going home sop does every body else
Victoria – Cody said you are ready
Nicole says Caleb made a idiotic move his brother told him to man up and he didn't
Victoria – he'll only realize it until he watched it
Nicole he probable won't care
Victoria says Cody and Derrick are really close
Victoria – If I win HOH i'm breaking that sh1t apart A-SAP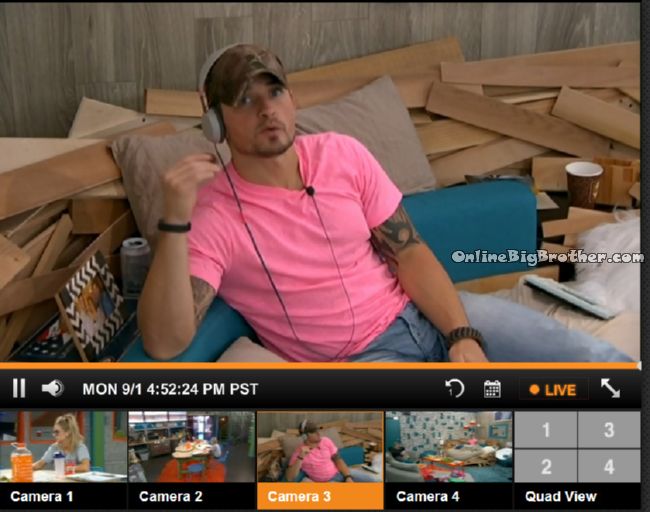 4:53HOH Caleb and Derrick
Caleb talking to the camera's and Derrick saying this week is a breeze all they have to do is win during the double evict it shouldn't be that hard they've been doing it all season. Caleb thinks today went well with the Ceremony. Derrick says they will have to see what happens on Thursday if Frankie wins HOH and puts them up then they made a mistake if he puts up Christine and Victoria it was the right move.
Derrick thinks Frankie will stick with the plan for double evict.
Derrick – We gotta get Christine and Frankie out of the house those two are bad together they will take each other to the end"
Caleb – If Christine thinks she can beat Frankie in the end she' nuts
Derick – she's got 5 wins .. everyone puts a spin to their own game to make them feel better.. it doesn't hurt our game her going… nobody is going to convince me that Christine needs to stay.. she's a beast in comps she's not here for us she's taking Cody over us all day long ..
Derrick says if Christine wins POV they have to have a fast talk
Caleb – Victoria goes home
Derrick – ya we'll have to have a talk.. gotta win it first.. if Christine wins it that's worst case scenario..
Caleb says it doesn't matter who Christine puts up as long as Victoria goes up
Derrick – All she does it talk sh1t about Frankie all day long and she won't put him up… the way she talks sh1t I think she would put up Frankie with Victoria.
Derrick wants their final 4 to be Victoria, Caleb, Cody and himself she has no chances to win that HOH. Derrick says they will get Cody to send home Christine so the second to last HOH is played by Caleb and Derrick.
The final three is Caleb, Cody and Derrick final two sounds like Derrick and Caleb. (Derrick's got lots of final 2's)
They start talking in circles thinking they can get Frankie to put up Victoria and Christine and Christine to put up Frankie and Victoria.
Derrick – if Christine does put one of us it's be or you not Cody
Make your Amazon purchases through the links below it Supports this site
[polldaddy poll=8274218]