POV Holder:
Chrisitne
Next POV
Aug 4th
POV Used
Yes
POV Ceremony
Sept 1st
HOH Winner
Caleb
Next HOH
Sept 4th
Nominations:
Nicole and Victoria
Have Nots
Derrick and Nicole
POV Players
Victoria, Nicole, Caleb, Cody, Christine and Derrick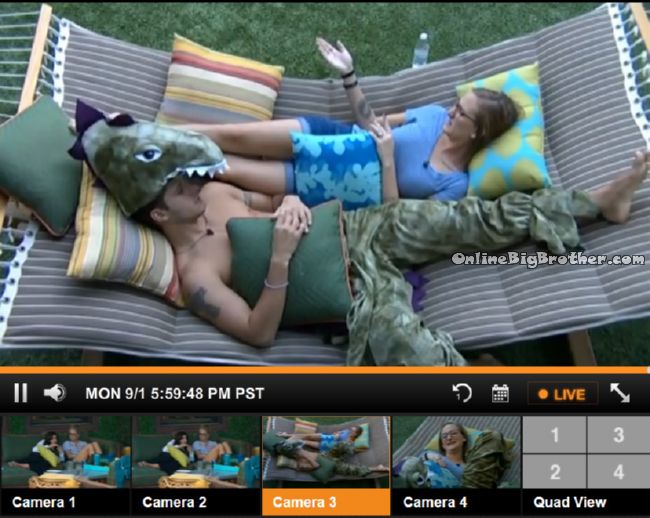 5:26pm Hammock Christine and Cody (Very little petting)
They think Nicole is going to be behaved this week she gets to go to jury and make out with Hayden. Christine says in her goodbye speech she tells Nicole she's been working with the guys since day one..
They agree Frankie thinks he's smarter than all of them. Caleb comes in still has a Monster energy drink in his hand, "I feel so fat.. I think i'm going on slop for the rest of the year get shredded"
Christine does like hanging out with Nicole.
Caleb yells out that they have one beer left. Christine says midori sours is her favorite drink.
Cody think if she drinks a drink like that she would be dead she had two sips of wine and her head was spinning.
Cody – I'm going to hate we won't be able to hang out outside of this"
Christine – ya that sucks
Cody – we're never going to see each other
Christine – I don't like the sound of that
Cody – that's bullsh1t
Christine – it's so sad
Cody – I'm going to get to meet Tim but we're not going to HANG out.. WE'll never HANG OUT after this
Christine – we only have 20 more days to HANG OUT
Cody – I think if we all HUNG OUT it would be a blast if I HUNG OUT with you and Tim we would have so much fun
Christine So much fun
Cody – WE're not going to get to do that.
Christine – why do i have to live in such a hideous town
Cody says he'll come visit them.
Cody talks about past girlfriends..
6:09pm
Hot Tub conversation is about past Big Brother seasons, Kitchen conversation is about the food
Derrick brings Jessie from last season she was looking to hook up. Derrick yells if Jessie is looking to meet someone the beast mode cowboy will buy you a drink.
Caleb – if there isn't anyone better looking
Nicole – CALEB
Caleb joking around
Derrick says Amanda from BB15 Was "Pretty looking"
Nicole – Derrick
THey say BB14 JOJO was like their POWPOW
Victoria and Caleb agree Donny won't win America's favorite. Caleb doesn't think Frankie will win it Victoria does, points out that they have no idea how they are being portrayed.
Nicole thinks DOnny won America over. Caleb says DOnny did nothing in the game and he was a horrible game player.
Nicole – People like the underdog
Derrick – you don't think Cody?
Nicole and Victoria don't think so
Derrick thinks Caleb will win America's favorite.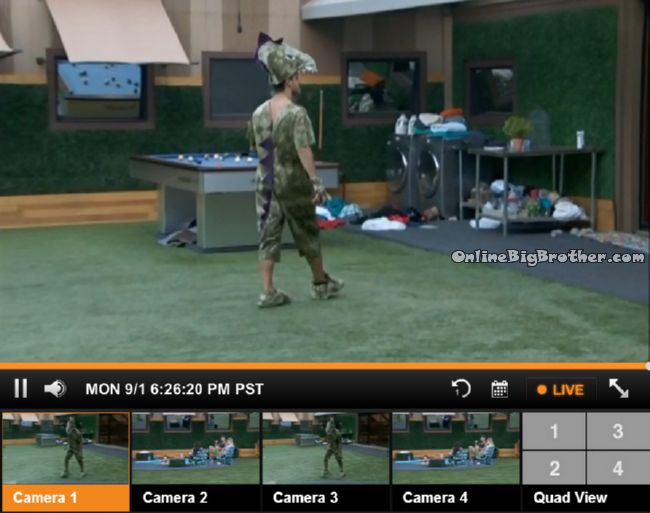 6:28pm Cody gets his DIno costume cut to help make it cooler.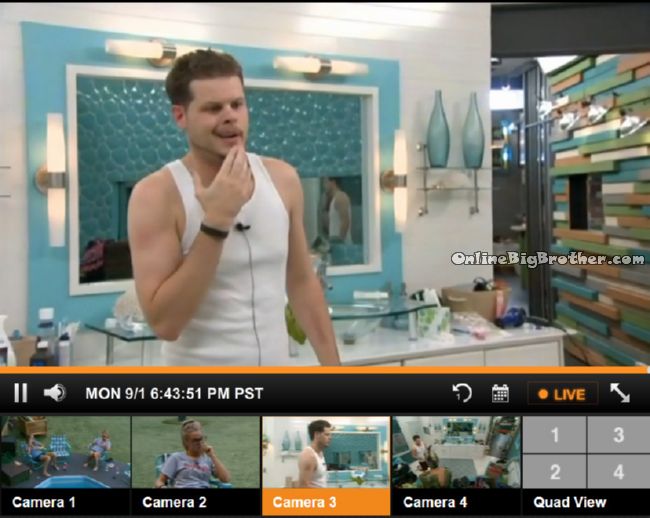 6:43pm Derrick and Cody
Did Caleb go to Christine this morning?
Derrick knows Caleb went to Frankie.
Cody – Frankie came to me this morning and said "I love you the most"
Derick – when I got up this morning Frankie and caleb were talking up there having a serious talk"
Derrick talked to Caleb about it and Caleb said he just told Frankie it was discussed putting him up but do were all the other scenarios.
Derrick is a bit worried because Frankie said to him "Don' play dumb I know you were up there with Cody"
Cody – Oh my God Caleb is a F*** idiot… he's such a f** up he went to Frankie and told him everything I said"
Derrick – I don't' think so
Cody – I do
Cody – Caleb is a F***ing idiot he plays this game like an a$$ clown there's no way I'm keeping him over Christine now
Derrick got the impression that Frankie thinks Caleb was running through all the scenarios and one of them was Frankie going up. Derrick and COdy were in the room. Derrick thinks it's okay.
Derrick – Christine will send me home before Frankie
Cody says Frankie and Christine will be go after him first.
Derrick – theres a bitter jury for those two they know the only way they can win is against each other, I'll be damned if I let Frankie get to the end.. To be honest with you I don't really like Christine.. be careful what you say to Christine.
Cody – I don't say shit to Christine
Derrick – she can use it against you
COdy – she can't use it against me
The Live Feeds are archived. You can go back and watch everything that happens
Try It Free! Subscribe now to the official BB16 Live Feeds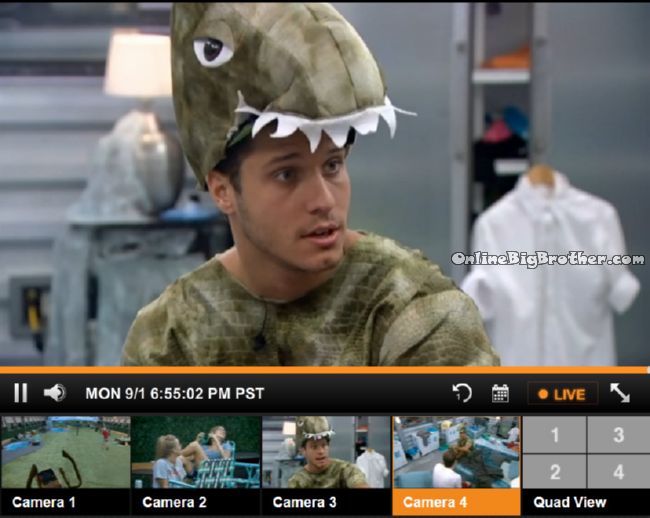 6:54pm Have Nots room Derrick and Cody
Derrick doesn't think Caleb threw him under the bus,
Cody – Caleb isn't smart enough to makeup anything.
When Derrick went to hug Frankie he told Frankie we got you back Frankie told him "Oh Caleb is very paranoid he's been paranoid for weeks" Derrick told Frankie someone is telling him things. Frankie implied that it was Nicole.
Derrick – we probably should have sent Frankie home..
Derrick says he knew Caleb wasn't going to do it when he said Millions of people will hate me if I send Frankie home.
Cody says Frankie is going to take a shot at him and Caleb if he wins HOH he's putting Frankie up with Victoria.
Derrick – CHristine is starting to slip up a lot she's setting up herself at the end to win the money
Derrick – If I win double evict i'm putting Christine and if Christine takes herself down i'm putting up frankie
Cody – I'm putting up Frankie if he comes down if putting up Christine
Derrick – as long as one of them go it's a positive because they can't take each other now.
Derrick warns if he goes final 3 with them they won't take him they'll take each other
They agree Christine/Frankie on the block with Victoria they will go next week they just need to get one of them nominated.
Derrick says Caleb was scared to put Frankie up
Cody – he's so blind by loyalty.
They are frustrated that Caleb wouldn't put Frankei up. Cody says Caleb saying frankie hadn't done anything to go up is ridiculous he forgets all the sh1t 2 weeks ago.
Cody – we made a huge mistake passing up on Frankie
Derrick agrees
Cody – The fact that Caleb f****ing did that was the stupidest thing (Told Frankie)
Derrick says Caleb gave Frankie just surface answers
Cody – Now Frankie is going to win you two guys are questioning me now you are going up.
Derrick says if Cody goes up with Caleb Caleb will go home, Victoria will vote to keep Cody and So will Derrick.
Cody is worried if Caleb wins the POV Derrick goes up
Derrick – well one of us goes home.
Cody – I don't care to have a conversation with Caleb.. i'm just going to win it"
Cody says he's going to send Frankie home in his Dino costume
Derrick says he was up in the HOH for 3 f***g hours trying to convince Caleb to put Frankie up. CAleb was thinking about his country music career that is why he put Victoria up and not Frankie.
Cody – fucking clown..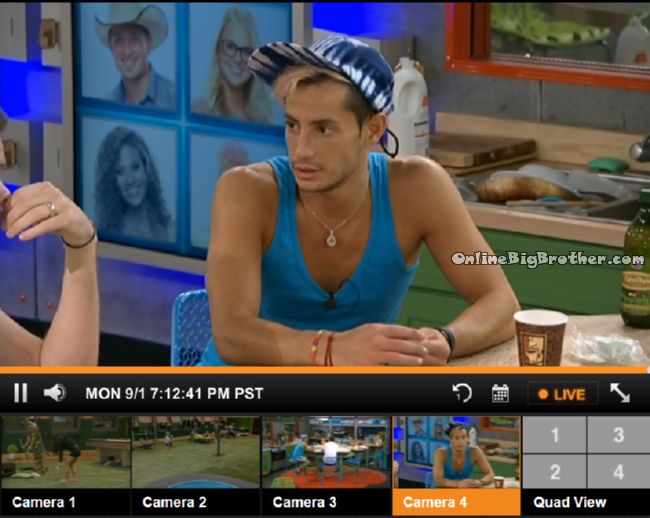 7:11pm Kitchen Derrick and Frankie
Frankie asks Derrick if he told Cody that Frankie knows about last night
Derrick – no
Frankie thinks he should talk to COdy have a two minute with him.
Frankie wants to ask Cody – "If you have a issue with me come talk to me"
Derrick -honestly it wasn't that big of a deal I don't know how Caleb portrayed it
Derrick says he never thought Caleb was going to do it. Caleb was saying 'Frankie is a beast.. Eventually we have to go after each other"
Derrick talked Caleb down told him that Frankie is a beast but is a ally If Caleb send Frankie home it's 3 girls vs 3 guys and they don't know where they are going to vote they might flip the vote. Derrick adds that after that Caleb wanted to stick with the plan.
Frankie – ya exactly
Derrick – that was more him brainstorming out loud.. he wasn't up there rallying the troops by any stretch
Derrick asks if Cody won HOH is Frankei 100% certain he wouldn't put Frankie up "You're a beast you said it"
Frankie wonders if he should mend things with Cody
Derrick says there is is nothing to mend Cody isn't mad at Frankie , he knows the same as they all do eventually only one person can win.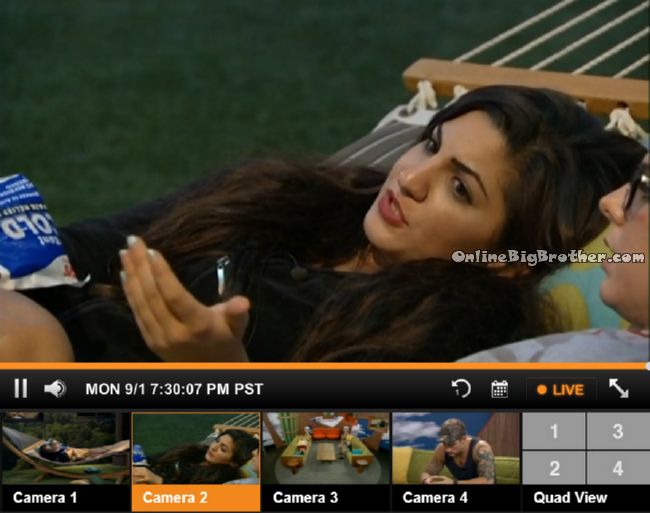 7:25pm Hammock Christine and Nicole (hard to hear)
Nicole says Derrick is the one that should win this game if there is anyway she can help him.
Victoria ya..
Victoria says Christine won't leave Cody's side after Nicole came back.
Victoria If Christine is still here and I'm still here Derrick will choose me over her.
Nicole will be so happy if Cody gets evicted on Thursday. If they don't get Cody out he's going to the final 2 with Christine.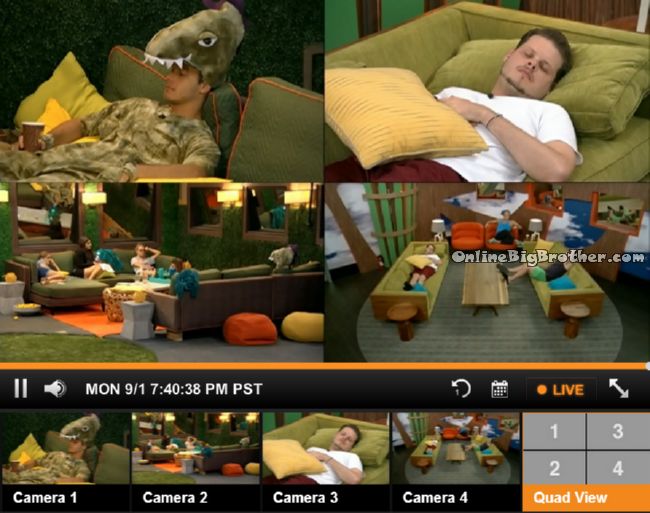 7:41pm Talking about the end of the season and regular chit chat..
Derrick and Caleb are both wanting to go to sleep.
Make your Amazon purchases through the links below it Supports this site
[polldaddy poll=8274218]