Head of Household Winner – Jess
Have note are: No Have nots this week, Jack, Tommy and Jackson were given punishments as part of the veto.
Nominations are: Jack and Jackson
Power of Veto Players are – Jessica, Jack, Jackson, Kat, Nick, Tommy (Nicole – Host)
Power of Veto holder – Jessica
Power of Veto Ceremony – Jessica didn't use the power of veto
Powers in the game *** LINK ***
Grab your live feeds —-> BB21 Live Feeds Subscription Link
Rank your houseguests —-> Big Brother 21 Ranking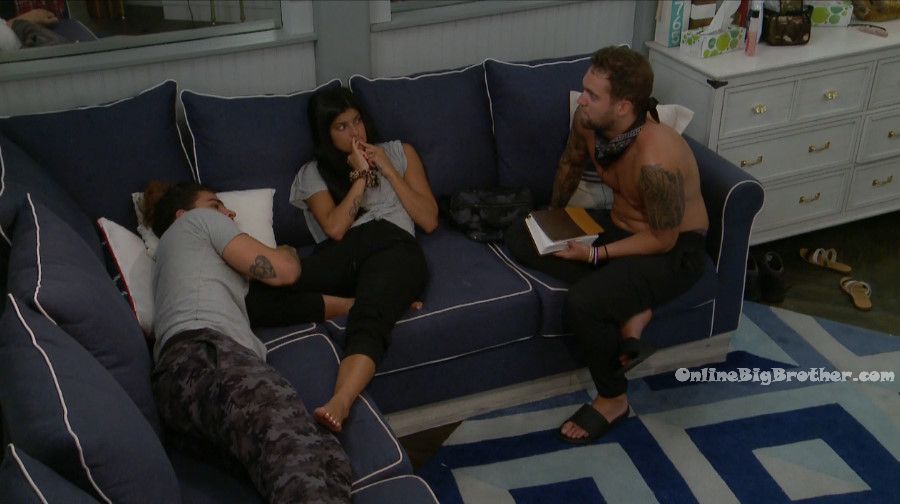 8pm Bathroom. Christie, Jack and Sis. Christie – any updates? Any conversations! Sis – I haven't talked game at all. Christie – yeah me neither. Sis – how was it with Michie out there? Christie – he's super chatty. Jack – my conversation with Jess went really well. Just the way I planned. Did you hear anything? Sis – what happened? Jack – it went just the way I wrote it up. Like literally, I didn't have to bring up certain topics ..they just came up and I negated them. Christie – it was organic. Jack – it wasn't like me pushing. Sis – what was her response? Jack – I think she is down to give me a fair shot. Christie – or like she didn't shut it down. Jack – yeah. Christie leaves and Nick joins them. Jack – I'm calculated on this. I'm going to close it. Nick – then if you do then we have the numbers going forward. I don't trust Jess. The only person I would ask not to put up is Nicole. Jack – when we get there. When we get there I will make an agreement with you that I will not put you up. Bro we're coo. And I'll make you a deal on top of it because I like her too. Nick -she was there when I was nothing. Jack- we have to be cool. I get you bro. Like I get you. Nick – why do you think I've been all over her? I am like s**king her t!tt!es and sh*t. Nick leaves. Jack to Sis – Nick literally talks to me as if I'm gone already. Sis – he does that to me too.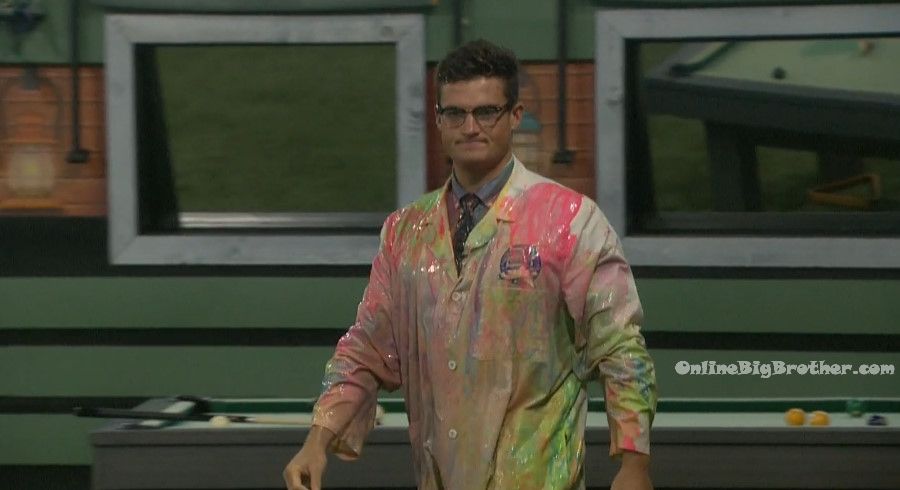 8:30pm – 8:43pm Big Brother blocks the feeds. The aliens sprayed Jackson again. Holly – its not fair I can't go near you.
9pm Bedroom. Nick, Nicole and Cliff.
Nick – I feel bad for Jack. Like he shouldn't have to go but he is so f**king good and that's why he has to go. If he didn't show how good he is mentally, he would have a chance but BRO he is f**king amazing at EVERYTHING! Cliff – I know. Nick – he remembers EVERYTHING! Cliff – I just keep remembering season 19 when they gave Paul a path.. Nick – I know. Cliff – I picture all the fans out there saying w:hat are you doing letting Jack march to the very end! Nick – yeah, well I tried to get him out and no one wanted to. And they were going to be really hard to get out and they just blew up themselves. Cliff – I know. Nick – and its all because Jackson saw something. Jackson is clearly going to be a target now. he did that to himself. They're not good right now. Cliff – perfect. Nick – what worked was to stay low and not make ourselves targets. Cliff – We'll just watch them be mad at him (Jackson) and him be mad at them. We'll just watch the fireworks. Its poetic justice.
9:30pm Backyard. Jackson and Holly.
Holly – the two of you (Jack and him) will at some point sit down and a real conversation but here I don't know if that's going to happen .. you know. Jack – it is getting cold .. like very cold! Holly – what can I do? Jackson – nothing.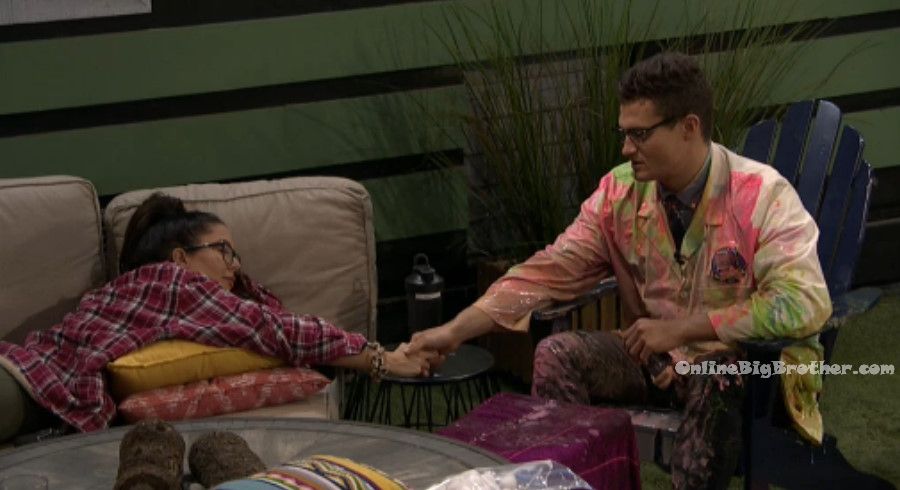 9:32pm HOH room. Nick, Jess, Tommy, Nicole.
Nick – I had the most disturbing $ex dream like two, three weeks ago. I was about to have interc*ur$e in my dream with like a female and when I turned away and turned back it was the females body and Jack's face. Tommy – OOHHHHHH!!!!?? Jess – OHHHHH WHAT IS THAT ABOUT!?!! Nick – it was disturbing! I was shook for like a day! I was shook for awhile. Like I was really, really freaked out. I did not like it at all. Then I was confused and didn't know what to do. Tommy – just Jack's hairy face. Jess – so when that happened what did you do? Nick – I did a couple strokes I think .. that's why I was so disturbed. Tommy – what if it was my head? Nick – I know .. then I would have went to town on it. Cliff joins them. Nick – do you have weird $ex dreams Cliff? Cliff – not so much in here, I think my testosterone is turned off since I came in here.





9:45pm Bedroom. Jack and Tommy.
Tommy – last night I went to bed and I was like this is going to happen and then today I was like wait is it!? Jack – Cliff is distancing himself and switching rooms. Tommy – I don't know if it comes down to just Cliff. I wonder if there is a way that you can convince the house that you're better for everyone's game. I don't know how but I think that's what its got to come down to. A house thing versus a one person thing. Jack – I keep trying to talk to everyone but Kat didn't even want to talk to me today. Tommy – if you can get the rest of the house to flip. Jack – I don't think I can get to Nicole. Tommy – but why is she with Michie? Jack – its not that she's with Michie, she's with Jess and Kat. Tommy – how did your talk with Jess go? Jack – good, she said that she would give me a fair shake. Tommy – I don't believe in playing dirty but does Nicole know that Jackson was literally trying to get her out about a week ago and we stopped it? Jack – yeah but once again that's words. Tommy – I know but that's the truth. I think its got to be concrete reasons why you're better for their game.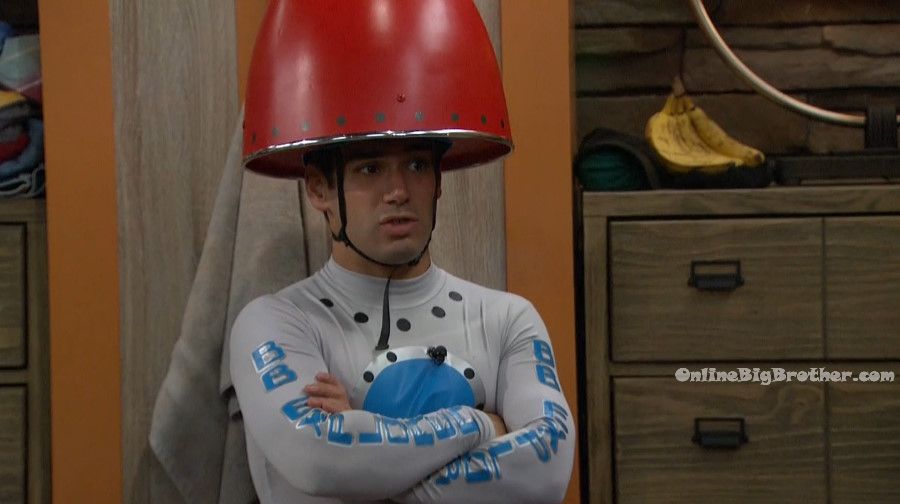 9:45pm HOH room. Jess and Cliff.
Jess talks about how Jack told her and others that they wouldn't be his target. – If you tell absolutely everyone and me that I'm not your target .. then who the hell is left? Cliff – the thing that works for my advantage .. because I made that agreement last time for a few weeks of safety they assume I am willing to do it again. Jess – but who's giving you safety!? You put up Bella. Next week it was Holly .. and it was her decision to keep you safe and then it was me. Cliff – I know. I have made my decision. I will give it (his ring) to anyone who wants it for that vote and if I don't vote the way that I'm saying .. hold onto it forever because there is no way. I can't do that. Two weeks ago it made sense because I had to protect myself a little bit longer but at this point I know where that path leads. Its been promised to everyone. Jacks made it clear to his group that I am the target when they get a chance. If we don't do it now, we don't do it. This is our chance. He can talk to me till he is blue in the face. Jess – I give you permission to tell him the conversation with me and I am not budging.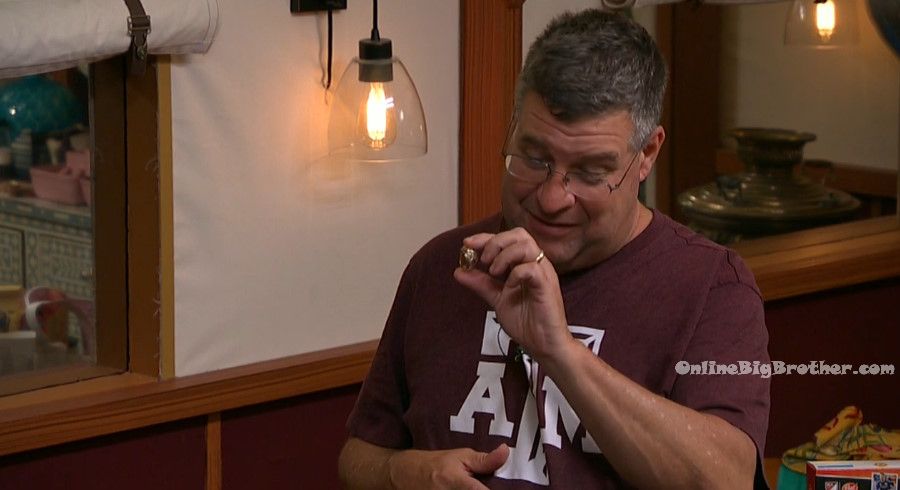 10:16pm Backyard. Jackson and Cliff.
Jackson – I've been going back and forth in my head whether to keep my speech ..lets see… lets just say I have a pretty heavy secret of Jacks. And I am really on the fence of whether or not I should.. Cliff – you have your game to protect.. Jackson – I don't know whether or not I should air it out but if he is leaving I don't know what good it would do because it affects someone that is still in here. I'm on the fence about it. This speech could go one of two ways .. bite my tongue or I could air out some dirty laundry. It would rattle the cages of him but also someone that would be staying in the house and is not on the block right now. Cliff – does it help to use it now or use it a little bit later as a bomb? You obviously have a couple days to decide. I will tell you just play it cool because things are going your way. Jackson – I don't get paranoid and I am realistic there is nothing I can do. Cliff – its in other peoples hands but its in the right hands to make it work. Just remember it afterwards because we may need the help. Jackson – I will remember y'all. You're not a target. But my fear is that if I air it out some people might not believe it because it looks like its desperate or if the person remaining in this house wins HOH .. then I am 1000% going on the block. Cliff – then sit tight. Don't do anything to rock the boat. I am pretty positive you have the votes right now.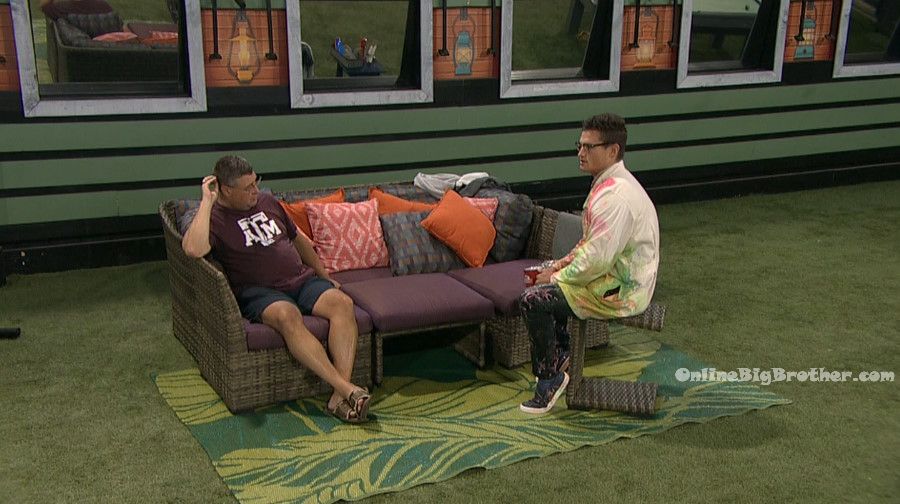 10:45pm Jackson got a new lab coat and suit to wear.
10:56pm – 11:15pm Kitchen. Cliff – Live feeders, meet my friend professor Michie! Jackson – the glasses add 30 points to my IQ. Jackson then turns around claps his hands and says Holly, to my office! Cliff – a very special exam lined up for the particular alien.. Jackson – autopsy. Cliff – the PG live feeders are stay down here.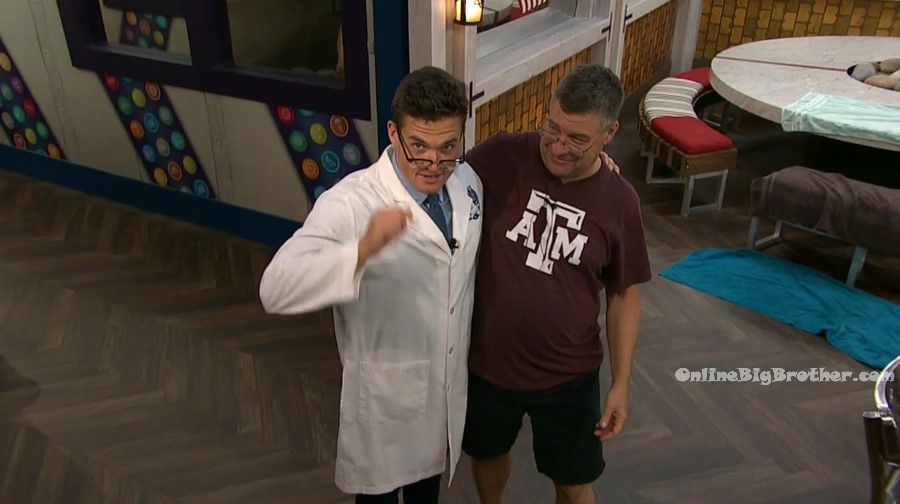 Traveling at the speed of …sex … Tommy interrupts Holly & Jackson #BB21 @bigbspoilers pic.twitter.com/cR5AlVPMZk

— Dawg (@DawgsBigBrother) August 6, 2019
12:20pm All of the house guests are now sleeping..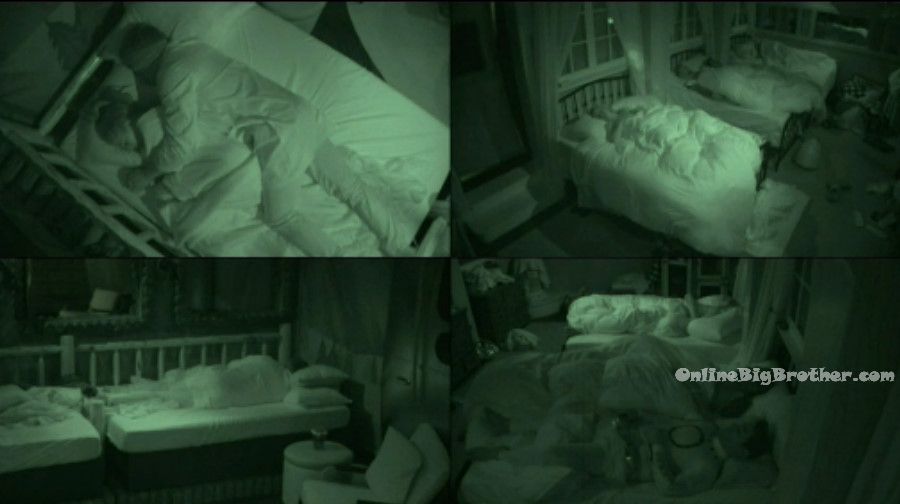 8:57 am Still sleeping. Jackson was up around 5am for the punishment.