Head of Household Winner – Jess
Have note are: No Have nots this week, Jack, Tommy and Jackson were given punishments as part of the veto.
Nominations are: Jack and Jackson
Power of Veto Players are – Jessica, Jack, Jackson, Kat, Nick, Tommy (Nicole – Host)
Power of Veto holder – Jessica
Power of Veto Ceremony – Jessica didn't use the power of veto
Powers in the game *** LINK ***
Grab your live feeds —-> BB21 Live Feeds Subscription Link
Rank your houseguests —-> Big Brother 21 Ranking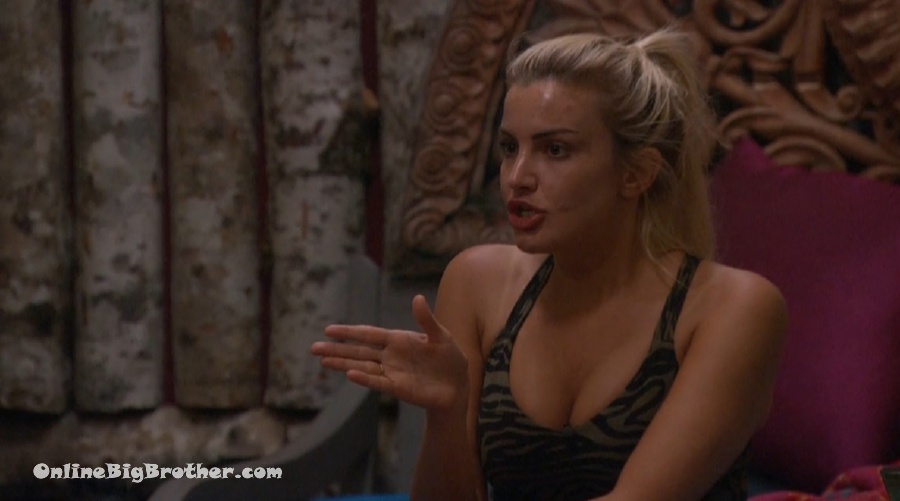 4:46 pm kat and Holly
Holly says that Sis and Tommy are trying to get into her good graces because they have figured out they don't have the numbers
Holly wants advice on how to handle the other side asking for a vote
Kat – he's you're showmance.. DUH
Kat – it's me, Cliff, Jess, and we all really want you in there as well and we really like Michie but..
Holly says Sis is the only one out of the old six that she wants to work with
Kat – sometimes I like SIS but sometimes I see her being a manipulative b1tch .. like okay so I don't really trust her
Kat – Tommy is lying through, like Tommy. I'm done with Tommy, he's done with me I feel bad because I just told him I want to work you but I'm lying whatever
Holly – I love Tommy but I don't trust him
kat – right now Tommy is the next most dangerous.. he's lying and he's a bad liar
Holly agrees "He's also very charismatic and lovable"
Kat – I am so done. I can't even laugh with him anymore I'm trying so hard .. OHH you're so cute I love you .. I don't love you anymore I think you are as snake
Holly brings up talking to Tommy earlier today and he was in tears
Kat – GIRL was he in tears? did he stick out his bottom lip and then cries. He performs on broadway he can make himself cry
kat – when he lies he sits up real straight
Holly – they still want me to continue working with them. I don't even want to
Kat – what happens if you stay on their side and it's Christie VS cliff on the block.. Cliff isn't coming after you Christie would
Kat – I wouldn't' be in an alliance with anyone I didn't trust
Holly – we can make it.. before it was just a notion but now it's more realistic
Kat – we need to get Tommy and Christie out (Kat .. I love you and not in a 6 shooter way in a OBB summer live feed blog sorta way)
kat – they are the ones that will f* it up
Holly – I agree
Kat – Sis is going, I think she's a b1tch she's…
Holly – she'll stay longer
Kat – yeah exactly
Holly- Christie needs to go so bad
Kat – I'm not trying to be rude but y'all are the worst alliance in BB history. Like I'm not trying to be rude (No but in the top 6)
Holly – I got roped into it
Kat – it got you this far
Holly – Day f*ing one Nick was the one that pulled me aside
Holly adds that he was making the group and had included Christie
Holly – I had bad f*ing vibes from her on day F8ing one because she came in playing so hot right away she was trying to manipulate everything
Holly – she came in with such force.. OK CAMP DIRECTOR IT SHOULD BE JESS NO IT SHOULD BE MICHIE
Holly- No jess no Jackson no jess
Holly – she could not make up mind to save her life but she had to be in control. Day one and Nick was saying I like that girl Christie and I was like I don't know I don't like that girl's energy
Kat says that all of them were promised "Ohh you're number 7"
Kat – And I called everyone out on it
Holly says that's bullshit
Kat – I was like Tommy why have I been promised 7 and Nicole and Cliff. he didn't know what to say
Kat – he was like NO you were 7 and Cliff was 8
kat – I'm like NO I don't think Cliff knew that
Kat – it's not you. You are an innocent bystander of this horrible alliance.
Kat – I've been playing this game all nice but now I can't take it anymore. Did you hear I popped off on jack
Kat says the house isn't used to her speaking up so they were all made a big deal about it
Kat goes on about the 6 having their meeting upstairs "jess was like I guess we're at the bottom of the totem pole again"
Kat – shes like I guess when you are at the top you're still at the bottom
kat brings up Tommy saying "I love you all "
kat – I'm like do you though
Kat – I'm not sure if this is good gameplay or not but I'm literally going to start calling people out on their sh1t now. No one can handle it
Holly – I just don't want it to bite you in the a$$
Kat – It's all true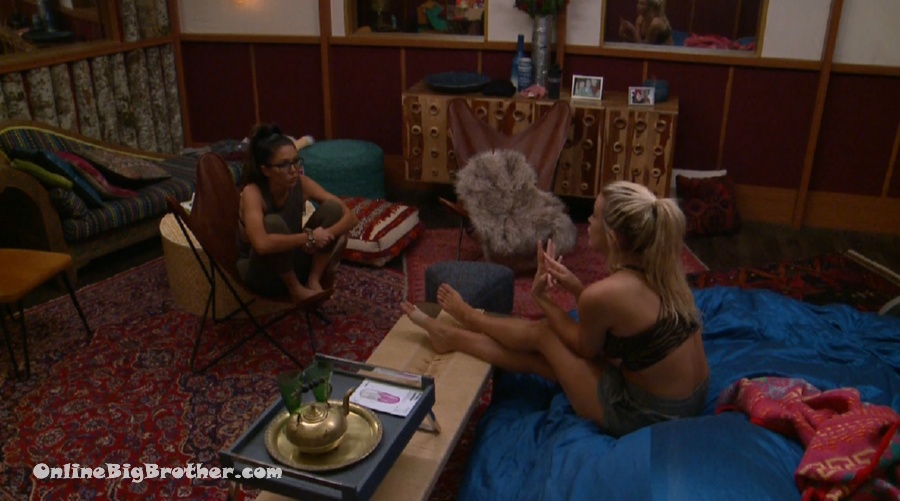 Holly- I have so much I want to say and I'm so F*ing sick of being a bystander. I'm so sick of being a little minion in Christie's army
Holly – I didn't feel safe I was adamant when I came into this game to play under the radar.
Holly says that Sis and Christie are trying to pull her in
kat says when she was in high school she wanted "SO BAD to hang out with this group of girls they were so cool and they were so mean"
Kat – now when I look back at it I'm like why?
Kat – if you go back to those people. They've already burned you they already blindsided you in your HOH they tried to high jack it.
Kat – Don't lesson you morals to their standard. You could work with Jess, and Nicole, ane Me (kat just needs to say all the hotties)
kat – people that haven't blindsided you
Holly – that's who I want to work with
Kat brings up Tommy saying the only reason he called the six into the have-nots today was because he heard she was making a deal
Holly – I have no idea what he's referring to (This was a weird one for me when Tommy mentioned it to her)
Holly – he told me I've been hearing whispers about negotiations
They agree there have been no negotiations
Holly adds that after Tommy told her that it was just his paranoia getting to him because he says Holly and Nicole
kat – how is it that you (Tommy) get to talk to with whoever it is you want but as soon as you see someone talk with someone else.. Like they could be talking about anything
kat says Tommy makes her feel like she's walking on eggshells like she needs to be careful who she talks to
kat – Day 44 I turn into a b1tch and I can't handle myself
Kat – I'm just so F8ing done with Tommy and Christie
Kat – Tommy is more dangerous because he is lying and thinking he's being so smart and thinking he's the best liar
Holly goes on about how Christie kept interrupting Jackson during the six shooter meeting. Holly adds that even Jack was annoyed by it "She was all like, Christie's world Christie's world"
Holly says this is what Christie was saying "Bull shit bullshit bullshit disingenuous bull shit bullshit bullshit
Holly brings up jack's honest apology to Jackson about betraying his trust twice.
Kat – what was the first one
Holly – I'm assuming the personal trust
Kat – OHHHHHHHH
Kat – now I have nothing to lose they all voted me out
Holly says Jackson called Christie out for calling him a "F*" and a "Piece of sh1t"
kat says Jackson is aggressive "and all those other motherf8ers are disrespectful"
Kat – I'm not the one looking bad they are the ones looking bad. Maybe I look bad we'll see when we get out
Holly says Christie sucks "She's so disrespectful to everybody"
Kat – we have to be on her goods because for some reason if she wins HOH .. we can convince her to put Nickl up
Holly – it might be me and you or me and Jackson
kat – yo would be safe 100%
Holly – I want to keep Jackson safe as long as possible because he'll have mine and yours back over his own forever
kat – I know me too
kat says she's pushing the storyline to the house that her target is Jackson and she's his target.
Kat thinks this will make Christie not pick him as a target because she knows "Kats already got him less blood on my hands "
Kat says she really pushed Jess into hating jack this week
Kat says she's leading the pack "behind the scenes'
kat says she's been pushing to get Jackson in the good graces of everyone but Tommy and Christie
Kat – there's no way Jackson is going right now
Kat – jack is trying to make a deal with Cliff
Kat – I know you wanted to work with us and blah blah blah. I promise you a 2 weeks of immunity but I can give yo much more than that (LOL a masterpiece )
Kat – we were all like what the f*
Holly – was he right in front of you
Kat – CLiff told us all.
kat – why does jack think he's god?
Kat – that is why we're getting him out it's because he thinks he runs this sh1t
Kat – I'm sure production is like we thought Kathryn was real nice now she's a huge b1tch and we don't know how to handle this
Holly – I feel like we're playing in highschoi9ole and I was part of the mean girls club
6:20 pm Tail end of Jackson's punishment
Jackson – not as cute as you
6:25 pm Holly says jackson looks cute.
Feed update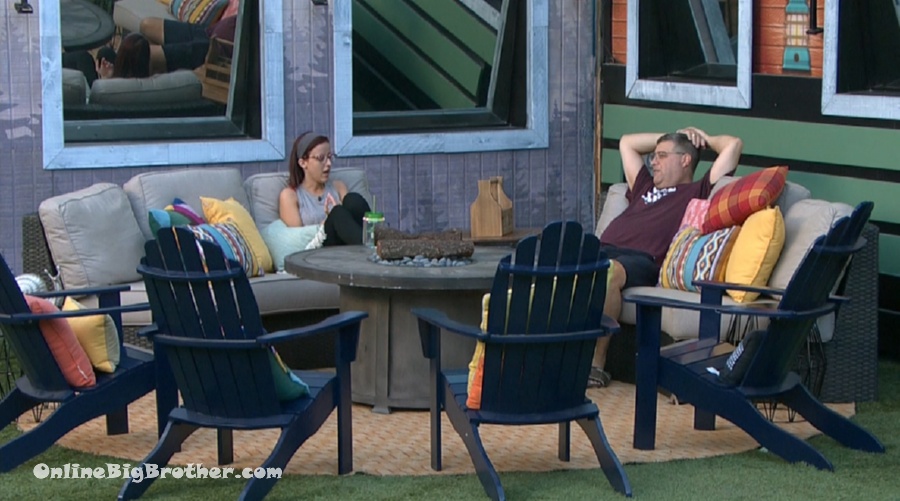 6:43 pm Cliff and Nicole
Nicole says jack hasn't offered her anything
Cliff – he never cried when we were on the block
Nicole says she was in the HOH and Jack came up talking about how he missed his ex-girlfriend.
Nicole says this guy is nice on a personal level but another part of her is thinking that he's using the fact that he misses things as a tactic because they know that's what appeals to me
Cliff -sure
Cliff – they are trying to identify what are weakness is for you it's that. For Kat, it's probably stuff that has to do with Michie
Cliff – for me it's security they got each of us pegged for what we want. Which is smart on their part
Nicole says it's smart but then you are thinking in the back of your head you are saying this
Cliff – yeah you are going to stab me in the back soo
Cliff – it's hard, I like Jack. I have no issue with him
Nicole – I have no issues with Michie neither
Cliff says outside the game they are fine inside the game those two are not "matching up to their objectives"
Nicole – I don't want to be the spearheader. I know I'm not. but with all the side conversation and the whispering, I'm feeling ohh my gosh I hope we're on the same page
Cliff – I know I know
Nicole – I'm a little worried. I'm not worried about you and Kat, I'm worried about Holly and Nick
Cliff – I know. I think we're good if we're not then we're screwed already we have to really hope if the vote comes out and they both flip one way and we're on the losing end than when we're on the losing end.
Cliff is unsure about Nick.
They agree it doesn't make sense to think Holly will vote out Michie. those two still spend a lot of time together
7:05 pm – feeds on fish and the fish this year aren't the best.
7:31 pm Holly and Jackson
Feeds have been on and off as Jackson gets punished
Jackson – they better let me keep this jacket I'm not selling it (we're not buying it)
Jackson – I'm going to get hit every hour on the hour I'm just going to sit out here and drink coffee (and eat watermelon that's your standard night Jackson)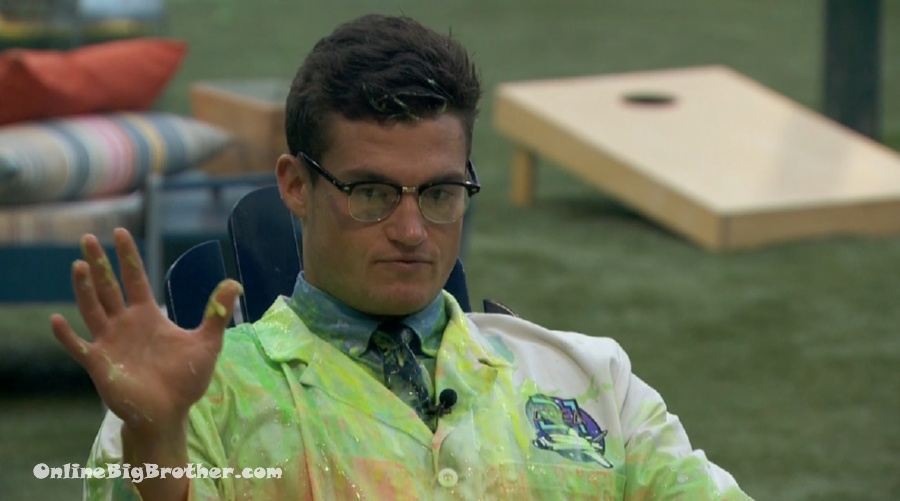 Jackson starts talking about mudslides. It seems like his scientist outfit has turned him into a geologist. he explains the dangers of Mudlisdes to Christie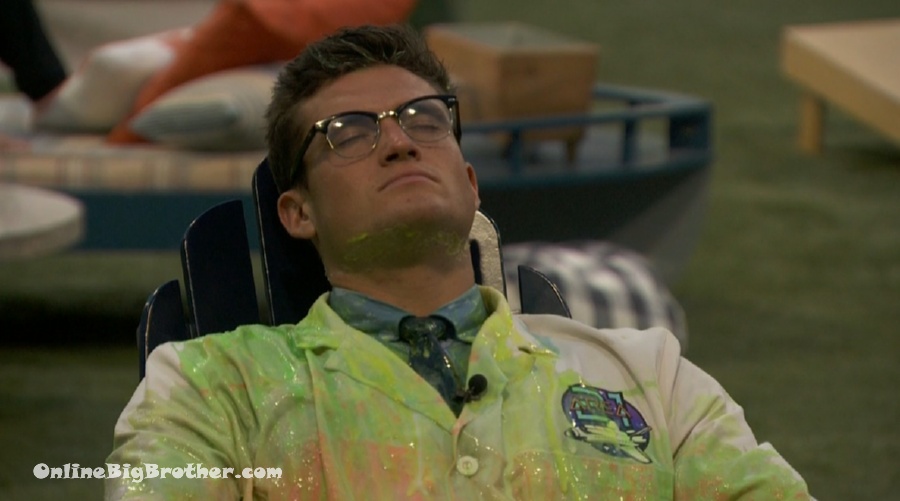 7:53 pm