POV Holder:
Next POV
Aug 1st
POV Used
?
POV Ceremony
Aug 2nd
HOH
James
Next HOH
Aug 6th
Original Nominations:
Shelli and Clay
Current Nominations:
?
Have Nots
?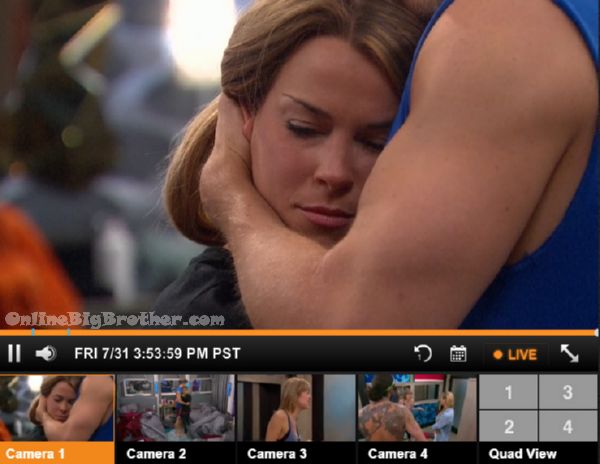 SHelli and Clay nominated
3:54pm Clay and Shelli
Shelli – he's a piece of shit (James?)
Shelli – here's what we're going to do we gotta get Austin up and come clean to Meg
Shelli – we know that James is easy to be persuaded.
Shelli is going to try to shift the target onto Austin.
Shelli says they were waiting to talk to James and production called the nominations points out how convenient that was.
Vanessa joins them.. Everyone is pissed.
Shelli says she doesn't trust Austin for a second says austin went up stairs and threw them all under the bus "You are putting Austin way higher than you should be.,.. LOOK at me.. I'm going to do whatever the hell I can, Vanessa the alliance is over"
Vanessa – In doing that you are going to hurt my game and your own game
Clay says it was her decision to put up Jason and now they are on the block.
Vanessa – MY DECISION.. This was OURS if you insinuate it was mine that is f***d up, you want to start a fight with me fine.. that's fu*ked up
Vanessa – it was all fuck**g three of us.. you are going to take your most loyal person and turn against them.
Vanessa storms off.
Shelli says she needs to make sure Vanessa is not pissed at them they need to win POV.
[envira-gallery id="125258″]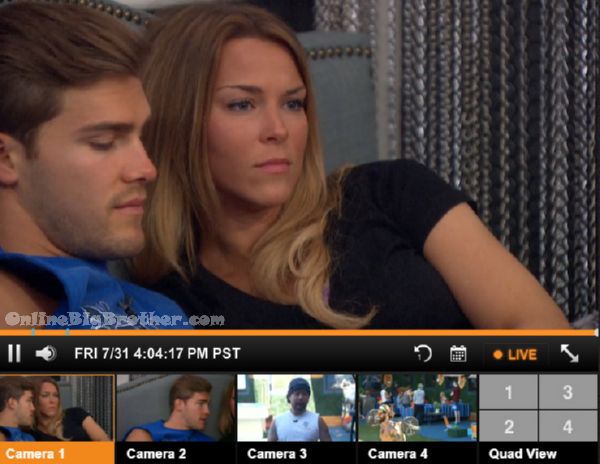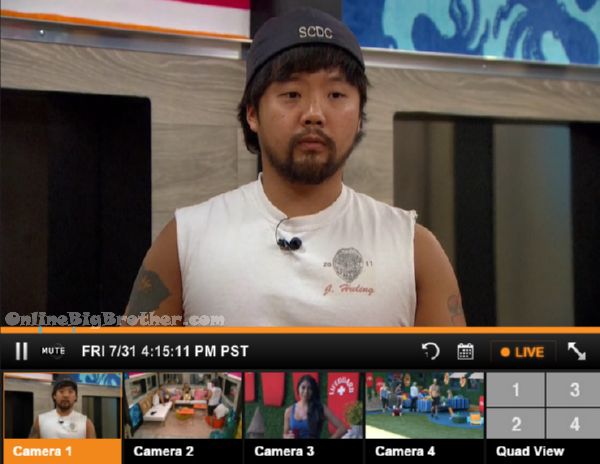 4:13pm James, Shelli and Clay
James defends his reasoning why they are nominated.
James tells them they had an alliance with Jason and they vote him out.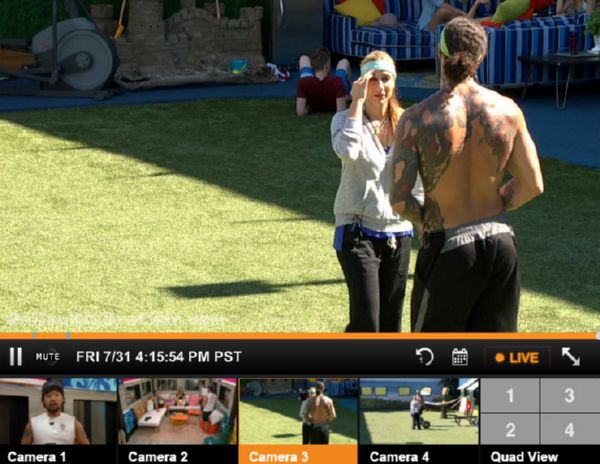 4:14pm backyard
Vanessa says it was Clay and Shelli's to lie about the blind Side
JAckie – Shit .. you blind side me and I can't ask you questions/… Like I'm sorry.. like cmon
4:16pm Austin and Vanessa
Vanessa – they are going to blow up our whole game.. that's why I got in a huge fight
Vanessa – f****g mother f****er f****g disloyal F****ers
Vanessa – I know you would never do that and I would never f****g do that
Austin – no never, even last week when I was on ice
Austin – I say deny it all as lies.. there's four of us and two of them
Austin – Deny to the grave
Vanessa – i'm down.. you down
Austin – it's all lies I say we do it, why not? why try to explain to people
Austin – Lets do it
Vanessa – ok
Austin – I'll tell the twins
Vanessa – wait until they are alone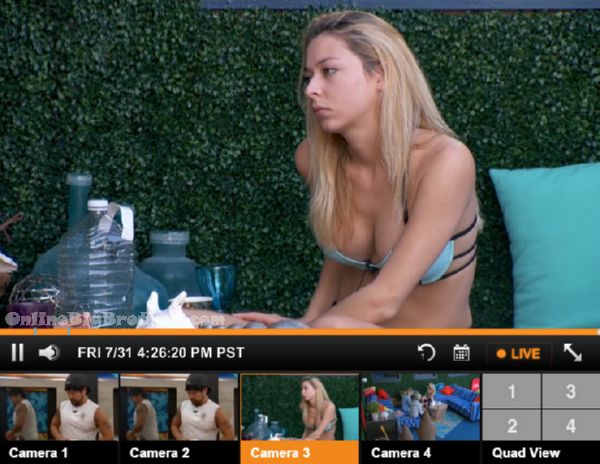 4:28pm Vanessa, Liz, Austin, Julia
Julia says Clay and Shelli are ruthless
Vanessa says Shelli and Clay talked her into wanting to put Asutin up.
Vanessa instructs them DENY DENY DENY everything.
Vanessa is super pissed at Shelli says that Shelli actually said last week she didn't' want Jason to go, 'That's what she f**** sad"
Vanessa – Deny
Austin – to the grave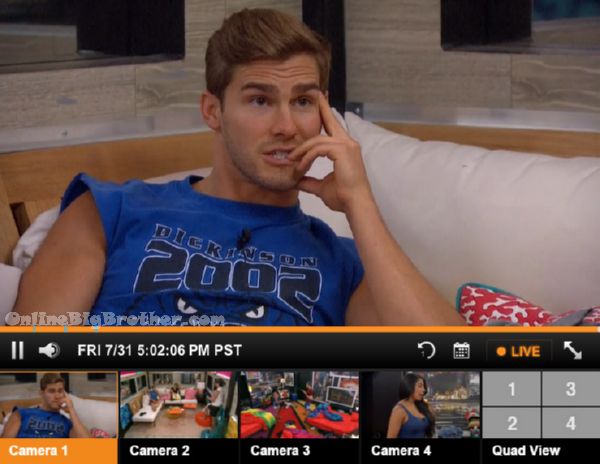 4:43pm Hammock room Shelli, Clay and james
James says he's not cut any final 4 deals
Clay says they haven't either
Clay is claiming him and Shelli haven't brought up a final 2 deal.
Sheli – denies any final 4 with Meg/Jason
James – they're was just talk about it
Shelli says they just talked about it it was never agreed upon
Clay claims with a straight face they've never been making deals no final 2's, 3's, or 4's, "there's been no information we withheld to you"
Shelli says they thought James was a person good on his word when he made the deal with them on the wall she thought he was going to do it.
Shelli – you're doing the same disloyalty to us that you are blaming on us doing
Shelli explains that what they did to him is so tiny and that is so tiny
Shelli – you are pretty much sending us home
Clay – or sending us home before jury which is just as bad
Shelli says they will not vote for James if they get to Jury and he's the one that put them in jury. .
Clay – we already said we'll target Austin and the twins we want them out
Clay says they want to work with James and build upon their foundation of trust
Shelli tells him this is bad timing splitting them up before Jury.
Clay – Austin is the head of the snake to send jayson home
James – the whole house is protecting him
Clay – what
James – somebody kept him off the block.. he was the original back door plan
Clay – ya you're right .
James – everything was flip floppy last week.. i guess someone drew a line in the sand..
James says they all got together as a group and decided to put Jason up and he was left out.. they all were left out.
Clay says they trust Vanessa but it's not their place to tell the house what she is doing it's her move to tell the house. "We're not going to tell the rest of the house her decision, it's not our place"
James – you have more loyalty with vanessa then you have with us
Shelli – you went against MAJOR WORD .. that's the facts right now
James – it's already been done you can be pissed and hold grudges it's spilt milk
Shelli – is there any chance trying to figure something out to work with you
James – if the house is willing to do it i'm willing to do it.. with that being said i feel like y'all have some work to do and that's my fair assumption
Jaems – my job has been down i'm going to back out of the scenes.. if they want to do it i'm on board with it.
James leaves Shelli says the things he said near the end wasn't so great .
[polldaddy poll=9004995]