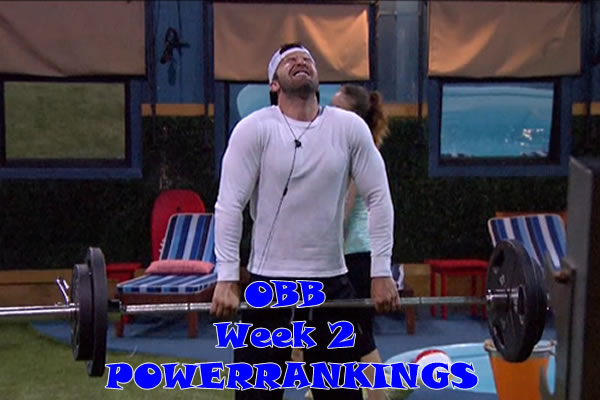 In the Big Brother house a lot can happen in a just a few hours so when doing this we tried to take the average of the last 3 or 4 days. For example within that time we saw Audrey and Liz have a bit of a roller coaster ride on the feeds. We also saw targets shift from Audrey -> Liz -> James -> Audrey ->Meg -> Shelli You get what I mean..
This is a great season I'm looking forward to some big power shifts. There's going to be a lot of flux someone who is ranking high in the entertainment category today might find themselves bottoming out tomorrow. You can review the criteria at the bottom to see how you would rank the houseguests Include your version in the comments below!
Top three this week: Vanessa, Austin, Jeff
Bottom three this week: Da'vonne, Becky, Jackie
TRY the Big Brother 17 Live Feeds FREE for 1 WEEK:
Click here to ensure your live feed subscription supports OnlineBigBrother.com at no extra cost to you.
Entertain-ment

Social

Strategy

Bonus

Total

Vanessa

3

4

5

0

12

Impressive week making solid alliances, moving up the totem poll in those alliance and staying off most people's radars.

Austin

4

4

3

0

11

Finding a balance of game/social, keeping allies close and enemies closers. Great fun to watch on the feeds

Jeff

1

4

4

+1

10

You're horrible to watch on the feeds but definitely playing a strong game with allies/deals all over the house +1

Shelli

3

3

4

-1

9

Putting Meg up as the replacement ensures your target goes home but draws a line early in the game. Spending too much time with Clay strengthens the couple's argument making you a target. -1

Clay

3

4

3

-1

9

Spending too much time with Shelli strengthens the couple's argument making you a target. -1

Meg

2

4

3

0

9

People don't see you as a threat your social game is on point

JohnnyMac

3

3

3

0

9

You're in pawn land right now, Your laugh is starting to get to me.

Liz (Julia)

3

2

2

+1

8

You looked rocking in a bikini on Monday and survived the Podcast which was supposed to out you publically +1

James

3

2

3

0

8

The opposite side of the house is targeting you. Lost a lot of trust with your lies last week during your HOH reign.

Jason

3

3

3

-1

8

Self proclaimed BB historian not connecting to people outside his inner circle -1

Audrey

3

0

4

+1

8

You can't stop causing a stir in the house everyone is targeting you +1 it keeps things fun

Steve

2

2

4

-1

7

Social awkwardness is impeding your game play caught lurking too many times -1

Da'Vonne

3

2

3

-1

7

Not having your side of the house working Sheli/Clay after the HOH win and fumbling your knowledge of the twins -1

Becky

1

4

2

0

7

You make an appearance from time to time on the feeds to tell us about tinder.

Jackie

1

4

1

0

6

you're harder to watch on the feeds than Jeff who would've thought. You were funny as the second date from hell so maybe there's hope for you yet
Our scoring criteris is as follows
There's three main categories, Entertainment value, Social Skillz and Strategy/game with each category ranging from 1-5 with a 0 value being used for exceptional cases. A bonus category is also added worth 3 points for those special scenarios that don't fit the 3 main categories.

1/3 – Entertainment
0- You're not entertaining – I turn the feeds off when you're on
1- Offensive, Rude, unlikable are some words that could describe your behaviour on the feeds
2- Maybe you're laying too low. Right now everyone on OBB is joking about not knowing your name
3- Neutral
4- You're a likable person and showing it on the feeds
5- You're making these feeds Very fun to watch

1/3 – Social game
0 – Your social game is non existent go back to blogging in a basement
1 – Most of the house dislikes you. You'll see yourself a target soon
2- You're building some relationships but not enough to keep your ass safe if you or our close few friends don't win a comp
3- Neutral
4- You're building a lot of relationships but also some enemies
5- Most if not all the house likes you. Nobody has thrown your name out there as a target yet

1/3 – Strategy
0- Strategy .. HUH? what does that mean
1- You have a short term plan that will get you by the next 20 minutes
2- Your plan is to to make it to Jury to get the stipend
3- Neutral
4-You have a Short term or Long term plan and a couple ideas plans on how to execute it
5- You have a clear plan for the short or long term and a clear plan to execute

Bonus
+/- 1-3 points can be awarded to players that has done something incredibly awesome or stupid. Maybe they turned their game around after being universally hated or squandered away a strategic asset because they couldn't keep their mouths shut..
Live Feed subscription gives you CBS All Access thousands of archived shows. Live Shows like Big Brother, all the Big Brother Seasons, and 24/7 coverage of what is happening inside the Big Brother House. Plus there's flashback that lets you go back to any second of the feeds and rewatch what happened. Simon and Dawg will index the season just watch the parts worth watching.
All this for $5.99 a month try it out 1 week free. Support our efforts and get your feeds via a link on this site. Live feed subscritpion Sign up

Share it YO!!
Tweet