POV Holder:
Clay
Next POV
July 25th
POV Used
Yes
POV Ceremony
July 27th
HOH Winner Team 1:
Jackie
HOH Winner Team 2:
Vanessa
Nominations 1 :
James & Liz
Nominations 2:
Clay & Becky
Battle of the Block Winner
James and Liz
Next HOH/ Next BOB
July 30th / July 24th
Original Nominations:
Clay and Becky
Current Nominations:
Jason & Becky
Have Nots
Shelli, Clay and Steve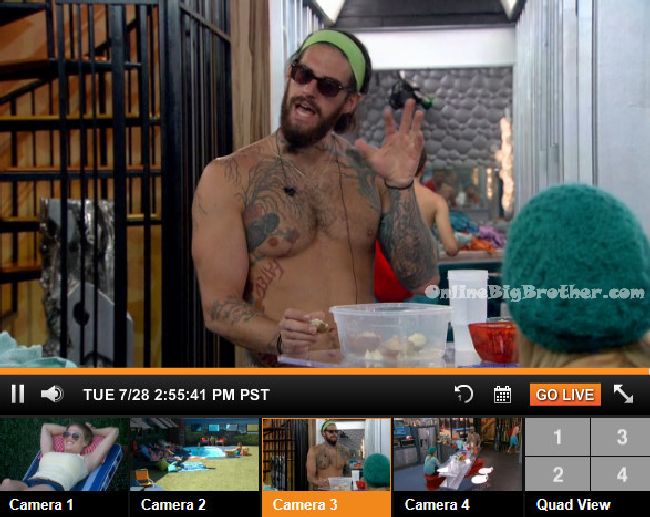 TRY the Big Brother 17 Live Feeds FREE for 1 WEEK:
Click here to ensure your live feed subscription supports OnlineBigBrother.com at no extra cost to you.
2:50pm Kitchen Austin tells Vanessa that Jason & James have been sleeping a lot lately. Austin says he's thankful and appreciative to be staying. Austin says that Liz was asking how I would take it when Julia comes in the house and she starts spending more time with her. I said I would expect you to spend more time with her. I'm like I'm not a kid, I'll be okay. I told her you guys can have my bed in the comic room and I'll sleep in the other bed, you know. I was like I want you guys to finally enjoy yourselves a little bit. You've been so worked for the last few weeks, you know. Vanessa asks if he knows anything about the jury house? Austin says in previous years its been in Mexico or California. Austin talks about Evel Dick's bullying tactics. He says it was hard to watch on the feeds because he was brutal getting right in their faces cussing them out trying to mess them up in competitions or making them want to self evict.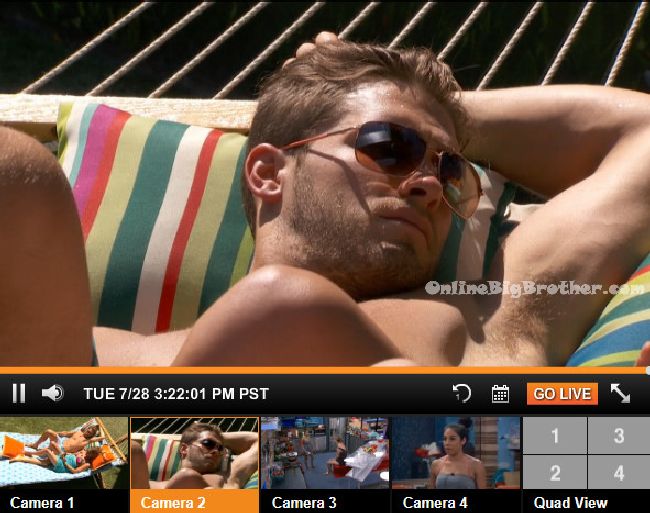 3:10pm Hammock.
Shelli says that she doesn't think Vanessa is throwing us under the bus. I think she has our back. Clay is worried that Vanessa is trying to deflect the target off of her to Jackie. Which is okay but its how she does it. Shelli says its looking like I had an influence because I just put up Jason last week. Clay says if they think you had something to do with it then they think I had something to do with it. Clay says if they put us up, they're going to put us up together. Shelli says what if one of us goes before jury. Shelli says I don't know if it was a double eviction .. if anyone in our group would save us. Clay says the fact that one of us would be gunning after them if they didnt use it would be cause enough. Clay says the worst would be if if they put one of us up against Vanessa. Clay tells Shelli to make Jackie feel okay about you and I just in case she wins. Shelli says I hate having game conversations with her because she just sits there and stares at me and waits for me to talk. Shelli says we're going to have to turn on each other once we get to the double eviction. If we have win we cannot put up Austin and Liz because then we would lose two jury votes.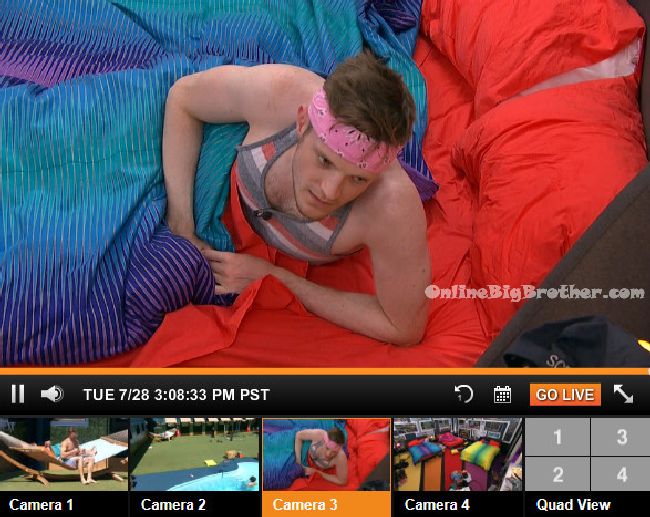 3:10pm
Becky tells Johnny – I think I'm going to wait to do my campaigning till tomorrow. Johnny says I don't think you even really have to. I didn't do any my week. Becky says I haven't really done any. I will ask Jackie. Becky says it will be interesting if James votes for me to stay or not. Johnny says if it was me I would really resist the urge to do it. Becky says she wants to use it for future strategy …like if I do win HOH I can put up the people who said they would vote for me but didn't.James said that he would vote to keep me if I saved him and I did.. so I'm just going to ask him and see what he does. If he doesn't vote for me then I can use that to put him up if I win.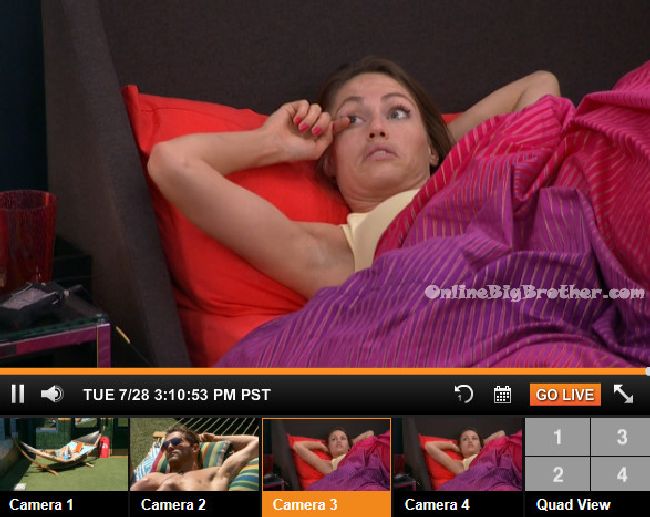 3:15pm – 3:30pm Meg tells Jackie is so hard to tell how much they (Shelli & Clay) are on our side now. Jackie says I know. Jackie says that when she was talking to Vanessa, she got the impression that Clay & Shelli were the ones worrying about everyone (in their 8 person alliance). Jackie says Clay & Shelli are the ones who got Vanessa worrying about the group going against her. Meg says that Shelli has to go before Clay. Jackie agrees. Meg tells Jackie that she will go after Clay & Shelli. She says that she would rather lose the game making big moves. Meg says this game is going to end with floaters unanimous. Its going to be so boring. Jackie says if anyone goes up next to Austin they're going home because everyone will be like he doesn't want to win. Meg and Jackie go to wake up Jason and tell him to get up. You're not wearing any cloak and sunglasses. (Audrey joke) Jason gets up and says thanks for the comment, I needed that.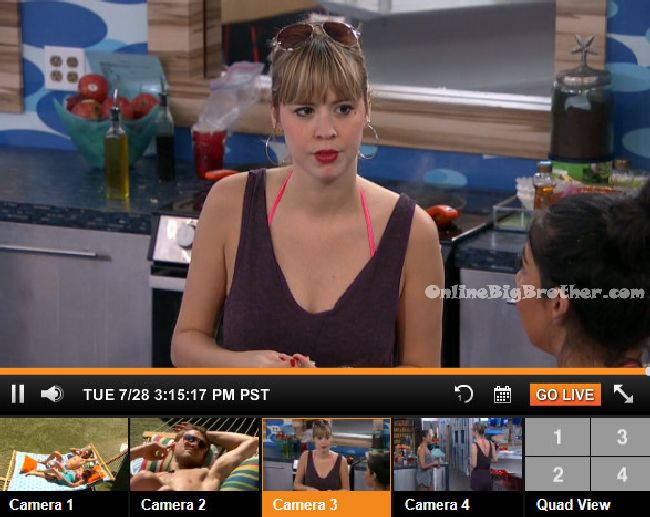 3:50pm Austin and Liz hanging out by the pool..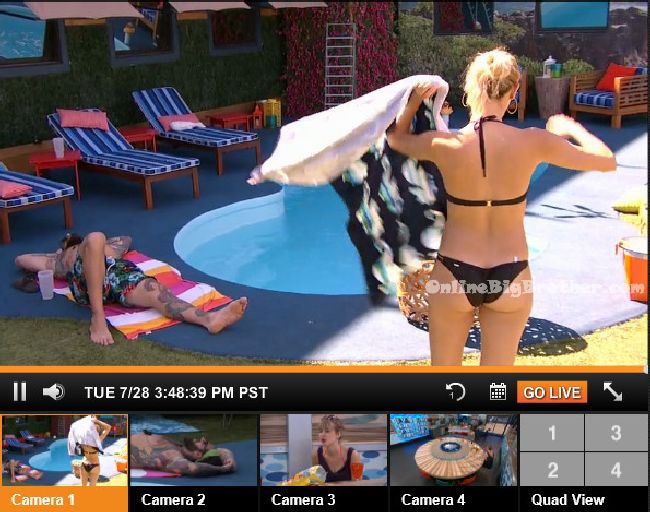 4pm – 4:30pm James and Jason are on the backyard couch. James says that he interrupted Meg and Jackie in the kitchen and they stopped talking. It was kind of awkward. I don't know what they were talking about and didn't really want to ask. James says theres probably a lot of information going around. Jason says people have stopped talking game to me. James says Jackie might know something. James says they pretty much said Jackie would be next. Jason says I told Jackie point blank you need to win. Jason says I can't stand Austin. Jason says I hope Liz really likes him (Austin) otherwise she's just a prostitute! He pulled that card with me that he didn't want people to look at her like a home-wrecker .. saying he didn't really have a girl at home. James tells Jason its going to be real lonely in jury being the first one in there. Jackie joins them. James asks any new intel? Jackie says no, I'm still figuring out where everyone stands. I'm still not getting a why. Jason says it was just a chance to get out a huge threat. Jason says that Becky doesn't have deals with any of these people so why not vote her out. Jackie says she was part of the plan though. Meg joins them. Jason talks about how the jury house is a bada$$ mansion. Shelli and Clay join them. The conversation turns to talking about jobs and how Jason should get a job working for tips.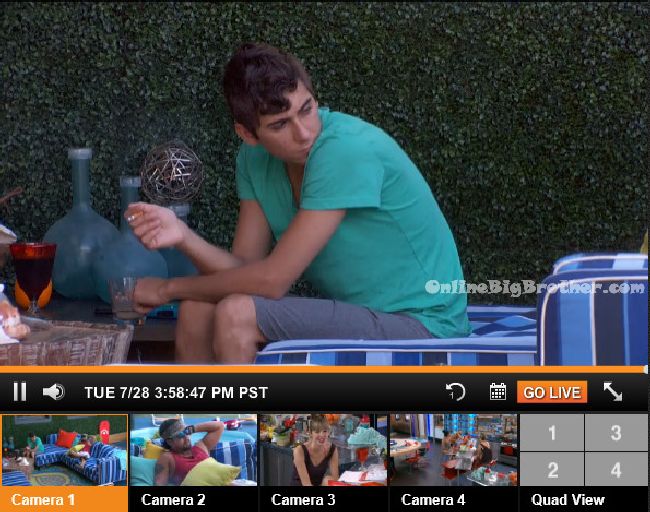 4:30pm – 4:35pm Austin tells Vanessa that the others are doing their typical scampering. Becky slept in her own bed last night. Austin says that Johnny Mac isn't going to go against Becky. Liz says we're doing a good job of distancing ourselves. Austin says he told Meg he was sorry / not sorry. Jason tried to embarrass me. Austin says they plan to study in front of the memory wall later. They talk about how Liz / Julia hasn't switched in yet. Liz says its kind of stupid to switch at this point. Vanessa says they might just wait till Thursday since that's her day to make her entrance. They wonder about how where Julia's key / memory wall photo will go. Liz says after press day Julia had to go back to the studio to take her memory wall photo.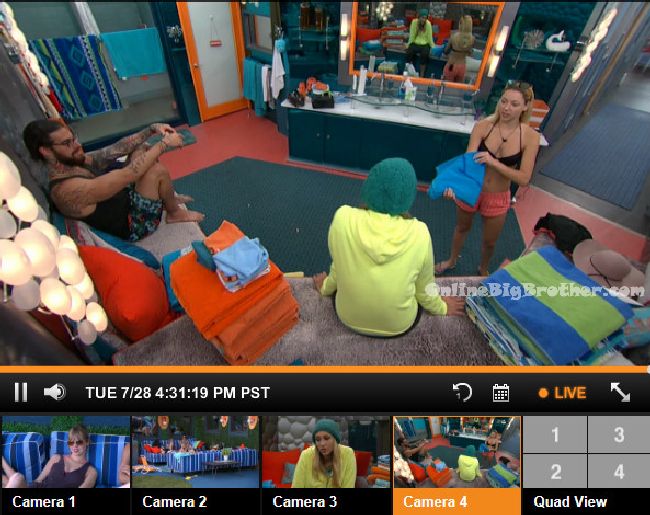 4:45pm HOH room – Clay tells Vanessa that nothing is going on but he did see those four (Meg, Jason, James, Jackie) whispering. Vanessa says she saw something weird earlier .. Meg and Johnny mac whispering. Clay says that Johnny Mac said he was happy Becky is now on board. Clay asks do you feel good about Jackie that she wouldn't come after us? Vanessa says I think she would go after a Steve or the twins just so she doesn't piss off us or the other side of the house. Clay says as long as its not us 3 (Vanessa, Clay, SHelli). Not that we're going to throw others under the bus but as long as its not us 3. Shelli said she wouldn't be able to put Jackie up but I would…
[polldaddy poll=8994045]
Share it YO!!
Tweet