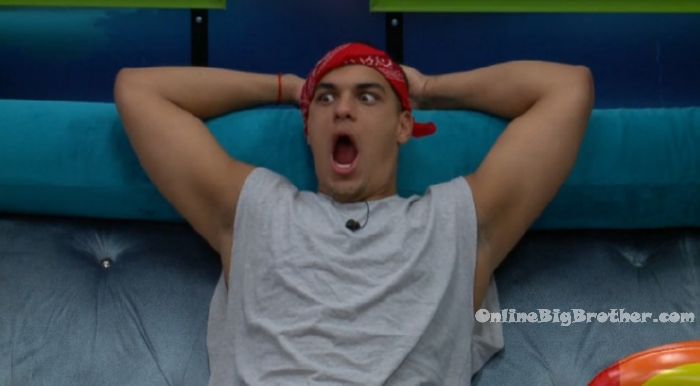 If you plan on buying anything from Amazon. Use this link Amazon home
Doesn't cost you anything and we get a small cut.
9pm Lounge room. Alex, Christmas, Josh and Paul.
Josh – I'm going to go to sleep as soon as 10 hits. Alex – pretty much yeah, there's nothing better to do. Josh – unless we're going to bash Kevin. Alex – SHHHHhhhh.. he's right here. Josh – no he's not. Alex – who do you think told me the time. Josh notices Kevin walk by. He 100% heard me. Alex – who gives a sh*t. Christmas – now he's going to hurt you in your sleep. They hear Raven screaming. Christmas – we need to f**king muzzle her. This makes me want to be a very evil person. Raven comes into the room to yelling and complain about how Matt hit her with a chicken breast that had been cooked. When she leaves Josh jokes that he is strangling himself and Paul shoots himself.

9:33pm Matt and Raven in the bedroom.
Matt – let these idiots be concerned with their jury votes. Seriously! Raven – They want Josh or Christmas to win to take Kevin out. Matt – I said that to Alex ..as long as Kevin comes on Thursday, my vote will be for whoever deserves this thing. Reven – not! Psych! Matt – I almost lost it when Alex said if I end up in jury before Kevin… guys! You know what Alex it takes a lot of balls to say that in front of me because I am going to jury before Kevin. Matt – if you guys can get one of them out next week you have complete control of this game. Raven – I know, it just needs to happen. Raven – can you imagine if we get Jason out and Alex is stuck here? Matt – she has nobody. Raven – can you imagine Alex trying to go off on me? She has nobody. Matt – I find it so funny that Jason and Alex are so confident that they're already concerned about jury votes. That's amazing. Raven – that's what we want. Matt – absolutely. If Christmas and Josh win that HOH and they put Alex up first and then they put up cowboy (Jason), I honestly think that cowboy might have a mental breakdown. Raven – When he does, I would look at him and be like… Matt – no, you keep your mouth shut. Raven – it would be hard. IF they do that they take the target off of me. Matt – Christmas doesn't care. She knows she isn't going to win this game over you. She will do what she can to help you, Paul or Josh. Christmas is a soldier. Raven – she is fricken amazing. Matt – you literally have two more people that would jump in front of a bus for you. Maybe even Josh too. Raven – if Josh makes it to the end he is winning. Matt – are you kidding me? No he is not. Matt – I want you to butter them up to think they're the next best thing to sliced bread. Raven – that's what I'm doing.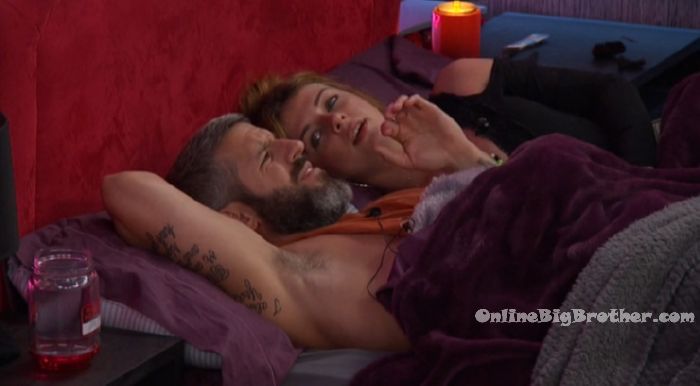 Raven – Its been such a sh*tty week. I have a bad feeling that she's (her mom) not doing well. Matt – there's nothing you can do about it. Raven starts crying. Matt – I love how Jason and Alex are thinking about us as jury votes now … instead of before the damn veto ceremony. That's two or one jury votes that you didn't even have Alex. Kevin doesn't give a sh*t about you. Raven – what are you going to tell the others in jury. Matt – All I have to do is really do is tell them the truth. Obviously not on our inner workings. Kevin blew up his game on the 25K. I am definitely going to tell them that Jason hid in the storage room for 20 – 25 minutes. Raven – from you, from me? Raven – I'm going to be all alone tomorrow. Matt – probably the only time I don't want to see you. I'm going to be a wreck.. Raven – every Sunday, every Thursday. If I do walkin, I'm sorry.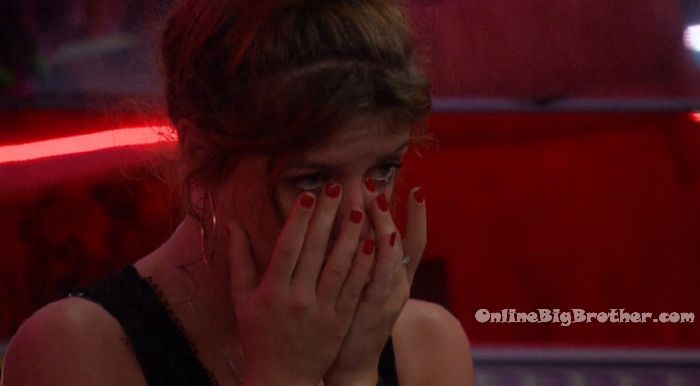 FLASHBACK and watch everything you missed: Live Feed 7 day FREE Trial!
10pm Kitchen – Josh smells the peanut butter and then says it smells bad. When Josh goes to smell it again Paul pushes it into his face. Josh puts some on his fingers and says its going to happen.. in an hour, in two hours … just take it now. Paul jokes that Josh cried after losing to him in chess. Josh tries to get to Paul on the other side of the table. Josh – why you running? Paul – why you crying? You clearly don't know what running is because this isn't running. Josh starts to move quicker. Paul – why you jogging. Why are you gassed out before bed. Paul and Josh shake hands in the living room. Josh – I'm still getting you with peanut butter. Paul – mustard and Ketchup all over your bed. Kevin tells Paul – all you need to do is put a little sugar on his bed… he'll wake up to ants all over his bed. Ants will come from New York just to get that sugar.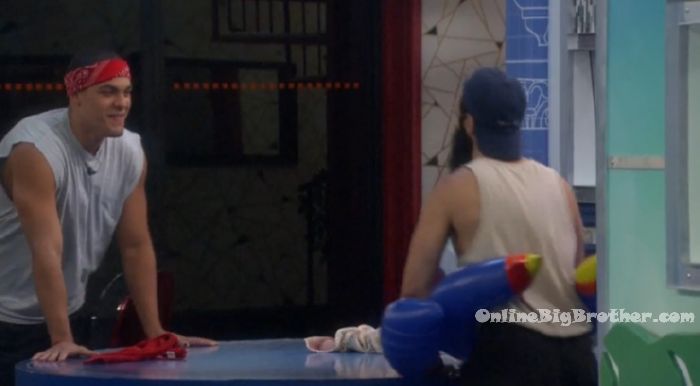 11:40pm Josh, Matt, Raven, Paul and Christmas head to bed.
12am All the house guests are sleeping.
12:50am Alex and Jason are up in the bathroom studying the days / events of the season. Alex – I saw Paul and Christmas studying .. should we teach Josh and Christmas? If its me and Raven tomorrow (still in the HOH comp), maybe I should throw it to her because then she would be happy. I would ask for safety for you and me and I think she would just take it. I think she would take it to take out Kevin. Jason – we need Matt out. How may weeks are left? Alex – 3. Jason – you and Paul can't win tomorrow. Alex – I will try to throw it to Raven. Jason – I don't know how many HOH's are left. Alex – pretty much. I think we have to take out Kevin next. We have to! We can't give him another week but if Christmas and Josh boom we have to stay in it. You can't play, so its just me. We can't let Kevin win it. Alex and Jason head to bed.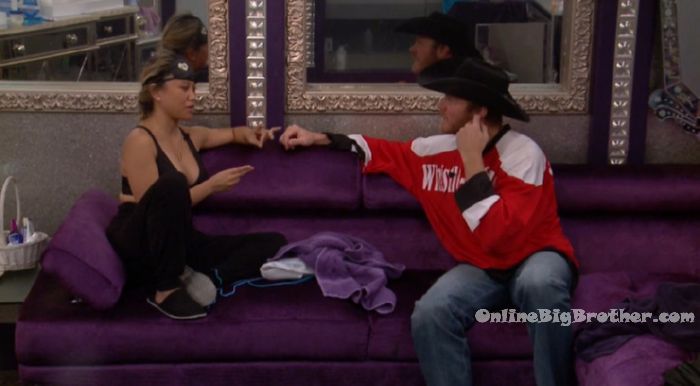 1:30am All the house guests are sleeping…
If you've enjoyed our live feed updates this season, please consider donating.
Simon and I work 24/7 all season long to keep you updated on everything that happens inside the house. Any amount is greatly appreciated! Your donations go directly to paying the fees required to run this site.
Links to the ranking system
Rank your house guests here
For those of you that like Statistics here are some expanded reports.