POV Holder:
Zach
Next POV
Aug 16th
POV Used
Yes
POV Ceremony
Aug 11th
HOH Winner 1:
Nicole
HOH Winner 2:
Christine
Battle of the Block Winner
 Frankie/Caleb
Next HOH
Aug 15th
Original Nominations:
Nicole's Noms (Caleb & Frankie) Christine's Noms (Zach & Donny)
Final Nominations:
Donny & Nicole
Have Nots
Donny and Zach
POV Players
Christine, Zach, Donny, Nicole, Caleb, Derrick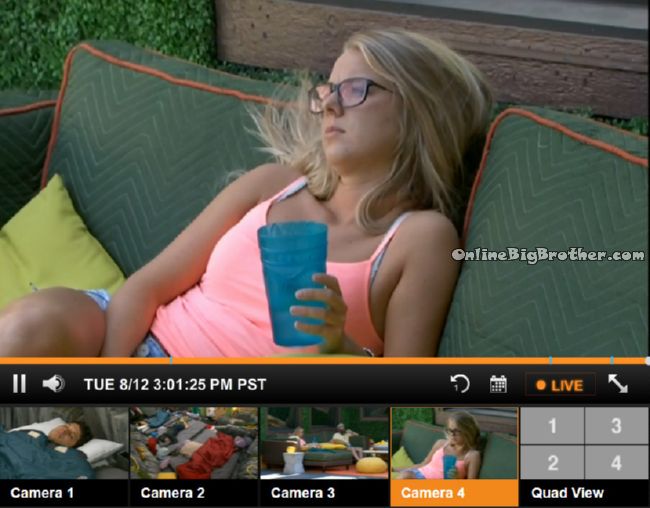 3:00pm Backyard Donny and Nicole
Nicole was going over how Frankie lied to her last week. Donny says some people choose to play the game lying others do not. He thinks everyone isn't like this outside the house it's just a game.
Nicole cannot understand why they kept Zach over Jocasta.. She suspects it was a plot against her and Hayden. She thinks it was a great game move to get Hayden out.
Donny mentions that Hayden came to him at times saying they have the numbers but he never thought they did.
Nicole thinks at one point they had the numbers.
Donny really doesn't thinks it was all lies.
Donny – I'm disappointed about Cody
Nicole – If you stay you really have to be careful about him
Nicole – I think is all stems from Cody
Nicole brings up how Cody dealt with the information that Christine wanted her to backdoor Cody. Say he was "baby" about it ran off to Christine and "cried" to her. Instead the she thinks the right thing to do would be to keep that information and use it further down the road.
Donny says cody told him that one day he would not put im up but 15 minutes later he went up. Donny thinks theres a bigger thing at play in the house a few people are controlling the show.
You can hear when Caleb talks he always says "WE", Christine always saying "I was told to "
Nicole says hayden asked COdy 5 minutes before the vote and asked him if everything is OK and Cody lied to his face said it was. Nicole thinks the next Double eviction The other side (Frankie, Cody, Christine, Derrick and Zach) of the house will start turning on themselves. Donny isn't sure about that. Donny says Caleb is a decoy they will cut him . Victoria is kept for a number to vote and to sacrifice.. "It's a smart idea"
Nicole – I'm not easily manipulated i guess.. and that's dangerous for their game"
Nicole says if there's a buyback and Hayden comes back Donny and Hayden have to make a run to the end. DOnny doesn't think he can outrun the young guys. Nicole – With Hayden you can
Donny says the fun is over.. He suspect he'll be on the block and on clop every week. Nicole – whatever one of us stays it's best for us to be in the BOB. "I don't want to be the back door option"
Donny says even if she plays in the Battle of the Block with Victoria on her side "They" (Detonators) can just speak to her to throw it and she'll throw it
Nicole – Donny how cool would it be if there was a twist that cleared the block this week.. they gotta be coming up with another twist.. I have a feeling BOB is over..
Donny thinks they will keep the BOB twist until 6 people remain "That would put Friends against friends and they might have to depend on someone that isn't their friend to get their friend out"
Donny – Yup we're doomed there's no hope
Victoria joins them. says she was up last night until 4.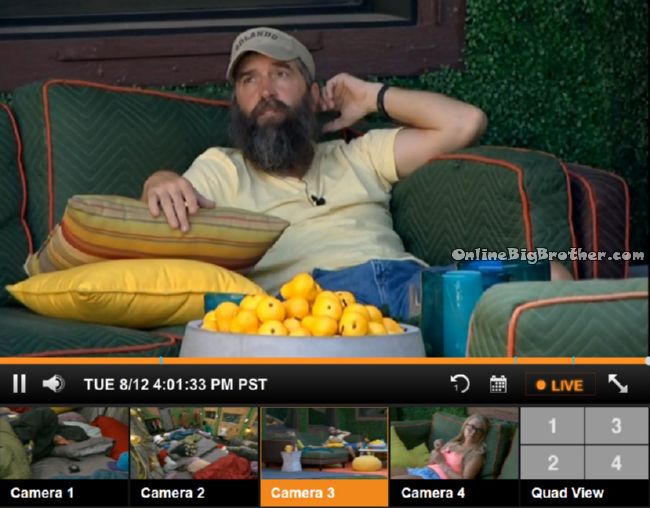 3:37pm Backyard Donny, Victoria and Nicole
Chatting about the states the players are from. Donny points out that Victoria has been nominated 4 times but never sat on the block on a Thursday night.
Donny – You've never had to pack all that stuff up
Nicole asks Victoria if she leaves anything could she collect it up for her.
Victoria- Of course.
Feeds cut to fish.. when they come back Victoria is gone.
Donny says it's harder than they all think for CBS to gather all the veterans up to do a all star game. Big Brother Is a long game and most the people that were on the show have moved on to bigger and better things.
Nicole – The bomb squad screwed us over
Donny – I've been woken up in the middle of the night so many times to be told stuff that I didn't even need to know
DOnny – Devin one time came into the bed to talk..
Nicole – And you don't like getting woken up do you
Donny – He'll no
Nicole says she did everything on her checklist, except win a Veto. She lists them off, Won a HOH, was a have nots, got feisty, met a cute boy and wore a unitard.
Nicole – This is my fourth time on the block… I just wish I had won the Veto.. I just can't beat those crazy boys.
Donny says it's sad the spot they're in.
Nicole – it's not going to be sad it is what it is..
Donny – my last friend.. that's it we better change the subject
Nicole brings up what Julie "Just because we're in the jury house doesn't mean we're out of the game" they might have a chance to come back into the game. Donny thinks all Julie meant was you go to JUry where you can vote who wins the game.
Frankie joins them..
Nicole – we do that day shift show you guys do the night shift show.
Frankie starts up a conversation about his sister the pop star.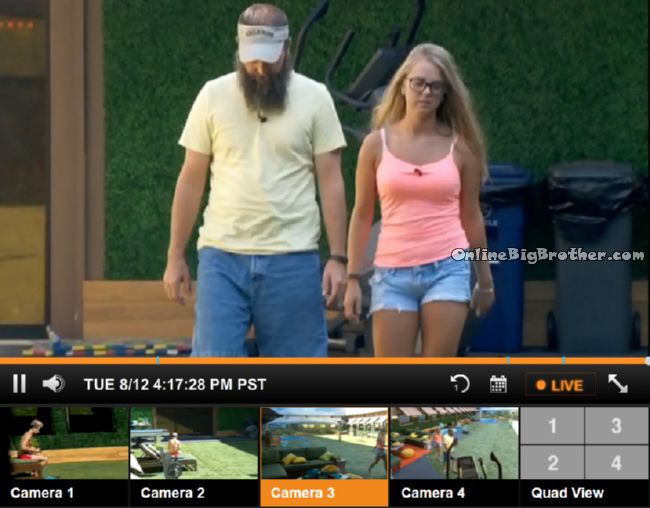 4:17pm Muscle train is back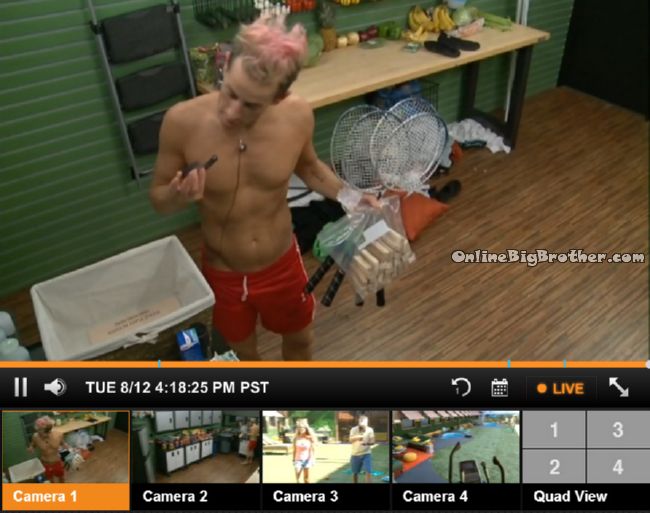 4:18pm They get Badminton and Jenga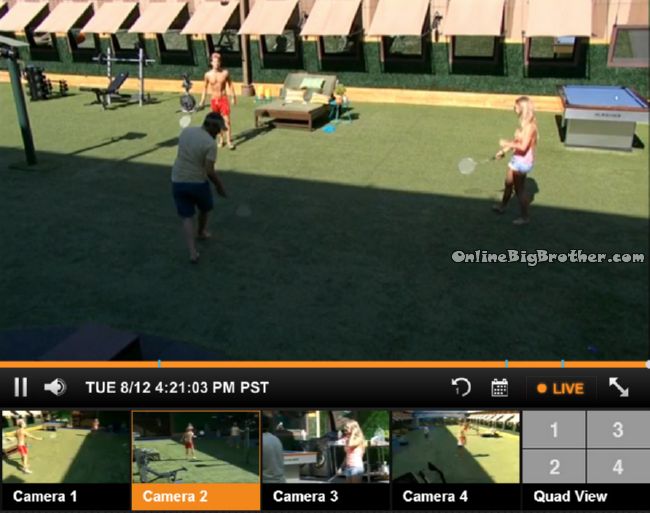 4:27pm No net 🙁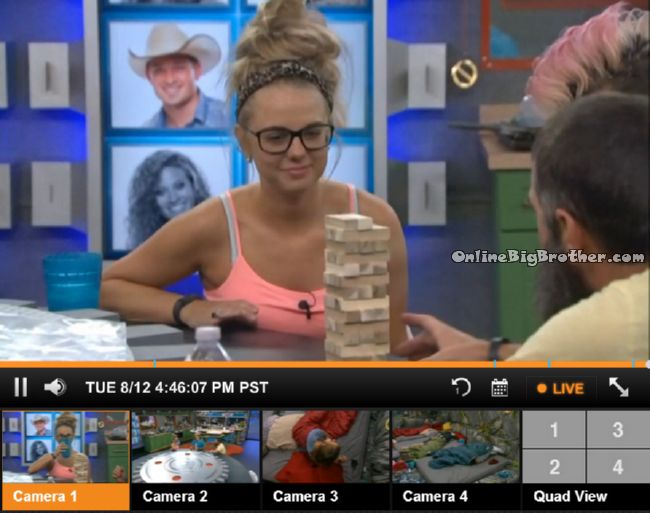 4:46pm Jenga time
Nicole mentions that last year Ginamarie was playing Jenga and had her giant fight with Amanda.
The Live Feeds are archived. You can go back and watch everything that happens
Try It Free! Subscribe now to the official BB16 Live Feeds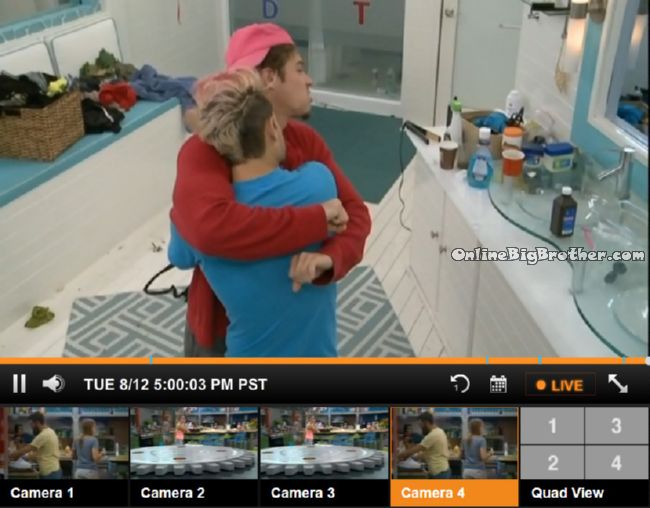 5:00pm Frankie gives Zach the rundown with Jenga and badminton..
Where the vote stands.. Nicole is going to jury
Alliances
The new bomb squad – Caleb, Zach, Derrick, Frankie, Cody, Christine
"The HITMEN" – Cody & Derrick
Team America = Donny, Derrick, Frankie
More polls here https://www.onlinebigbrother.com/big-brother-compendium/big-brother-16-polls/
[polldaddy poll=8233586]