POV Holder:
Chrisitne
Next POV
Sept 6th
POV Used
Yes
POV Ceremony
Sept 1st
HOH Winner
Caleb
Next HOH
Sept 4th
Nominations:
Nicole and Victoria
Have Nots
Derrick and Nicole
POV Players
Victoria, Nicole, Caleb, Cody, Christine and Derrick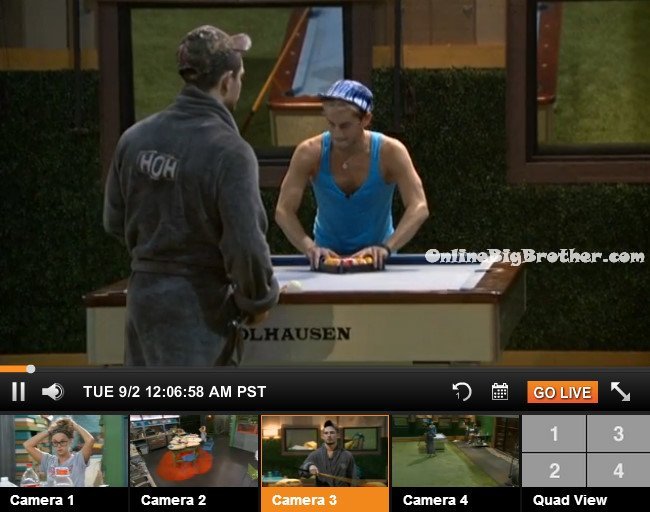 12am Out in the backyard – Caleb and Frankie are playing pool. Christine is watching them. Meanwhile in the kitchen Nicole, Victoria and Derrick are talking about the possibility of this Thursday being Double Eviction or if it will be next week. Nicole comments on how these last few days are going to drag on. I just want to be out of this house. Victoria tells Nicole to spend her last days with her and freaking appreciate them, if not I will pour all of these uncooked cupcakes in your face. Can we just make these last few days fun because I might be out right after you. Nicole says it was such a wimpy move, so predictable. Nicole says that she didn't like how Christine and Cody talked down about Hayden. Like how he didn't have a full time job, he's inappropriate and swears, people won't like him. Nicole says that Cody got really super jealous and said really negative things. Nicole says I spent a week with him and he made me breakfast, kisses my forehead and told me how pretty I am. I just got super disgusted.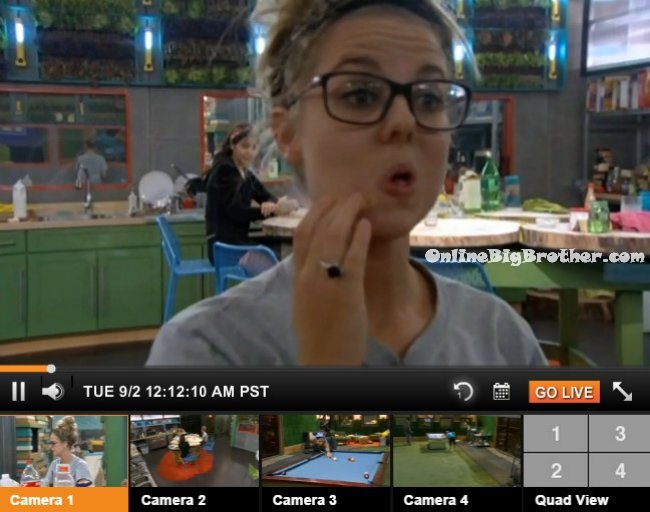 12:12am Out on the hammock – Derrick and Christine are talking about this week being a Double Eviction or if it would be next week. Christine says as a viewer I would hate to see it go from final 5 to final 4 in one night. Derrick asks hows everything going, good?! Christine says I've been seeing Frankie talk to people and it makes me nervous. He keeps trapping me in rooms. Derrick says he doesn't do that to me or Cody. Christine asks how bad Victoria is going to cry if he votes her out. Derrick says that Victoria isn't going to like him when he votes her out. Christine asks what if your HOH. Derrick says she just can't make it to the end because it would reflect badly on our season. Christine says she is going to be destroyed. Caleb joins them. Derrick says when Victoria sees how he crushed her she might not want to hangout with him after the seasons over. Derrick says the only person I really crushed is Devin but I warned him about that before he left. Frankie joins them and the conversation turns to talking about Big Brother Canada with Jon & Neda and how they ended up dating after the season ended. Derrick tells them about how the BBCAN2 house had tv screens everywhere with a secret room. Frankie is shocked. Derrick heads to the diary room. Caleb, Frankie and Christine talk about how oblivious Victoria is. Frankie heads inside. Christine and Caleb talk about meeting past house guests like Brittany Haynes, Aaryn Gries and Judd Jaugherty. Caleb says that if he saw Brittany he would be like hey pretty lady. Christine says that Aaryn might be single. Caleb says oh and we might hit it off because we all talk the same from the south right!? Caleb says I can't wait to meet Judd, he was one of my favorites. Christine says that she wants to win this HOH to get a letter. Caleb says your odds got a lot better.. one less person. Christine says there are really just 4 of us playing. Victoria is just air. Caleb says it sucks that he can't play going into a double eviction. I have to win the veto. Caleb says it would be a huge move getting me out. Frankie joins them and then they all head inside.
Take Advantage of the FREE 2 day Trial to watch all the drama!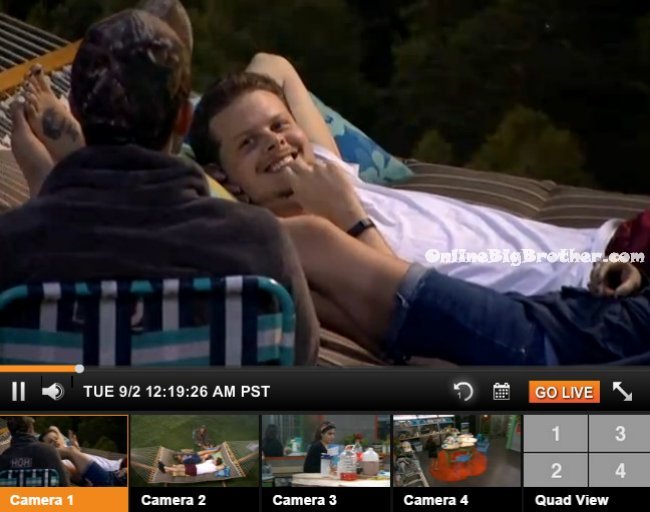 1am All the house guests are in the kitchen hanging out and talking. Cody has woken up and joined them. Cody and Derrick head up to the HOH room. Cody tells him how he is studying everything in his head. He is going over everything and knows who won what and when. Derrick says if its that deep you're going to kill everyone. Cody says I wish I had watched season 15 to know what competitions they had near the end. Frankie joins them. Cody says that Nicole is getting feisty. Frankie agrees. Cody says Nicole said there's a lot we don't know about Hayden. Frankie says who cares! Cody asks like what?! You're not that f**King special, just because you guys hooked up doesn't mean that you know everything about the kids life. You spent a week with him. No one gives a f**k. Frankie talks about how Caleb questioned if he wins HOH he would put up Christine and Victoria. Frankie asks did you question me too? Cody says not like crazy no. Frankie says we can't allow the paranoia to spread. Victoria and Nicole join them. Caleb and Christine join them. They chat about random things. Nicole and Victoria leave. Frankie does his impression of Julie Chen. Caleb says she would punch you in the neck if she saw that. Frankie she saw it, it was in my audition video. Derrick says his audition video was 2 minutes and he realized after it was supposed to be 3 minutes. Cody says his was 15 seconds. He says he was making it and the screen went black so he said f**k it and sent it. He says that casting told him his video was short and he said he couldn't do it. Derrick says that Nicole said she sent her video in and the next day she got a call back. Christine says but she sent hers in near then end. Caleb says we're definitely guaranteed final 5.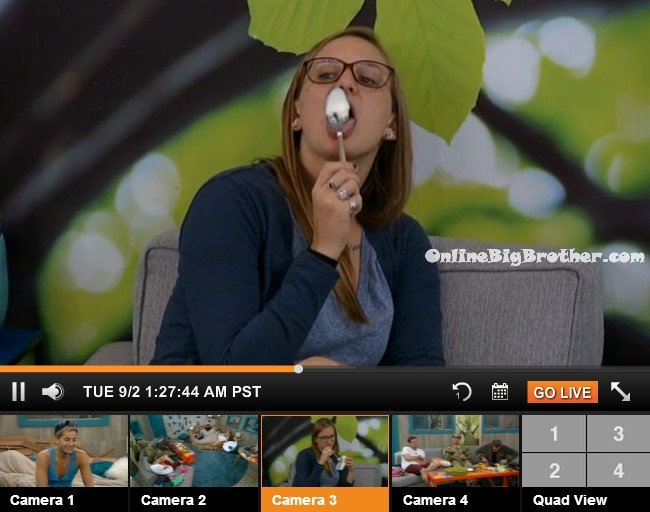 One way to support this site that doesn't cost you anything extra is making your
Amazon purchases through the links Below
For in Canada use the following link:
Amazon.ca
1:45am Nicole and Victoria head to the havenot room. Victoria says I never thought I would meet someone like Derrick that I actually care about and is not a showmance. You know what I mean, like that he is actually like a brother. Nicole says pretty cool huh!? Big Brother blocks the feeds and when they return. Victoria says I've never bashed people but you have. Nicole says no I haven't. Victoria says I'm assuming. You're not feisty?! Nicole says I haven't bashed people in the diary room. Nicole says 7 out of 8 boys are going to be involved in the end of this game and only 4 girls. Nicole tells Victoria to get out Christine. Victoria says I will win on Thursday and get her out. If I am on the block though I will put her on blast. I have to. Derrick joins them. Nicole and Derrick go to bed and Victoria leaves. Derrick and Nicole can't sleep. Nicole helps Derrick study the dates. Derrick says that Victoria will probably make it to the end because people want to keep her. Derrick says that if its a double eviction and he doesn't win he thinks he would be okay. If not I could be chilling with you guys in the jury house. Derrick tells Nicole that unfortunately Caleb, Frankie and Christine won't flip their votes to keep her. Derrick says that if Christine is there at the final 3 they might take her because she's hated. Derrick and Nicole go back to sleep.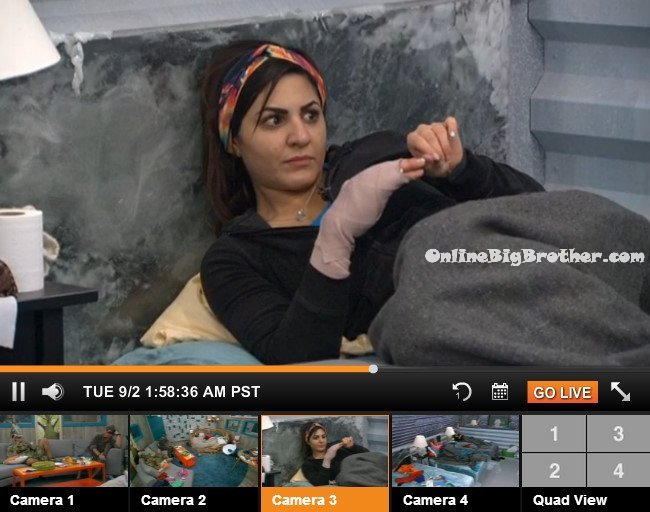 See what they can't show you on TV! -Try the Big Brother 16 live feeds for FREE!
2:20am – 4am UP in the HOH room – Frankie, Caleb, Cody and Christine continue to hang out and talk. They talk about being recognized when they get out. Caleb starts talking about Justin Beiber. Frankie says that he heard he was going to replace Paul Walker in the new Fast & the Furious movie. Frankie says this isn't inside information its just a rumor he heard. They continue to talk about random stories from their personal lives, farming, hunting, movies and other things. Cody and Christine leave. Frankie talks to Caleb about what he should say in his tweets and block. Frankie says you could talk about how you almost put me up and how you didn't and it was the best decision of your life. Caleb says I was just scared for a moment about how I couldn't play next week. Caleb says Nicole will go home, I don't think anyone would want to keep her. I think Victoria would go next and then it would be us final 5. From that point on we would decide who goes next. Frankie says you can't play this game alone. Caleb says us boys .. us 4 will decide if we send home Victoria or Christine first. Frankie and Caleb end their conversation and Frankie heads downstairs to sleep in the fire room.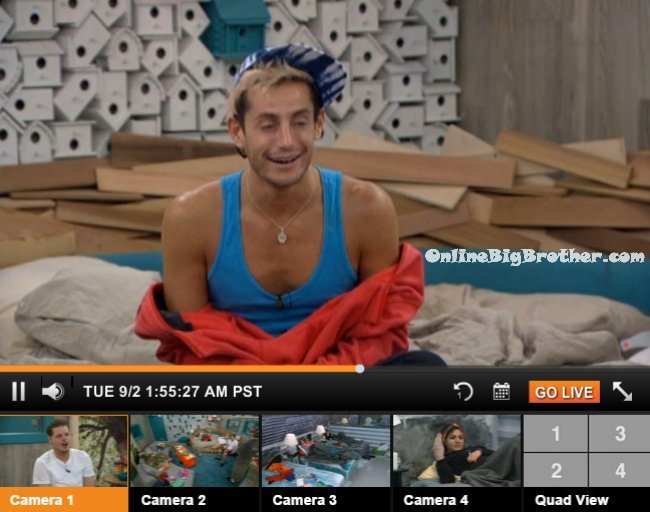 4am All the house guests are sleeping..
If you're enjoying the live feed updates this season, please consider donating. Simon and I work 24/7 all season long to keep you updated on everything that happens inside the BB16 house. Any amount is greatly appreciated! Your donations go directly to paying the server and bandwidth fees required to run this site.
[polldaddy poll=8274218]