POV Holder:
Chrisitne
Next POV
Aug 4th
POV Used
Yes
POV Ceremony
Sept 1st
HOH Winner
Caleb
Next HOH
Sept 4th
Nominations:
Nicole and Victoria
Have Nots
Derrick and Nicole
POV Players
Victoria, Nicole, Caleb, Cody, Christine and Derrick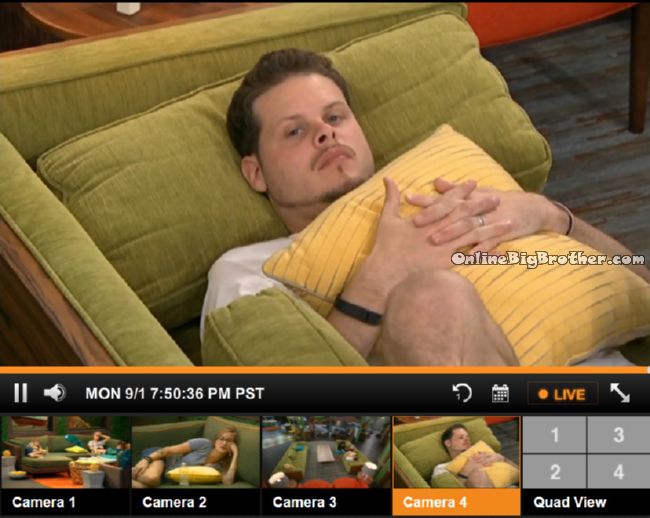 7:51pm Victoria and Derrick
Victoria says Derrick and Cody were whispering for a long time what were they talking about
Derrick says they were chit chatting Cody brought up getting a suit.
Victoria knows more than Derrick thinks she knows
Derrick getting really pissy about this 'you may think you know more but you don't"
Victoria – tell me then
Derrick – If you knew you would tell me right now.
Feeds cut to Pool table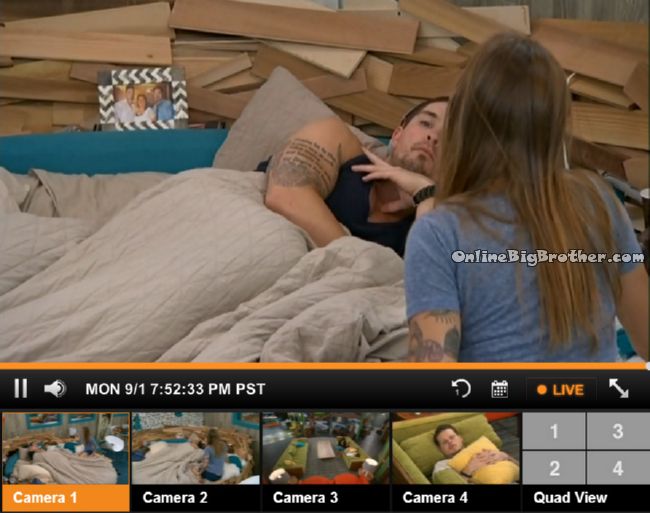 7:52pm christine and Caleb
Christine – I don't want you to think at all this week i was talking game with Nicole or the girls were working together. yadda yadda yadda
Caleb – Done Nicole going home we done it the bomb squad is cruising right along.. we get her out and smooth sailing from there only one person is going ot win.
Caleb – I was so close to putting him up.. I was like i want to make a move but If I do Nicole flips the house..
Caleb – if he wins this week he could make a HUGE move.
Caleb adds the talked to COdy about it last night.. "I didn't know what I was going to do until I done it"
Caleb – Honestly I thought do I have the guts.. I just hope no one tries to flip it to keep Victoria over one of us it will be a huge move they'll be known for it.
Caleb – sucky things is you can't win back to back you have to win the veto
Christine – it's getting hard you have to be a winner now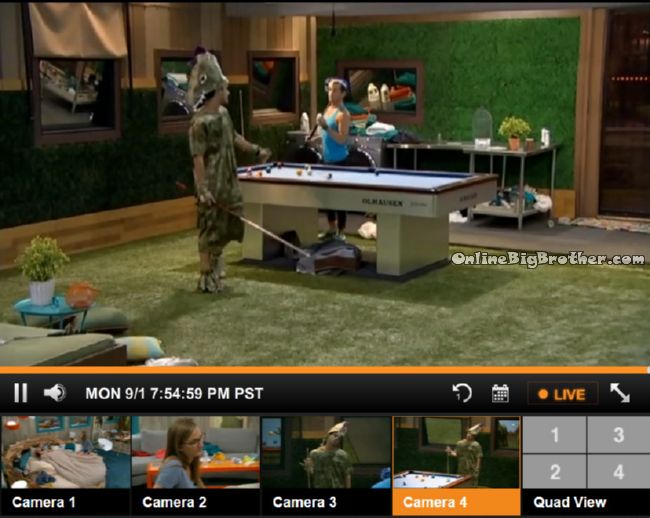 7:55pm Frankie and Cody playing pool studying the have nots
The Live Feeds are archived. You can go back and watch everything that happens
Try It Free! Subscribe now to the official BB16 Live Feeds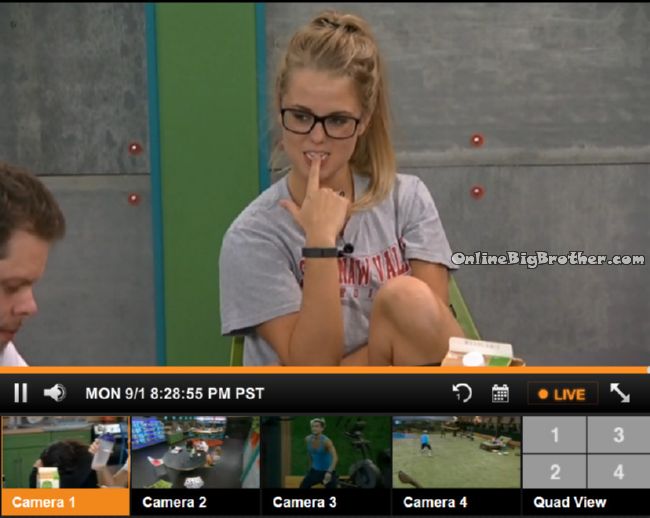 8:21pm Kitchen Derrick, Nicole and Victoria
Nicole is saying she's going to talk to Caleb before thursday and tell him what he said was disrespectful. She's not going to fight to stay she knows she's going home.
Derrick wraps up Victoria's arm
Victoria asks him to talk with her in the Fire room. Derrick doesn't want to go tells Nicole he'll be right back. Tells Nicole Victoria was just telling him "I know more than you think I know" Derrick jokes that Victoria is going to be the death of him he told her to tell him what she knows but she wouldn't
Derrick meets Victoria in the Fire Room
Victoria says she's sad
Derrick – what are you sad about
Victoria – I'm on the block
Derrick says it's rude leaving nicole stuck out in the kitchen by herself.. you want to talk later.. we can talk later.
He stresses she relax she's not going home
Victoria whimpers that she's on the block and it hurts
Derrick tells her to focus on studying "play every week in your head"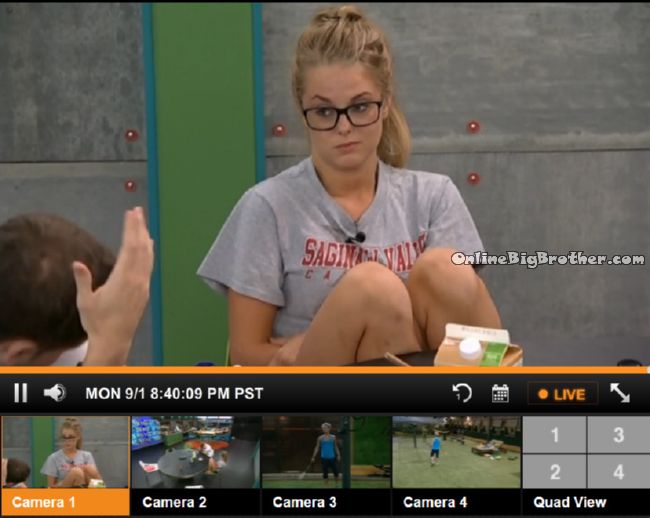 8:42pm Kitchen Derrick and Nicole
Nicole says that Production wants her to keep trying but the position she's in she doesn't see anything she can do..
Feeds cut .
They go through the scenarios. there's no way that Nicole can stay
Nicole – am I really that scarce Derrick
Derrick thinks if he doesn't win the HOH/POV he'll be going home during the double evict.
Derrick asks who Hayden didn't like in the house because Hayden was the type of guy that didn't have a mean bone in his body. (Victoria already told Derrick it was Hayden) Nicole says Hayden just disliked the person after he left t house. Derrick says he liked Hayden but Hayden trusted Donny and Derrick didn't that was the wedge.
Nicole wishes their was a way to make Nicole understand what she needs to do to survive in this game. If Derrick goes before Victoria she will self implode and self evict.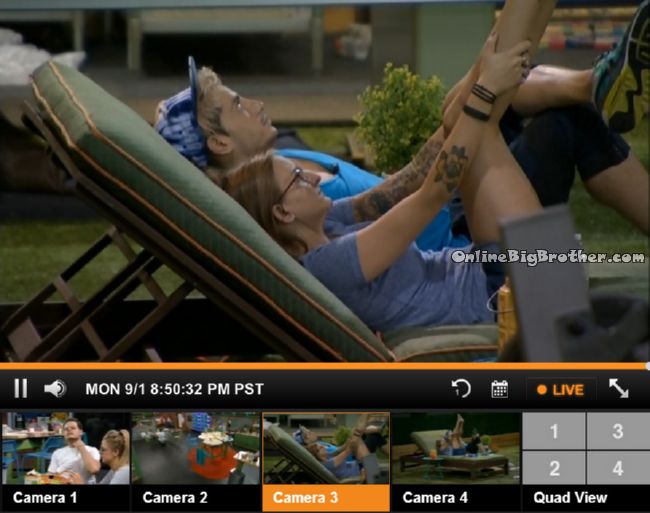 8:47pm Frankie and Christine
Frankie says he's been studying his d1ck off he's ready for the mental challenges.
Christine can't wait to tell Victoria the guys were all working together.
Christine about Victoria "she's so dumb.. she literally doesn't know what is happening in her surroundings literally.
Frankie mentions Victoria not understanding the question in the POV
Christine – She's such a idiot
Frankie – Yes rose if you understood the question you may have won
Christine – Shes so stupid
Frankie – she has to comprehend things
Shrine she a idiot
Frankie points out a Dragonfly
Christine- I hate Dragons flies
Christine leaves to pop a zit
Frankie starts talking to the camera .. Mute
Feeds flip to Christine popping the zit in the bathroom.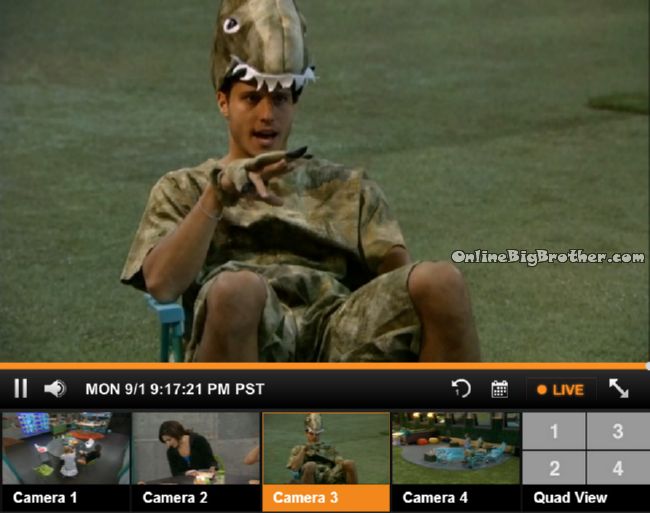 9:17pm Backyard Cody and Christine
Christine – I hate Eval D1ck with all my might
Christine says he only has one tactic and he'll only ever have that one tactic
CHristine is amazed Dan made it so far win Season 14 when they knew how he played, 'Weirdos"
Cody says Dan got really lucky.. (twist protected him for first month)
Christine – Danielle was a great competitor
Christine says Frankie wasn't very bright Dan tricked him to put Brittany up then the next week Dan put Frankie up.
Christine says everyone liked Cody in the beginning, Cody says there may be someone behind the scenes that they don't know about.
Christine – oh ya I'll definitely have those.. but the houseguests they all like you
Cody – you don't know people maybe only voiced it in the DR"