Big Brother Spoilers – Christie won the HOH, Nominated Cliff and Kathryn. veto players are Christie, Kathryn Cliff, Sam, Jack, Nicole Host: Tommy. Sounds like the Kemi is the target. The power of Veto is Thursday. They were given a week that they get to compete in the Whacktivity Comp. I'm still piecing that all together.
Grab your live feeds —->  BB21 Live Feeds Subscription Link
1:59am Christie and Tommy
They talk about keeping their secret a secret until the very end "nobody will be mad because it'll just be us" 9Final 2)
Christie says they can make it to the end, "our friends and families. I can't wait for them to all watch us"
Christie says they are really in a good spot
Tommy – week 1
Tommy says he's going to have to chill out on the competitions because his social game is so strong
Tommy – I can't be seen as too much of a threat. I'll win when I need to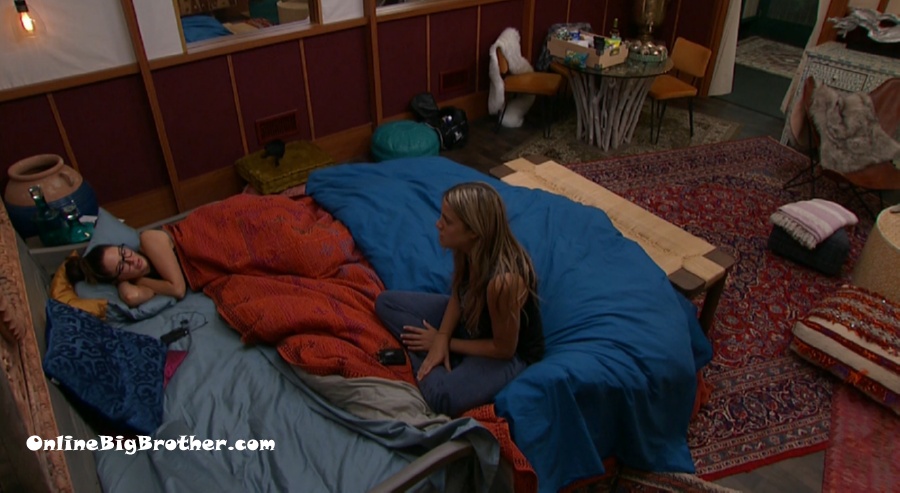 2:02 am Christie and Holly
Christie saying she saw "Bella" and Nick making out.
Christie – I'm so excited, I don't want to get too confident though
She mentions talking to Tommy how he's nervous about winning because he's strong socially and doesn't want to be seen strong physically. He doesn't want to be first in the pecking order.
Christie – I said everybody loves you, you don't have to gun for HOH right away just be cool
Holly says how the week is shaping up is the "most peaceful way to go about this'
Holly – Cliff and kat both feel Okay
Christie – that's why I made a point to talk to them
Holly – obviously Kemi is not going to be happy
Christie – Ideally I want Kat to win tomorrow. taker her off herself that would be MIIIINT if not6 Jack that would be great. I don't want to win because I don't want it to look like I planned and executed the whole thing.
Christie says she'll say in her speech when she nominates Kemi will be "unfortunately I have to put someone up, this isn't fun for me it's not personal but hopefully kat comes down so I can keep it Guy/Girl"
Christie – I'm going to say unfortunately this person is a victim of playing too hard too fast. Week one should be about having fun and getting to know each other over more than half the house came to me saying that they heard this person was talking about their names even down to insulting and sh1t talking the guy cooking and unfortunately we are put in the same category to compete in the Whacktivity comp and I want to narrow down my choices to be able to win
Holly brings up that saying the last bit about the Whacktivity comp might backfire with Jessica "Jess is paranoid as sh1t"
Holly – Kat just told me Jess is getting really paranoid
They agree the "guys" in their alliance are stupid as sh1t and will accidentally spill the beans about their alliance soon
Christie – there's been a couple of close calls between Nick, Jackson .. and Jackson just now.. literally they just to shut up.
Christie- guys cannot handle anything
They chat about the Nick and Isabella showmance. "they're pretty low key. that's so cute.. he's smitten with her"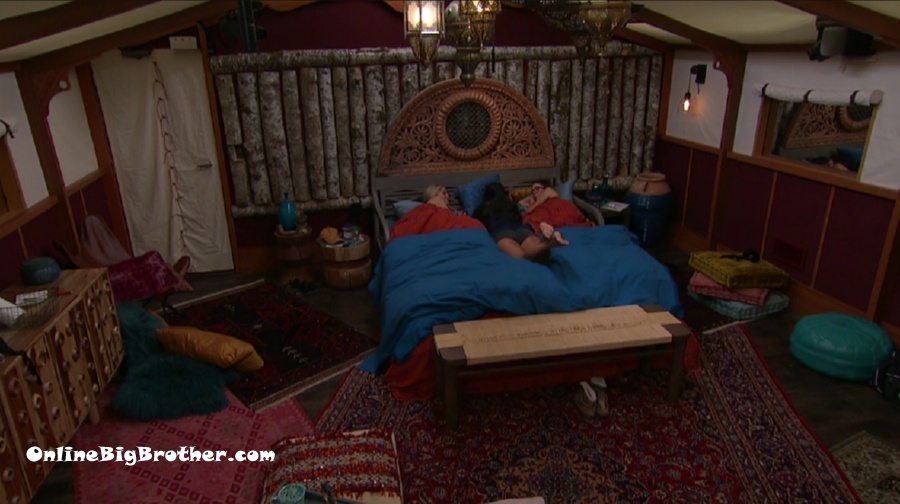 Analyse joins them. They start talking about Isabella and Nick.
Christie – why is everyone hooking up
Analyse – you have Jack
Christie – I don't have Jack
Holly – he looks at you like you are the greatest thing in the world
Christie says Jack does that with everyone
Christie says Jack Flirts with everyone says she's here for one thing and one thing only it's not for a showmance
Holly – he's playing this game in every aspect
They talk about all the "guys suck" this season.
Christie – There's not many options, they're either f* boys, Married or like OVI.. or Gay.
Christie "the best catch is gay"
Christie – jack is pretty f*ing hot. he scares me
Holly and Analyze agree, "he's so hot it's really scary"
Analyse – it makes me mad he knows what he's doing.
Christie thinks they should call jack out for his flirting so he knows they know what he's doing
Analyse says the one thing that makes her mad "in her head" is Jacks is thinking "these girls are so stupid I have them wrapped around"
Christie – that's what you call him out
Analyse and Holly mentions how Jack loves Christie. Holly wants to be "her flower girl"
Christie – I don't have feelings for him.. I would never allow my heart to get invested in anything. This is a game and I see him playing it
Christie adds if she actually had feelings for Jack and saw him flirting with her friends she would think "you're just sleazy, yeah it's a game but if you actually did like me that's f*ed up and lame to do. Like don't be f*ing lame"
Analyse mentions how Jack will look around the house for Christie when he finds her sits on the same room with her and after she leaves he sticks around for a short person than leaves.
Christie – he knows I'm not here for that. I think he's still in love with his ex
Christie says the moment they went' live on t the feeds jack was laying it on thick with her, Holding hands, laying it on "thick". She mentions how Jack's ex-girlfriend is probably watching the feeds that is why he did that. Christie mentions something about her reminding Jack of his EX and that Jack's Ex has a "girlfriend" feeds cut.
When we're back from the feed cut.
Christie – it's weird to think you are being recorded every f*ing millisecond.. it's kinda scary.. there are creeps that just watch 24/7 (creeps that watch feeds)
Feeds cut, When we're back the three girls talking about how happy they have to have each other.
Analyse says she would want a hot guy with Sam's personality.
Christie agrees says Sam is never awkward.
They mention how Jackson is a nice guy that means well.
Holly says she loves Jackson he's like a brother to her but "he's a f*ing idiot"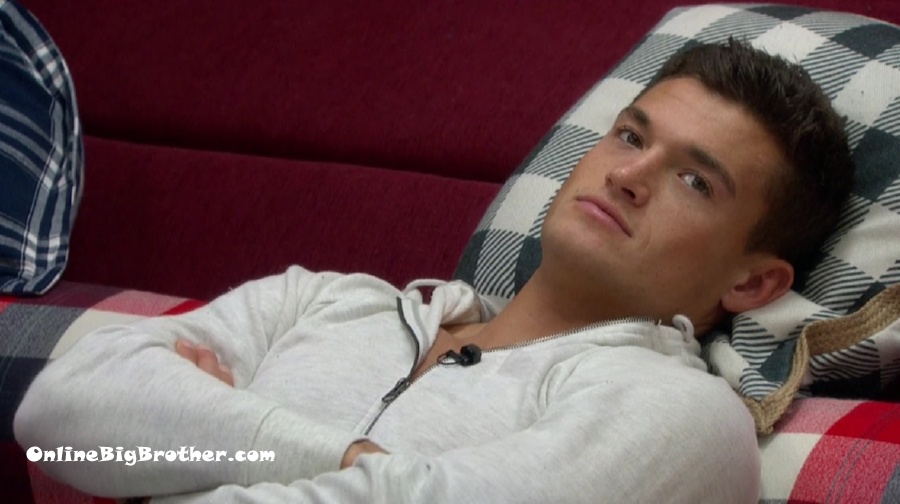 2:04am Jackson and Kathryn boat lounge
Jackson says he's worried about Jack and Christie but doesn't think they will come after him for a while.
Kathryn brings up talking to Analyse and she said "I don't see you as a threat I see you as a number, me, you, Holly, Jackson, I think that is all she said maybe she said Tommy.. she said we can have a good thing going.. and I believe her I mean for now.. it'll implode in the near future"
Kat – I think, pick your battles
Jackson says sometimes it's best to let people dig their own graves "just like Kemi, Just like Ovi. Let nature run its course"
Jackson mentions how Cliff is such a good guy.
Kat brings up that OVI is the target for next week but she's afraid of Analyse
Kat – I haven't trusted her since day one
Jackson – It's very simple math
Kat – she talked sh1t about you her strategy . is every single person to make plans with them after Big Brother.. she told me she wanted to come work for me she doesn't want to work for me she lives in LA.
Kat says Holy isn't buying what Analyse is saying.
Jackson says the two people he "trusted" was Kat and Jack
kat – well you can trust me I will never break your trust
Jackson says he competes "third" in the Whacktivity Comp. Kat says it would be "clutch" if one of them won a "fan vote"
Jackson – Cliff or Tommy will get it
Kat doesn't think so, "Trust me you have a very good shot"
Jackson says it's better he didn't get picked for Veto because if he did win it it would expose him and Cliff or he has to solidify the two of them even more.
Jackson – I got you, girl, you are safe you aren't going anywhere yet. They laugh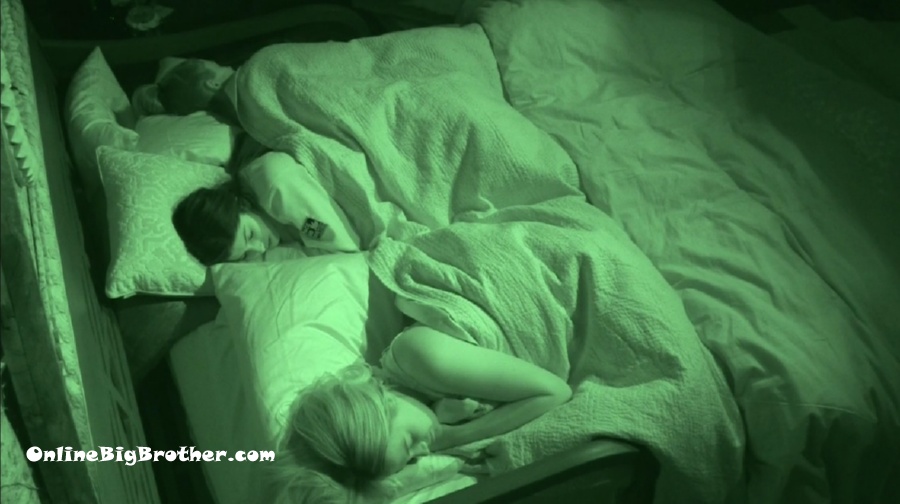 2:44am zzzzz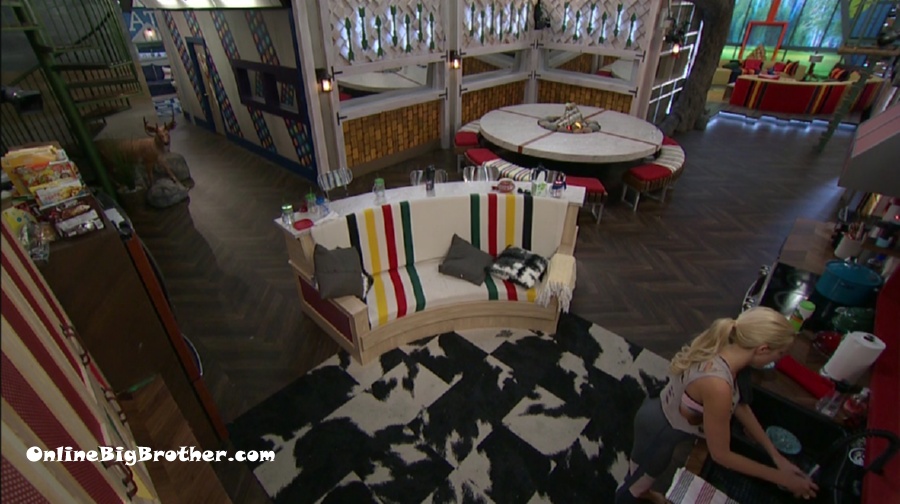 2:48am Just noticed how much the kitchen sucks.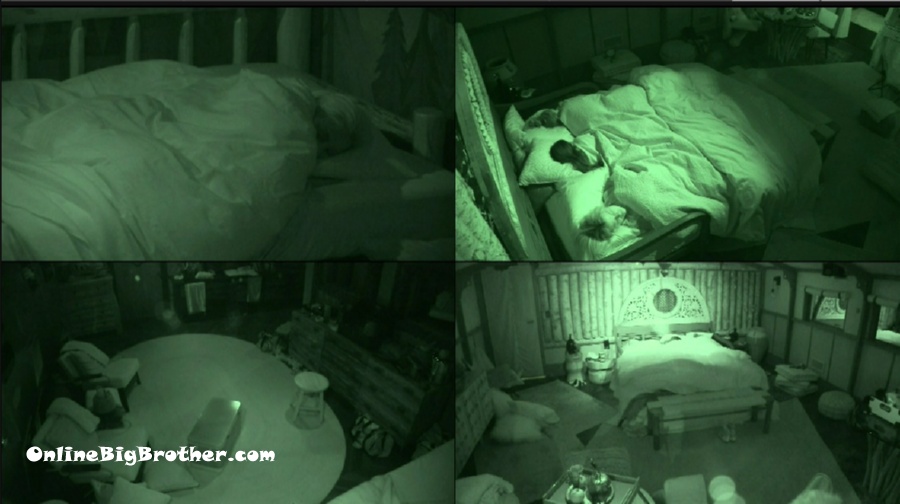 3:22am everyone sleeping power of Veto tomorrow get ready!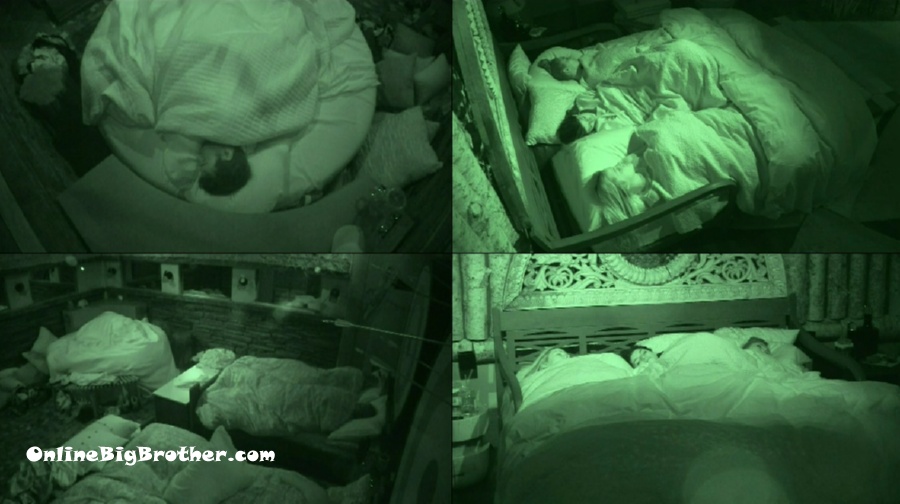 7:23 am Houseguests are still sleeping.