Big Brother Spoilers – Christie won the HOH, Nominated Cliff and Kathryn. Veto players were: Christie, Kathryn Cliff, Sam, Jack, Nicole. POV was Host was Tommy.  Sam wins the Power of Veto, it was called Food fight. Sam plans on using the Veto on Cliff. Christie plans on putting Kemi on the block as the replacement.  Ovi is the second choice. The Veto will most likely be Monday. It's been busy in the house today there could be a flip it's so early.
Grab your live feeds —->  BB21 Live Feeds Subscription Link
Rank your houseguests —->  Big Brother 21 Ranking
Support the site while shopping Amazon —-> Amazon.com Shopping link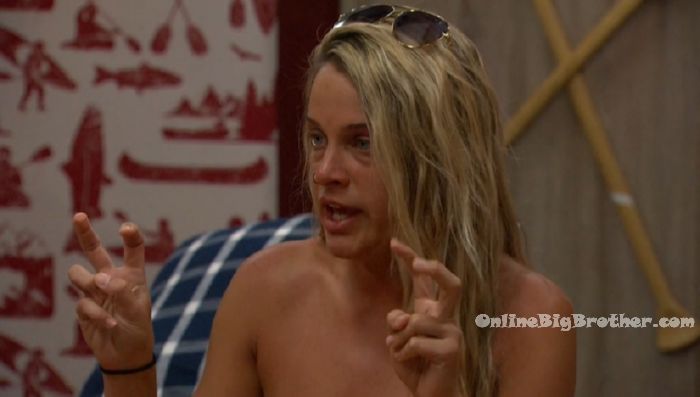 5:40pm Boat room. Christie and Tommy. Christie – it seems that everyone does not like Jack. And I am thinking what am I a schmuck for pulling at this backdoor? Get my hands dirty and his clean?! And now I am just praying that Sam doesn't use the veto. But I am scared that he's going to and I'm scared that I'm going to have to put someone up. And I feel like an idiot because I don't want to play anyone else's game. And obviously this "alliance" is not a thing! Tommy – this sucks. Christie – because Nick made it cleat that its not. Clear! I was making this decision a team thing but if its not then I would change my decision. Now I need to talk to Sam to find out if he is sold on using this veto. I wanted to make the least waves this week. Tommy – its because you're in a two week long HOH. It keeps changing. Christie – I can't handle that! Tommy – I wonder if me, you and Nick talk. I really think its best that we stick with the eight. Christie – he is not in the eight. Nick is not. Nick is very much against Jack. Its very obvious. Tommy – its good for us. Let them go at each other. Christie – but do I stick with Jack.. do I say to Sam lets not make any waves at all. You do nothing and I do nothing and let the house vote where the noms are and let them go against each other. I just wanted peace! And Kat pulls me into every ROOM!! She is probably out there listening. Tommy – you're doing a great job. Everyone loves you. Christie – I really love Bella, I do.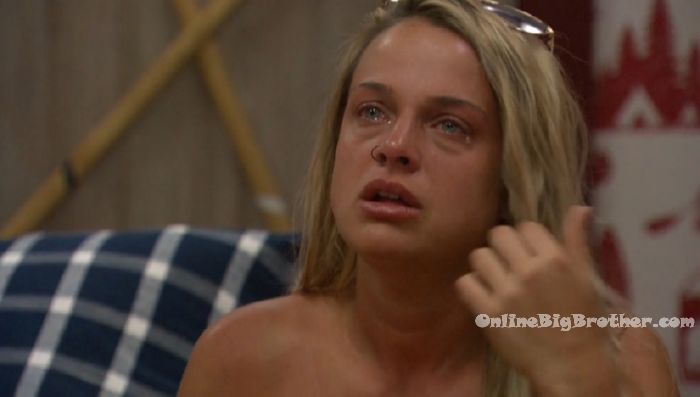 Christie – Like I literally.. I would never backdoor Jack but he is trouble! I feel like he is just running this game. And he just sat up there and was like I will die for you in this game. I trust you in every decision you make… like you are a bullsh*t artist Jack! You're a bullsh*t artist. Sissy is obsessed with him. Tommy – its too soon… we want bigger targets to go at each other. Christie – I agree. Nicole joins them. Christie – I want to tell you something. I feel like Jack is playing everyone including me and I'm scared of it. I feel like he things he is running this game. He wants me to do his dirty work. Nicole – you need to do whats best for you. Mentally, physically, whats in your gut! F**k them, do you! Christie – its hard because its not in me to be manipulative. I want to have fun, make friends and get to the end .. and do it clean. F**k Jack! He's manipulative! And I did not come here to play the Jack show! Like honestly I would never do this but I would love to backdoor Jack. I am not going to do it because I fear him too much. And I feel like the girls are following him. I am just too scared of him.. when he gets angry he rages. He actually used the word hate for Kemi. And I was like what?! Why?! I need to talk to Sam. I feel bad because now Kat is going to go and I made her feel safe all week. Kemi actually care about this game. Kat doesn't even care about this game. She just wants to stay for clout and instagram and Michie (Jackso). I am a f**king fool. I need to switch this. He can't! He can't use the veto. Nicole – you need to talk one on one with Sam. Holly joins them. Christie continues to cry and say she is not doing the boys dirty work. Tommy – you're tired and stressed out. You need to sleep tonight. Christie – I need to drink tonight. Draw it up!
5:46pm Bedroom. Kat and Analyse. Kat is crying. I just feel so left out. I feel so … like I also feel like I can't do anything without people getting annoyed with what I'm doing. Analyse – its okay to freak out. You haven't even been doing anything. Kat – I just feel so left out. I feel like I can't talk to anyone because the people that I usually talk to are saying.. I guess they're sick of hearing me talk about it. I want to know.. I want to stay in the loop. People are saying that I'm bad for their game. Analyse – why? You haven't even done anything.
6:18pm Storage room. Jack and Tommy. Jack – she doesn't trust anybody which could work in our favor because she is selling the fact that she doesn't feel like there's an alliance. Tommy – oh yeah, that's a great point. I told you I would be straight with you.. yesterday your name was floating around the way that today Nick's is. So now she doesn't know what to think. Jack – she is spinning so hard. Its like Kat in bed. Okay settle down. Tommy – we just have to chill out and let it play out and see what happens.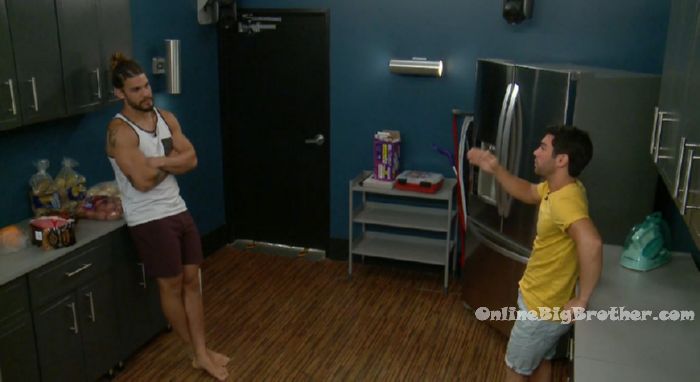 6:25pm HOH room. Christie and Sam.
Sam – regardless this is your HOH. If we don't go along with backdooring Kemi are you going to face repercussions from Jack? Christie – I honestly don't care. F**K Jack! He thinks this is the Jack-show! Sam – does he have the numbers to go against you if he tried to put you up? Christie – I don't think so because everyone is starting to see right through him. And honestly that's a risk I am willing to take. I have to be true to myself and if I don't .. that doesn't feel right to me. I have to be Christie in this game. I can't be.. Sam – manipulated. Christie – and I can't be manipulative. I have to be authentic to myself. Christie – Tommy, Holly, Sis, Nicole and Kemi and they all just let me cry and listen to me. And not one of them gave me biased opinion. I feel like I am being bullied and pulled and swayed and playing someone elses game and everyone single one of them said I see that. Even Sis that I think has a little flirtation with him (Jack). I sleep with Sis and Holy every night and we all say I can't want till we beat Jack in a physical comp to show him that he is not unstoppable and f**king get him out. I don't believe that he would have the numbers against me. I believe secretively everyone knows what he's doing. I called him out like 3 times and now he is sinking his claws into me even more. He knows he is a liar and a manipulator. Sam – so if I don't use the veto and I just tell Kat.. Christie – Cliff is not going home regardless. Sam – so I want to take back all the promises I told Kat. Christie – so do I to be honest. Sam – I just want to tell her in the last minute. If we tell her now she is going to spiral. Christie – Kat isn't even here for the right reason. Sam – is there someone else that you could put up that would be a 50/50? Christie – I don't want to do that because half would be pissed if the one went home. I feel bad for Kat .. but at the time that was really the truth. But I can't play Jack's game. Everyone is on to Jack. That's why I cut ties with him. He literally just bullied me up here and I went downstairs and everyone pulled me into the boat room because I was hysterical. After he was done bullying me he would die for me in this game and back any decision I make. So I am going to hold him to that. I will remind him of that and that I am a social player and I don't want to make waves. You have to do what you have to do. Sam – it just sucks now. Christie – what do Nick and Bella want? Sam – the whole first couple weeks you're supposed to just go with the house. Christie – I feel like Ovi is so sway-able .. he will vote how anyone wants. He is just a people pleaser. Sam – if I still use the veto and pulled off Cliff, who would you want? Because I still want to save Cliff. Christie – I don't know. I would rather Kat go. Sam – if Jack were up.. would he go? Would you have the votes? Is it too early to make a big move? Christie – I don't know. Sis is getting close to him and Holly is close to Sis. But sending him home is riskier because it would look like I've been lying to all these people. Christie – Jack is making it sound like Nick and Bella are trying to flip the votes. Sam – not at all. Not at all. I am talking to Nick and Bella. Nick is feeding Jack bullsh*t because Jack is flipping the f**k out. Sam – could you put up Ovi? Could everyone vote out Ovi. Ovi is kind of calm. Who wouldn't vote out Ovi? We could always vote out Kat next week. Kat would be a good pawn.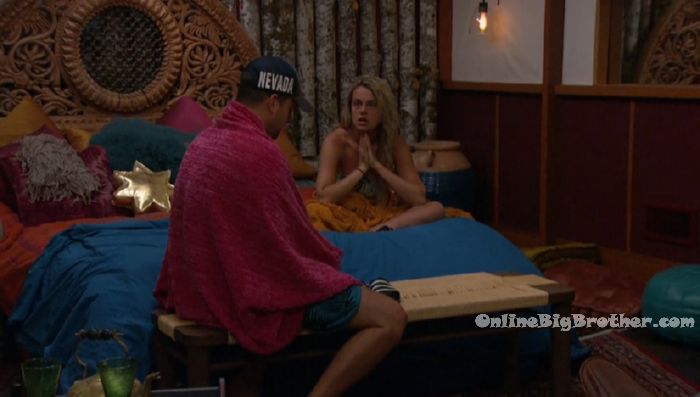 6:55pm The house guests sit down to eat dinner.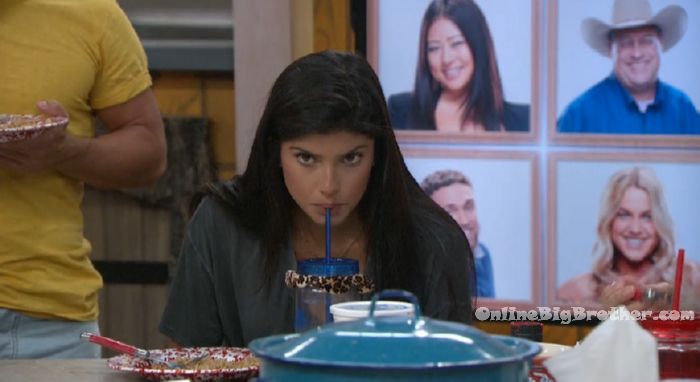 7:14pm Storage room. Sam and Kat. Sam – she (Christie) is just trying to think about what is best for her game so who else can she put up on the radar. So I was kind of vague but I am still 100% using the veto. So either way the veto is getting played. Kat – I am kind of afraid that I am getting played. Sam – not at all. Who ever goes up, I still think you would be safe. Kat – okay, thank you. Sam – unless you and I are both being played. I am still using the veto. Kat – I owe you. Sam – as far as I know I am still using it. I was very vague with Christie about using it or not using it. But I am still using it and pulling someone off. Kat – okay thank you. Sam leaves the storage room.