Big Brother Spoilers – Christie won the HOH, Nominated Cliff and Kathryn. Veto players were: Christie, Kathryn Cliff, Sam, Jack, Nicole. POV was Host was Tommy.  Sam wins the Power of Veto, it was called Food fight. Sam plans on using the Veto on Cliff. Christie plans on putting Kemi on the block as the replacement.  Ovi is the second choice. The Veto will most likely be Monday. It's been busy in the house today there could be a flip it's so early.
House Guest alternate names:
Analyse AKA Sis
Jackson AKA Michie (Jackson Michie)
Isabella AKA Bella
Grab your live feeds —->  BB21 Live Feeds Subscription Link
Rank your houseguests —->  Big Brother 21 Ranking
Support the site while shopping Amazon —-> Amazon.com Shopping link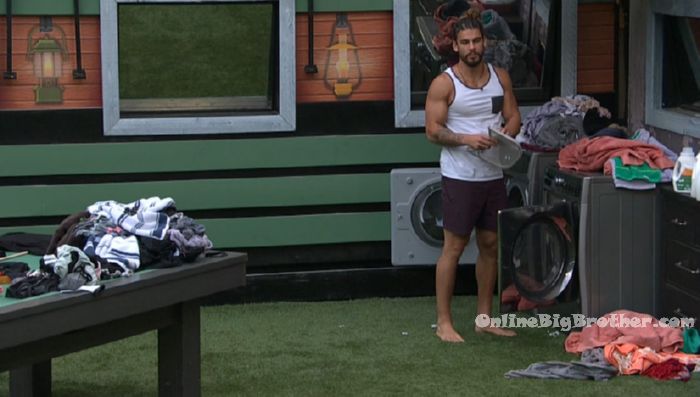 7:20pm Backyard. Jack and Jackson. Jack – well today has been an interesting day. I feel like I am making a target of myself. I keep blowing everything out of proportion. So we will see. If I go, I go and its my time. Jackson – Jack you're good. Jack – if not, then I am here just to play the game. Jackson – you're good. Jack – If I go, I go. Jack – how are you with Christie? Jack – I'm good. Jackson – then how are you burying yourself? Jack – I am trying to play a good game and communicate to my alliance. Jackson – I've got your back. Whole hardheartedly! 100%! Christie has your back. Holly has your back. Sis has your back. Ovi's got your back. Jack – yup! Jackson – Nicole has your back. Kat has your back. Cliff has your back. At the end of the day even if you don't consider the outliers you still have me, Tommy, Christie, Holly, Sis and yourself. That's a solid six. That's all we need. Jack – I know. I just want to be present. Jackson – the thing with Christie is she is very…. Jack – yeah boy.. much more than we thought. I thought she was a stone temple. Jackson – do you think she (Christie) could be swayed to not put up Kemi? Do you think Sam could be swayed to not use it (veto). Jack – they just has a really long talk. Feel me? Jackson – no I do, that's why I'm asking. Jack – I'm not even going to talk to her about it unless she brings it up to me.
7:46pm Backyard couches. Sam, Jack and Nick. Sam – I am still doing exactly what I said I would because that's what I do. Sam tells them about how Christie didn't want him to use it and that she wants to play her game. Sam – But I am still f**king using it. So either she is going to be shocked or she was being vague. The way she was talking was do you have to use it. Nick – why didn't you just tell her? Sam – because she was a f**king wreck. Jackson joins them. Sam – I don't think she wants Kemi to go home. Nick – it doesn't matter what she does. We can get Kemi out next week. It doesn't matter. And Jess is not winning a comp. Or Analyse or Christie… so it doesn't matter. Sam – I was so vague about using it or not using it so she probably thinks I won't use it. A lot of crying.. I'm not used to that sh*t! Its week one calm the f**k down!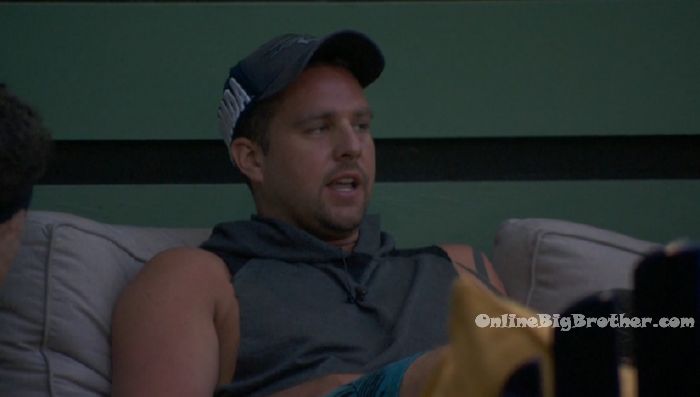 8:25pm Tommy and Jackson talk in the kitchen about how paranoid Kat is. Tommy – I completely understand where she is coming from ..14 days is a long time. Jackson – but we have the numbers! I can only tell her so many times. I can't do it anymore .. I can't!
Boat room. Kat and Tommy. Kat is crying again. Tommy is trying to talk her down.
8:55pm Christie and Nick in the bathroom. Christie – I am going to go the easiest, easiest route possible. This is not the Jack-show and I am not going to get manipulated. I am not going to get bullied anymore! But you need to have my f**king back.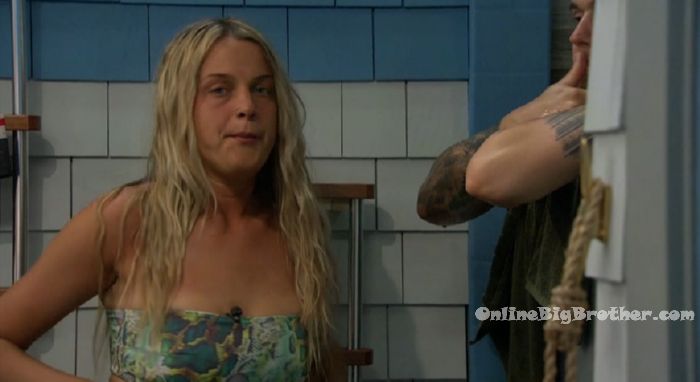 9pm Bathroom. Kemi and Nick. Kemi – the whole conversation I had with Kat.. I was just trying to help her. I swear to god. Nick – doesn't matter. I've got you. Just stay chill. Kemi – alright.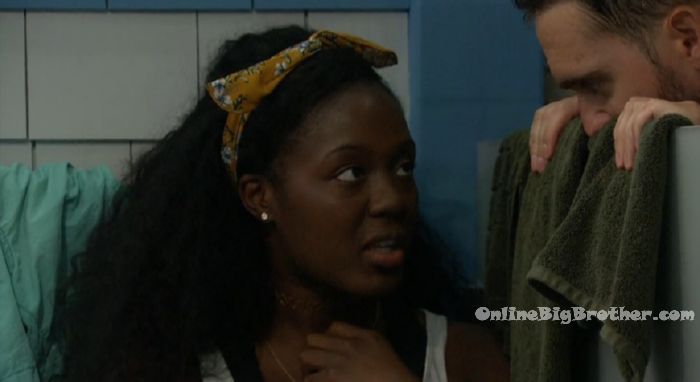 9:05pm Bedroom. Sam and Nick. Sam talks to Nick about the conversation he had with Christie earlier. Sam explain how when he told Christie he is going to use the veto she asked him what she should do then. He tells Nick how he told her to put up Ovi. And she said I totally forgot about that. I was like you're fine and she said oh my god I totally forgot about that. Thank you. Nick – when I talked to her today I said I want to make sure you're playing your game. I literally love Christie and I would protect her game. I would protect you, Bella, Christie. That's it and maybe Tommy. I just said whatever you choose you make the best decision for you. Sam – just know that she is going to act shocked. That's the whole plan that she's not sure what I'm doing. She is going to tell Jack that she thinks that I'm not going to play it. And then when I go up there .. that's why I told Jack. Nick – that's why. When you were telling him (Jack & Jackson) sh*t.. I was like why the f**k is he telling them sh*t. I was like Sam you f**king idiot. Sam – always trust me. Nick – that's good, you're a really good liar. Sam – thats why when I say it she is going to be like Ummm.. ok.. Ovi. And we're going to act all shocked. Nick – perfect! Nick – I really do think that he (Jack) is getting jealous because of Sis (Analyse). Sis is flirting with me. Sam – you should still kiss up on her. Nick – Just to rub it in. Every time I'm with her he is hawking me. I understand it, I would be jealous too. I know I'm good looking but he is home grown. She should want him over me. Sam – he's probably the most good looking and then Michie (Jackson). I think Michie's face isn't so good but his body makes up for it. Sam – Bella is cool. Nick – I like her but her situation at home is why we had to stop it. Before she came out here she was living with guy and all her sh*t is there and she never talked to him before she came.. so two nights ago I slept with her ..not..Big Brother switches the feeds..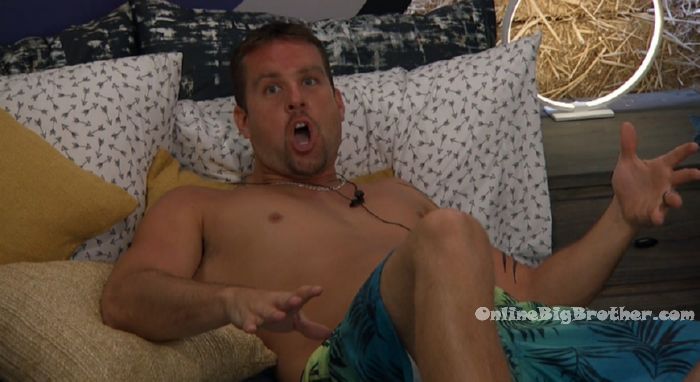 9:50pm All the house guests are sitting around the kitchen table telling what they're all thankful for..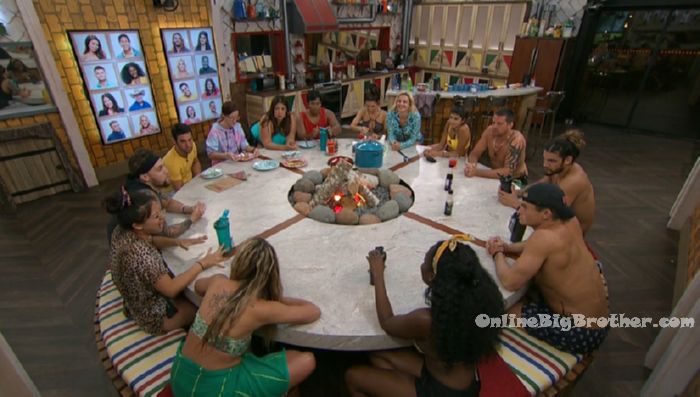 10:13pm – 10:25pm Nick, Jack and Jackson. Nick – so far we have no f**King blood on our hands. If I won next week and Kat was still here I would put her up again. That's one less person with blood. Say I put up Ovi and Jess, one of them is staying and is mad at me. But if I put up Kat, she trusts us, she knows she's not going home and then we just f**king send them out. She could be in here for 5 more weeks. Jackson – Its been 11 day of trying to keep her sane and today it just got to me. I can't do this anymore. Jack – the difference between Kat and Kemi is that Kat will vote your way .. Kemi won't. I can put up with crying all week. Nick – it doesn't matter Kemi is going home. And then I'll take out Ovi next week. Jack – I've got plans in jury bro. Nick – yeah Sis (Analyse) bro, I know. Nick then says – feeds, feeds, feeds.. I am so sorry her family is watching. I am so sorry I forgot. She is the perfect girl. Nick – I am loyal to us till the eight and then we turn on each other. And Sam… Jack – Sam is volatile as sh*t. Nick – so then we take him out. Jack – if we can. If he's not just an unstoppable force. Nick – I told you he was good. Jack – the fact that he beat me in that comp is terrifying. Jack talks about the veto comp. It was 50 pounds of lettuce and then think of having 3 midgets.. Jackson – oh nooooo!!!! Jack! Jack Jack! Jack – no and then 3 small mini guns of dressing.. Tommy and Ovi join them.
11:10pm Kitchen. Kemi and Jessica. Kemi – I definitely think that You, Me, Bella and Christie should lock something down. I'm not sure where Analyse, Kat and Holly are at. Jess – Bella is pretty close with Nick. Kemi – I can guarantee that Bella with Nick is strictly business. I can guarantee you that. Jess – we think that Jack is a beast but Sam took it from him. It just goes to show you that this is anyone's game.
11:40pm Bathroom. Analyse, Jack, Jackson, Nick, Bella, Sam, Christie and Cliff are chatting about random things. Meanwhile out on the hammock Ovi and Tommy are chatting.
11:48pm Bedroom. Cliff and Kat. Cliff – I think we're good and once we make it through the next few days we can coast for a few weeks. There are bigger targets. You never know anything for certain but you're good. Kat – thanks. Cliff – I just wanted to make sure you're doing okay.
11:57pm – 12am Bedroom. Jackson and Kat. Jackson – trust the process and just be calm and everything will be good. Just don't do anything irrational. Don't say anything like that… Don't tell Sis (Analyse) and Holly that you will just self evict because people will do it. At that point I can't help you. You're on the block and you're putting yourself in jeopardy. Kat – I just feel like such an outsider. Jackson – the more you say that and the more you isolate yourself .. the more you won't fit in. Just be yourself and people will love you for it. Just be yourself. You're up there so we can execute a backdoor. Remind yourself of that .. no one wants you gone.